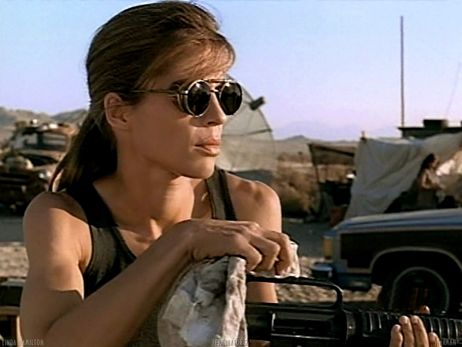 This coverage of actress Linda Hamilton's panel from Fan Expo Canada 2013 continues directly from where Part One left off.
On whether James Cameron offered her Jamie Lee Curtis' role in TRUE LIES and if she'd like to try comedy…
"No because at that point we were together and I think that I probably would've said no because you don't want to be like 'the' girlfriend in the movie — you know, the director's girlfriend. I mean, obviously I'm an actor in my own right and a strong actor, but I think it's kinda best to keep home and work separate as much as possible because there's more to talk about at the end of the day when each brings home something new to the other… although I would've KILLED to play that part. Jamie kicked butt with that character and I love her. Really, the most unexplored part of me in my career is that I'm funny and I've never got to play that in a film. There's just rarely little tiny hints of it, but I've said that comedy and action are very similar because you have to think on your feet and turn on a dime. That's what makes action/adventure really interesting and it's the only way to do comedy. It takes great energy — both of them take great energy — and I don't know why people don't do this automatic translation of, 'She did Terminator, she can do anything comedy!' People don't make those connections, but I still hope that I get to do more comedy someday. It was funny doing Chuck — a show that I really adored doing — once again, I had absolutely no context before I started, but it's so funny that the women had no real humor in that show. All the men got to be funny and all the women were kicking ass and I thought that that was kind of okay in a way because it's sort of the opposite it usually goes; men kicking ass and the girls are sexy or funny or whatever, but with that show, there was a real dichotomy there in what the women and men got to play. I would love to do more comedy, that's for sure."
On which one of her roles is her favorite and why…
"One magic experience that I had was a film — a cable movie — that I'm sure nobody's seen called 'A Mother's Prayer' and I play a woman dying of AIDs who tries to become an adoption agency for her child — she's a single mother and there's no family to leave her son with. She knows she's dying and she basically puts out ads and it was based on a true story. That was a very painful journey; it just kills me to this day because it's really about saying goodbye to your child and placing him somewhere else. That was an amazing experience largely because the boy who played my son was so gifted and we just connected. Aside from the visceral stuff that happens when you're playing scenes like that — where you're having to say goodbye to your child or explain to him that you love him but you have to send him somewhere else to live while you die — moments like that where this director was this great old director who has since died named Larry Elikann would come up and say, 'Could you do this scene without crying?' and I'd be like, 'I'm trying!' Scenes where you're trying to convey to your child that you love him beyond all while he's punching his bear because that's all he can do because mommy's dying — I'd be doing everything I could not to cry and they'd go, 'Could you not cry?' and I'm going, 'I'm trying, I'm trying.' Sometimes magic happens like that.
On what she thinks of changes in stories during novel-to-film adaptations…
"What you read and what you see are different things and they don't always produce the same impact. What might be amazing in the imagination when you read, it doesn't always translate into something that will work on film, so you have to understand that there has to be some license. Although, when they take a hard story and try to soften up the end or add stuff like just to make it more palatable for people — that's hard for me. If it's something that isn't filmic that needs to be changed so it'll be better in a film, I get it, but if it's just because the audience can't stand that it's kind of hard at the end or that the ending isn't a happy ending, then I really don't approve of that. I've just never wanted to see a movie after I've read a book. I've never wanted to see how someone would make that movie because it's always so much more live here (points to head). It's just so much more personal when it's yours in someone else's words and your imagination and I never, ever go and see a movie after I've read the book. I'd much rather read the book."
On what was her favorite episode of BEAUTY AND THE BEAST…
"I love the one where I want to come and live underground because there's just so much grief. In every episode, there was always something so much fun. There was one where there was so much comedy — it felt comedic — with a little gypsy kid; that was kind of fun. Every day and every week there was something fun."
On whether she could go through the make-up process that Ron Perlman had to go through on BEAUTY AND THE BEAST…
"I couldn't do that. You'd have to kill me first to get me to sit in that chair, but he could do it — some people are built like that. Sometimes it was 15 hours where if they really needed to do hands and stuff, it would be 15 hours all day, in and out, to put it on and put it off; it'd be 15 hours for him. No, no… you'd have to shoot me."
On her SATURDAY NIGHT LIVE experience…
"Oh, it was great fun… and terrifying! Completely terrifying because they've all got their poop together, they know what each week is like, but you've never done it before and you know what they do last? The opening monologue. That's what they write last because they're all writing for themselves all week long and you're coming up with ideas and you're tossing stuff around and nobody's writing the opening monologue because you're the guest star, that gets done last. It was a hoot, I would do it in a minute. I just loved it. I was shocked at how fast — I was like, 'Is someone who's not an athlete do this?'  because you're running through the studio and throwing off wigs and stopping and changing your clothes while you're getting to the next set. It was just completely adrenaline driven and lots of fun, but I couldn't imagine not being shape and having to do that. I don't know if it's like that for everybody, but it was like, 'Whoa!'"
On DANTE'S PEAK and working with Pierce Brosnan…
"I walked around for one whole day loudly declaiming, 'I have beard burn… beard burn from kissing Pierce Brosnan all night long!' I was so happy. Pierce is great. He's just the greatest guy and by the end of the film we had to be separated because we were just trouble — we would just go back to the trailer and start drinking and they'd be putting him in the car and the drunker he got, the nicer he got. He'd be like, 'It's all about love!' So we had a lot of fun together and that was one hard, dark, dirty movie in terms of the grime — I developed a total allergy to the ash and it was basically cavities washed every time I did a scene. I mean, I was so sick for six months of just gypsum and newspaper print and stuff, so it became very hard to just deal with those details of the day. There was a couple of times where I just said, 'We can't do this.' On Dante's Peak, they would have to create things and try to create a certain effect — in the car when they're trying to get over the lava — so they decided they needed plexiglass to keep smoke off of the actors and now we're in a plexiglass box that's filled with smoke. We did one rehearsal and it was so toxic and we've got two little kids there and they're not mine, but they're mine in the movie and that's all I needed to know and I was like, 'We can not do this.' It was the first time ever where I had said, 'No, we can not do this. This is dangerous for these kids and for me. We're going to have to find another way to do this one shot.' But anyway, I got to kiss Pierce Brosnan!"
On whether her portrayal of Sarah Connor in the second TERMINATOR film stood in the way of her future career…
"I would say it did, a little bit. When I went up for Dante's Peak, director Roger Donaldson interviewed me and he goes, 'Well, you've never played a part like this before.' And I go, 'Like what?' And he goes, 'Well, normal!' Because I was always this very fit specimen and Sarah Connor, I couldn't play normal — I couldn't play the normal mayor of a small town. That's a director telling you that he doesn't know if you can play the part because she's normal. And I'm like, 'Buddy, normal is who we are. That's not even acting.' But it did sort of get in the way. I got offered lesbians, police officers, military officers and that was pretty much it for a long time. I really had to kind of work to make sure that I wasn't going to stay in that place. I did everything I could externally — I cut my hair off, I dyed it red, dyed it blonde, whatever — to not remind people. Basically I've kept my arms covered for about 25 years now. There's nothing worse than people coming up and looking at you and their face falls in disappointment when they see that your arms aren't quite what they thought they should be. So, I've been wearing long-sleeves forever… so that changed. But you know, I have no complaints. It's very much the way it was meant to be. It's not at all what I thought I was going to do. At Strasberg in New York, I thought I was going to be a Shakespearian actress — they earn a lot of money! I really thought that that was where my path was going to take me, I was just so in love with theater and never in a million years would I have thought that I was going to become this action/adventure actress, but I'm grateful."
With that, the panel came to a close with Linda graciously thanking the cheering audience for attending her panel. She waved while exiting off of the stage and out of the room.
Also, in honor of HDN's Linda Hamilton coverage, we're also giving away one free TERMINATOR 2: JUDGEMENT DAY Steelbook! To enter that amazing giveaway, visit here and good luck!
~K