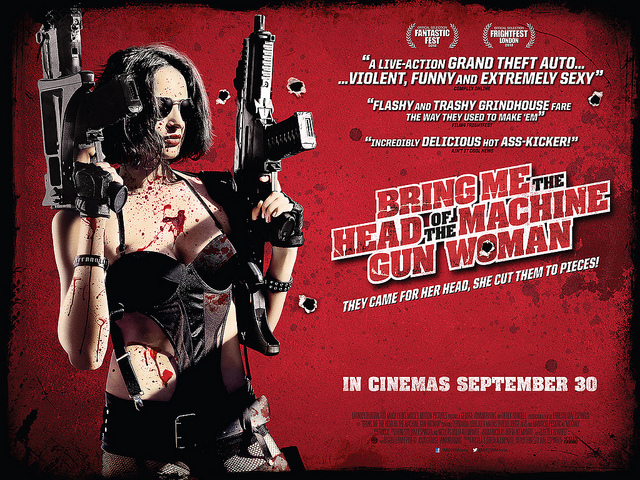 "They came for her head……she cut them to pieces."
Clear Vision have announced the release of Ernesto Díaz Espinoza 'Bring me the Head of Machine Gun Woman for an limited UK cinema release starting 30th September, then being followed by the Blu-ray / DVD and VOD release on the 7th October.
After accidentally overhearing one of the city's most dangerous criminals putting a hit on a hell-on-heels femme-fatale bounty hunter named 'The Machine Gun Woman' (Fernanda Urrejola), nightclub DJ and videogame addict, Santiago, avoids execution only by offering to bring her in. When he is given 24 hours to make good on his claim, Santiago's life turns into a violent video game of it's own complete with missions, guns, sexy women and brutal violence.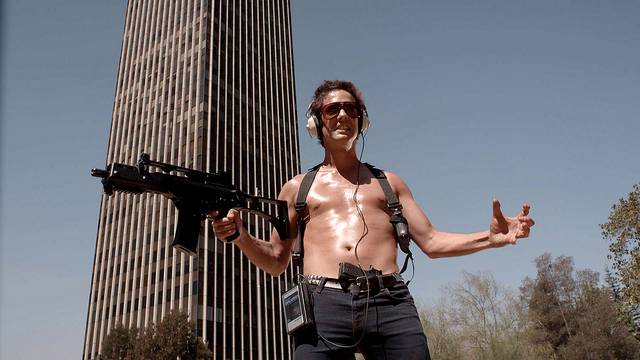 Originally selected for Frightfest 2013, Hidefninja were given an opportunity to get a sneak preview of the film ahead of it's limited UK cinema run. Clocking in at just under 75 mins, The film zips along at a quick pace. throwing us into the action in a 70's Grindhouse fashion (complete with a damaged print look to it), The film quickly established it's main characters in the form of the rather sexy and beautiful Machine Gun Woman, a femme fatale that certainly doesn't mess around, Santiago, the rather unfortunate nightclub DJ who how happens to be in the wrong place at the wrong time and my personal favourite, Che Sausage, The film's main antagonist. Throw in a few hencemen, some strippers and a drummer assassin and you have a quirky film that certainly has it's tongue firmly placed in it's cheek. The film plays out live a live action Grand Theft Auto complete with in game style "mission objective" transitional scenes that moves the plot along.
The film is worth checking out if your fan of trashy exploitive films and especially fond of the Grindhouse style films like Hobo with a Shotgun and Machete. Bring me the head of Machine Gun Woman will be getting a limited run at selected cinemas before being released on Blu-ray, DVD and On Demand services