The year's first Oscar contender The Great Gatsby represents a must-see on home video.
Among the biggest surprises of Summer 2013 was the pushed-back release of The Great Gatsby, a film that smartly snoozed through 2012, ignoring the mammoth Lincoln, Zero Dark Thirty, and Argo for a Summer 2013 release.  Wait, what?  A Summer release?  Right in the middle of explosions, superhero slaughter, and epic space battles?  The decision was ballsy, and paid off with a $140 million domestic paycheck, proving that audiences do want a little high-brow entertainment with their brazen, naked, fast-car escapism.  The home release doesn't disappoint either, delivering stunning audio and video, even if the supplements are not totally complete.
Based on the 1925 F. Scott Fitzgerald novel, Gatsby follows the parallel paths of the writer Nick Carraway (Tobey Maguire, Spider-man series), the blonde beauty Daisy (Carey Mulligan, Drive), and the enigmatic Jay Gatsby (Leonardo DiCaprio, Shutter Island, Inception), as 1920's America spends and drinks its way into The Great Depression.  When Carraway moves into a cottage on the nuveau-riche fictional island of West Egg, he instantly realizes that the neighbor next door hosts a recurring activity of weekend excess, complete with celebrities, city officials, and a massive fireworks show.  The guests pontificate about Gatsby's past, elevating him close to godhood, and leaving Carraway shell-shocked to learn that he's been invited to meet the man himself.  This seemingly good-natured attempt at Welcome Wagon does come at a price: Gatsby wants to re-ignite his romance with Carraway's second cousin Daisy, whom Gatsby abandoned 5 years ago due to his poverty. It won't be easy: Daisy is married to the former athlete Tom Buchanan (Joel Edgerton, Zero Dark Thirty) but has no idea of her husband's infidelity with party girl Myrtle Wilson (Isla Fisher, Now You See Me).  As the parties continue, Gatsby attempts to rekindle his relationship until he and Tom stand face to face in an overheated hotel in New York.  The circumstances turn tragic as our trio move to a deadly third act, leaving Carraway in a mental institution to reflect upon his ruined life.
Director Baz Luhrmann (Moulin Rouge) spends like it's 1922 to bring his tale to life; and while the book has been remade nearly a half-dozen times, it's never looked or sounded so good.  Luhrmann paints every scene with bright colors, immersing the viewer in a symphony of detail, transporting us to a time when flappers, zoot suits, and fedoras were standard issue.  Everything visually about this film screams opulence, and Luhrmann basks in it; but it's also his choices of actors which drive the plot when the parties are over and romance begins.  DiCaprio is hand's down the best thing about Gatsby, due to his innate ability to inhabit the roles of his characters so completely, from his 'old sport' monikers (which he throws down like a stack of Vegas chips) to the nervousness of a school boy upon seeing Daisy after so many years.  Among the best actors of our time, DiCaprio brings an inspiring, funny, imaginative, and gripping Gatsby to life before succumbing to its tragic ending.  Mulligan shines as Daisy and Maguire is solid as the naive Nick, forming a triumvirate that cannot withstand the storm that is approaching.  Meanwhile, the terrific roadside image of T.J. Eckleberg's optometrist's glasses watch over a city rising a mile a minute, foreshadowing the moral change in the new America.  What also stands out about the story is Luhrmann's ballsy choice of music – 1920's ragtime is replaced with Executive Producer Jay-Z's tracks, along with appearances by Beyonce and André 3000. It could have been disastrous, but the music works effortlessly alongside In Time Composer Craig Armstrong's score.
There are several shortcomings to Luhrmann's casting – including Edgerton – who never seems capable of matching up with DiCaprio or Mulligan. There's also the underused Fisher, along with Jason Clarke (Zero Dark Thirty) as the lowly working-class couple who don't have enough screen time to gain our attention or acceptance.  Their on-again/off-again appearances make them less effective, leading me to believe that a much more robust version of the movie exists somewhere on Luhrmann's hard drive.  There is little here that reminds us of the current era of boom-bust, settling instead on glitzy parties and the well-manicured people and environments of 1920's New York, which I suppose is an opportunity lost.  Some critics have justifiably complained, leading many to wonder whether the Oscars will bypass Luhrmann's take entirely.  I hope not, as DiCaprio's performance and Cinematographer Simon Duggan's amazing work deserve attention.  And although I would like to see an extended version arrive on shelves in time for Christmas, I can't say that would alter the MPAA's already disjointed and incoherent logic come Oscar season.  Even if they do turn a blind eye in this case, The Great Gatsby is a must-see, sporting several strong performances and immersing us in a more elegant – if not more fragile – time.
The Great Gatsby illuminates the screen with an impressive MPEG-4/AVC transfer that is absolutely stunning.  Like the excessive parties depicted on screen, Luhrmann's saturated colors unabashedly dance over the screen, from the brilliant reds in Carraway's tie to the blues in Gatsby's ice statues and in the lake between his home and Daisy.  Blacks perfectly descend into shadows, such as the night scenes around Carraway's home.  Even browns, greens, and cream colors – present in the famous lily scene – are lifelike without those and other colors impact the rest of the visual field.  Sharpness is also spot on, with stitching in suits and details in ball gowns present, along with sweat and individual strands of hair.  Even with Luhrmann's employment of softening filters in some scenes, humans and man-made environments do not suffer as much as you would think.  True, we're seeing this over-saturation thanks to Luhrmann's unique style, but it's not the result of an error by the distributor Warner Bros.  The studio has done an amazing job with this transfer, signalling their commitment to finding a happy balance between the director's vision and the needs of home theater enthusiasts.  The result here is nothing short of extraordinary, with no aliasing, banding, or edge enhancement present.  This would be  an effective reference or demonstration piece.
Representing one of the best audio experiences of the year, The Great Gatsby's Master Audio 5.1 surround track sounds like a 7.1 performance, thumping and grinding its way through 1920's New York.  Credit the LFE for part of this, which seems to be present in every scene, whether it's generating the roar of a car engine, the boom of a fireworks display, or the thud of ice being broken in the pivotal third act.  Front speakers do a great job of mixing dialogue, music, and effects, while the center channel boosts the human element by delivering every 'Old Sport' as clearly as the last one.  For a film with so much going on, it's impressive to never be forced to rewind a scene or play The Remote Game to hear things.  But, it's the surround speakers that elevate the experience, from party chatter to the clinking of glass and the swirling noise of wind and the dripping of rain.  Music by Craig Armstrong, rap artist Jay-Z, and a dozen other current performers create a rich soundfield that somehow works very well with all the environmentals.  There have been several standout presentations this year, but in many ways The Great Gatsby is most impressive because it's a film that defies convention, never resting on its laurels as a satisfying drama, and giving us a lossless audio track that's as big and bold as the film itself.  It didn't need to be this robust, but we're much better off for it.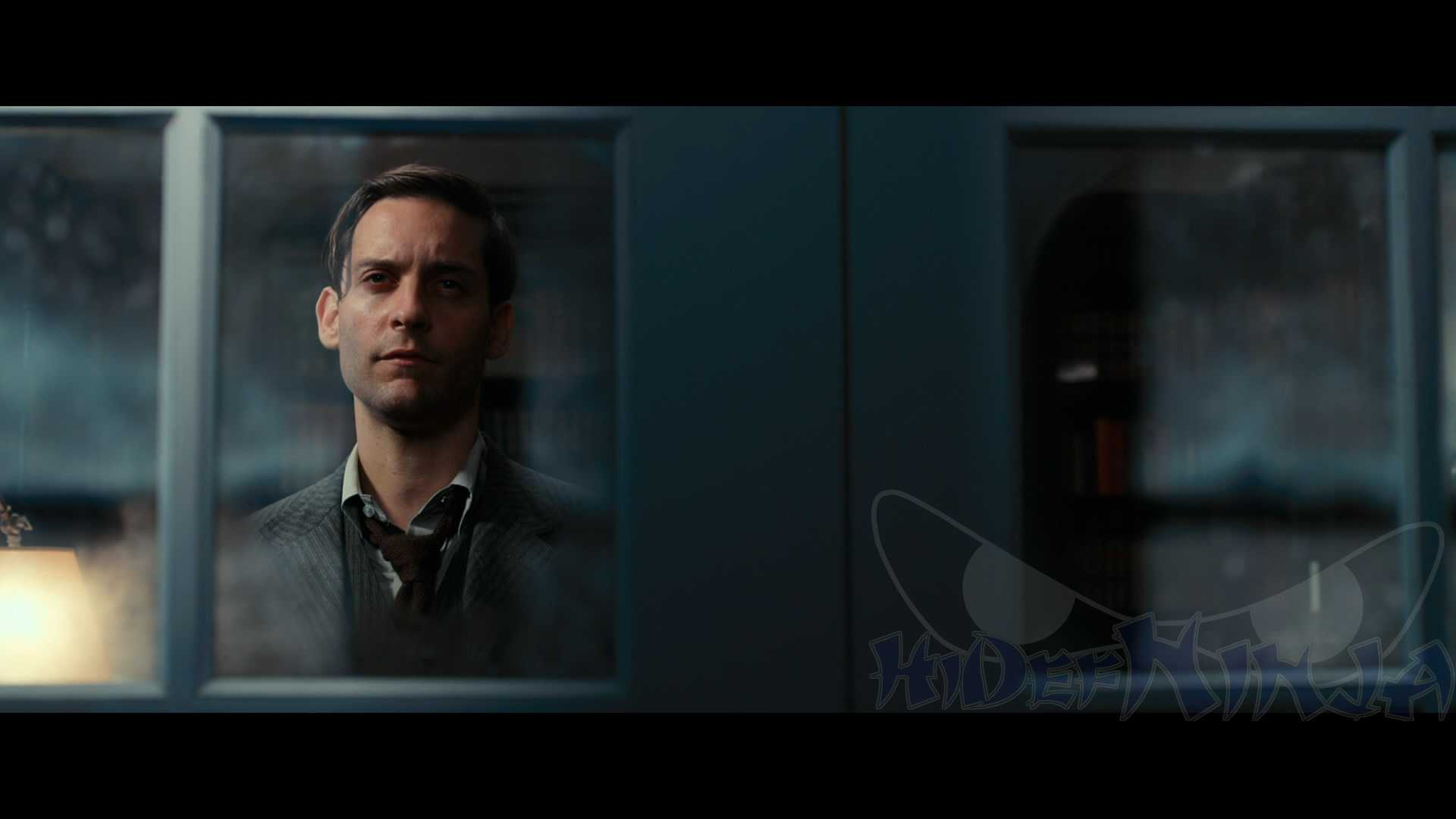 Sadly, The Great Gatsby does not include a commentary track, an absolutely essential element for a film of this type.  What we are given is a fair amount of extras – mixing practical with historical – all of which are presented in HD:
The Greatness of Gatsby (9:14): Director Luhrmann and several members of his cast give us an inside track into the script's creation.  Although it's somewhat short, it's a fascinating peel-back of how the writing and and the pre-production process itself is conducted.
"Within and Without" with Tobey Maguire (8:41): Maguire shoots a series of home movies behind the scenes, visiting with actors and other members of the creative team.  Check out Script Assistant Sam Bromell's reading of the 'Lexicon of Prohibition' describing all the ways people of the 20's used the word 'drunk.'
The Swinging Sounds of Gatsby (12:17): Several of the music industry's heavy hitters – including Jay-Z, Bryan Ferry, Beyonce, Fergie, Lana del Rey and others – gather to craft the vocal textures for the film's soundtrack.
Gatsby Revealed (approximately 30 minutes): This is a five-part feature that breaks down the shooting of key sequences from the film. Segments include Gatsby's Party,Disconcerting Ride, Daisy and Gatsby Meet, The Plaza Pool Scene.
The Jazz Age (15:43): Luhrmann takes viewers on history lesson, focusing on New York and F. Scott Fitzgerald and his marriage to Zelda.  Historian and Director Rick Burns serves as an inspiration for Luhrmann and the featurette, mixing in scenes from his documentary New York.  This piece takes us through the environment which served as Fitzgerald's canvas for Gatsby along with the Jazz Age and factors leading to the 1929 stock market crash.  This piece will do a lot to fill in the gaps for viewers, and might even be a good place to start before watching the film.
Razzle Dazzle – The Fashion of the '20s (16:22): This feature looks into the costumes and sets of Gatsby.  Partners such as Brooks Brothers and Tiffany, who existed in the 20's, lend their experience to legitimizing the 'look' of Gatsby.
Fitzgerald's Visual Poetry (6:55): Say what you want about Luhrmann's take on the script, but his use of opticals underlines the tone of the film, which he and others discuss during this featurette.
Deleted Scenes (14:24): Luhrmann introduces two deleted scenes and an alternate ending. including Nick and Jordan, and Her Voice Was Full of Money.  There's also an Alternate Ending, but this is more about Luhrmann providing intimate details about why he cut them, rather than using the time to show off what he did in fact cut
1926 Trailer – The Great Gatsby (1:05): A silent film trailer that serves as the only surviving copy of that version.
Our evaluation copy came as a Blu-ray Combo, complete with a DVD and Ultraviolet Digital Copy.  The embossed slipcase is very attractive, reflecting the big 1920's era of the film.  There is a 3D version of the film available as well, but we hope you will tell us if that one is worth the price.  I'm still very disappointed by the lack of a commentary track and full access to all deleted scenes.  Hopefully, future versions will include these extras.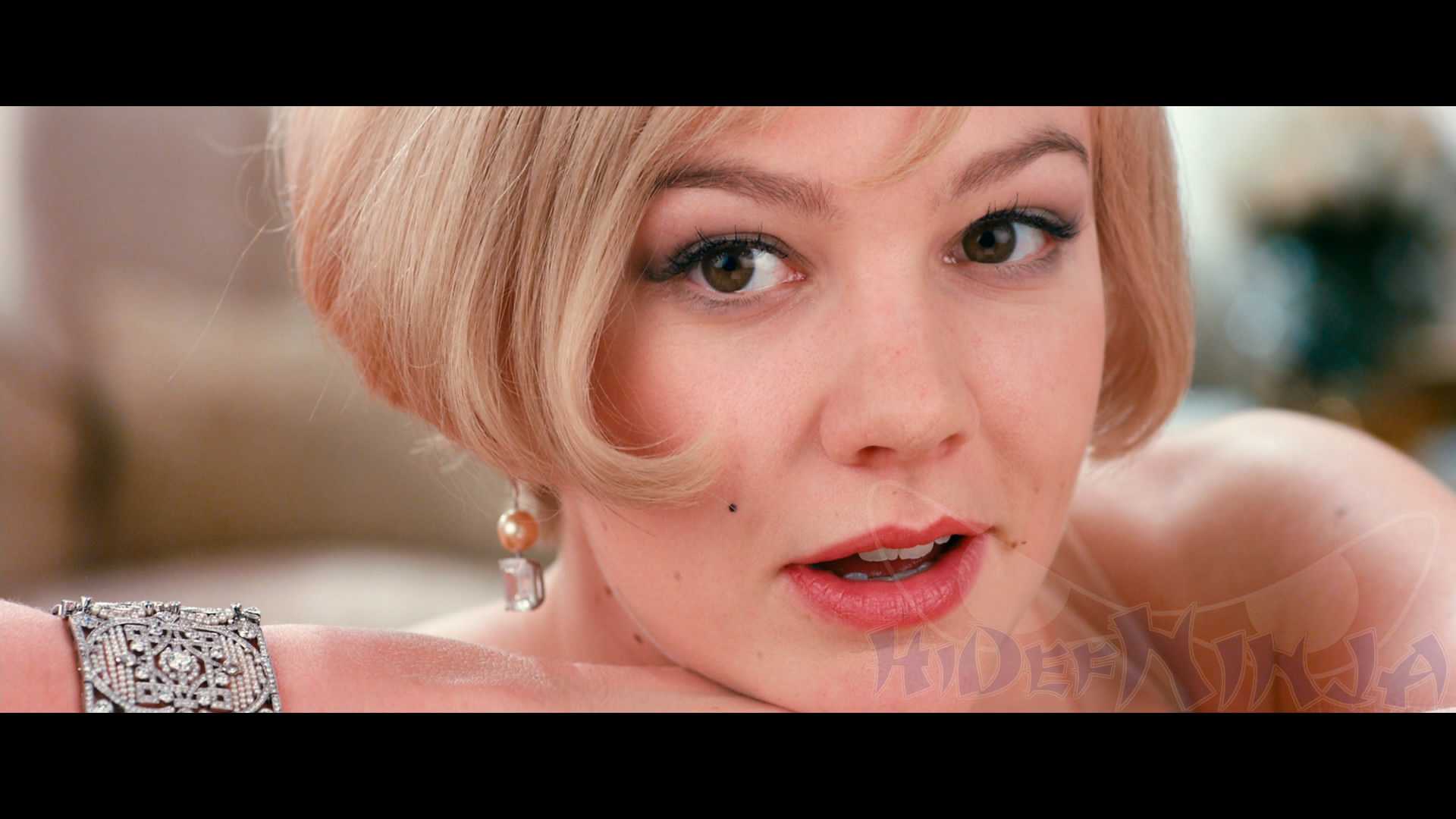 Visually stunning and mostly well-constructed, The Great Gatsby demonstrates that it's not just a well-mixed party drink to be devoured and then forgotten.  Its multi-layered visual smorgasbord proves what CGI and (mostly) good casting can do for a classic story of love and decadence.   And while I was disappointed with some of its casting, DiCaprio demonstrates (once again) that he's deserving of more than mere Oscar nomination, while Luhrmann's eye basks the viewer in a visual symphony that also deserves attention next February.  The Blu-ray shines in many ways as well, with superior audio and video and a decent set of extras.  It's a film that might divide viewers on its substance, but I doubt that anyone will be criticizing its high-definition release.  That alone deserves your time and attention.  The Great Gatsby is rated PG-13 and has a runtime of 142 minutes.
Discuss this review with fellow HDN fans on Facebook. On Twitter, follow us at @HidefNinja, and follow author Matt Cummings at @mfc90125.