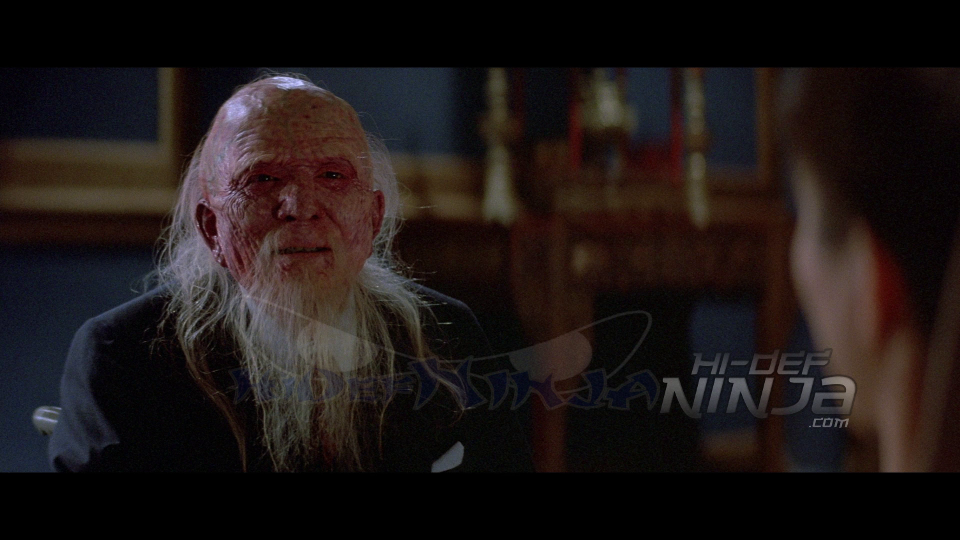 ---
Following Escape from New York and The Thing, John Carpenter and Kurt Russell re-unite for this mystical, action, adventure, comedy, kung-fu, monster, ghost story!
Russell plays Jack Burton, a reasonable guy who is about to experience some unreasonable things in San Francisco's Chinatown. As his friend's fiancée is kidnapped Jack becomes embroiled in a centuries-old battle between good and evil. At the root of it all is Lo Pan, a 2000-year-old magician who rules an empire of evil spirits. Jack goes to the rescue dodging demons, goblins and the unstoppable Three Storms as he battles through Lo Pan's dark domain.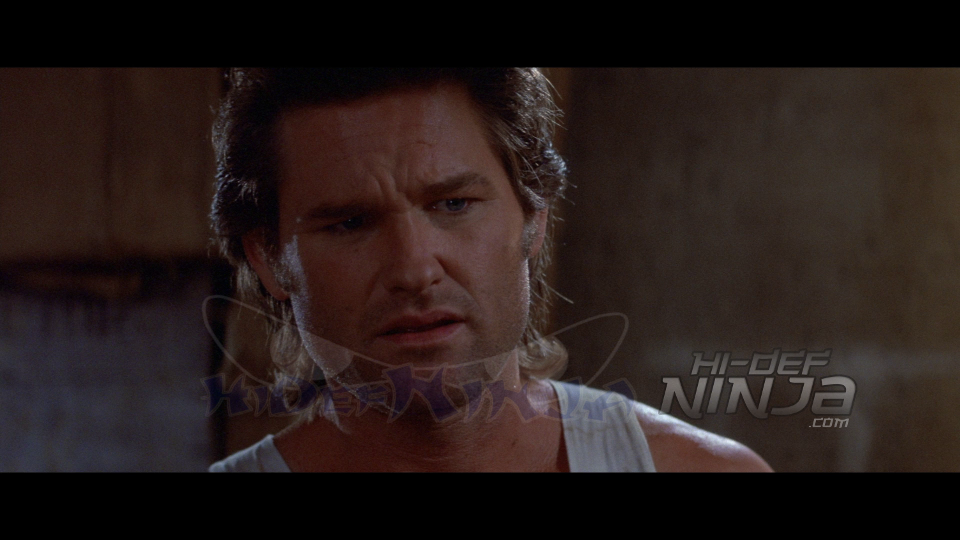 ---
This high definition transfer is presented in 2.35:1 1080p and has an AVC encode from a digital transfer prepared by Twentieth Century Fox.
Considering 'Big Trouble In Little China' is 27 years old, it looks superb on Blu-Ray. Colours are vivid and vibrant throughout the whole film in particular reds, blues and greens, especially the neon lights from the Chinatown streets and likewise with the darker and night time scenes, there's no detail lost at all with very little to no digital noise adding great depth to the picture. Definition and detail are great, Lo Pans long strands from his straggly beard and moustache can be seen in all of its hairy glory, and skin tones appear natural wherever they can be (there was a lot of make-up used in the film). Very pleased to say that film grain is intact, indicating that little to no DNR has been used on the transfer. There's little to no edge enhancement and the special effects hold up surprisingly well blending into the transfer, largely thanks to the way it's been filmed and the softness used when adding the effects to the screen.
Whilst it's worth remembering that if you compared this to a film of today's standards then of course this will fall short but it's easy to say that this is the best the film has ever appeared on a home entertainment release largely thanks to Fox and Arrow.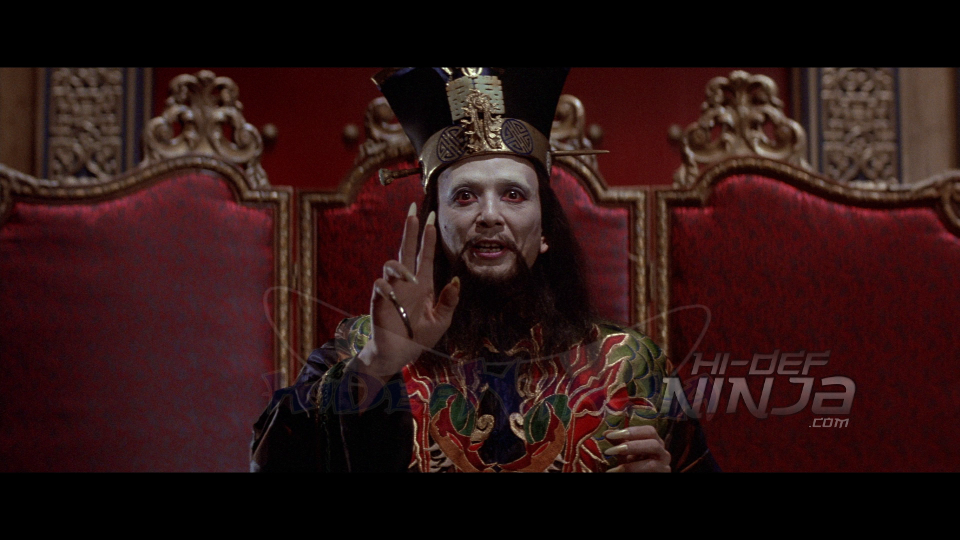 ---
Arrow have brought to the Blu-Ray a few different audio options for their release of 'Big Trouble In Little China' on Blu-Ray. First up we have an English DTS-HD Master Audio 5.1 track, an English Stereo 2.0 audio track as well as a DTS-HD 5.1 Isolated Score soundtrack. For the purposes of this review, I have opted for the DTS-HD Master Audio 5.1 track.
From the off the track is extremely engaging and bustling with sounds coming from the front speakers; voices, action, the superb score and more immediately jump out at you as soon as the movie starts and doesn't let up until the very end. However, the track is very 'front heavy' with the rears never really kicking in too much to make for a fully great surround sound experience. There are occasions when the rears are used to pick up background noise to let you know they are there and still working, but it's not the fully engaging experience you'd be more used too from today's standards. Some of the sound effects used in the rears sound rather forced and unnatural, but don't let this put you off. Everything that comes from the front three speakers more than makes up for this; the rainstorm effects from the 'Three Storms'; 'Thunder', 'Rain' and 'Lightening' fly out from the front three speakers and do the track a bit of justice showing you what the mix can do. LFE kicks in where needed; thunder claps, gun shots, explosions and dialogue flows naturally from the centre speaker and doesn't sound distorted. Carpenter's score sounds fantastic in this audio track, and is placed perfectly into the audio mix never drowning out dialogue or being too overpowering during the movie.
Optional English SDH subtitles are also available on the disc.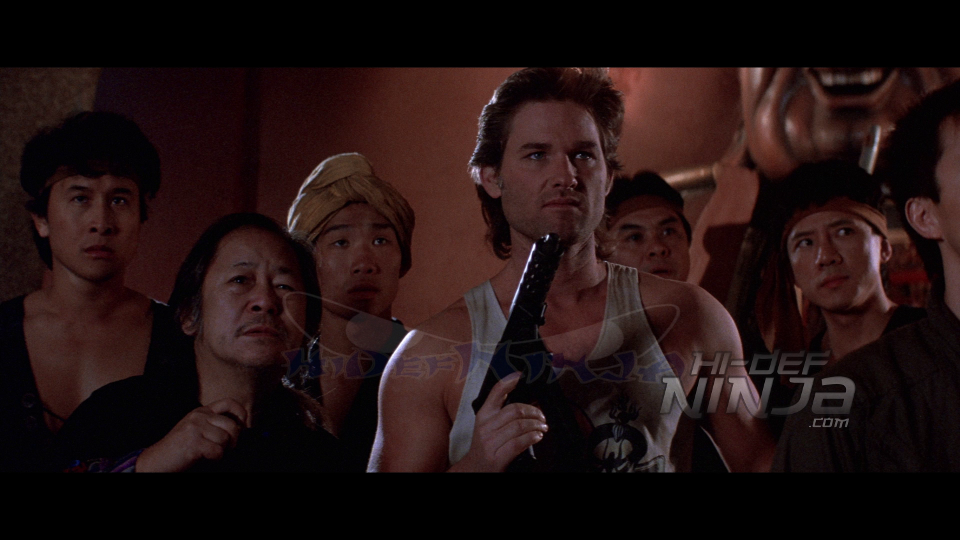 ---
Arrow bring 'Big Trouble In Little China' onto Blu-Ray in the UK with an extensive list of extras. Everything from the American Blu-Ray has been included as well as some great new and exclusive extras, thanks to the guys at Arrow.
* Audio Commentary with director John Carpenter and star Kurt Russell
* Return to Little China – A brand new interview with John Carpenter
* Being Jack Burton – A brand new interview with Kurt Russell
* Carpenter and I – A brand new interview with cinematographer Dean Cundey
* Producing Big Trouble – A new interview with producer Larry Franco
* Staging Little Trouble – A new interview with stuntman Jeff Imada
* Interview with visual effects producer Richard Edlund
* Vintage Making-of featurette featuring cast and crew
* Extended Ending
* Deleted Scenes
* Music Video
* Gallery of behind-the-scenes images
* 3 original trailers and TV Spots
* Reversible Sleeve featuring original and newly commissioned artwork by Jay Shaw (amaray version only)
* Booklet featuring new writing on the film by John Kenneth Muir, author of The Films of John Carpenter, a re-print of an article on the effects of the film from American Cinematographer, illustrated with archive stills and posters
It's fantastic to see that Arrow have included all the extras for the American release, and then have now also added their stamp to the package by adding even more extras. The new extras that Arrow have included are a superb addition to the already great line up of existing extras already on the disc. If you love the film, you're gonna love the extras!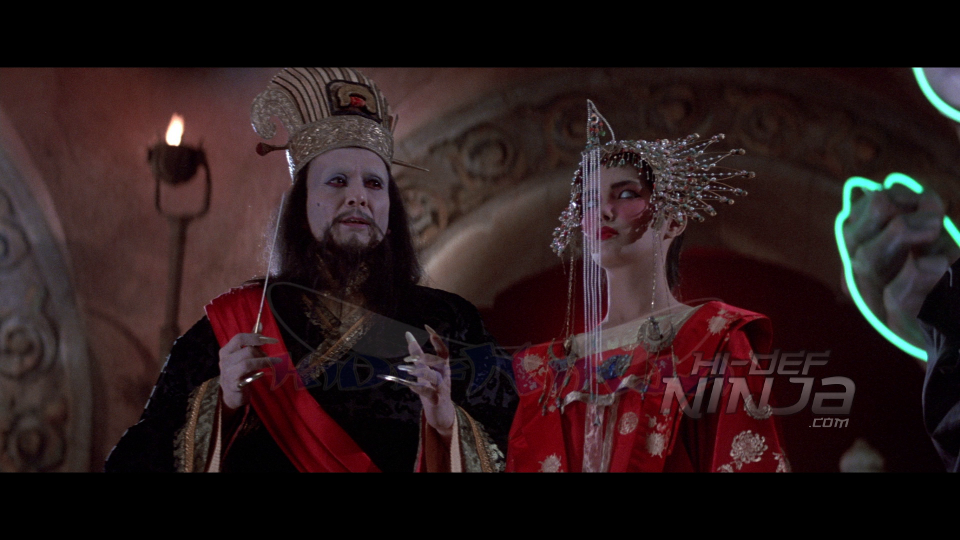 ---
I was quite a latecomer to the whole John Carpenter and Kurt Russell partnership, and remember the first film from this that I had the pleasure of watching was 'Escape From New York'. Immediately after that I made it my mission to get a hold of, 'Elvis', (unfortunately) 'Escape From LA', 'The Thing' and of course, 'Big Trouble In Little China'. When I finally sat down to watch 'Big Trouble In Little China' I immediately fell in love with it, it's one hell of a blast and great fun from start to finish, and whilst 'Big Trouble In Little China' isn't my favourite of the partnership (that award has to go to 'The Thing'), I cannot get across how much I love this film. 'Big Trouble In Little China' is great fun from start to finish and is a movie that never gets old and has genuine re-watch value. It's a film I can watch over and over again.
The whole cast are great in the movie, especially Kurt Russell and James Hong. Hong is gold in pretty much everything he touches, and plays the part of Lo Pan so brilliantly well. Kurt Russell is superb as the lead, Jack Burton; Kim Cattrell is gorgeous as she always was and the rest of the cast support well.
I picked up the US Blu-Ray a couple of years back as I knew this was a must have for my collection and it's had a proud place on my shelf ever since, but as soon as I saw that Arrow were to release 'Big Trouble In Little China' I was very excited to see what they were going to do with an already fantastic release from the States. Needless to say this doesn't disappoint at all, and if you already own the US Blu-Ray this is still a worth purchase for your collection, just for the additional extras alone.
It goes without saying if you've never seen 'Big Trouble In Little China', this is the perfect time to buy it or if you're waiting to upgrade your DVD to Blu-Ray, this is the one to buy! Whilst it replicates the US Blu-Ray, the additional extra material make it a preferred edition over every other edition out there, but please note that the disc is region B coded only. Arrow have produced yet again another fine looking and sounding Blu-Ray, with a wealth of extras that is going to please both fans and newcomers of 'Big Trouble In Little China'
httpvh://www.youtube.com/watch?v=592EiTD2Hgo
Order the Limited Edition Steelbook from Amazon.co.uk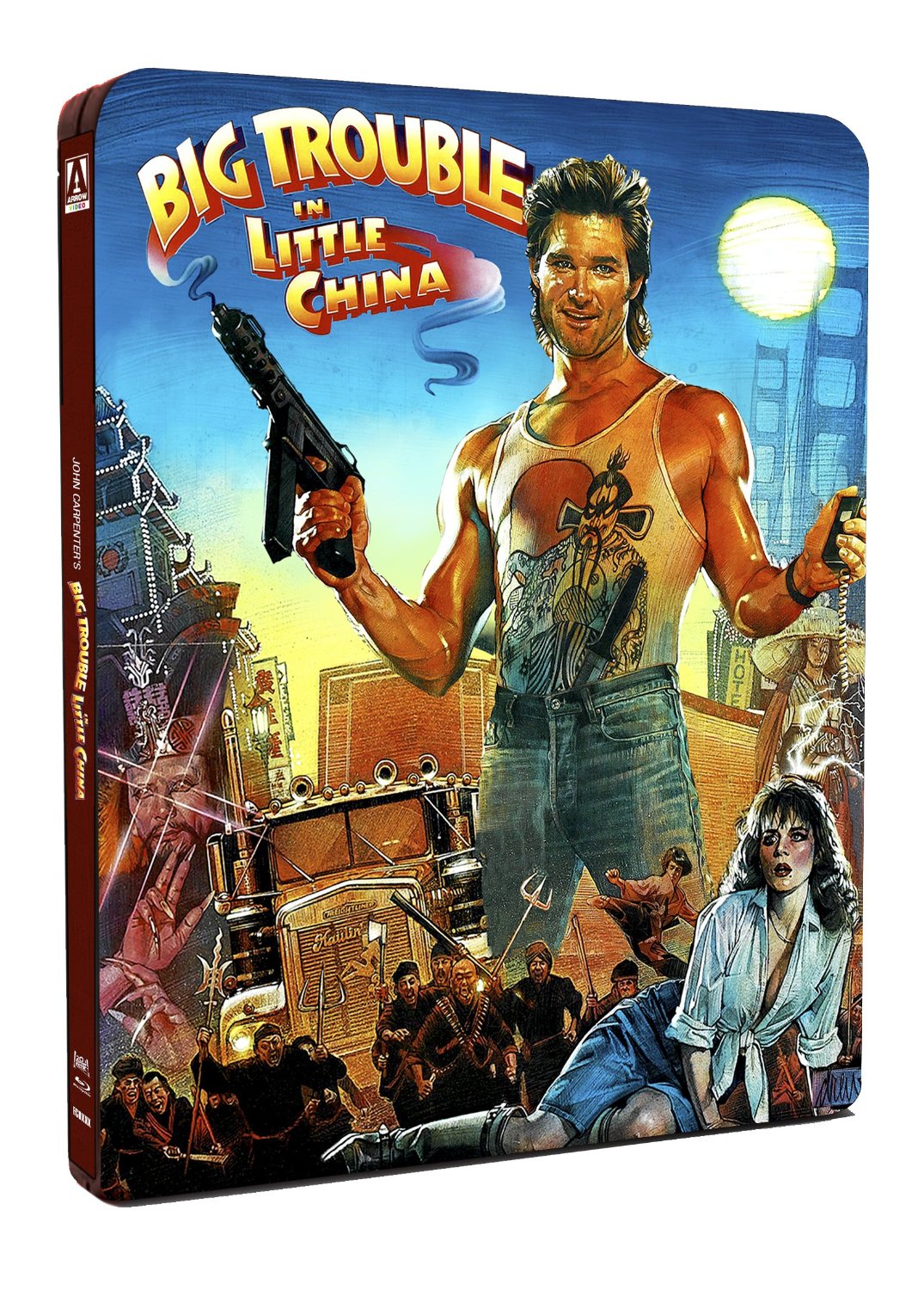 Order the regular amaray from Amazon.co.uk