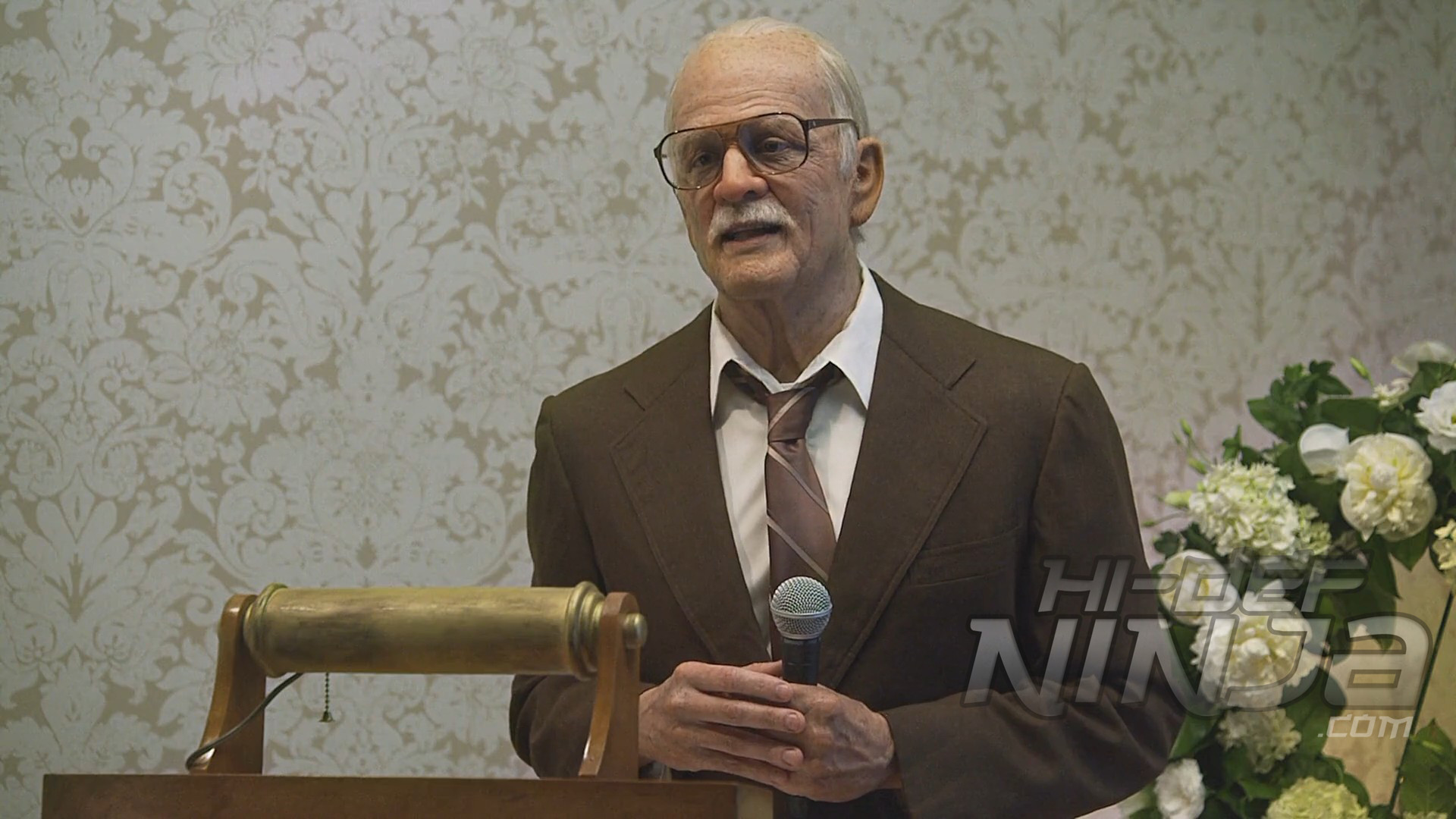 "Jackass" ringleader Johnny Knoxville reprises his role as 86-year-old 'Irving Zisman' in the story of a crotchety old man unexpectedly saddled with the care of his 8-year-old grandson, 'Billy' (Jackson Nicoll). The two generations of troublemakers soon develop a bond, as they hustle their way across the heartland of America pursuing hijinks and pulling pranks on unsuspecting, real-life people—all of whom had no idea they were starring in a hidden camera film.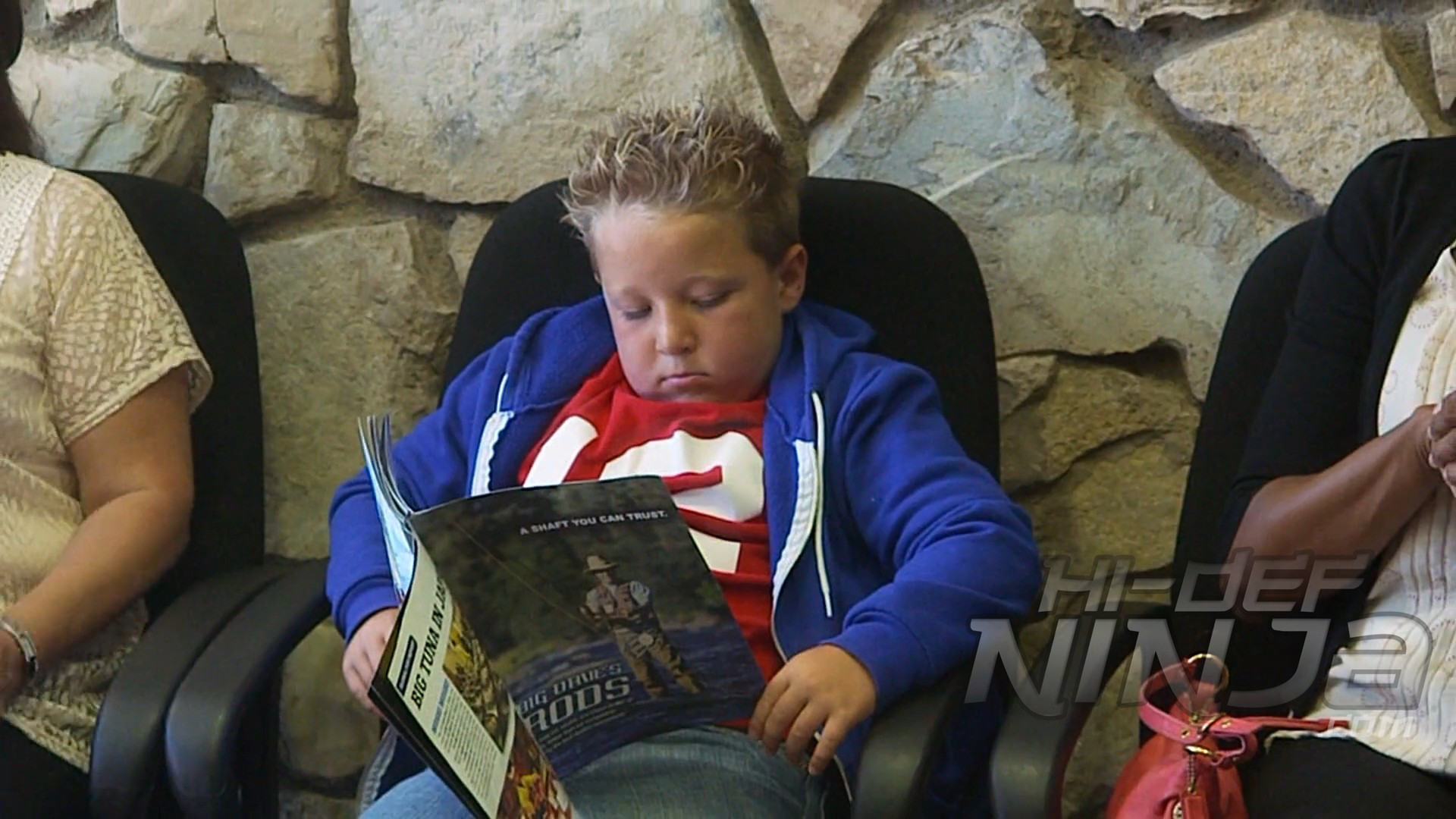 If you're familiar with any of the previous "Jackass" works, you'd know not to expect reference quality imagery because of the way it's filmed, using a variety of cameras ranging from hidden cameras, CCTV footage and long zoomed in shots. It is the same for "Bad Grandpa", mainly coming from the hidden cameras.
The image is 1080p, but due to the nature the movie has been filmed in the picture is not reference quality. A lot of the time the picture is quite soft, and can be heavy with noise. Detail isn't as good as you would expect from a newly released movie, nor are the colours. However, we need to remember here that a lot of the footage has been taken from hidden camera placed out of view wherever they can be to capture the moments that have made up "Bad Grandpa".
This wouldn't have been bettered in any way shape or form, and certainly wouldn't have got the reaction that it did with the unknowing members of the public that fall for the pranks that ensue in the movie if it had been filmed as a 'proper' movie.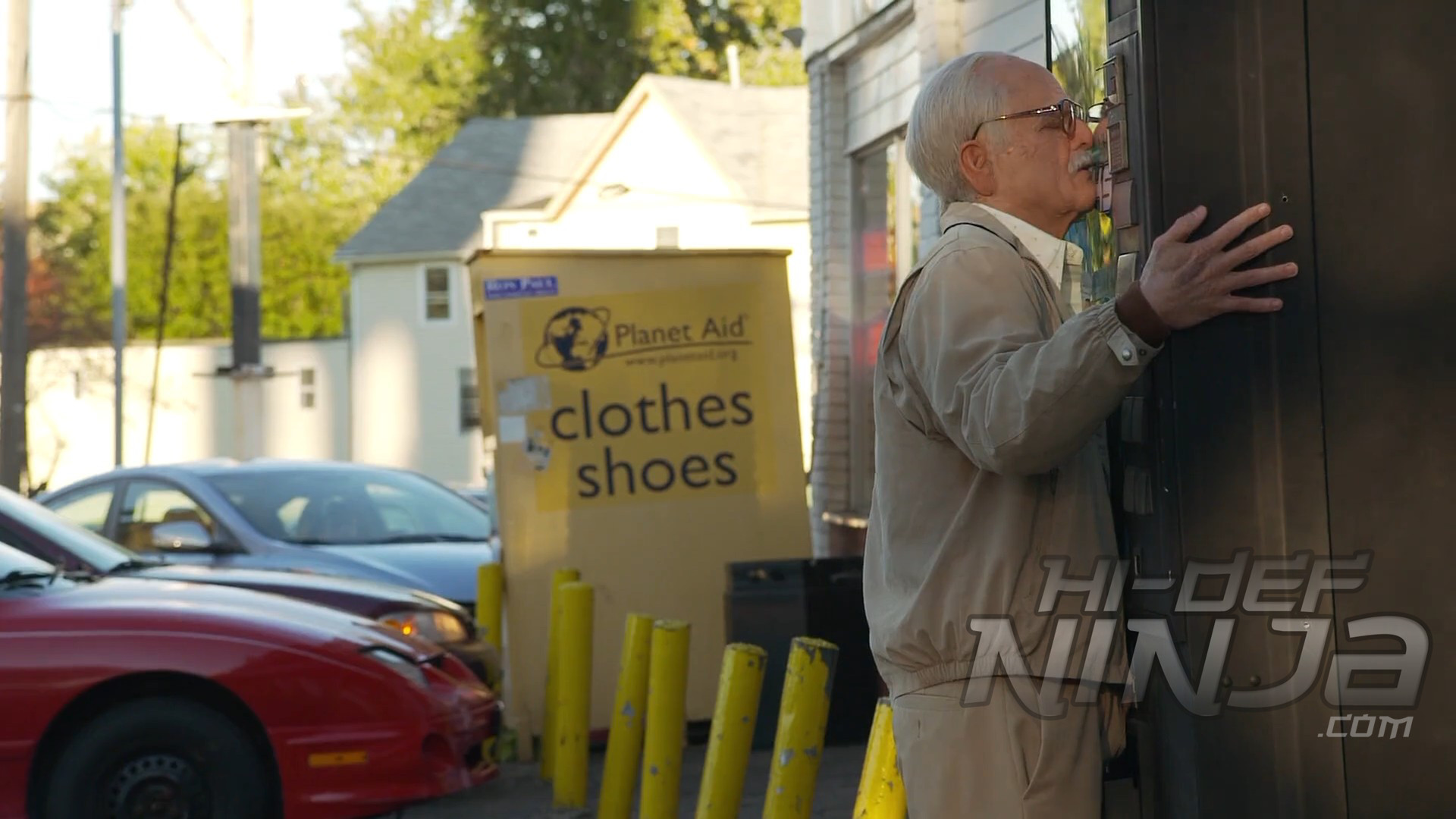 Paramount have included on the disc an English DTS-HD Master Audio 5.1 track.
Much like the picture, the audio does fall flat throughout a lot of the movie but this is only because of the way the movie was made in typical "Jackass" style. Dialogue comes through very well mainly through the centre speaker, but is limited again in what they pick up due to always being out of the way, lacking the clarity that you would come to expect from a movie. Sound effects and background ambience are picked up well, but again limited but do come through the track adding that little bit more 'oomph', but not sounding anywhere near as glossy or refined from what you would expect from a standard movie. The score that has been put on to the movie does come through the speakers very well, as does some of the in-movie music.
Whilst it's not the strongest track ever produced, anyone familiar with the "Jackass" franchise should know what to expect.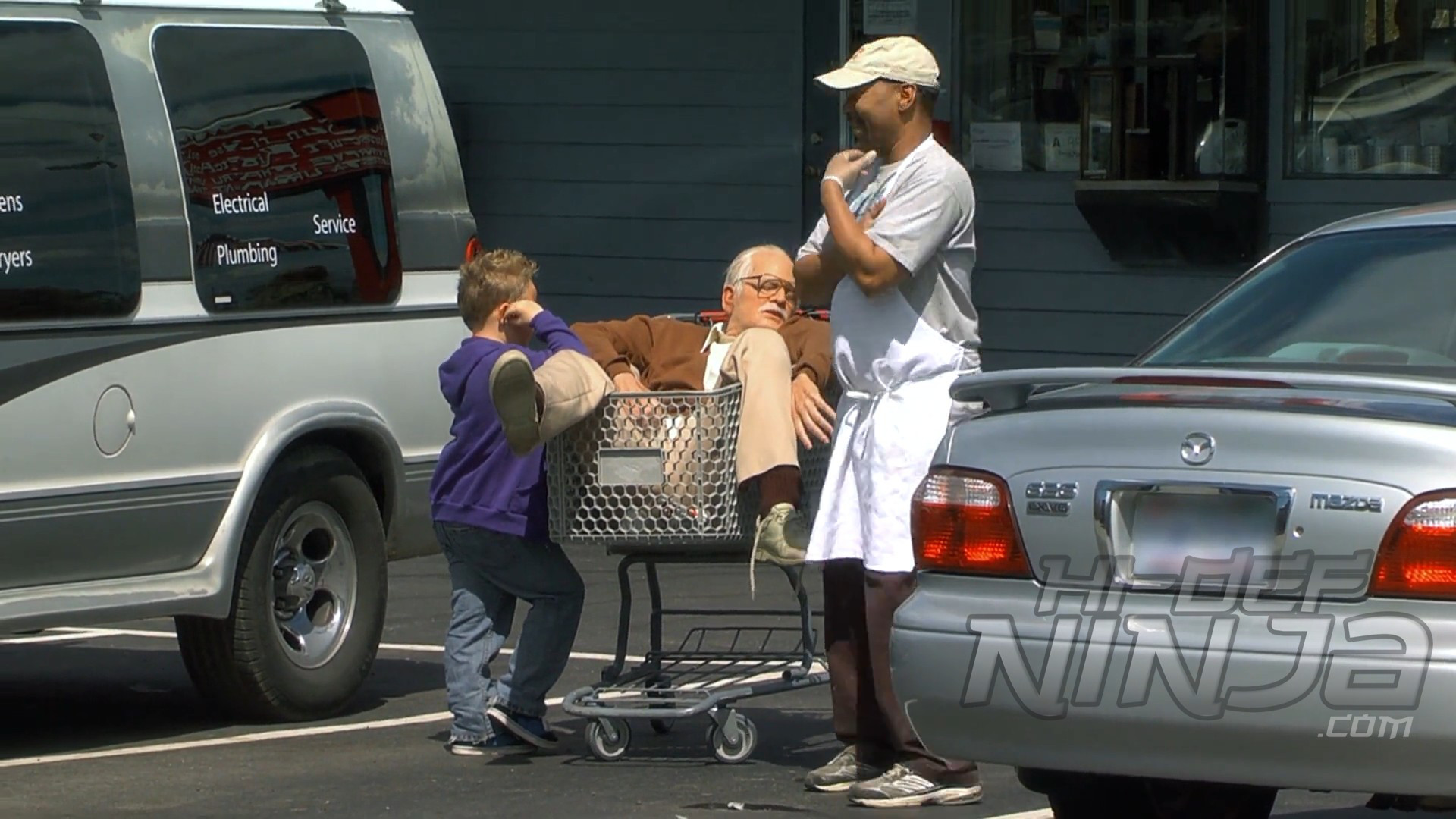 Paramount have included the following extras –
* Behind the Scenes (HD, various): Short behind-the-scene looks at how the cast and crew set up several key scenes and shows reactions from the real people who appear in the film. Included are "The Funeral" (3 mins), "Estate Sale" (4 mins), "Window Launch" (4 mins), "Shipping Billy" (4 mins), "The Penguin" (2 mins), "Wedding Crashers" (3 mins), "The Drop Off" (4 mins), and "Beauty Pageant" (7 mins).
* Alternate Marks (HD, various): Alternate takes for "Meet Billy" (5 mins), "Meet Irving" (3 mins), "The Skype Call" (4 mins), "Billy Shops for Parents" (2 mins), "Irving Hits on Women 1" (3 mins), and "Irving Hits on Women 2" (2 mins).
* Deleted Scenes (HD, various): "Street Magician" (3 mins), "Chair Kick" (2 mins), and "Shopping Cart" (2 mins).
Not the hugest set of extras, but with just under an hour's worth on the disc there's some good behind the scenes stuff to keep fans happy. However, it would have been nice to see some interviews with the cast and crew, audio commentaries again from the cast and crew and even looking at some of the make-up work done for the movie.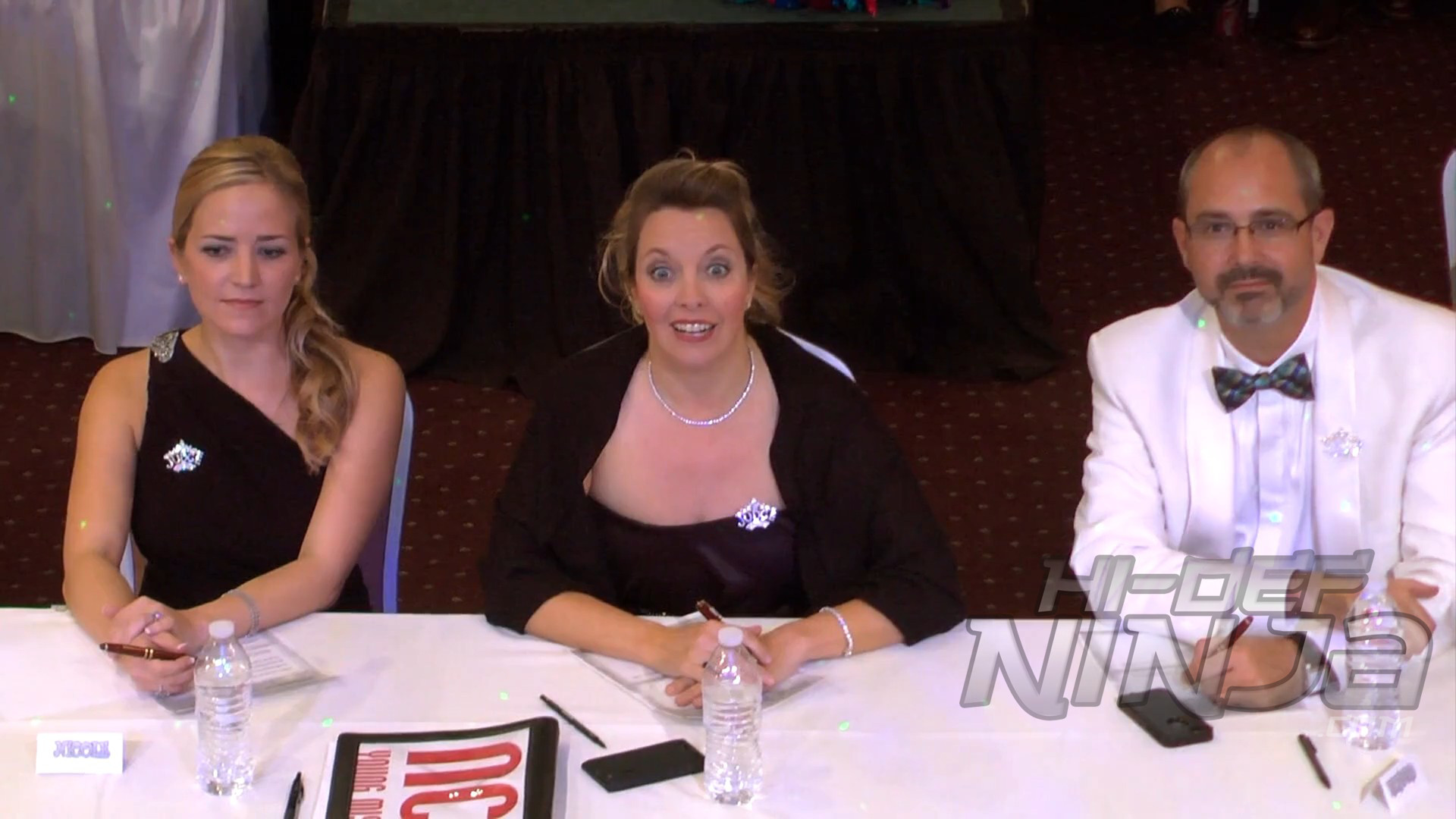 I'll be honest straight from the off, I love everything "Jackass", there I said it. My late teens was when I first discovered "Jackass" and I was one of the people that found it hilarious and still love it to this day, everything from "Jackass", "cKy", "Viva La Bam" and even "Wild Boys". I made a point to ensure I watched all 3 "Jackass" movies when they hit the cinema over here in the UK and I wasn't going to miss "Bad Grandpa".
I remember first hearing about "Bad Grandpa" before the trailers hit our screens and thinking I wasn't too sure on how it would work as it had been done to death in the TV shows and "Jackass" movies, and if I'm being honest was always one of my least favourite skits to the show. However, my interest was perked up when I saw the trailer and instantly thought it would be funny and definitely worth a watch, although slightly hesitant thinking that they may have shown all of the best bits in the trailer. Needless to say, in my opinion, this wasn't the case and there was certainly a lot of laughs in the film and I'll even admit to having tears of laughter roll down my face in one part of the movie (I won't say what part as I don't want to spoil it for anyone).
Underneath all of the comedy, is quite a decent little story line to keep things moving along about a Grandfather and his Grandson. If anything it does show that "Jackass" and "Bad Grandpa" Jeff Tremaine can direct a half decent movie, which is shown here. It's also worth mentioning that "Bad Grandpa" is now an Oscar nominated movie! Nominated for 'Best Make-up and Hairstyling', it goes to show how far the team have come since the original TV show days.
Paramount has included the original theatrical cut, as well as a new extended cut. The theatrical cut runs at 92 minutes, whereas the new extended cut has a running time of 103 minutes, giving us an extra 11 minutes of "Bad Grandpa". Whilst the extra footage doesn't really add a great deal to the movie itself, it does extend on some of the stunts in the film, adding more to the 'funny factor' of "Bad Grandpa" and is a noticeable addition over the theatrical cut. My main disappointment from this Blu-ray release is the lack of some extras that I feel could have been a great benefit to this release, especially because of the Oscar nomination that "Bad Grandpa" received. Cast and crew interviews area much needed addition in my opinion, as well as a commentary or two but especially some input from Stephen Prouty and how the make-up on Johnny Knoxville came about, how it was applied, etc as it's great work.
Needless to say I was quite fond of "Bad Grandpa" at the cinema, and it was a blast to watch again on Blu-ray in the comfort of my own home. Whilst the AV isn't as strong as most new releases, there are some decent extras included and should please all "Jackass" fans out there and anyone wanting to sit down and enjoy a very funny comedy movie, even if you're not a fan of the whole "Jackass" thing, this is a Blu-ray that I can whole-heartedly recommend.
Purchase your copy from Amazon.co.uk
Purchase the limited edition Steelbook from 'The Entertainment Store' at Play.com
httpvh://www.youtube.com/watch?v=ZTWIhu7TvmA