Walking with Dinosaurs doesn't need its lame story to be epic.
As a child, I thrilled to learning about the stories of space travel and the dinosaurs that roamed the Earth as much as I enjoyed music and the arts.  To me, the story of the dinosaur's demise was as thrilling as Treasure Island or Sherlock Holmes.  And while the Blu-ray release of Walking With Dinosaurs is chock full of educational extras, its weak voiceovers are unnecessary in sharing one of the greatest stories and mysteries of mankind.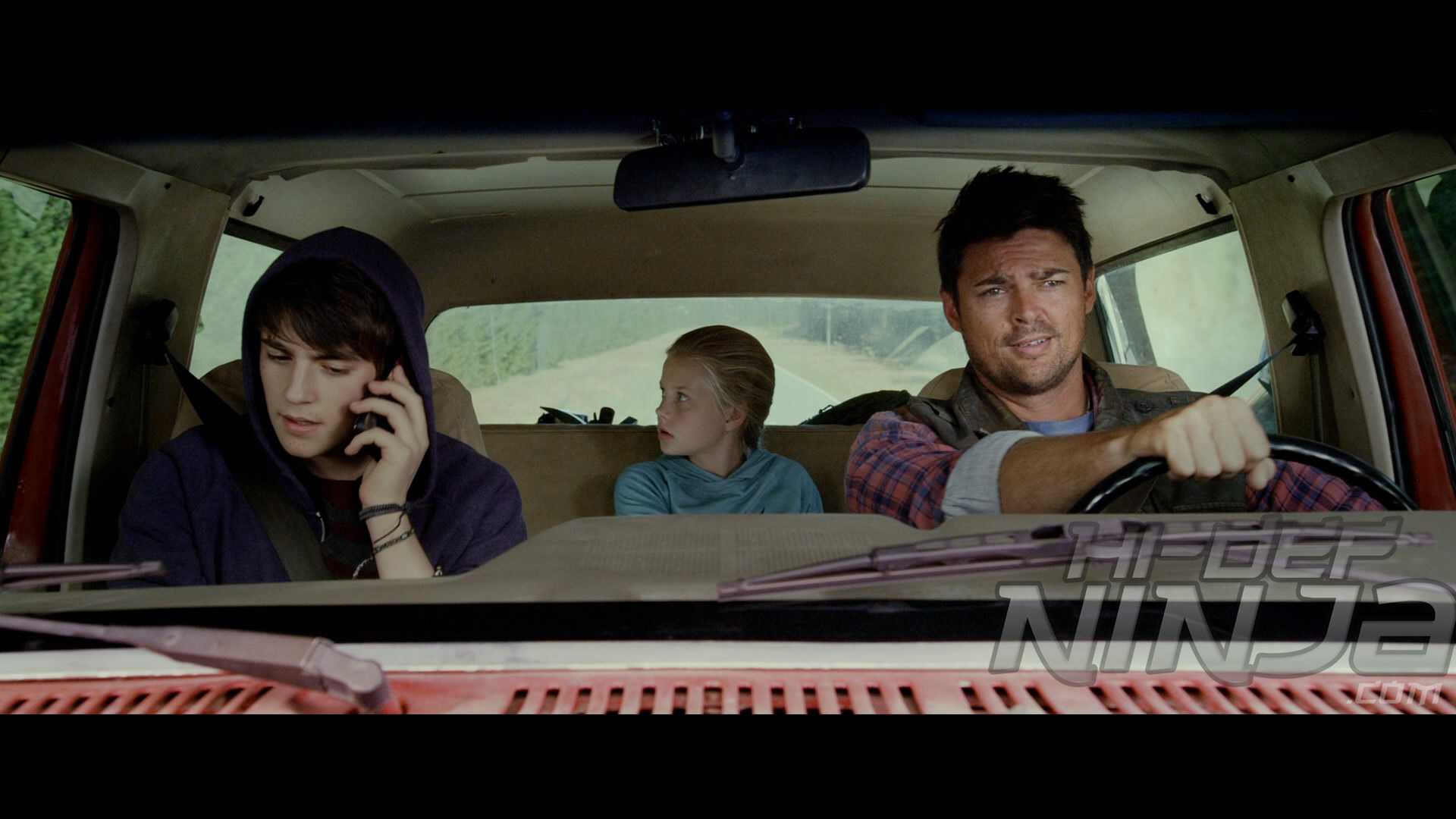 As the opening arrives, we see the paleontologist Zack (Karl Urban) taking his nephew Ricky and niece Jade to a dig site in Alaska.  Ricky isn't interested in attending, and sticks back at the truck while Zack and Jade run off to process a find.  As Ricky goes back to his digital world on his smartphone, a crow (voiced by John Leguizamo) lands on the truck, urging Ricky to join him as he takes the audience back into time.  As the primordial bird Alex, Leguizamo is our host as we're introduced to the young dinosaur Patchi (voiced by Justin Long), a Pachyrhinosaurus and the runt of the litter.  Constantly picked on by his brother Scowler, Patchi is an excitable youth who's constantly getting into trouble.  He gets pooped on (literally) by a huge dinosaur, and even has his mane punctured by a bird hoping to take him away for dinner.
Patchi soon falls in love with Juniper (voiced by Tiya Sircar), whose family is moving south to escape the coming winter.  Unfortunately, predators of the Pachyrhinosaurus abound, and Patchi's mother and father die while defending their herd.  Left with his bruising brother, Patchi must endure while proving himself worthy to Juniper and keeping the rest of the large herd from suffering the same fate as his parents.
Walking With Dinosaurs isn't especially good in telling its story, and that's a shame because the one left on the table is ultimately more exciting.  The tale of the dinosaurs doesn't need injections of human drama and comedy to be effective, yet the pasted-on dialogue (apparently not in the original cut, which appears on the 3D version) and predictable story won't surprise anyone, even little kids.  Walking suffers from trying to educate while telling a dramatic tale that doesn't need to be told.  When a new species is introduced, the video literally stops to announce the name in a friendly young girl's voice.  Their size relative to humans is presented, along whether they are carnivores, omnivores, or herbivores.  Honestly, there really isn't an elegant way to share such information, but Directors Barry Cook and Neil Nightingale put the audience at a disadvantage each time they stop and start again.  Instead of choosing one bold path and sticking to it, they lurch the story in parts, short-circuiting any sort of dramatic heft which they struggle so mightily at building.  While I can appreciate the effort to educate, the result here doesn't do the subject right.
We give Urban a lot of credit for appearing here, but ultimately the story doesn't need him, nor does any story of any kind need to be formulated around this already impressive subject.  Cook and Nightingale don't do a great job with the voice cast, but do choose several epic vistas to surround Patchi and the others.  What rescues Walking from total disaster are the impressive CGI, sporting tons of detail that give the production a sense of reality.  Unfortunately, that's not enough to actually recommend the film itself, which is totally predictable.  This could be worthy if you have young ones who either like dinosaurs or who may be naturally inquisitive; otherwise, the script will not keep their attention.
Appealing educational programming is hard to find these days, but I could see my parents picking something like this one up for their geeky son.   Whether it works for your children or not is another matter entirely.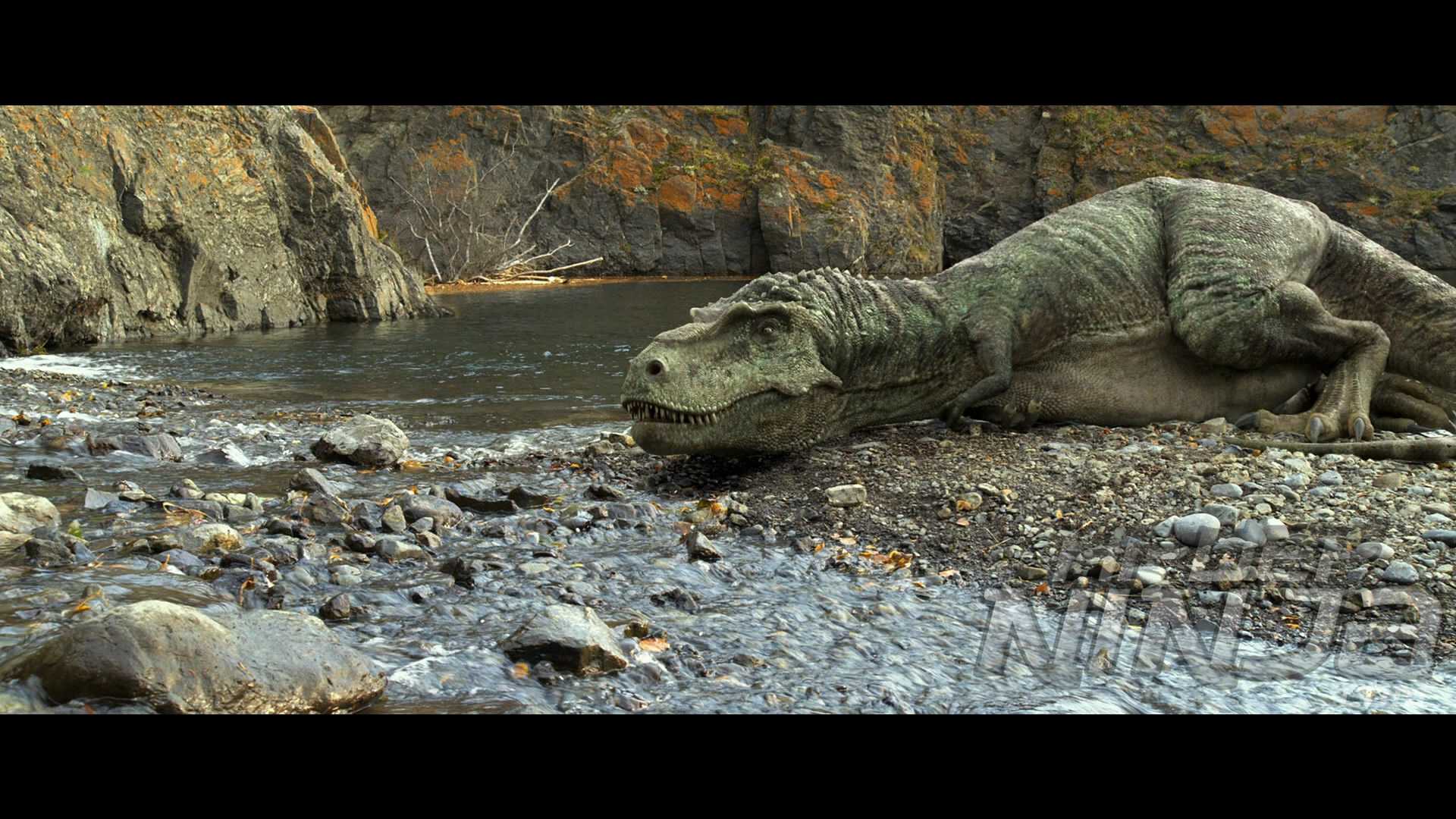 Walking with Dinosaurs is presented in an exceptionally clear 1080p transfer.  Colors are precise and bold, with reds and blues bouncing off the screen, while the CGI dinosaurs mix well with the pretty live action environments.  Trees, rocks, and general vistas look real, as does the scaling on Patchi and the other Pachyrhinosauruses.  Feathers on Alex and the other primordial birds also look terrific, with deep transitions between the various layer.  Shadows and blacks blend agreeably, while brighter environments never seem to suffer from aliasing or banding.  The strength of this digital print is obvious throughout, which should look superb on any high-definition platform.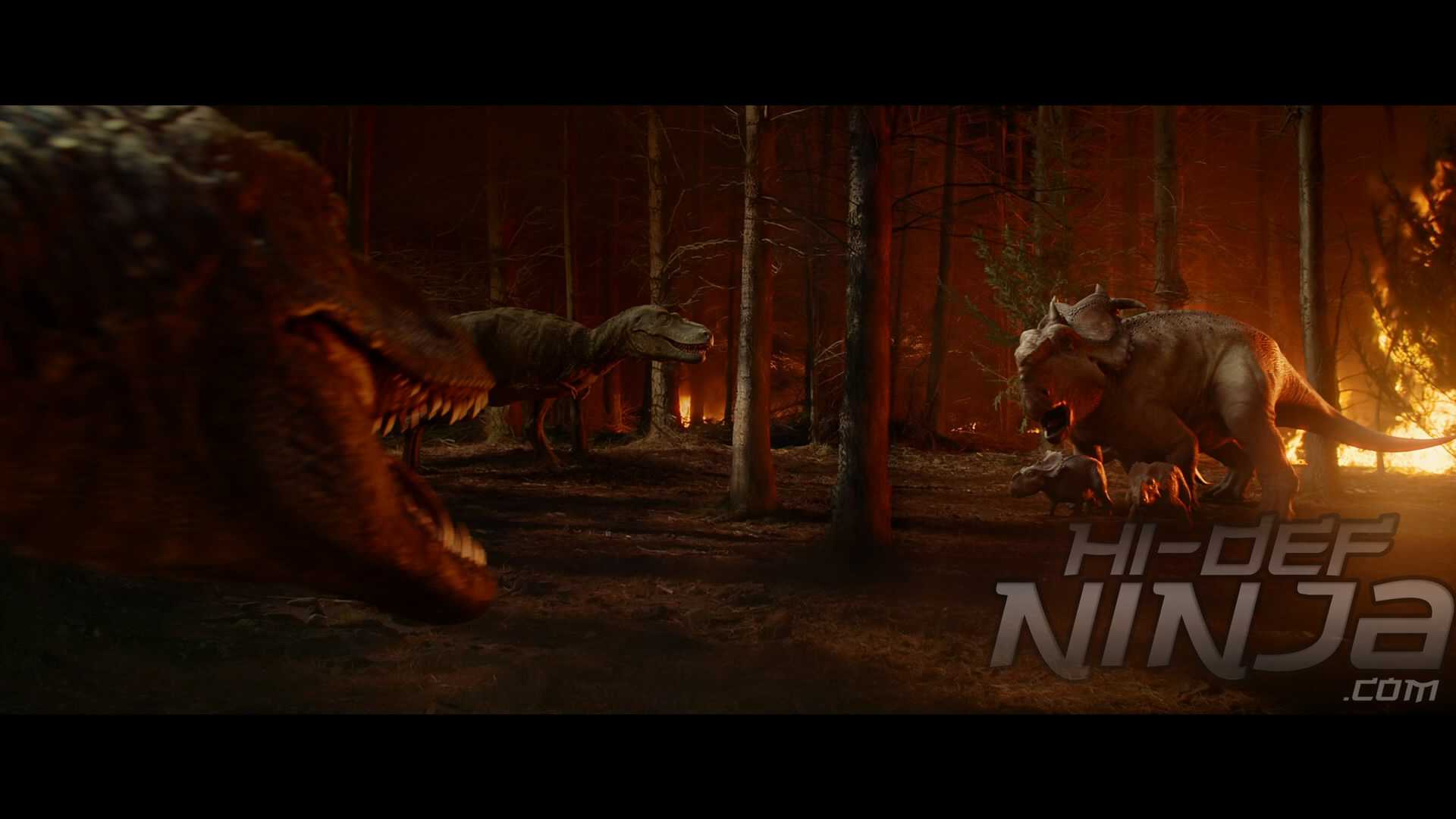 The DTS-HD Master Audio 5.1 of Walking With Dinosaurs is terrific in certain ways and utter disappointing in others.  The various sound effects of the dinosaur roars, foot movement, and the film's score byPaul Leonard-Morgan sound epic and powerful.  These and other effects move across the soundfield with mostly perfect effect.  The LFE scores with the thunderous pounding of hooves, the roar of forest fires, and the various dinosaur battles.  However, other areas are naggingly amateur such as the inconsistent voiceovers, which become overly loud as they move from the left to the center channel.   This happens on wider shots of the herds as well as in closeups.  Additionally, why the animators chose to not animate the dinosaur mouths with the voices is beyond me, and this just becomes more frustrating as the movie drags on.  While the audio transfer serves its purpose, the result could have been so much better.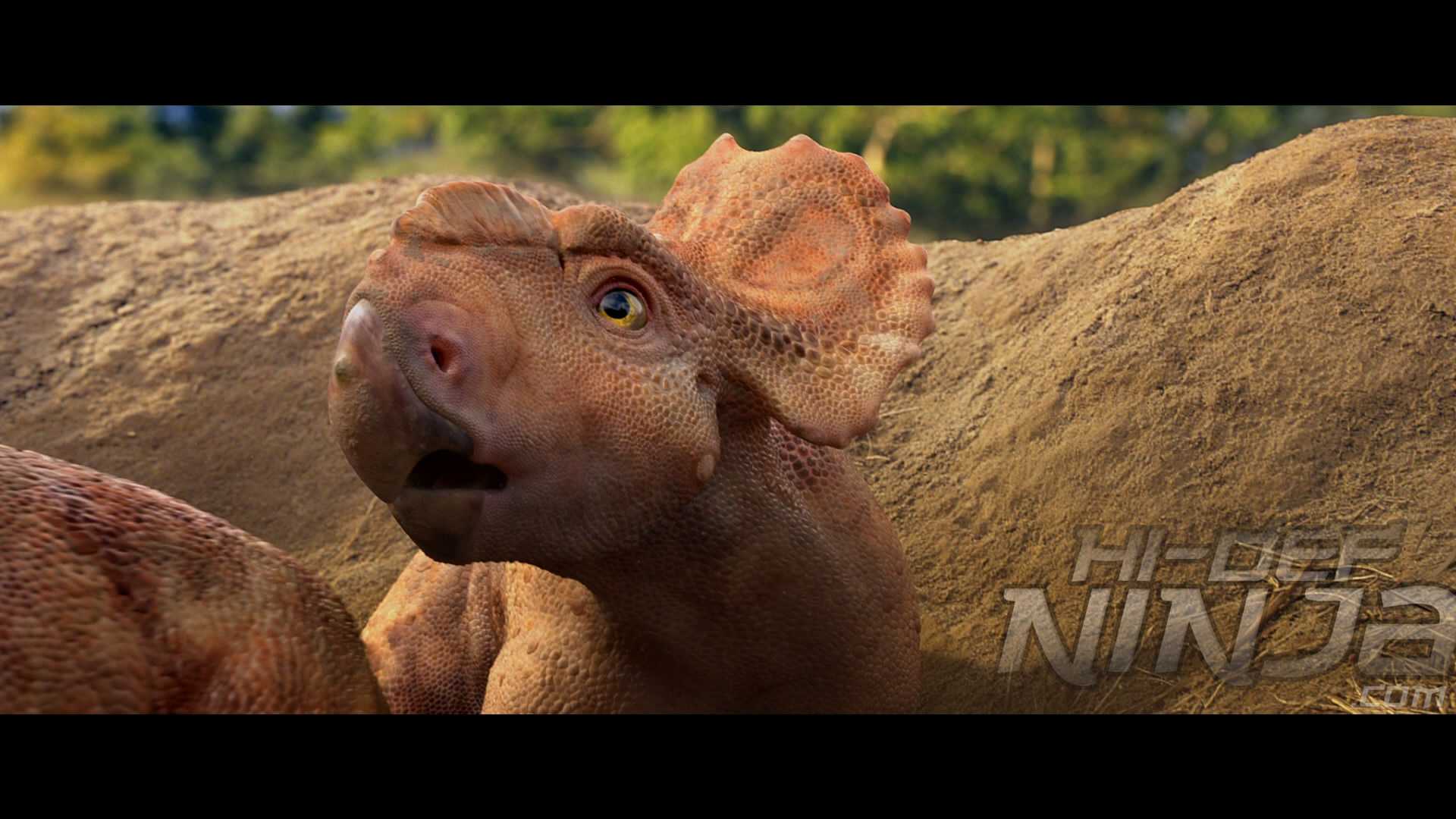 The release offers a wide variety of extras, all of which are presented in HD:
Ultimate Dino Guide (1:07) is a brief introduction to the larger world behind the film.  Afterwards, you're given the option of learning about each of the following dinosaurs in exhaustive detail.  You can listen to a Gorgasaurus's roar, learn about the wingspan of the Pterosaur, or read about the diet of the Alphadon.  Eleven species are featured, including Pachyrhinosaurus (4:03), Gorgosaurus (1:57), Hesperonychus (1:18), and Troodon (2:05)
Match the Call is a fast-paced game where various dinosaur sounds play which require you to identify the species.  Meanwhile, a puzzle of that beast assembles and countdown clock announces when you've run out of time.
Interactive Map is exactly as it reads: These are the same maps featured in the Dino Guide, but the audio and popups are different. Although it's brief, you could see kids clicking through each as they study for a test in their Science class.
Much like a commentary track, turn on the Dinosaur Trivia Track to learn about the dinosaurs in more exhaustive detail.  Again, kids could watch this film several times and spend hours pouring through the material.
Nickolodeon Orange Carpet Dino Rap (1:01): I'm guessing parents will roll their eyes with this very young rapper singing about the film, but I suspect kids won't find it too interesting.  This major dud is the only thing hampering what is a mostly exceptional supplemental release.
Theatrical Trailer (1:23)
Our evaluation copy arrived as a Blu-ray/DVD Combo with Digital Copy.  The slipcase is colorful but smooth, and there is no interior artwork.  A 3D version of the film – with the original cut – is included, making us wonder why it wasn't included here instead of the one we got.  The home release does make the most out of the 50GB single-disc version, and we're not aware of any special versions or alternate packaging.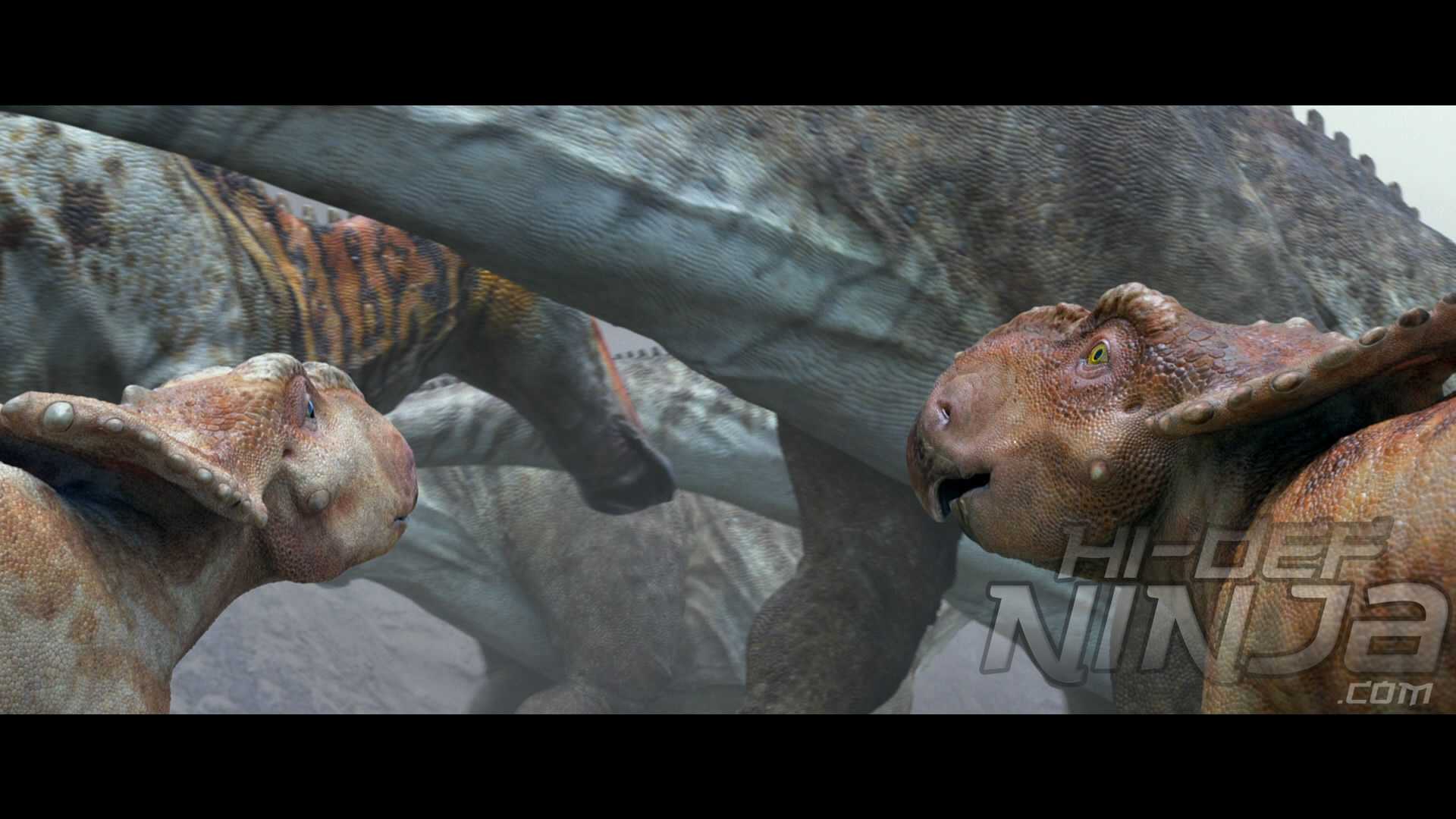 While I had not watched the original version of Walking With Dinosaurs, I can see why some would have disliked the additional voiceovers.  While visually stunning, the "story" and additional voiceovers run the project to ground.  They aren't necessary and probably would have elevated things with their absence.  If you decide to purchase this, don't do it for the nagging audio issues, but for the educational merits and beautiful CGI/live-action sequences.  This would have been a video my parents could have bought me in my youth, and one I would probably have looked back fondly upon as I got older.  Skip the story and head instead into dinosaur university!
Walking with Dinosaurs is rated PG and has a runtime of 87 minutes.
Discuss this review with fellow HDN fans on Facebook. On Twitter, follow us at @HidefNinja, and follow author Matt Cummings at @mfc90125.