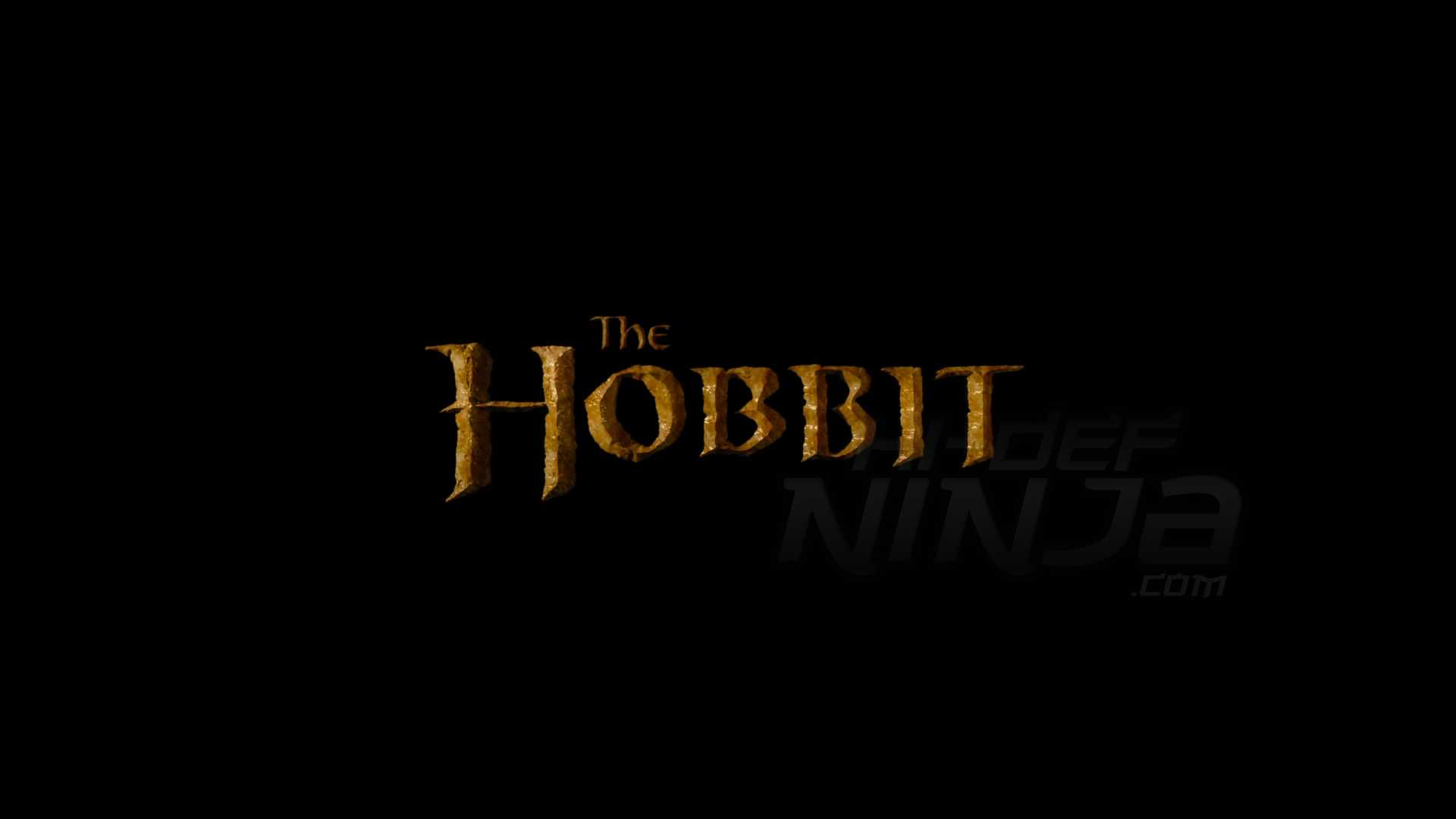 The Hobbit: The Desolation Of Smaug is a rewarding follow-up to Middle Earth that looks and sounds amazing in its home release.
As a fan of good movies rather than a loyal fan to a particular franchise, my disappointment with the hugely-successful but critically marred The Hobbit: An Unexpected Journey knew few bounds – our heroes felt less than those presented in the epic and totally satisfying Lord of the Rings trilogy, and the story itself felt like trudging through a rain storm.  Luckily, one cannot say the same for its sequel: The Hobbit: The Desolation of Smaug is wild and darker, but often a very pretty picture that should satisfy purists and casual fans alike.  The home release features stunning audio/video, but is only a decent variety of supplements reason to not buy it?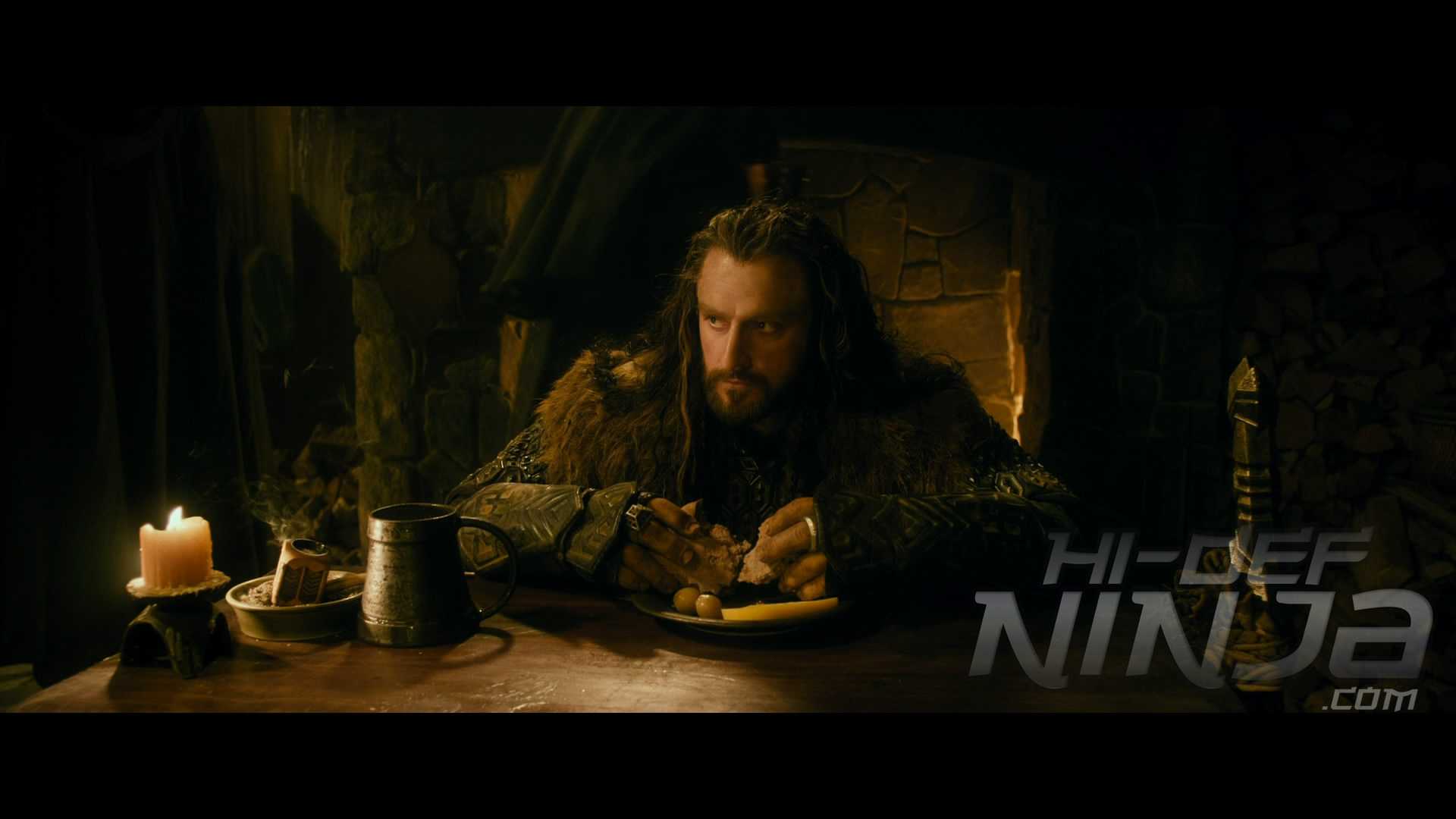 The movie starts with a sort of 'prologue to the prologue, trilogy-in-waiting' scene, recounting the reasons for the journey itself before fast-forwarding 12 months later as Bilbo Baggins (Martin Freeman) scouts ahead for Orc pursuers. Right away, you get a sense of the tension he and his Dwarf allies have been under since their rescue by The Great Eagles at the end of Journey.  From there, it's a wild race to the home of a 'skin shifter' who transforms from a very angry bear to a towering Nordic, providing the team with needed shelter.  The shifter's message is repeated by other characters throughout the film: "I hate Dwarfs, but I hate Orcs more."  Bilbo and company are trudging towards The Lonely Mountain, deposed home of Thorin Oakenshield (Richard Armitage) and his people, hopeful that the dragon Smaug (voiced by Benedict Cumberbatch) can be run out of town.  Of course, there are hurdles in the way, including an untrusting Han Solo type named Baard (Luke Evans) and the isolationist Elven King Thranduil (Lee Pace).  But there's also that pesky One Ring to contend with, along with the re-introduction of the Elven warrior Legolas (Orlando Bloom) and his female equivalent badass Tauriel (Evangeline Lilly).  Angry Orcs pursue the Dwarfs and Bilbo, while the Elves follow the parade of violence right to Erebor, leading to a showdown with Smaug that leaves us hanging until the trilogy wraps up this December.
From the moment Director Peter Jackson makes a very Hitchcockian appearance in the opening scene, we get the feeling that this one will be different.  Fortunately, he remains true to his word, delivering a better (if less slavish) adaptation of J.R.R. Tolkein's 1937 novel.   There's a lot Jackson crams into this 161-minute adventure without slowing down the pace – characters are better defined here, as is the world of Middle Earth being more populated by humans than we thought, but filled with all the impending danger of Saruman and The Necromancer (also voiced by Cumberbatch).  The writing troupe of Jackson Philippa Boyens, Fran Walsh, and Guillermo Del Toro (who was supposed to direct this trilogy) deviate from the original book, imagining Tauriel and importing Legolas, while centering the story on several very good action set pieces.  The result is a movie that seemingly flies by, until Jackson closes the second chapter with Bilbo pondering 'What have we done?' as Smaug prepares to attack a nearby village.  The choreography is intense and highly staged, especially during a river scene as both Dwarves and Elves race in barrels while Orcs pursue them.
Andy Serkis, who played Gollum in the previous films, is absent here but serves as an effective Second Unit Director, realizing his run of that iconic character is soon to end.  Meanwhile, our actors turn in excellent performances, from Armitage's stoic Thorin, to Lily's breath of fresh air with arrows; Freeman plays a lesser yet no less satisfying role as the Hobbit who is using the One Ring to gain courage without knowing the damage which prolonged exposure to it will soon have.  Evans and Cumberbatch – among my favorites in Hollywood – continue to see their stocks rise by immersing themselves in their roles, with one as an unsung hero and the other a hated villain. Both command the screen in different but highly effective ways, making us wish the final There and Back Again continues to improve upon a product that's much better this time around.
The 2D and 3D experiences of The Desolation of Smaug are equally stunning, and therefore worthy of mention.  The 2D is a 1080p MPEG/AVC transfer is in a word beautiful, highlighting the beautiful imagined world of Middle Earth.  Forest colors are a beautiful golden/green, while the seediness of Laketown is drab but highly detailed.  Human features, such as Gandalf's beard and features of the Seven Dwarf Families, are crystal clear throughout the film.  Skintones are perfectly saturated, blood and sweat look lifelike, while the CGI environments give a real sense of depth and space to Middle Earth, wrapping our actors in this imagined world and taking us along for the ride.  Some of the night scenes do lose shadow depth, but none of them ever result in crush, while blacks are deep and inky.  On the other hand, day scenes never too bright, and detail in clouds are readily apparent.
The same goes for the 3D, which is presented in an MPEG/MVC transfer.  Note that this version is spread across two discs, while the 2D is on a single.  The difference here is texture and depth – everything is improved from the 2D, rewarding us with more oppressive shadows and detailed environments.  Mountains appear as powerful ancients overlooking this world, while animals and insects (like the spiders) jump out of the screen without doing so for shock value.  Towns like Bree – where our story begins – feel like you could step right into them, reminding us just how much Jackson's technique has improved over Journey.    The 3D version represents one of the finest releases of the year, while the 2D transfer is just as admirable.
With both versions, there's zero evidence of banding, aliasing, or edge enhancement, making a strong case for whichever version you choose to watch.
Much like its video partner, the DTS-HD Master Audio 7.1 surround track is deep, resounding, and pulsing at multiple points throughout the film.  Starting with the front speakers, we are given a solid mix of dialogue, sound effects, and music, each playing in perfect harmony with each other.  The center channel, most oftentimes the subject of the same treatment as the forwards, actually prioritizes the dialogue, leaving everything else as a distant murmur.  I always appreciate this aspect as it reminds us the true nature of surround sound.  Not only does the center play an important role, but the surrounds do a marvelous job of wrapping us in Middle Earth.  Every sword thrust, each pounding of horse hooves, and footstep is recounted here in glorious – if even a little overwhelming – detail.  Then, we get to the LFE which roars with Smaug's gigantic wings, his powerful feet, and the destructive fire – you might have to reduce the sound at the beginning, but you won't lose any of the dialogue, which makes the experience that much more impressive.  Our 5.1 downmix always makes 7.1 sound glorious in general, and Smaug is no different.  I'm totally satisfied with the results and have no reservations of granting it a five-star effort.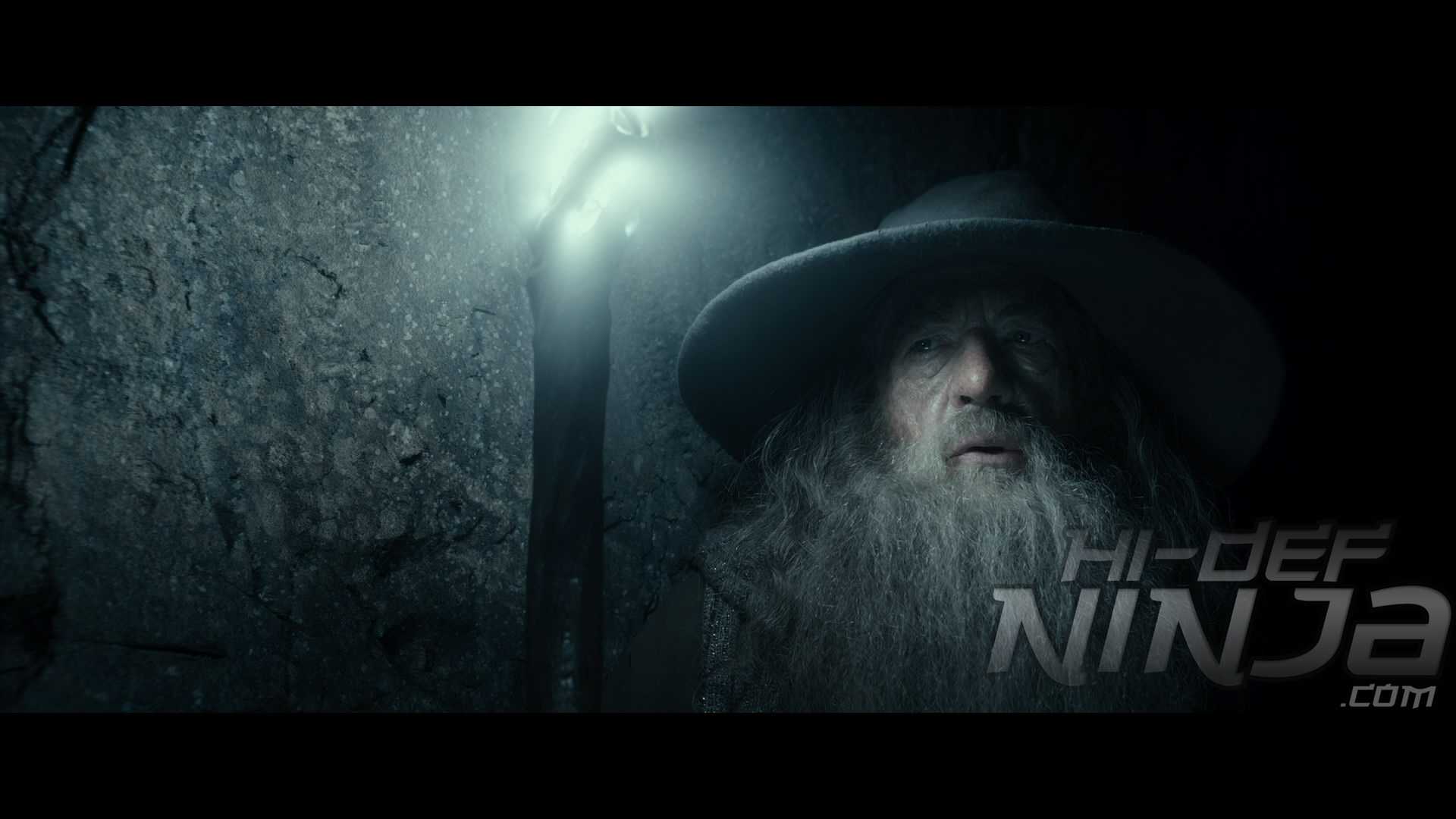 The Hobbit: The Desolation of Smaug is thin on extras, lacking a commentary (a practice apparent in every theatrical edition).  However, there are several featurettes, all of which are presented in HD and spread out between two discs:
New Zealand: Home of Middle-earth, Part 2 (7 :11): The picturesque backdrop of the New Zealand locations are front and center  here.  No wonder people flock there for memorable vacations.
Peter Jackson Invites You to the Set (40:36): A light but informative two-parter, we're treated to a series of snippets involving various aspects of production.  In the Company of The Hobbit (18:10) take us through wake up, makeup application, blocking, shooting, and even eating food.  Let's just say that the birthday cakes looks amazing.  In All in a Day's Work (22:25), the crew returns to action which includes Tea Time and and end-of-day festivities.
Music Video (5:42): Ed Sheeran records I See Fire, which is featured at the end of the film.
Live Event: In the Cutting Room (37:52): Part of a live stream from March 2013, Jackson took the audience through the production facilities and fielded fan questions.  We learn why he uses a 105″ television to edit his films and several guests show up to say hello.
Production Videos (35:30): Four informative featurettes – which appear to be the web updates released prior to theatrical release – are included: Introduction to Pick-Ups Shooting (9:06), Recap of Pick-Ups, Part 1 (8:20), Recap of Pick-Ups, Part 2 (8:46), and Music Scoring (10:28).  In each of these, you get tantalizing quick glances of There And Back, but for the most part it's all about Smaug.  In the final featurette, we meet Composer Howard Shore and the musicians responsible for bringing an unappreciated but no less important aspect of film-making to life.
3 Trailers (7:44)
Promos: The Hobbit: An Unexpected Journey: Extended Edition (1:34), The Hobbit LEGO Game Trailer (1:44), and The Hobbit: Kingdoms of Middle-earth Game Trailer (1:07) are offered.
The problem with the home releases has never been about quality, but of timing: this is the theatrical edition, not to be confused with the extended edition that will probably arrive some time in November.  While I'm personally are committed to both, the average consumer will have to decide based on personal factors.  If limited to one, I would opt for the extended version hands down.  The lack of deep extras here is one determinant, but in my mind it's also about getting the most complete version.
In an effort to appeal to our wallets, Warner Bros. has made several versions available.  Sadly, none of them include a steelbook for US audiences.  Our top domestic choice would be the Limited Edition with Book Ends, which comes with the 2D & 3D editions. In fact, it's exact version of the one we're reviewing here.  Target also offered an alternate slipcase, but I don't think it's enough to double-dip.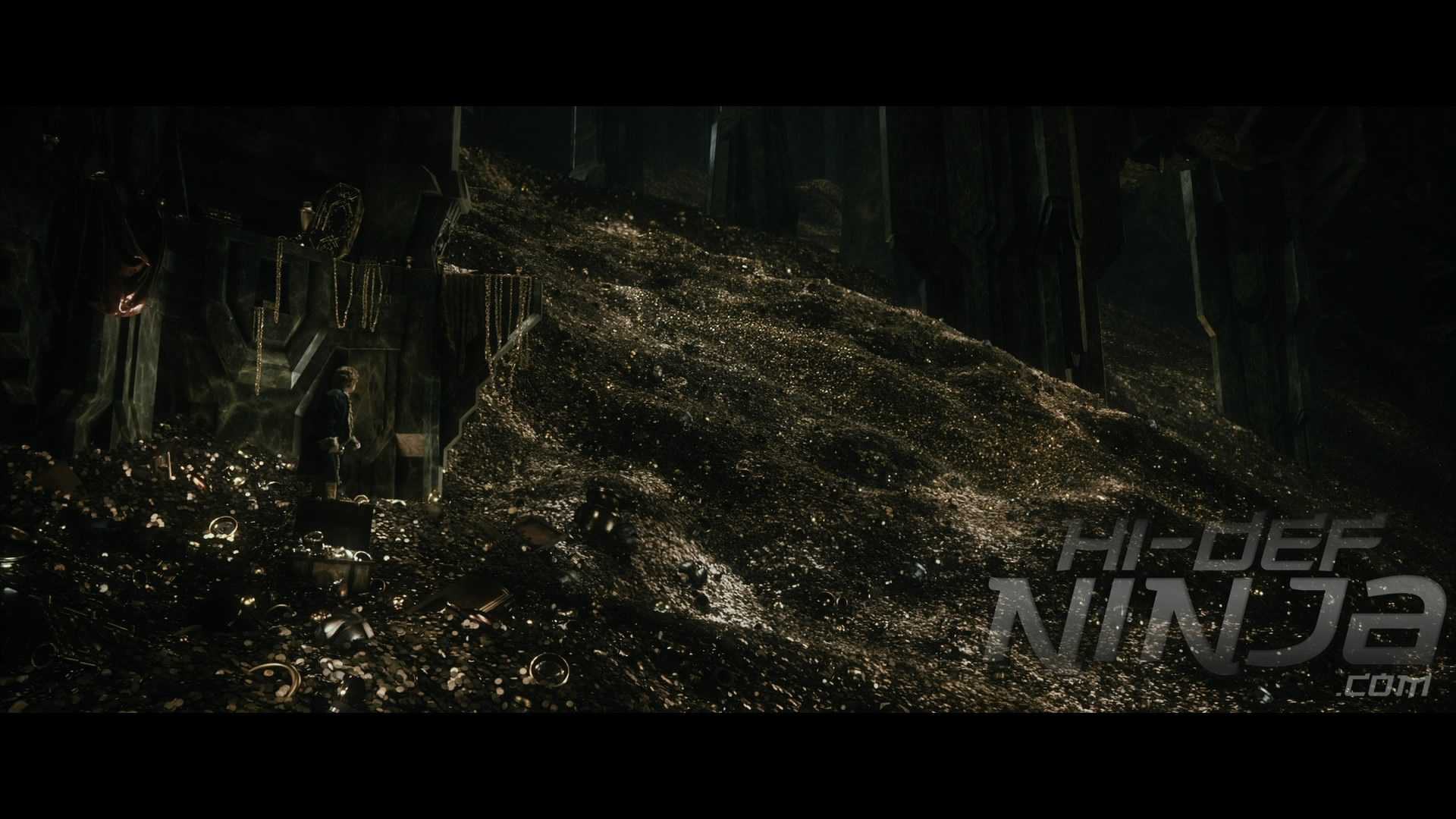 The Hobbit: The Desolation of Smaug is a more vigorous and livelier affair than its predecessor. Thank Middle Earth for that!  And while it gets tantalizingly close to the original Lord of the Rings trilogy, Smaug isn't quite there yet.  One day, fans of this franchise will pull a Star Wars, watching the 'prequel' series before the epic IV-VI. Let's hope they appreciate Smaug as much as we do – it's smart, funny, and livelier than we expected.  The home release looks and sounds amazing, although we were disappointed by the lack of a director's commentary.  For a series that lost a step in its first release, we'd go there and back again for the sequel in a heartbeat.
The Hobbit: The Desolation of Smaug is rated PG-13 for extended sequences of intense fantasy action violence, and frightening images, and has a pre-Extended Edition runtime of 161 minutes.
Discuss this review with fellow HDN fans on Facebook. On Twitter, follow us at @HidefNinja, and follow author Matt Cummings at @mfc90125.