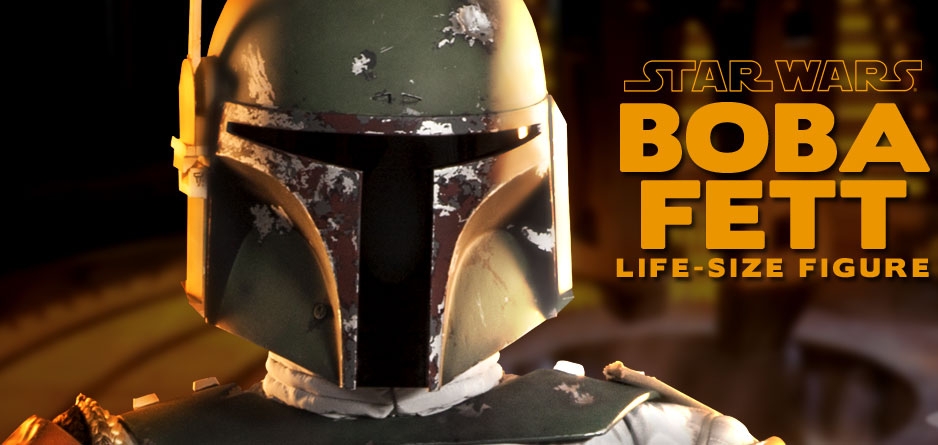 For most fans of the Star Wars Saga, as children we idolized the toughest bounty hunter in the galaxy, Boba Fett. Jabba's best hunter is a life size figure, standing at a 78.5″ or 6'5″ tall in his full authentic quality gear. He has on the Mandalorian armor, helmet, light up chest panel, woodie scalps, and his blaster. The total price for this bad boy is $7499.00 USD before the taxes and shipping costs. SideShow has a flex-pay program that you don't have to drop the entire cost all at once bunt make monthly payments of $674.90 USD. This is perfect for the hardcore collector, home theater, or if you're thinking about building a replica of Jabba's Palace. Take a look at the full list of accessories.
Accessories
-Authentic replica of his Mandalorian armor
-Articulated helmet with adjustable rangefinder
-Intricately detailed fabric costume and utility belt
-Light-up chest panel
-Braided Wookiee scalp accessories
-Armed with a blaster at the ready
-Holstered blaster at his hip
-Signature jetpack
Order your Star Wars Boba Fett Life-Size Figure from SideShow Collectibles
Oversized Item: The shipping cost will be calculated on dimensional weight rather than product weight for this item due to its oversized dimensions.
Product Details
License: Star Wars
Scale: Life-Size Figure
Manufacturer: Sideshow Collectibles
Product Size: 78.5″ H (1993.9mm) x 28.5″ W (723.9mm) x 27″ L (685.8mm)*
Product Weight: 110.00 lbs (49.9 kg)*
Dimensional Weight: TBD
Int'l Dim. Weight: TBD
Size and weight are approximate values.
Product Sku: 400111
UPC: 747720222250

Artists:
Chris Jones (Sculpt)
Brian Lewis (Sculpt)
Mike Thomas (Sculpt)
Patrick Louie (Sculpt)
Tom Spina (Sculpt)
Melissa Dooley (Sculpt)
Rich Krusell (Sculpt)
Mike Mason (Sculpt)
Christian Hill (Sculpt)
Nathan Mansfield (Sculpt)
Alex Alva and the New Wookiee Workshop (Paint)
Anthony Turner (Costume)
Kitty Herbert (Costume)
© Lucasfilm Ltd. & TM.