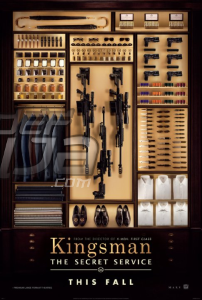 20th Century Fox have released the first poster and trailer for their upcoming film from director Matthew Vaughn (X-MEN: FIRST CLASS, KICK-ASS), KINGSMAN: THE SECRET SERVICE.
Based on THE SECRET SERVICE comic book series from Mark Millar and Dave Gibbons, KINGSMAN: THE SECRET SERVICE tells the story of a secret spy organization who must recruit and train new blood in order to take on a global threat caused by a sinister tech genius.
The film stars Colin Firth, Samuel L. Jackson, Michael Caine, Taron Egerton, Mark Strong and Mark Hamill. It's directed by Vaughn from a screenplay by himself and Jane Goldman.
KINGSMAN: THE SECRET SERVICE arrives in theaters October 24th.
~K
httpvh://www.youtube.com/watch?v=m4NCribDx4U