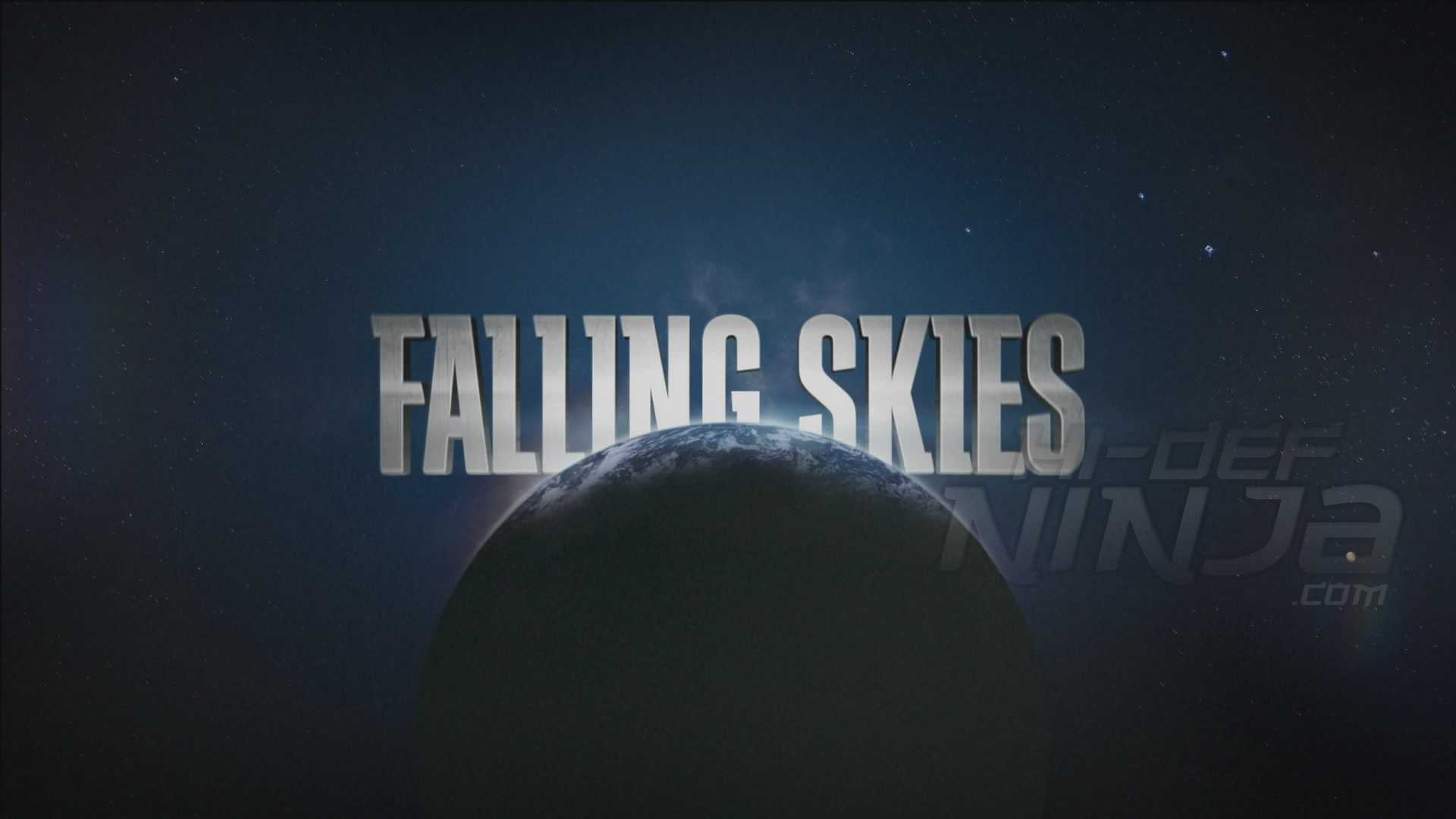 The third season of the alien invasion series sports a mix of terrific video, very suspect video, and a good selection of supplements.
WARNING: This review contains major spoilers.
Say what you want about the TNT series Falling Skies, but it certainly has attained street credibility in its ratings.  According to our friends over at TVcom, the series is the number one basic-cable summer scripted series among 18-49 year olds and 25-54 year olds.  TNT is also claiming that when factoring in DVR viewings, it's being watched by 5.8 million people.  That's nowhere near other top cable contenders, but it's nice that the show has endured. But, does Falling Skies deserve a fourth season renewal?  It depends on what you're looking for – if that's an effects-laden war epic with masterful performances, look elsewhere.  While it has its moments, the series mixes melodrama with gooey alien abductions and only gets it right once in awhile, a problem we discussed in our Season 2 review (read it here).  The home release of Season 3 arrives with evidence of this in every episode, but also looks great while proving our point.
When we last left our intrepid crew of revolutionaries, a Volm warcraft had landed to make contact in an effort to forge an alliance with humans led by President Tom Mason (Noah Wylie).  Seven months have passed since this moment, and a series of victories against Espheni targets clearly have them reeling.  But Mason still has his doubts that the Volm, led by an alien Mason has called Cochise (Doug Jones) – are on the up and up.  His lieutenant Weaver (Will Patton) agrees, but soon they have bigger things to worry about: the presence of a mole among the freedom fighters leads to the deaths of important players in the series and touches off a manhunt that only ends around the finale.  As Mason becomes aware that the real President of the United States (Steven Collins) is alive and well, he must navigate the treacherous waters of Charlestown politics as well as the Bezerker team lead by the indomitable John Pope (Collin Cunningham), while Cochise and his people prepare a massive weapon that has everyone guessing its true purpose.
For some reason, the creators of the series chose to set Season 3 months after the finale, and the results early on show the error of their ways.  We miss critical team builidng between Cochise and Mason, as well as Mason's struggles as President of the New United States.  I would preferred to see these as opposed to some of the episodes we got, although what they give us isn't terrible.  The arrival of the Volm was supposed to usher in a "We fight back" plot, and while they enough shooting there's too much melodrama and too little progress made until near the end of the season.  For only 10 episodes, we get a lot of yelling and talk about fighting, while Mason and team hunt for the mole.  Moon Bloodgood does have her issues throughout Season 3, and her sudden return in the finale feels like it could have been done better.  But the whacking of bad girl Karen (Jessy Schram) was a satisfying moment to be sure, but it does leave the series without a quality baddie for us to hate.
Wylie and Patton have always had great chemistry, and several of the additions including Gloria Ruben and Jones do well enough, but Cunningham is his ever over-the-top self as the leader of The Berserkers, and he tends to steal most scenes he's in.   Yet, the series is missing something and needs a better writing core than show creator Robert Rodat and Producer/Director Remi Aubuchon.  Simply put, Season 3 seems to wander through its center episodes, getting much better for Strange Brew and ending with the somewhat predictable finale Brazil.  Additionally, how Tom's new allies – an even his hybrid son Ben (Connor Jessup) – couldn't see that Hal or Lourdes (Seychelle Gabriel) weren't moles is beyond me.  It's also still unclear how the Volm and rebel Espheni collaborate – if at all – leaving some of the more interesting aspects of the series yet to be told.  Finally, Tom's seemingly miraculous returns from distant lands and certain death (at least twice this season in my count) stretched credibility.  Mason is an intelligent man and a good soldier, but the way the series plays with its calendar is sometimes frustrating.
But again, 5.2 million viewers can't be wrong.  The Skinners look better with each passing season, as do the special effects for The Mechs and other aspects of the show.  Rodat and Aubuchon are definitely getting better at their craft, but Season 4 needs to build off the Volm destruction of the planetary grid, and get humans back into the fight to eventually dislodge the Espheni from Earth.  We know the lives of our heroes will never be the same, but the last thing Falling Skies needs is a prolonged war where Pope has too much time to gripe about the government and everyone to reflect on how much they miss their families.  Much like The Walking Dead postulated the end of our government, perhaps Falling Skies needs to be the show that proves government can be effective in a post-war environment.  It's not a horrible series by any definition, but it needs more memorable scenes before I can award it deserving of the the rabid fan support it currently enjoys.
The Video – 4.5/5
One area of improvement comes in Warner Bros.' MPEG-4/AVC transfer, which is clearly the best of the entire series.  there's an almost filmic quality to each show, complete with just a tad of grain.  Although most scenes are shot at night, everything is razor sharp, from the worn and blasted building walls to vehicles.  Shadows transition very well into blacks giving us plenty of detail on the way down.  Outdoor day scenes show off clouds but never overexpose the image.  The same is true for interior shots, as Mason and crew hang out in a blasted mall in Charlestown.  There, the florescent lighting doesn't affect the details on clothing, which shows off stitches and holes quite well.  Falling Skies is an ugly and gritty series, and this transfer shows off all the blood and sweat you'd expect.  Sure, there's a bit of preparation in makeup of our female actresses, but it's certainly not as glaring as it was in Season 2.   Finally, with improved CGI the transfer doesn't give up the fight here either – sure it's network television, and the Wolm weapon in the finale does look a bit computerized, but the interior shots of it shine.  There is zero evidence of banding, aliasing, or edge enhancement, leading me to believe that Warner and TNT have finally gotten their act together.
Falling Skies: Season 3 boasts an upgraded DTS-HD Master Audio that's new for the series.  Sadly, there was audio lag on several episodes of Disc 2, forcing us to rewind to reset the track.  When we returned to the same spot later after we had binged the series, the issue appeared someplace else.  When not lagging, the soundfield is suspiciously quiet, especially in the rears.  But, the forwards, do just fine, although the center channel does not offer separate audio.  The left and right speakers deliver a mix of music, dialogue, and effects but we had to turn up the audio a bit to hear everything.  The LFE does its work, delivering the constant thudding of gun fire, explosions, and machinery.  For a track that supports upgraded audio, its delivery is all over the place.  That becomes painfully apparent in the rears, which sport a muted variety of crowd chatter, town noise, and other effects.  But they're hard to hear, representing a lost opportunity for the series to prove its worth with the MA.  We'll upgrade our score once we have a chance to re-watch those episodes to see if the lag returns.
The two 50GB discs contain plenty of extras, and take a deeper look into the series, all of which are offered in HD:
Behind The Scenes (Disc 1, 7:43) – A series of featurettes on various aspects of the show, including PopeTown (1:06), The New Charleston (1:29), Gloria Reuben (0:56), Doug Jones (1:39), Shout Out :Two Popes (0:53), and Stunt Man Bradley (1:40).  Sadly, none of them are deep enough to appreciate, not are you able to watch all of them with a 'Play All' button.
2nd Watch Hosted by Wil Wheaton (Discs 1 & 2, 51:24) – Actor Will Wheaton  continues to host a series of sit-downs with various members of the creative team to discuss episodes On Thin Ice (15:00), Badlands (14:08), At All Costs (12:34), and Search and Recover (9:42) on Disc One.  The second disc recaps all five  Be Silent and Come Out (14:04), The Pickett Line (12:29), Strange Brew (16:39), Journey to Xibalba (15:31), and Brazil (15:11).  This continues to be the best parts of the home release.  Wheaton is enthusiastic, and his guests are excited to pontificate about the direction the show is headed from episode to episode.
Warrior Poet: Creating the Character and Emotion of Cochise (Disc 2, 19:36) – This lengthy  feature breaks down the series's newest alien character.  We learn about the fine line he travels between helping humans and doing his duty as a warrior, as well as Doug Jones' portrayal of Cochise.  Why there are two separate features on him (see above) is beyond me.
Karen The Overlord Next Door (Disc 2, 21:23) – Actress Jessy Schram is featured here, documenting her path from freedom fighter to leader of the Espheni.  This is a retrospective of the character.
UltraViolet Digital Copy
Just like Season Two, starting each disc only provides a stolid menu – no motion scenes from the series.  However, a dynamic menu can be accessed at any time during an episode.  That's not the case when playing a feature, which was the same problem in Season Two.  It's unknown why this simple feature wasn't fixed for this season.  Minus this hiccup, the release is well-packaged, complete with a hard and colorful cardboard case.  The Amaray features nice interior artwork and contains the Digital Copy code and episode summaries.  Overall, it's an attractive set.
Falling Skies: The Complete Third Season is still not on par with SyFy's Battlestar Galactica but it's getting there.  A little too melodramatic, the series does take its sweet time getting somewhere, and its 7-month gap between it and Season 2 is a lost opportunity that I hope the show's creators can revist.  Minus a serious lag problem with the Master Audio tracks, the release features improvement in almost every area.  Again, we'll re-watch those episodes to see if the lag returns and adjust our review if the problem doesn't repeat.  If you're a fan of the series, you've probably already purchased it and might experience the same issues.  Do let us know if this is part of a larger problem, or a minor hiccup in what's become a pretty decent series.  For now, we'll warn you to wait on purchasing it. 
Discuss this review with fellow HDN fans on Facebook. On Twitter, follow us at @HidefNinja, and follow author Matt Cummings at @mfc90125.