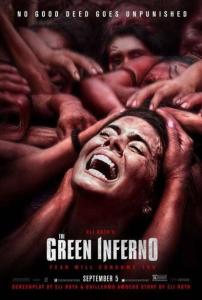 Worldview Entertainment in association with Dragonfly Entertainment and Sobras International Pictures have released the new trailer for their upcoming film from writer/director Eli Roth (HOSTEL 1 & 2, CABIN FEVER), THE GREEN INFERNO.

Shot completely on location in Santiago, Chile and featuring a never-before-filmed Native tribe, THE GREEN INFERNO follows a group of young activists who, after their plane crashes, become hunted and taken out one-by-one by a demented cannibalistic village.
The film stars Lorenza Izzo, Ariel Levy, Daryl Sabara and Sky Ferreira. It's directed by Roth from a screenplay by himself and Guillermo Amoedo.
THE GREEN INFERNO arrives in theaters September 5th.
~K
httpvh://www.youtube.com/watch?v=rrYFI99tm9g