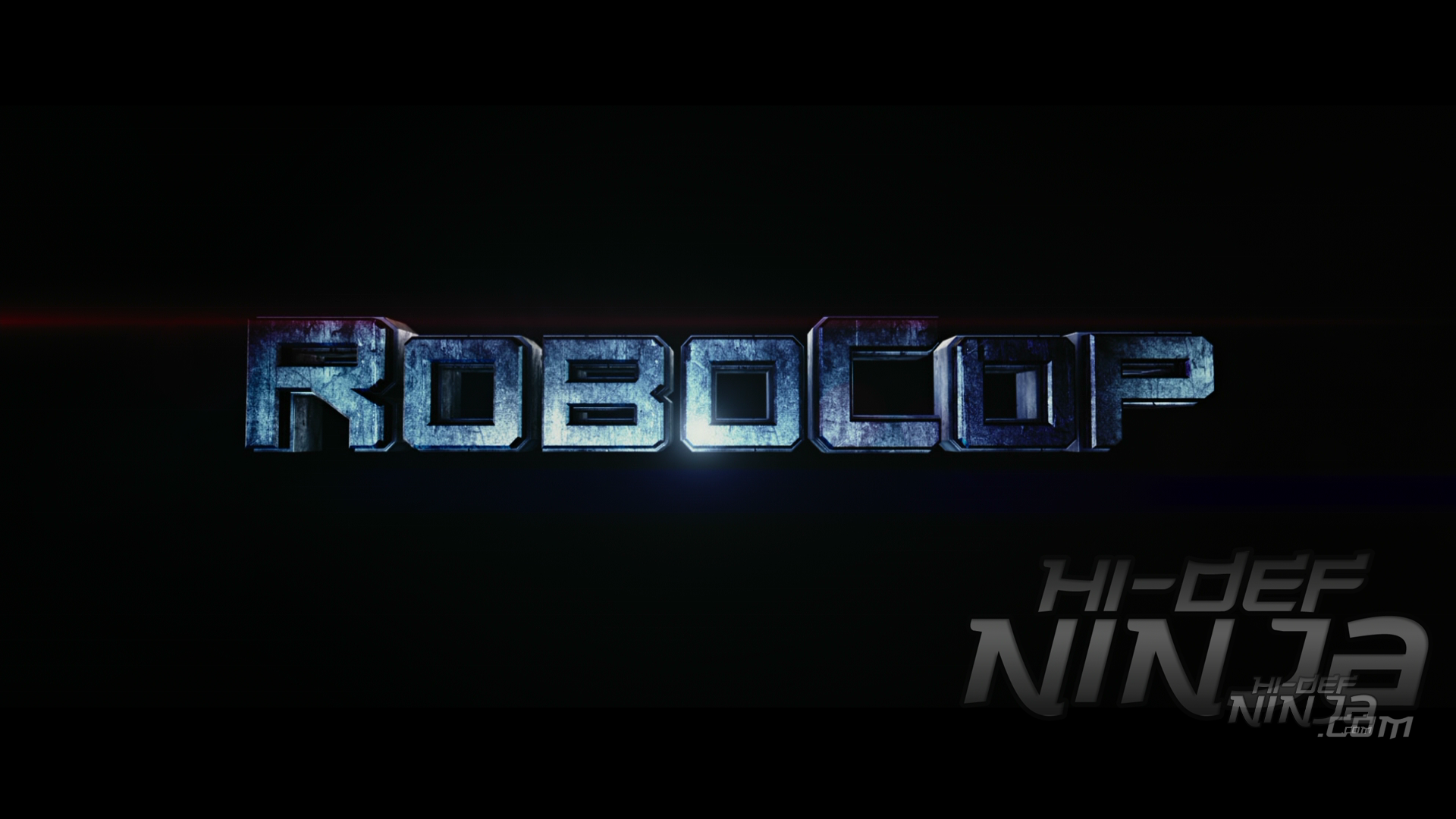 The respectable RoboCop (2014) looks and sounds amazing, even if the supplements are lacking.
The future imagined by Director Paul Verhoeven during the 1980's and 90's is almost as frighteningly real compared to the one we really got. Science Fiction has become today's fact, but it's more intrusive than we'd liked; but it was these ideas and almost vicious bloodsport presented in 1987's RoboCop which have defined a generation of Sci-Fi/action films. Random mega-violence – which has become such a part of these genres – generated a healthy bit of shock among those who first witnessed it, and might have overtaken the entire film had it not been for the career-defining performance of its titular lead, played by Peter Weller. Fast-forward 27 years, and Director Jose Padilha has resurrected the franchise with a good but not great remake, crafting a more character-driven affair that sadly misses in a couple of key areas.  The home release is also a feast-or-famine affair, sporting amazing video and audio but missing in its lack of quality Supplements.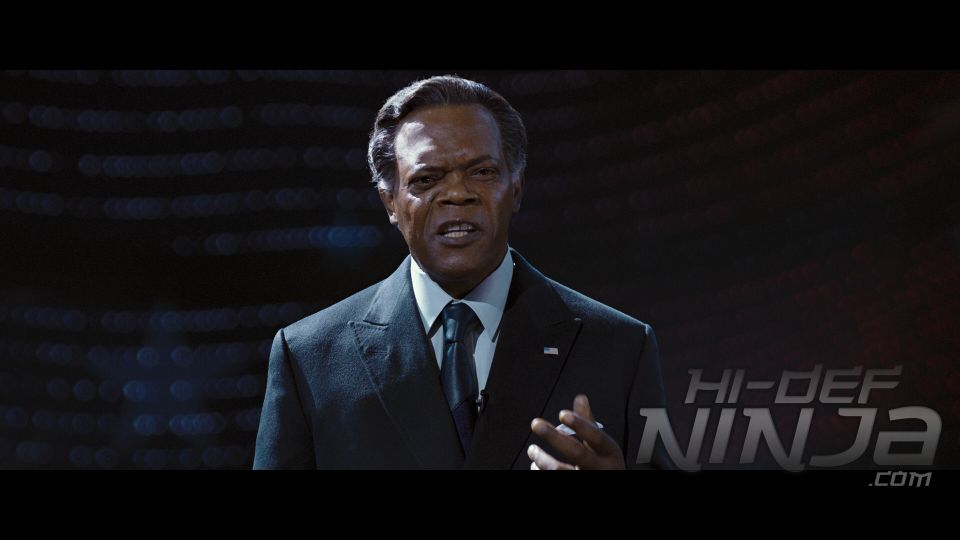 Set in a futuristic but violent Detroit, detective Alex Murphy (Joel Kinnaman) is critically wounded while hunting a local gun runner, leaving Murphy's wife (Abbie Cornish) to ponder a future without him. But Dr. Dennett Norton (Gary Oldman) and his financier OmniCorp – led by the dubious Raymond Sellars (Michael Keaton) – have a plan: turn what's left of Murphy into a mechanized cop loaded with state-of-the-art weapons tech. Although projects like these have been banned in the US, Sellars and Norton hope a successful test will convince an obstinate Congress to change their minds. A voice in the debate is talk show host Pat Novak (Samuel L. Jackson) who sets off to convince Americans one by one that the law must be lifted. As Murphy adjusts to his new life, he learns that living as a cyborg comes with risks he hadn't imagined, including the desire of an OmniCorp mercenary (Jackie Earle Haley), who wants to see him fail. But Murphy is obsessed with finding his killers, and soon finds himself trying to do what's right while protecting his family, who just want a normal life with him again.
It's clear from things that Padilha and Writer Joshua Zetumer have a healthy respect for the franchise, throwing in lines from the original, and creating a general sense that this universe is more Ender's Game than Starship Troopers. But there's also a feeling that some elements needed more attention. We loved the idea of corporate America getting their hands dirty in future tech, and the idea of smarter weapons over bigger ones was well played, but the individual performances of some of the actors felt stiff and one-dimensional. Both Haley and Keaton come off a stock antagonists, there to utter gruff lines about what people want or what machines should be without knowing why they feel that way. Each time they come into contact with Murphy, it's almost anti-climatic because we already know the outcome; the original film addresses this in fine form, giving Murphy three vanilla directives and a hidden one which is cunningly used at the right time. Here, that prop is never employed and things are worse for it.
But it's the casting of Kinnaman that will probably divide audiences the most – he's pretty much unfeeling as both a human and as RoboCop, playing the former with such a dull edge that his pulse never rises above barely awake. Even when he dons the costume, there's little there except for a couple of emotional exchanges that don't feel real at all. Believe me, you'll know the scene I mean when you see it. Cornish pulls off a couple of emotional tirades, but again there's no support system for her once Murphy goes down, and any backstory to explain her mental toughness is suppressed for other dramatic elements. The real bright spot is Oldman, who plays the sympathetic and idealistic doctor with an ease that we've come to expect. He's the perfect moral center for RoboCop, acting as both healer and surrogate father to Murphy. On the other end of the spectrum – and just as effective – is Jackson, whose hilariously bias news commentaries remind us directly of the Verhoeven version, although no such role existed in that one. But it's clear that Zetumer and Padilha don't treat the other actors with the same respect, and consistently waste several incredible screen talents along the way.
I really wanted an R RoboCop, not a PG-13 one that tries to stay nice but wants so desperately to be bad. To see a more brazen Robocop on par with the one I loved so much in my youth would have been the equivalent of getting a Red Rider BB Gun on Christmas Day. Such an ultraviolent re-imagining might have actually improved things, but sadly a Director's Cut is nowhere to be found.  Perhaps one day we'll get the amoral wit of the original, or are insane filmmakers like Verhoeven a thing of the past?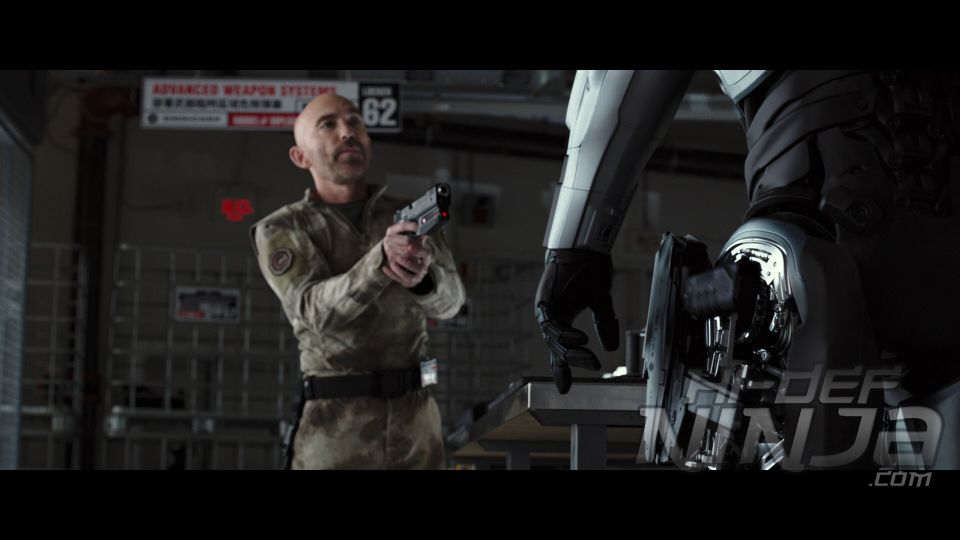 For all the disappointment behind the film itself, the home release of RoboCop looks stellar.  20th Century Fox's MPEG-4/AVC codec shines throughout, never disappointing.  The crisp image has just a touch of grain, even though the entire film was shot digitally.  What could be the most troublesome aspect of the print – all the black of RoboCop's suit – look spectacularly detailed throughout.  Its combination of metal and rubber look authentic and create a nice opposition, while elements around it excel in their own ways.  The background of Murphy's 'clean bedroom' never look too white, while his actual home blend their rich colors with the uniform's stark contrast.  Outdoors scenes are colorful as well, while the dingy training facility give good shadows and transitions to black.  It's here that you can see just how good the print it, as Dr. Norton discusses Murphy's loss of will to Sellars and his assistant.  Here, Norton's light coat shows off every wrinkled detail, while his individual strands of his salt-and-pepper graying hair can easily be seen.  Sellars is similarly clear, his facial features showing off how impressed he is with RoboCop's test results.  Even the boots on the ladies and their clothing in general show off excellent detail.  Again, color is spot on even in times when it's just humans or other machines.  Tehran's drab color palette and Detroit's clean and bright streets each work seamlessly with the CGI, demonstrating that today's transfers can create almost any world we can imagine.  Finally, there's zero evidence of banding, aliasing, or edge enhancement, leading us to award it one of the best scores so far for 2014.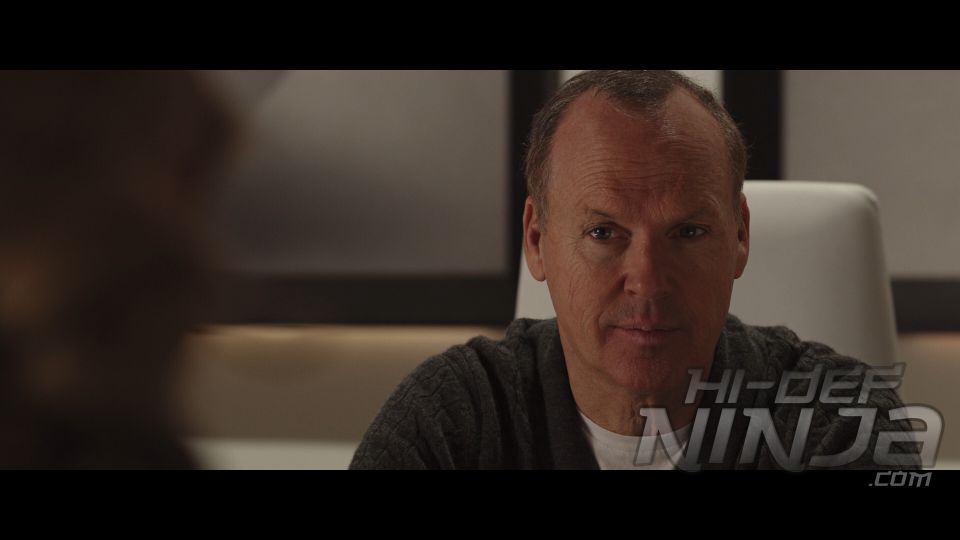 RoboCop arrives with a terrific DTS-HD Master Audio 5.1 mix, which feels almost like a 7.1 mix in terms of sound and depth.  From the moment the ED-209's blaze and the XT-908's fly through the skies of Tehran, we know this transfer is going to be solid.  And for the most part, we're totally satisfied.  Every gun battle, broken window, rev of the of the Cruiser 1, and roar of the 209's comes across very well.  We're also treated to nice atmospherics from party sounds, Spanish guitar of a recovering amputee, and various medical technologies.  What's best about this track is that it only gets better when you push the boundaries of your surround system.  We didn't notice a loss of clarity, which made the action scenes all that more satisfying.  And while all that noise is absolutely enjoyable, some of Robocop's best scenes are the more quiet ones, such as the moment when Murphy awakens to his new body.  We can hear every footstep of Robocop, computerized sound effects, and even the humming of electronic gadgets.  It's a graceful but muscular experience.  The front and center channel do press out the same trio of sounds (dialogue, effects, and music), but it's clear that dialogue takes center stage.  The rear channel provides clear atmospherics, such as the sound of Murphy's heartbeat, street noise, and office chatter.  Music from Composer Pedro Bromfman emanates from the speakers at all the right times.  In terms of the audio experience, RoboCop is one of the best home releases of the year.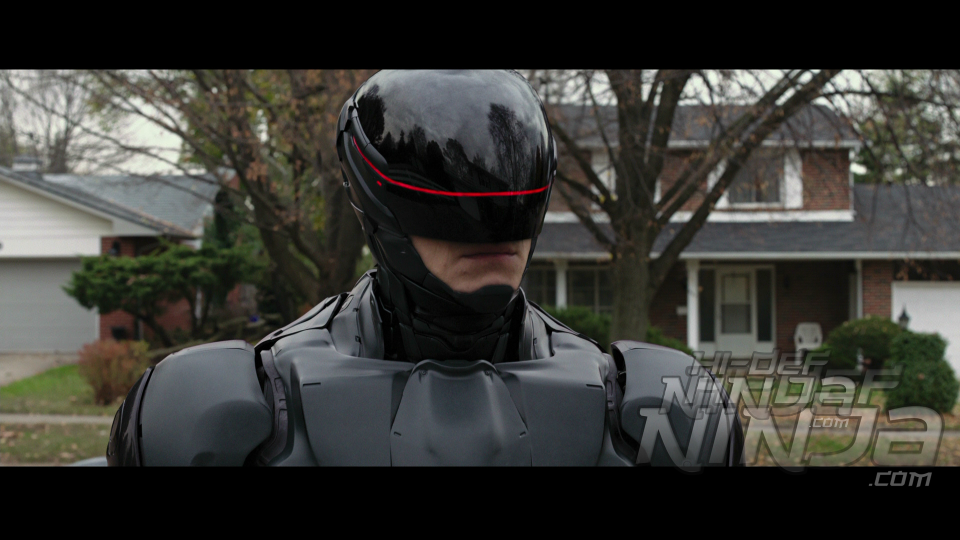 Sadly, RoboCop does not arrive with a director's commentary, but there's enough here to satiate us until a Director's Cut (hopefully) arrives.  Everything here is presented in HD:
Deleted Scenes (3:59): You have the choice of playing all of these or watching them individually.  Either way, there's nothing much enlightening or insightful here.  Segments include Pentagon, Right Hand, Helicopter, Lewis and Dean, and Norton Confesses to Dreyfus
Omnicorp Product Announcement (3:27): A much more interesting segment, we're granted a series of imagined Omnicorp commercials that reminds me of the Trask Industries commericals for the X-Men Sentinel program.  You have the choice of playing all the commercials or one at a time.  Segments include: 

Exo-Skeleton

, 

EM-208, ED-209, XT-908, Cruiser 1, TSR-66, M2 Battle Rifle, RC-2000 V1, RC-2000 V3, Next Generation RoboCop.
RoboCop: Engineered for the 21st Century (28:45): A series of well-made features focusing on various aspects of production, we start with The Illusion of Free Will: A New Vision (7:46), which discusses the differences between the reboot and Verhoeven's original.  The second feature – To Serve and Protect: RoboCop's New Weapons (6:05) – takes a great look at the weapons which RoboCop uses.  We also learn how Kinnaman prepared physically for the role.  The final part – The RoboCop Suit: Form and Function (14:54) 

– breaks down the 

construction

 and wearing of the new suit.   Watch the section in which Actor Michael Keaton compares the difficulty of wearing the suit to his experiences of wearing the Batsuit in Tim Burton's movies.

2 Theatrical Trailers (2:12 and 

2:12)

Sneak Peak (8:34): Six trailers are included.
Our evaluation copy arrived as a Blu-ray/DVD Combo with an attractive but simple slipcover – there's no embossed lettering and no interior artwork.  The far more interesting version was offered by Best Buy: a Metalpak which included the UltraViolet Digital Copy.  Target also stepped up with a bonus digital comic download – those who pre-ordered received an exclusive bonus collectible movie banner.  Luckily, these versions made for lots of choices come release day.  Our hats off to 20th Century Fox Home Entertainment for delivering such appealing alternate versions.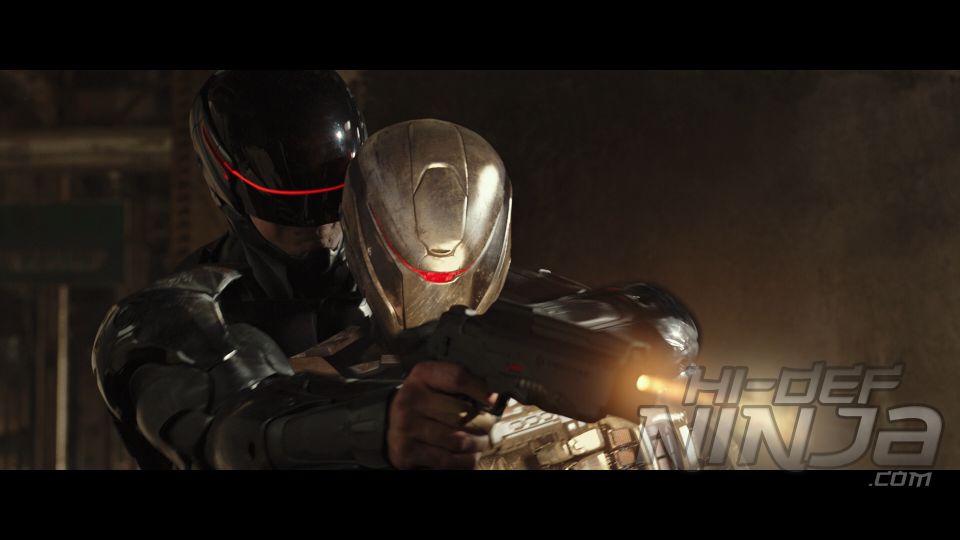 In the end, Robocop is entertaining, but fans of the original will miss the wit and sheer brazenness of the Verhoeven classic. Padilha and his team waste their acting assets, which moviegoers responded by largely ignoring it during its theatrical run.  Still, there is a lot to like here and much lie Robocop himself, the home release melds impressive audio and clear video into an effective package.  We would have preferred a more violent Director's Cut, and the Supplements are lacking, but for a rainy day or evening without the kids, Robocop is an enjoyable experience, so long as you're not tied to the original.  Robocop is rated a disappointing PG-13 for intense sequences of action including frenetic gun violence throughout, brief strong language, sensuality and some drug material and has a runtime of 108 minutes.
Discuss this review with fellow HDN fans on Facebook. On Twitter, follow us at @HidefNinja, and follow author Matt Cummings at @mfc90125.