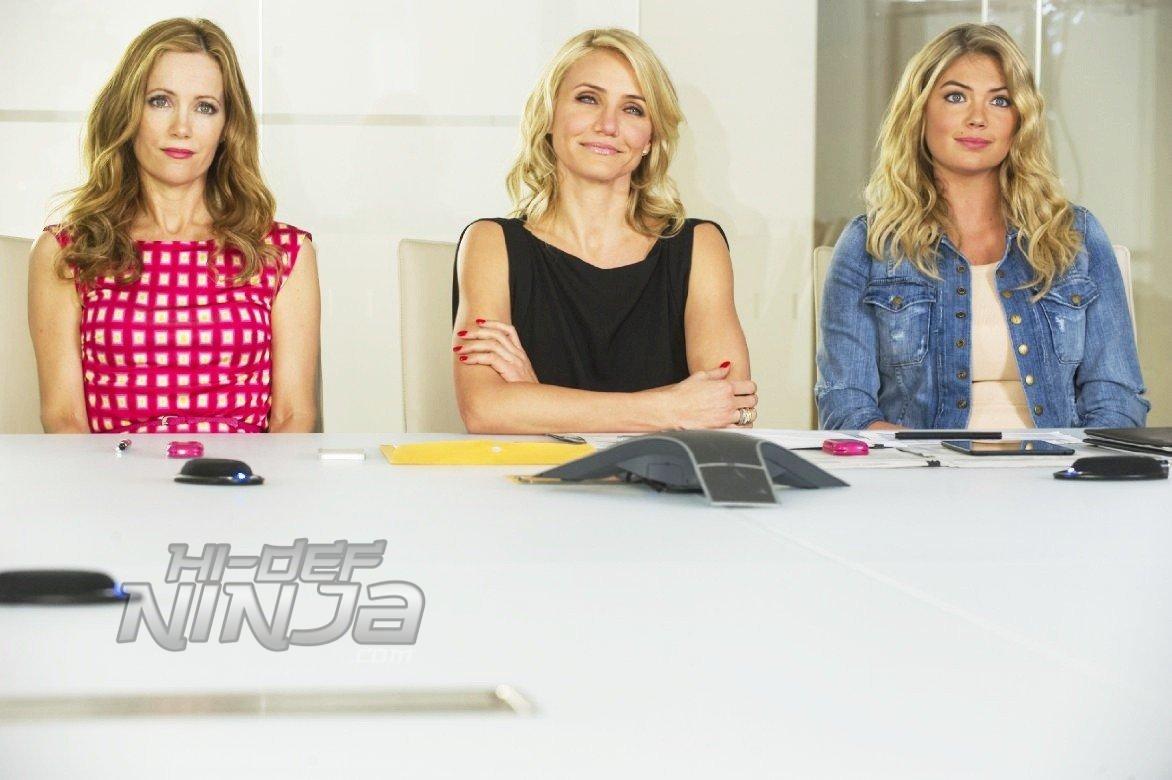 The infidelity revenge comedy The Other Woman looks and sounds good, but misses in the supplements department.
Among the parade of some of the best comedies in recent memory – from 22 Jump Street to Neighbors – lies a film that quietly earned a surprising $84 million in its theatrical run: The Other Woman.  Proving that even small comedies can prosper when their formulas and casting work, Woman actually deposed Captain America: The Winter Solider from its perch in its first week of release.  And while that feat is no easy trick, its arrival onto home video, gives us a chance to ponder its worth compared to other mightier – and perhaps more deserving – competitors.  Although its video and audio are worthy, we're not quite ready to sleep with it…yet.
Carly Whitten (Cameron Diaz) is a successful New York lawyer who's fallen in love with businessman Mark King (Nikolaj Coster-Waldau), until she learns that Mark is married to Kate (Leslie Mann).  Rather than do a Jerry Springer on each other, the two decide to follow him when they learn neither is in his plans for the weekend.  That's where they meet the brainless third lover Amber (Kate Upton), and the trio decide to exact revenge upon him.  With Carly's lawyer skills, Kate's wife skills, and Amber's boob skills (their words, not mine), they learn that he's been secretly diverting money to the Bahamas in order to make a getaway and leave Kate holding the bag.  But their collaboration soon turns to friendship, which will be tested when new realities arise.
Diaz has been on a revival of late, with her cougar role in The Counselor and the recently released Sex Tape.   Here, she plays a tough-minded lawyer with the brains to match, which is a welcome change from her ditsy There's Something About Mary days.  As she heads into her 40's, Diaz is gaining that air of sophistication that comes with being a veteran actor.  She's still not someone I would automatically gravitate towards, but here Director Nick Cassavetes dresses her up in New York sophistication, which is in stark contrast to Mann.  The real meat behind Writer Melissa Stack's script is given to her, and she excels in every scene.  Usually limited to comic relief, Mann shines with a sort of naivety and neediness that suburban women are constantly labeled, but adds a sense of genuine sadness at her situation and current mental state.  As the story moves to the final scenes in the Bahamas, Mann kicks on the seriousness at being forced to move forward – by that time, Kate has ditched the marm and arrives with a sophisticated quirky rage that's totally watchable and satisfying.
The same cannot be said for Upton, who's one of two weak links here that keep showing up – her look is amazing, but Cassavetes needed to cast a slightly better buxomed actress to play up the clueless.  The other problem arrives in Carly's post-Mike love interest Phil (Taylor Kinney) – his performance is totally replaceable and feels mostly half-considered.  Other performances are more memorable, including Nicki Minaj as Carly's self-centered secretary Lydia.  Although he's painted a bit too much as obvious slimeball, Coster-Waldau plays it well, becoming a hilarious victim of Kate and Carly's bizarre physical pranks.  He adds a level of sophistication that could work in James Bond pictures once Daniel Craig steps aside.
The role of an empowered woman is center to the story, as is the idea of aspiration beyond man's desires.  Kate is the idea person in the marriage, but just needs that tough push which Carly brings.  Audiences looking for the raunch angle ala Bridesmaids will be disappointed, but its serious discussion of marriage and the roles therein is smartly crafted and executed.  The ending goes on a little too long, and it's all a bit anti-climactic, but the path taken is surprisingly funny without being gross or vile.  It's the kind of comedy that places women front and center in the relationship, and for whatever that's worth it's probably time.
Not all men cheat, but with so much of our pop culture making it seem normal these days, it's nice to the victims get their revenge once in awhile.  The Other Woman is certainly not 22 Jump Street, Neighbors, or Sex Tape but its sincerity mixes very well with the big laughs and smart message, delivering a fun revenge comedy.
The Other Woman arrives from 20th Century Fox Home Entertainment arrives in an AVC transfer that's great on color and clarity but misses a bit in blacks.  Colors are generally warm, from the reds and flowers in Kate's clothes, to the glowing restaurants where Mark takes his women.  Clarity is fine but seems a bit soft, making some facial features and interior scenes lacking.  However, strands of hair – especially on Coster-Waldau's slicked-back head – are plainly seen.  The stark white of Carly's impressive apartment stay separated instead of blending into one big white noise.  The main issue is with blacks and shadows, both of which get swallowed up when they're not shiny like Diaz's hot vinyl dress.  But if she wears a black suit jacket, the lapels blend in unless the camera gets in for a close up.  Skintones look life-like, as do the color of natural settings in scenes involving the beach.  Grain is not really a consideration when talking comedies, nor did I want to see that flat video look of an independent production.  Either way, Fox does a good overall job with The Other Woman but it's not a perfect translation.
The Other Woman  snoops in with a DTS Master Audio 5.1 surround environment that does the movie proud.  The 50GB disc allows for a pleasing environment to be crafted around our story.  Depending on how you have your system calibrated, you'll get different 'hears' based on whether you have MA or not.  If you don't you'll get a mix of dialogue, music, and effects in the L/R channels, with mostly dialogue arriving in the center.  The rears will deliver music and a nice mix of office chatter, city sounds, and water enviroments, but might leave you hanging in some scenes.  If you have an MA set up, dialogue is forced through the center channel although it's never hard to hear.  The other parts of the lossless track will get pumped through the L/R and surrounds, making for a wrap-around experience that again misses sometimes in more quiet scenes.  However, the playful score by Aaron Zigman sounds great, ringing through all the speakers and making the LFE purr like a kitten at command.  A film like this doesn't need the LFE to make a statement, but his use of classic hits and other pieces sound great here.  All in all, it's what you would expect from a comedy release without giving up on the same premise.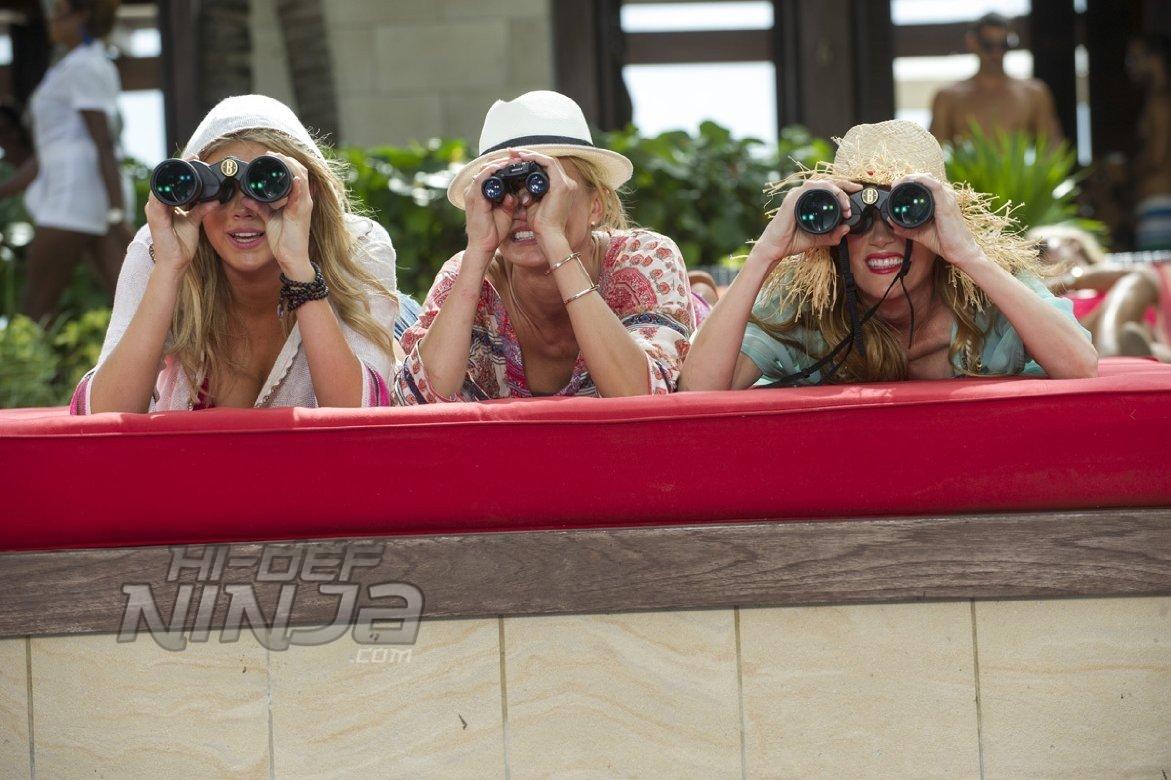 The Other Woman arrives with a decent amount of supplements, but is missing a commentary track, which always brings the score down.  What is included is presented in HD:
Deleted/Alternate Scenes (9:48): While many are funny, only one of these are necessary: Mark Epilogue, which shows gives us Mark's fate after the divorce.  Other scenes include Hotel Hallway, Xanadu, Pool Freakout, Shopping in my Own House, "You're Wilting", Mark's Office Lobby, and Lydia Snoops
Gag Reel (3:32): Lots of grinding, smiling, and looks at the balls of Kate's dog Thunder.  I guess is name has meaning.
Giggle Fit (5:18): One scene from the gag reel – of Diaz , Mann, and the crew losing it while the camera rolls – is shown in its entirety.  Who knows where the laughs originate, but it's fun to see the process go horribly awry.
Gallery: This feature takes you through 14 images from the film.
Theatrical Trailer (2:20): As always, these things show too much.
Sneak Peak: Previews of The Fault in Our Stars, Belle, and Modern Family Season 5.
Our evaluation copy arrived as a Blu-ray/Digital HD/Ultraviolet Combo with a debossed but colorful slipcase.  We were surprised at the lack of a DVD in the case, as there was space in the Eco-Amaray case to accommodate one.  There is no interior artwork, and at the time of this posting we were unaware of any special editions.  It's a decent set of extras, but a commentary by Cassavetes would have been insightful.
The Other Woman takes a tough stand when it comes to infidelity, and rightly so.  Performances from Diaz and Mann (especially) are the best parts of the film, but a prolonged ending and some other casting issues keep this one from breaking through into comedic genius.  The home release mirrors my feelings about the movie, delivering good – but not great – audio and video but misses the boat on the supplements.  Wait for this release to go on sale, as the slipcase isn't worth spending the extra cash.  But in a year of great comedies, this one is a good time if the price is right.
The Other Woman is rated PG-13 for mature thematic material, sexual references and language has a runtime of 109 minutes.