Any fan of the TOY STORY franchise should be excited to know that there is life after TOY STORY 3.  Just when it seemed that there could be no more life to breath into the smash hit, fans get a little scare (or not) out of TOY STORY OF TERROR! which originally aired on ABC in 2013.
TOY STORY OF TERROR! doesn't coincide with the events of the TOY STORY Trilogy, but it does borrow a previously used theme, which I will explain a little later.  Previously in the trilogy it was the challenge of toys existing in obscurity, or existing at all, while garnering love from their owners.  A pretty complex dynamic for a kid's tale.  In TOY STORY OF TERROR!, there are only about 21 minutes of story to tell, so it's a nice release to add to the other TOY STORY movies, but don't expect it to be TOY STORY 4.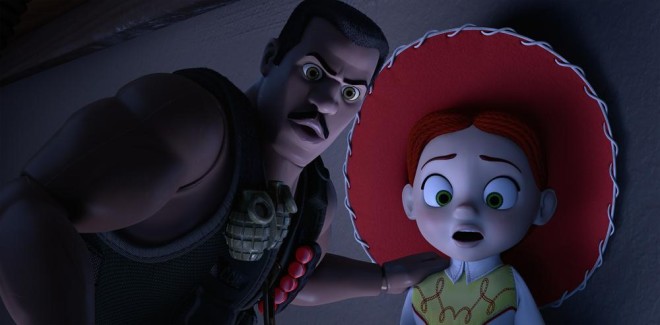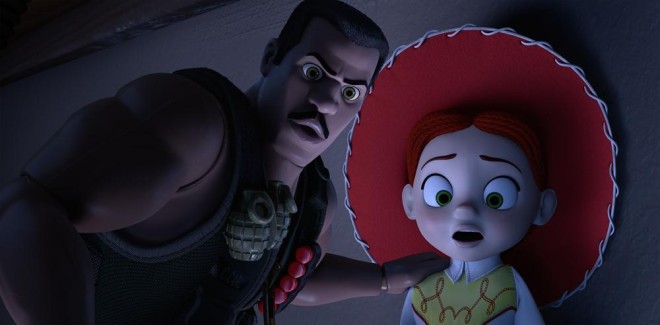 We have a lot of the original TOY STORY characters back in this nice little short edition and familiar voices as well.  There are also a few new characters introduced that are a lot of fun too.  Most of the toy gang are heading on a vacation or an excursion of some sort with their new owner Trixie and her mother (if you've seen TOY STORY 3, you'll know who Trixie is).  On their way, they get a flat tire and pull into a remotely placed motel.  I never thought the classic Hitchcock Psycho would influence a Pixar film but it is on display in TOY STORY OF TERROR!
Once checked in and on edge, something starts to mysteriously take the toys one by one, setting the gang into frenzy.  This mysterious toynapper turns out to be something much less frightening than initially deemed.  It is a children's movie after all.  The toys wind up in the motel manager's lockbox and eventually for sale online.  Sound familiar?  The short film turns from "scary" to a borrowed theme from TOY STORY 2.  I was not a big fan of this.  Had something else happen to the toys other than this, I would have enjoyed TOY STORY OF TERROR! more.
The main feature can be watched with commentary on or off and or with vintage toy commercials on or off.  The toy commercials are placed in between the different acts of the short film.  It appears these commercials were used to highlight some of the new toys introduced in TOY STORY OF TERROR!  The first one is a commercial for the Old-Time clock, which reminded me of a My Buddy commercial.  The second commercial is for the Combat Carl toy, who looks to be modelled after a G.I. JOE character.  The third commercial is for the Transit Tron toy who appears to be modeled after a Transformers toy.  The audio commentary was interesting as well.  As mentioned above, Psycho influenced the creative team of TOY STORY OF TERROR! as well as some other classic horror movies.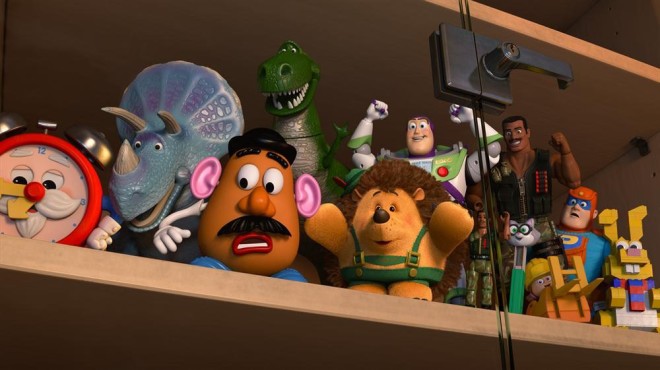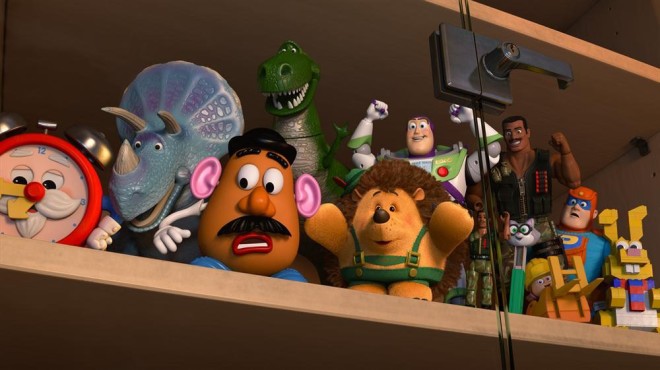 We get the stunning picture quality anyone who has seen Pixar movies is accustomed to.  As with the previous TOY STORY Blu-ray releases, TOY STORY OF TERROR! uses a MPEG-AVC codec and an aspect ratio of 1:78:1.  The picture quality maintains a crisp look even though half of the feature is somewhat dark, since it takes place in dark motel on a rainy night.  Colors are rich and every feature is well defined.  This is the darkest looking TOY STORY feature to date but even in a darker atmosphere, you can still see the gloss hue on the plastic toys.  That does not mean that the color is over saturated but rather, it is evenly distributed, as characters like Woody and Jessie look like older faded cloth toys.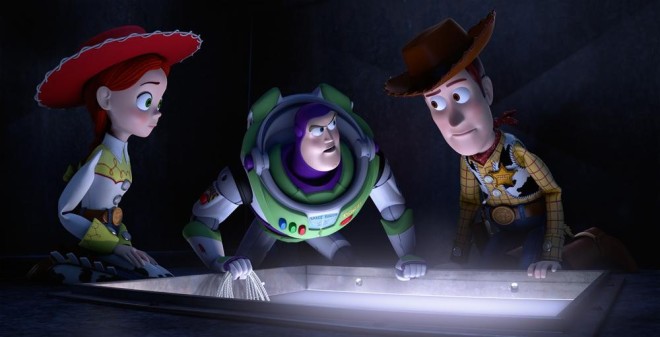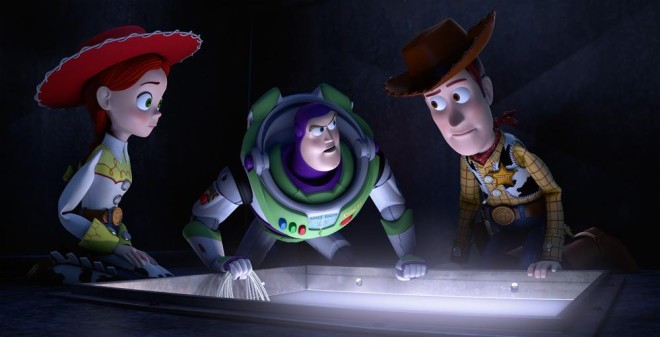 As with the picture quality, the audio quality doesn't disappoint and is more comparable to TOY STORY 3 as it uses a DTS-HD MA 7.1 audio score.  Probably a big plus on this blu-ray release is the audio.  The audio really works all surrounds very well.  From the deep bass in the Partysauraus Rex feature (see below) to the faint sounds of footsteps in the dark, this mix really works really well.  It's non-stop dialogue in the film so the center really works, but between the sounds of thunder and lightning and rain pouring, we get an even distribution of sound across all channels.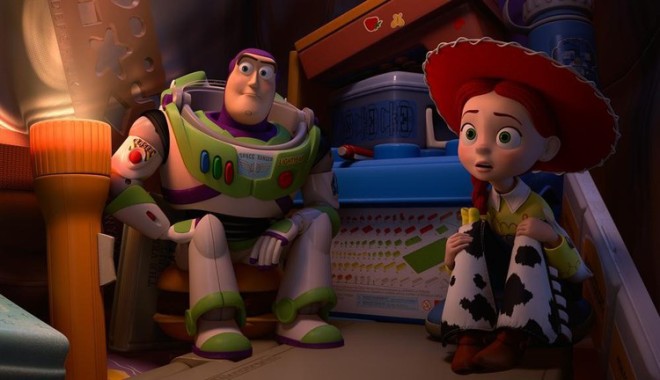 The bonus materials on the disc are more than sufficient and add more depth to this release, making it far superior from its television spot.
Toy Story Toons  – Here are 3 different short skits not related to the events of Toy Story of Terror.  I found these skits to be quite humorous and much more enjoyable than the feature itself.  The skits are:
–Hawaiian Vacation (6 minutes) – Bonnie is going on a Hawaiian vacation and the toys contemplate how they will spend their time off and where they may possibly go.
–Small Fry (7 minutes) – Bonnie and her mother are in a fast food restaurant where a happy meal sized version of Buzz Lightyear takes an opportunity to switch places in Bonnies toy collection with the regular sized Buzz Lightyear.  Pay close attention to the cashier tending on Bonnie and her mother as it appears to be Andy, the toys previous owner in the Toy Story trilogy.
–Partysaurus Rex (6 minutes) – The toy dinosaur Rex tries to change his 'party pooper' reputation by hosting a party after finishing a bubble bath with Trixie.  He is a smash hit with the other toys but winds up flooding the home.
Team of Specialists –This feature is a 12 minute look behind the scenes of what it was like making Toy Story of Terror.  Mostly narrated by director Angus Maclane, we hear from other members of the creative team as well.
Deleted Scenes
There are 3 deleted scenes that can be played with an editor intro on or off.  Editor Axel Geddes describes that Toy Story of Terror was designed to be a 30 minute tv special.  In order to make the story fit, the creative team had to lose what they did not like.  These are not fully animated scenes but rather live sketches.  This section runs about 7 minutes in length.  The scenes are as follows:
Pencil Topper Trilogy
Travel Brochures
Road Trip Roulette
D23 Teaser-This is actually a trailer to Toy Story of Terror.  I'm not sure why it is labeled as D23 teaser.
Vintage Toy Commercials-as described in the movie review, you can watch Toy Story of Terror with the commercials on.  Here you can watch all the commercials outside of the feature with an intro by Angus Maclane.  He describes why they are called vintage commercials, as they are created in the style for the time that they would have actually been released.  The commercials are as follows:
Old Timer
Combat Carl
Transition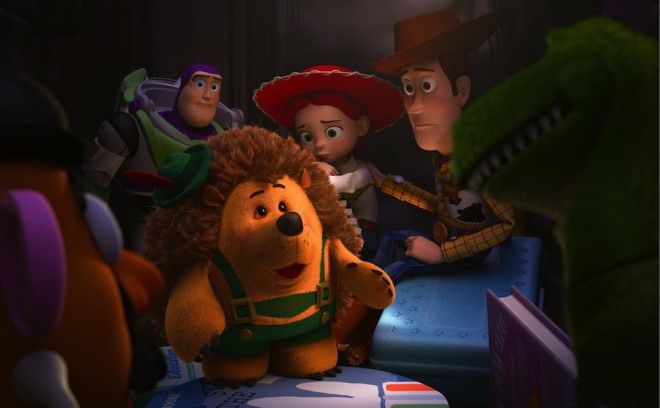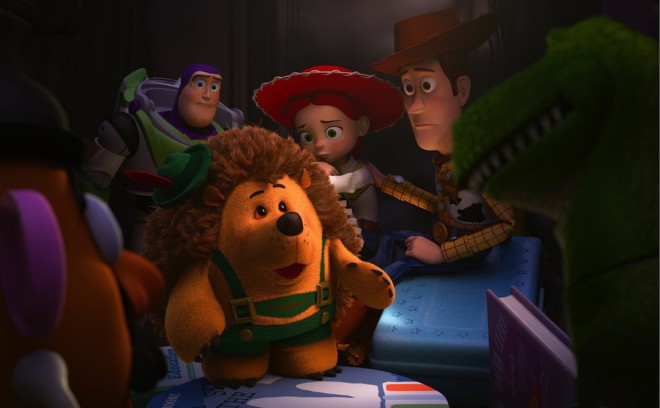 For what was originally a tv release, Pixar did a good job converting this release to the home video market.  Pixar built on a 30 minute tv spot and provided viewers with some extra features that made this release much better than it's origin.  With that said, I would put this in the category of fans only.  It doesn't compare to the previous TOY STORY films but I think that was done by design.  This was designed to reinvigorate the still popular franchise but put a different, fresh spin on things all the while poking fun at the horror genre.
There were some new toy's introduced as mentioned above in the review.  If there were ever to be a TOY STORY 4, it would be neat to see some of the new toys used.  The blu-ray release comes with solid audio and video, as expected from Pixar releases.  It also comes with a red slip case for all the slip case lovers out there.  If you're a TOY STORY fan and you haven't seen this yet, pick it up.  There is a lot of value in this blu-ray release for the price.
Buy TOY STORY OF TERROR! HERE!