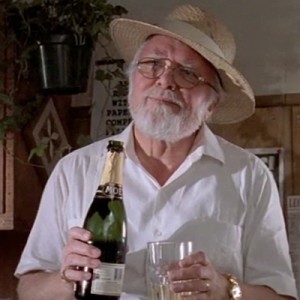 Lord Richard Attenborough – a celebrated filmmaker and actor for the past six decades – has passed away at the age of 90 according to his son. He's probably best known for his powerful film GANDHI as well as his role as John Hammond in Steven Spielberg's JURASSIC PARK and THE LOST WORLD: JURASSIC PARK.
In 1982, after spending years as a character actor, Attenborough won acclaim and multiple Academy Awards for his work on GANDHI. Starring Sir Ben Kingsley in the title role, GANDHI followed the life of Mohandas K. Gandhi and ended up winning a total of eight Oscars. Attenborough served as director and producer on the film.
"Richard Attenborough trusted me with the crucial and central task of bringing to life a dream it took him twenty years to bring to fruition," said Kingsley. "When he gave me the part of Gandhi, it was with great grace and joy. He placed in me an absolute trust and in turn, I placed an absolute trust in him and grew to love him. I, along with millions of others whom he touched through his life and work, will miss him dearly."
It was late in his career when Attenborough – affectionately referred to as Dickie by friends and loved ones – gained recognition from genre-film fans worldwide with the 1993 blockbuster JURASSIC PARK. While he wasn't the main focal point of the film, Attenborough stole every scene that he appeared in. He later returned to Spielberg's franchise with THE LOST WORLD: JURASSIC PARK.
Spielberg also addressed the passing of Attenborough in a touching statement: "Dickie Attenborough was passionate about everything in his life. Family, friends, his country and career. He made a gift to the world with his emotional epic GANDHI and he was the perfect ringmaster to bring the dinosaurs back to life as John Hammond in JURASSIC PARK.  He was a dear friend and I am standing in an endless line of those who completely adored him."
Though GANDHI and JURASSIC PARK may be his most famous works, he spent decades directing or starring in over 70 films which include THE GREAT ESCAPE, DOCTOR DOOLITTLE, THE SAND PEBBLES, CHAPLIN and the 1994 remake of MIRACLE ON 34TH STREET, just to name a few.
Attenborough sadly suffered a serious fall six years ago and had spent his time since in a nursing home alongside his wife.  In 2004, his daughter, Jane Holland, and granddaughter, Lucy, were killed when an earthquake triggered a tsunami in the Indian Ocean. He is survived by his wife, son Michael, daughter Charlotte and brother David.