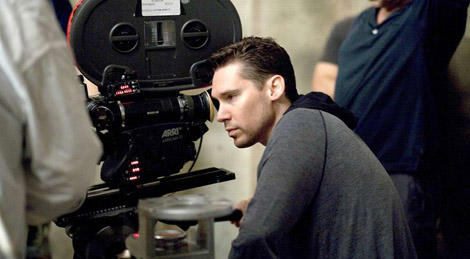 It became official today: 20th Century Fox announced that Bryan Singer will be returning to the X-franchise for a fourth time to direct 2016's X-MEN: APOCALYPSE. While many assumed that the deal would eventually happen, everything was up in the air for a while due to the sexual assault allegations against Singer (the lawsuit has since been withdrawn). Singer directed the first two X-MEN films as well as this year's X-MEN: DAYS OF FUTURE PAST. He also served as producer on X-MEN: FIRST CLASS.
Meanwhile, the screenwriter of X-MEN: APOCALYPSE, Simon Kinberg, has been dropping hints to what we may be seeing in this eighth X-film. While taking part in a Q&A session with Yahoo, Kinberg answered a question regarding whether we'd see future X-Men such as Ellen Page's Kitty Pryde or Omar Sy's Bishop appear in the new film:
The X-Men film that we're working on now as everybody knows is X-MEN: APOCALYPSE and that really follows the stories of the —  let's say — 'First Class' X-Men. Jennifer Lawrence, Michael Fassbender, James McAvoy, Nicholas Hoult, many others of that generation of X-Men. So, in future X-Men films — perhaps. But in APOCALYPSE, it will really be the continuation of the 'past' of DAYS OF FUTURE PAST.

When asked how they'd go about recasting some of the original franchise actors, Kinberg answered:
If we included some of the original X-Men like Storm, Jean, Scott and others, yeah, we would have to recast them because APOCALYPSE takes place a good twenty years before X1 — which now, insanely, was fifteen years ago. It would be very hard to do. Halle (Berry), Famke (Janssen) and Jimmy (James Marsden) and others have done such wonderful jobs of bringing those characters to life and they're so identified, those actors, with the parts now. So it would be a tall task, but I also would have said before FIRST CLASS there would be no way we could find actors who could stand alongside Ian McKellen and Patrick Stewart… and I think we managed to with Michael (Fassbender) and James (McAvoy) finding their own interpretation of the characters; not doing an impersonation. So, are we going to have to recast? If some of those characters were in the movie we would, but we'll see.

It's unknown whether we'll see Hugh Jackman return as Wolverine in X-MEN: APOCALYPSE, but it's nice to at least know that the project is in such capable hands.
X-MEN: APOCALYPSE is currently scheduled for release on May 27, 2016.