Criterion has released their list for upcoming titles in November. THE SHOOTING/RIDE IN THE WHIRLWIND releases on November 11th, IT HAPPENED ONE NIGHT releases on November 18th, lastly, TOOTSIE and LES BLANK: ALWAYS FOR PLEASURE and L'AVVENTURA releases on November 25th. Here are the full specs and synopses.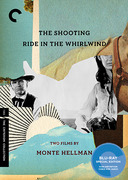 THE SHOOTING/RIDE IN THE WHIRLWIND
Releases on November 11th
In the midsixties, the maverick American director Monte Hellman conceived of two westerns at the same time. Dreamlike and gritty by turns, these films would prove their maker's adeptness at brilliantly deconstructing genre. Shot back-to-back for famed producer Roger Corman, they feature overlapping casts and crews, including Jack Nicholson in two of his meatiest early roles. THE SHOOTING, about a motley assortment of loners following a mysterious wanted man through a desolate frontier, and RIDE IN THE WHIRLWIND, about a group of cowhands pursued by vigilantes for crimes they did not commit, are rigorous, artful, and wholly unconventional journeys to the Old West.
DIRECTOR-APPROVED SPECIAL EDITION:
-New 4K digital restorations of both films, supervised by director Monte Hellman, with uncompressed monaural soundtracks on the Blu-ray
-Audio commentaries on both films, featuring Hellman and film historians Bill Krohn and Blake Lucas
-New interviews with actors John Hackett, B. J. Merholz, Millie Perkins, and Harry Dean Stanton, assistant director Gary Kurtz, and chief wrangler Calvin Johnson, all in conversation with Hellman
-New conversation between actor Will Hutchins and film programmer Jake Perlin
-New video appreciation of actor Warren Oates by critic Kim Morgan
PLUS: An essay by critic Michael Atkinson
New cover by John Gall
_________________________________________________________________________________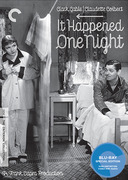 New cover by Sarah Habibi and Jessica Hische
IT HAPPENED ONE NIGHT
Frank Capra
Releases on November 18th
United States
1934
105 minutes
Black and White
1.33:1
English
Spine #736
Opposites attract with magnetic force in this romantic road-trip delight from Frank Capra, about a spoiled runaway socialite (Claudette Colbert) and a roguish man-of-the-people reporter (Clark Gable) who is determined to get the scoop on her scandalous disappearance. The first film to accomplish the very rare feat of sweeping all five major Oscar categories (best picture, best actor, best actress, best director, and best screenplay), IT HAPPENED ONE NIGHT is among the most gracefully constructed and edited films of the early sound era, packed with clever situations and gags that have entered the Hollywood comedy pantheon and featuring two actors at the top of their game, sparking with a chemistry that has never been bettered.
-New 4K digital restoration, with uncompressed monaural soundtrack on the Blu-ray
-Screwball Comedy?, a new conversation between critics Molly Haskell and Phillip Lopate
-Interview with Frank Capra Jr. from 1999
-Frank Capra's American Dream, a 1997 feature-length documentary about the director's life and career
-New digital transfer of Capra's first film, the 1921 silent short Fultah Fisher's Boarding House, with a new score composed and performed by Donald Sosin
-American Film Institute tribute to Capra from 1982
-Trailer
PLUS: An essay by critic Farran Smith Nehme
_________________________________________________________________________________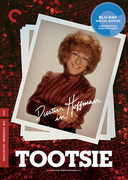 New cover by Jason Hardy
TOOTSIE
Sydney Pollack
Releases on November 25th
United States
1982
116 minutes
Color
2.40:1
English
Spine #738
In TOOTSIE, the character Michael Dorsey lands the role of a lifetime—as does the actor playing him, Dustin Hoffman. This multilayered comedy from director Sydney Pollack follows the increasingly elaborate deception of a down-on-his-luck New York actor who disguises himself as a woman to get a coveted soap opera gig; while his female persona skyrockets to fame, he finds himself learning to be a better man. Hoffman's ball-busting yet disarmingly sweet Dorothy Michaels is a sensational comic creation, given support by a stellar cast including Dabney Coleman, Charles Durning, Teri Garr, George Gaynes, Bill Murray, and, in her first Oscar-winning role, Jessica Lange. Imbued with poignant drama, TOOTSIE is a funny and cutting film from an American moment defined by shifting social and sexual identities.
-New 4K digital restoration, with uncompressed monaural soundtrack on the Blu-ray
-Audio commentary featuring director Sydney Pollack, taken from Criterion's 1991 laserdisc edition of the film
-New interview with comedy writer Phil Rosenthal
-Interview with Dorothy Michaels by film critic Gene Shalit, from the film's production
-Making of "Tootsie," a 1982 documentary directed by Rocky Lang
-A Better Man: The Making of "Tootsie," a 2007 documentary directed by Charles Kiselyak and featuring interviews with Pollack; actors Dabney Coleman, Teri Garr, Hoffman, and Jessica Lange; and writers Larry Gelbart and Murray Schisgal
-Screen and wardrobe test footage of Hoffman
-Deleted scenes and trailers
PLUS: An essay by critic Michael Sragow
_________________________________________________________________________________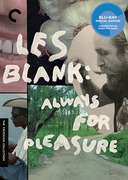 New cover by Eric Skillman
LES BLANK: ALWAYS FOR PLEASURE
Les Blank
Releases on November 15th
United States
563 minutes
Color
1.33:1
English
Spine #737
An uncompromisingly independent filmmaker, Les Blank made documentaries for nearly fifty years, elegantly disappearing with his camera into cultural spots rarely seen on-screen—mostly on the peripheries of the United States, but also occasionally abroad. Seemingly off-the-cuff yet poetically constructed, these films are humane, sometimes wry, always engaging tributes to music, food, and all sorts of regionally specific delights. This collector's set provides a diverse survey of Les Blank's vast output, including fourteen of his best-known works and eight related short films.
-New 2K digital restorations of all fourteen films—The Blues Accordin' to Lightnin' Hopkins (1968); God Respects Us When We Work, but Loves Us When We Dance (1968); Spend It All (1971); A Well Spent Life (1971); Dry Wood (1973); Hot Pepper (1973); Always for
Pleasure (1978); Garlic Is as Good as Ten Mothers (1980); Sprout Wings and Fly (1983); In Heaven There Is No Beer? (1984); Gap-Toothed Women (1987); Yum, Yum, Yum! A Taste of Cajun and Creole Cooking (1990); The Maestro: King of the Cowboy Artists (1994);
Sworn to the Drum: A Tribute to Francisco Aguabella (1995)—with uncompressed monaural or stereo soundtracks on the Blu-rays
-Excerpt from Les Blank: A Quiet Revelation, a film project by Harrod Blank and Gina Leibrecht
-New interviews with Blank's sons, Harrod and Beau; Blank documentary subject Gerald Gaxiola (a.k.a. the Maestro); Blank's friends and collaborators Skip Gerson, Maureen Gosling, Taylor Hackford, Werner Herzog, Susan Kell, Tom Luddy, David Silberberg, and Chris Simon; and chef and author Alice Waters
-Related shorts by Blank: The Sun's Gonna Shine (1968), More Fess (1978), Julie: Old Time Tales of the Blue Ridge (1991), My Old Fiddle: A Visit with Tommy Jarrell in the Blue Ridge (1994), and The Maestro Rides Again (2005)
-Two outtake performances from The Blues Accordin' to Lightnin' Hopkins
PLUS: A booklet featuring an essay by film scholar Andrew Horton
_________________________________________________________________________________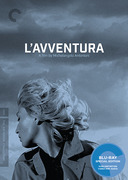 New cover by Lucien S. Y. Yang
L'AVVENTURA
Michelangelo Antonioni
Releases on November 25th
Italy
1960
143 minutes
1.77:1
Italian
Spine #98
Michelangelo Antonioni invented a new film grammar with this masterwork. An iconic piece of challenging 1960s cinema and a gripping narrative on its own terms, L'AVVENTURA concerns the enigmatic disappearance of a young woman during a yachting trip off the coast of Sicily, and the search taken up by her disaffected lover (Gabriele Ferzetti) and best friend (Monica Vitti, in her breakout role). Antonioni's controversial international sensation is a gorgeously shot tale of modern ennui and spiritual isolation.
-New 4K digital restoration, with uncompressed monaural soundtrack on the Blu-ray
-Audio commentary featuring film historian Gene Youngblood
-Olivier Assayas on "L'avventura," an analysis of the film in three parts
-Antonioni: Documents and Testimonials, a fifty-eight-minute documentary by Gianfranco Mingozzi from 1966
-Writings by director Michelangelo Antonioni, read by actor Jack Nicholson, plus Nicholson's personal recollections of the director
-Trailer
-New English subtitle translation
PLUS: An essay by critic Geoffrey Nowell-Smith, Antonioni's statements about the film after its 1960 Cannes Film Festival premiere, and an open letter distributed at the festival