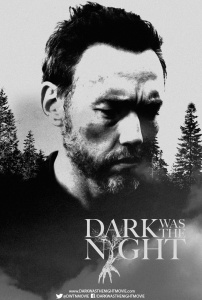 Independent film distributor Caliber Media Company have released the first trailer to director Jack Heller's upcoming horror flick, DARK WAS THE NIGHT.
The film follows the story of Sheriff Paul Shields (Kevin Durand) who must protect his loved ones and the townspeople of Maiden Woods after a logging company accidently releases an ancient and mysterious evil force. Durand's been on a hot-streak lately and he's probably one of the busiest actors in Hollywood that no one has really heard of, though his popularity has certainly been rising lately thanks to his role as Vasiliy Fet on the hit FX show THE STRAIN. Best known as being Russell Crowe's go-to co-star (the two met on the set of MYSTERY, ALASKA and have since made an additional four films together including this year's WINTER'S TALE and NOAH), Durand is definitely a rising star to keep an eye on.
Penned by screenwriter Tyler Hisel and co-starring Bianca Kajlich and Lukas Haas, DARK WAS THE NIGHT is currently in post-production with its release date listed as TBA.
httpvh://www.youtube.com/watch?v=43_294azeYA&list=UUfRyP-6-RTrJNNA3FaKbfSg