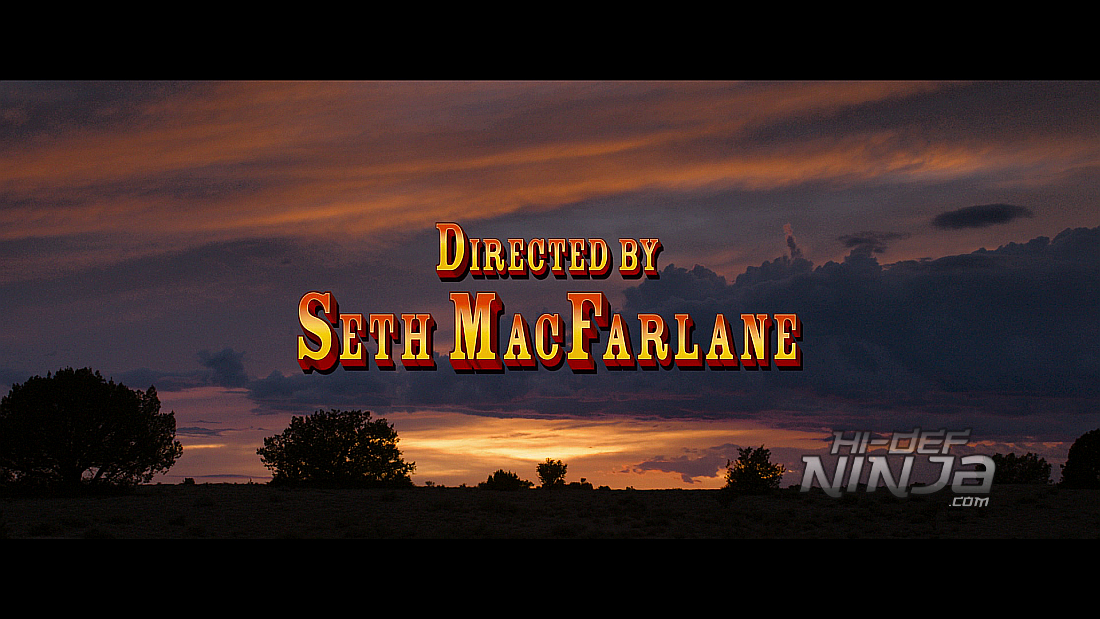 The western comedy A MILLION WAYS TO DIE IN THE WEST displays great audio and video, even though it makes us wish for a quick end.
If you're actor/writer/director Seth MacFarlane, your unique brand of comedy has brought you amazing successes (TED, FAMILY GUY) and some quick yanks of the comedic hook (2013 Oscars). Dig a little deeper, and you learn that he was also one of the driving forces behind the very popular COSMOS: A SPACETIME ODYSSEY. For A MILLION WAYS TO DIE IN THE WEST, MacFarlane turns the old west on its ear, hoping to make the difficulties of western life into a laugh-fest. Such an idea could make for a really funny movie.
Unfortunately, it doesn't.
Sheep farmer Albert Stark (MacFarlane) constantly laments about the dangers of living in the west – native attacks, poverty, disease, and senseless violence are a daily part of life, making him long for the big city life of San Francisco. He vents about these difficulties to his best friend Edward (Giovanni Ribisi) and his prostitute girlfriend, Ruth (Sarah Silverman). At various points throughout the film, Ruth actively engages in sex with her clients while denying Edward his turn due to their strict Christian upbringing. Albert's one joy is his girlfriend Louise (Amanda Seyfried), who decides one day to dump him for the businessman Foy (Neil Patrick Harris) who runs a svelt mustache store. One day, mystery girl Anna (Charlize Theron) arrives into town and Albert is instantly taken with her. What he doesn't realize is that Anna is married to Clinch (Liam Neeson), whose fast gun makes him the most dangerous man in the territory. When Clinch rides off to prepare for another robbery, Anna and Albert become close, forcing the sheep farmer into a deadly showdown when Clinch learns of their romantic involvement.
As I said, such a premise should lead to tons of laughs – unfortunately, the film is so slow in places that the few truly funny one-liners fall on mostly deaf ears. You know what you get with MacFarlane — gross-out humor designed for 12-year-olds — but with other projects, MacFarlane also brought intelligent commentary. Not here: MILLION's uneven nature is the result of partial ad-libbing, most of which doesn't work and even becomes tedious. As actor/producer/director, MacFarlane has a lot of shoes to fill, and it seems like this trio of job titles are just too much for him to balance.
As a writer, MacFarlane simply transplants 21st Century comedians into a 19th Century one, with one of the deepest casts we've seen in 2014. Unfortunately, few of them appear ready for the kind of slapstick humor MacFarlane has imagined, leaving us to conclude that they've simply been transported from a trailer backlot in Hollywood to the dusty west. Under normal circumstances, that would be ok, considering that we're enjoying a parody and not a terse Clint Eastwood western drama. But that doesn't excuse the predictable and paper-thin plot and the sense that many of the actors are merely reading through their lines. Offensive humor can be funny, but MILLION's schtick is so unfunny in too many sections. Like to laugh at a sheep penis dispensing urine onto Albert's face? Think the sight of Foy shooting diarrhea into top hats is epic comedy? This one's for you – for me, not so much.
The best comedies of 2014 (NEIGHBORS, 22 JUMP STREET) employed a connected story that never betrayed the characters for old-school cliche humor. Here, the tough-minded and foul-mouthed Anna is suddenly the damsel in distress when Clinch arrives, forcing Albert to man up in a climax that feels totally unsatisfying. We never learn why Anna is so attracted to Albert, which might not be the point of parodies, but it seems like she's set her sights significantly lower than she should. Ruth is dispensable cheerleader material; a gold digger with no intentions beyond landing the high life, and Seyfried makes no effort to push her character beyond a few funny gags.
As a director, MacFarlane doesn't do near enough to draw comedy out of his well-apportioned troupe. While we adore Theron, here she lacks the comedic energy to keep her side of the ship afloat, missing out on key moments of humor due to her lack of experience with it. She could be an exceptional comedic actress, as could Seyfried; Harris' coiffed mustache and holier-than-thou performance is really Barney (his character from HOW I MET YOUR MOTHER) in the old west, but we're okay with that. Silverman really offers the only consistent laughs, unwilling to sleep with Ribisi, but ready to hit the hay with her paying clients. When she finally relents, the moment of coitus is just not as funny as it could have been. But it all comes back to MacFarlane's, whom we like as a writer and voice actor, but who simply disappears on the screen each time he's there. Although he has the voice of a leading man, his stature and stage presence has yet to catch up. There's a few cameos sprinkled throughout the film, which is about 30 minutes too long — and don't get me started on the extended cut. Releasing a longer version of a movie one dislike doesn't make it any better. It reminds us just how tenuous a motion picture can be when it robs itself early of all its many gifts.
Fans of MacFarlane expecting another hilarious romp like TED are likely to be seriously disappointed. Considering how it performed in theaters and has already appeared on several Worst-Of lists, my views do not appear to be in the minority.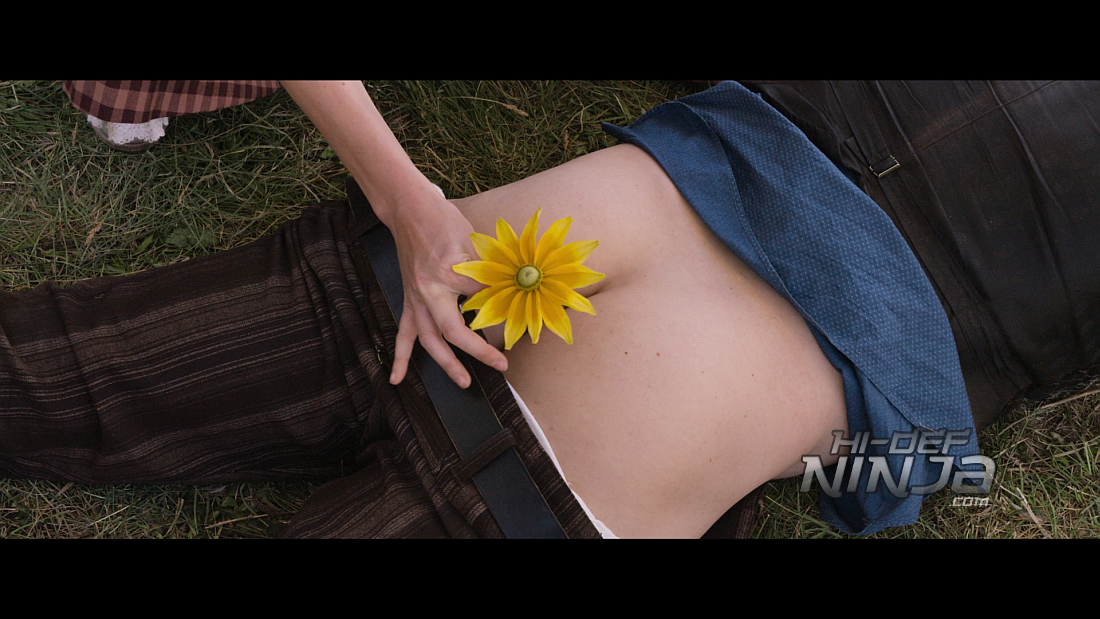 If A MILLION WAYS TO DIE IN THE WEST utterly fails as a comedy, Universal Studios' MPEG-4/AVC transfer makes up for it.  The digitally-shot feature is about as crisp and error-free as any you'll see.  From the wide sweeping vistas of the Monument Valley opening to the various indoor skits, the transfer makes cinematographer Michael Barrett's camera pop.  Although we're presented with a typical drab western palette, the browns and tans blend very well, showing off realistic skintones and good detail on man-made environments.  When actual greens show up, they tend to soak up the color.  Clothing looks authentic, with wrinkles and dirt adding to the tough environment of the film.  Seyfried's dresses and Harris' sharp suits reveal stitching and details in lace, while individual strands of human hair can be easily seen.  Outdoor skies look a bit overexposed, but considering that the rest of these scenes show off trees or buildings with such impressive results, I'm willing to set aside some concern.  Check out the breakup scene early in the film for proof of that diversity.  Some critics have mentioned crush in the night scenes, but my Plasma platform did not reveal such issues.  Overall, this is a very good transfer that continues to elevate Universal's street cred as one of the top in home entertainment.
Once again, Universal delivers the goods with a terrific DTS-HD Master Audio 5.1 transfer.   From Composer Joel McNeely's audacious western score to the environment set forth my MacFarlane, we do feel like we're deep into the west of 1882.  The mix is interesting, favoring a majority of sounds from the forward speakers while allowing the surrounds to deliver more music than environmentals.  You can mostly hear this when the action ramps up such as at the bar brawl in Chapter 7.  Otherwise, we get the characteristic wind blowing, desert sounds, and town noise, while the center speaker features clean and easily to hear dialogue.  Although the LFE doesn't come out near enough, its arrival does thump and pound its way with good results.  In the end, the track excels in many ways at doing its job.
A MILLION WAYS TO DIE IN THE WEST comes with a collection standard supplements that are all presented in HD:
Theatrical (1:56:01) and Extended (2:14:44) Versions of the Film: An extra 20 minutes doesn't help this in the least, extending the pain even further.
Feature Commentary with Actor/Director/Producer/Co-Writer Seth MacFarlane, Co-Writers and Executive Producers Alec Sulkin & Wellesley Wild and Actor Charlize Theron: Available only on the Extended Cut of the film, the team spend more time making fun of each other and themselves than sharing technical bits. What's clear is that the MacFarlane we hear in interviews and at the Oscars seems to be one in the same, a guy who's enjoying his time in the sun, even if some of it doesn't work.  What's also clear is that Theron is in love with MacFarlane, so we hope to meet her soon so she can glob on the adoration for our stunning nerdy features as well.
Trailers: Nine (yes, nine) movie and television trailers are featured, including THE MAN WITH THE IRON FISTS 2, THE PURGE: ANARCHY, THE SIGNAL, BROOKLYN NINE-NINE, and NEIGHBORS.
Alternate Opening (3:27) and Ending (00:47) of the film: Nothing significant – or even mildly funny – in these scenes.
Deleted/Extended/Alternate Scenes (10:49): We're treated to different versions of scenes that made it into the film. There are some completely different versions here; but much like the movie, none of it is really worthy of note.
Gag Reel (5:43): From the looks of things, it seemed like production was reduced to MacFarlane trying to ad-lib in the hopes that something funny would emerge. The results are decidedly mixed.
Once Upon a Time, in a Different West (10:06): A standard EPK that pokes fun at the production.
Our evaluation copy arrived as a Blu-ray/DVD Combo with Digital Copy. There is no interior artwork, but the slipcase is colorful and embossed. As mentioned, this is the Unrated version and while we're not aware of a standalone Blu-ray version, we do know that both Target and Walmart did offer exclusive versions. If you're looking for one, we would recommend the Target release, which features an extra disc with 30 minutes of additional content, including Moustaches & Fisticuffs, Catching a Train, Doc Brown's Old Stump Lab, Papa Prospector, and Character Profiles.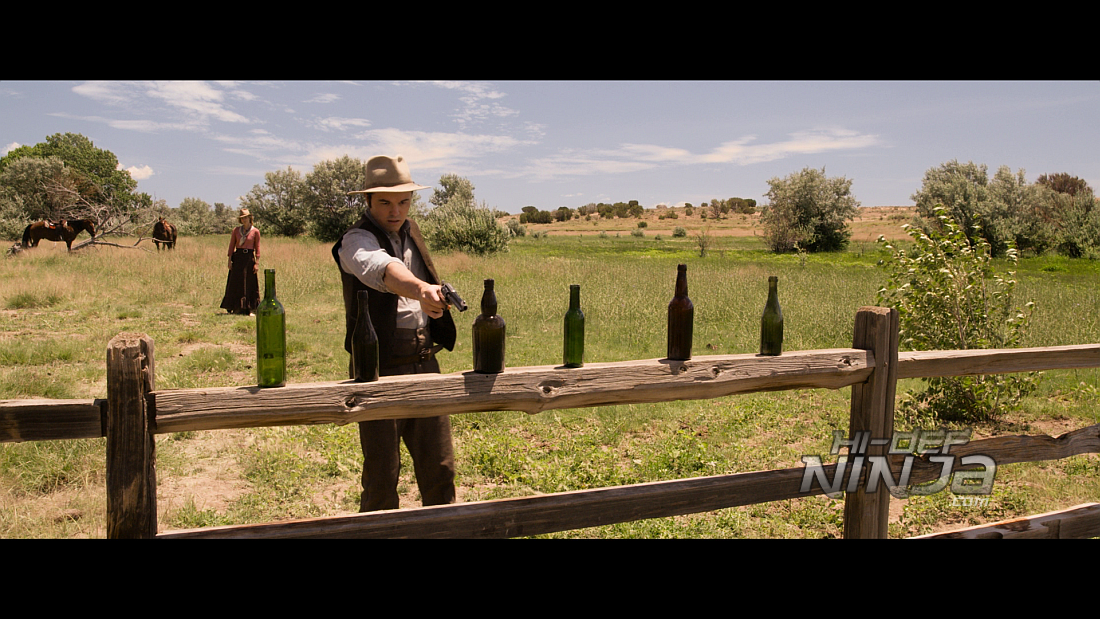 Boring in large sections and laughingly bad in others, A MILLION WAYS TO DIE IN THE WEST feels more like a 10-cent show that squanders its top-rated talent. Luckily, its video and audio transfers are typical Universal standout, but even so we can't recommend it as a purchase. The extra 20 minutes doesn't help in the least, and the supplements fail to make a compelling argument for purchase. I realize my score might not make sense as I gave several parts high marks, which I hope is high praise to Universal; but the film itself is entirely unworthy of consideration.  Try it as a rental before you commit to anything more. While it's too early to label it as the worst comedy of the year, this sure feels like a huge misfire.
A MILLION WAYS TO DIE IN THE WEST is rated R for everything imaginable and has a runtime of 116 minutes for the standard edition and 135 minutes for the extended version.