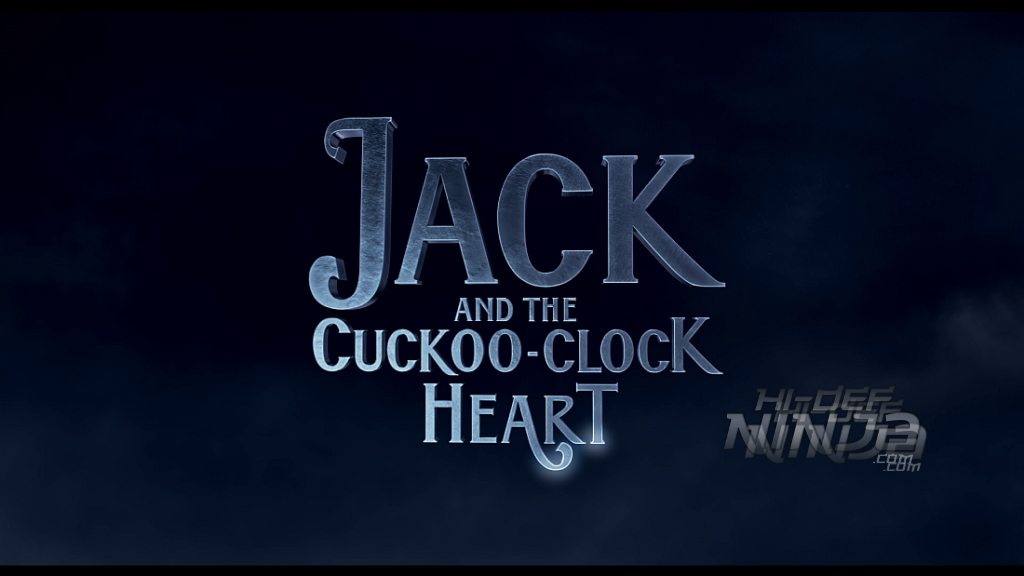 Created by Mathias Malzieu, the front man of the eccentric and experimental French rock band Dionysos, JACK AND THE CUCKOO-CLOCK HEART is reminiscent of classic rock opera while carrying its own unique flavor of highly stylized yet bleak, gothic and steampunk-esque art design. Viewers will be hard pressed not to make the Tim Burton connection right from the opening scene. Jack's story is adapted from Malzieu's graphical novel 'La Mécanique du cœur' (The Mechanics of the Heart) and is musically driven by the concept album of the same name, written and performed by the band. Being a fan of rock opera, a total sucker for Tim Burton's works and peculiar style, and generally appreciative of all things visually and aurally artistic, it's safe to say I was excited to watch JACK AND THE CUCKOO-CLOCK HEART and that I had my hopes set high.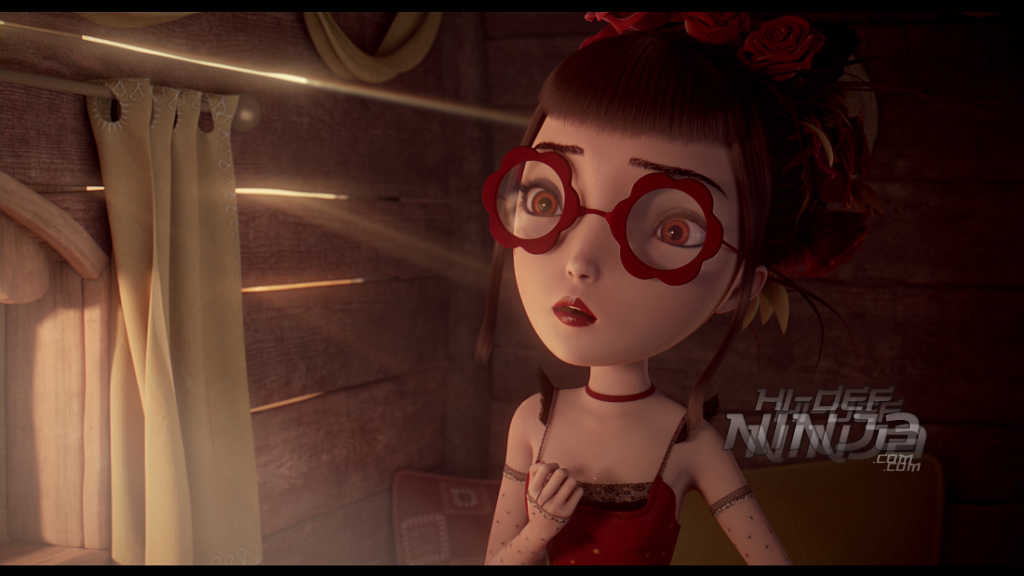 I enjoy watching a film the way it was meant to be seen, so I decided to watch JACK AND THE CUCKOO-CLOCK HEART in its original French language, and I am so glad I did. The visual setting, the score, the characters and the overall mood of what's on screen throughout the film definitely benefits from the beauty of the French language. The actual character-specific songs feel more natural and fitting as opposed to the English versions, and they add that extra layer of romance to the feature in a whole. In fact, as a whole, JACK is dazzling little film. It's visually striking in every way. From the victorian and gothic looking towns and cities to the animals and their doings, to the people and all of their individually quirky mannerisms. The aforementioned connection to Tim Burton's visual and thematic style makes for a somewhat familiar-but-not-too-familiar experience, as we're witness to some of the wackiest and most eccentric characters I have seen since CORPSE BRIDE.
The film's opening scene sets the dark and dreary premise for what's to come. Highly pregnant with little Jack, his mother is seen struggling her way through the snow, up to a house located on what feels like the longest and steepest hill ever — on what happens to be the coldest day ever. Right before she gets to the door, she falls down in the snow and for a few moments we are left to our own imagination to wonder as to what might happen to this lady and her baby. This is where the film takes off, and turns into something unique and interesting, moving on a unique take of a familiar "destined to be alone forever but not really" kind of story. It's romantic, but not too romantic. It's eerie and creepy, but not to the extent where children will be frightened. The subject matter and dialogue is easy to understand, but there are key moments where the film goes deeper than just a surface level CGI feature about a boy who shouldn't fall in love, but does it anyway. Yes, it's a familiar formula, but the fact that it's backed up by such a wonderful visual style and Dionysos' often bangin' but suitable-and-subtle-when-necessary soundtrack makes JACK stand out from the crowd.
The concept of Jack's heart being a cuckoo-clock makes for an interesting spin on his nature and fragility as a young boy. When he decides to go to school, he is warned about emotion and how it will affect his "heart" in a negative way. The "rules" sequence inspires both fear and crushes hope, but in contrast, it also shows the genuine concern and love his parent has for Jack. This theme keeps coming back throughout the film, as Jack meets new people and consistently tries to make the best of being loved and hated for who he is, and the fact that his heart isn't really a heart. Add to this the fact that all of these characters look like classic porcelain dolls who have strangely shaped faces display a complete absence of natural expression (but who's realistic, natural and all too human-looking eyes often tell us more than their words do) – and you'll realize that what you're watching is a lot more emotionally driven than it initially seemed to be.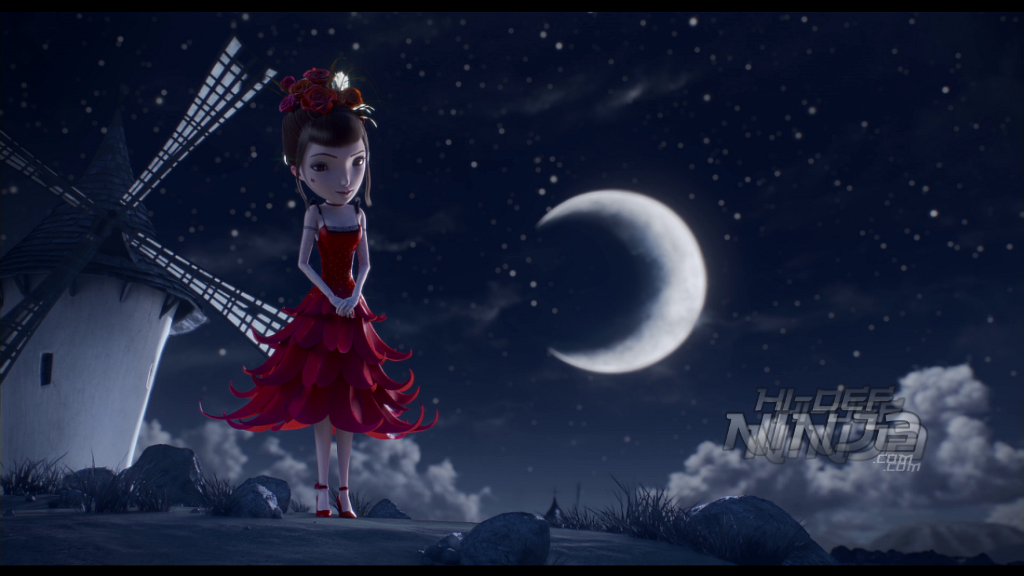 Shout! Factory presents the film in an AVC encoded, 1:85:1 framed video transfer and what a transfer it is! Shortly put, JACK AND THE CUCKOO-CLOCK HEART looks fantastic. As the feature fluctuates from one particular visual style to another, the transfer remains consistent in keeping up with detail, sharpness, rich colors and overall wonderful definition. Blacks are deep and never affected by crushing. For a CGI feature, it looks surprisingly natural and brings out the amazing visual design the way it should.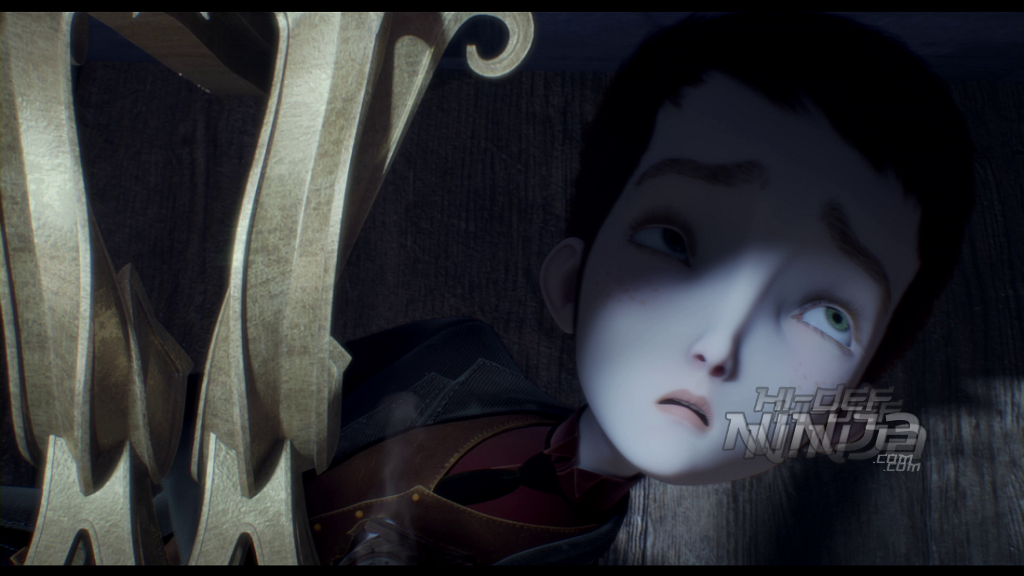 As I mentioned before, I opted to watch the film with it's original DTS-HD MA 5.1 French language track. As impressed as I am by the video transfer, I am equally impressed by the film's audio presentation. Seeing as we're essentially watching an animated rock opera with a lot of great music, the sound is no less important than the picture. I am pleased to say that Shout! Factory didn't skimp here, either. Surround activity is balanced and fairly active throughout action sequences and songs with plenty of LFE and clarity. Dialogue is crisp, clear and easily understood. Despite the fact that the English language track features the same mix, the song translations make for an awkward, inaccurate and often emotionless experience. It takes away a lot of the essence that makes this film as cool as it is, and I strongly urge viewers to consider this before watching the film in English.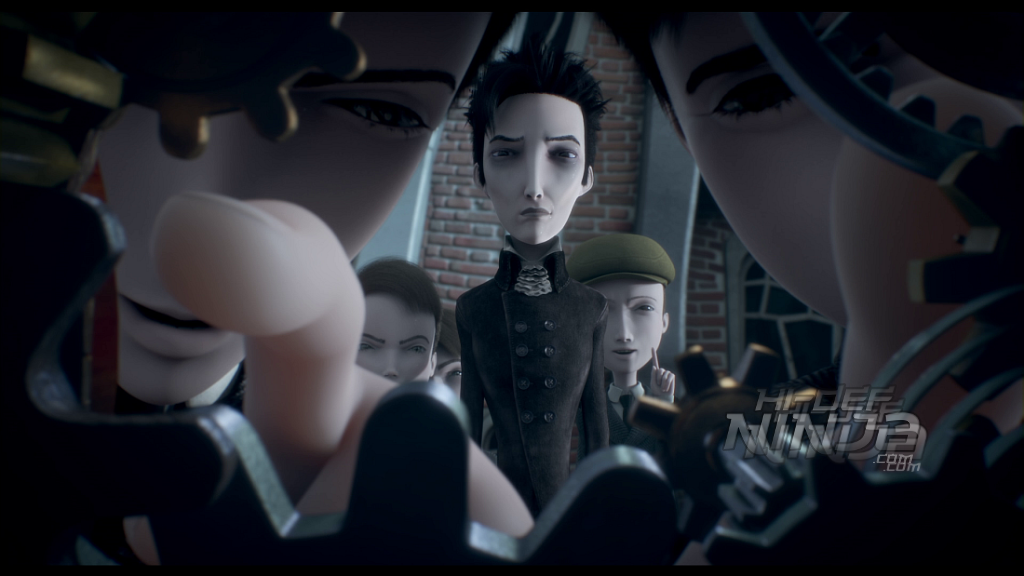 The "Characters" featurette lets us in on some interesting bits on the concept art and creation of the main characters, as well as the process of the band creating and recording the music for the film. Last but not least, "From Book To Screen" shows us the work and people involved in turning the book into a film, and provides us with an in-depth look at the science behind creating the CGI.
JACK AND THE CUCKOO-CLOCK HEART is a highly entertaining, touching and visually striking film we can all relate to. Its excellent use of genuinely good music and the contrast of warm and cold, love and loathe, friend and foe and a number of other emotional subjects gives the film plenty of enjoyable substance. Shout! Factory's great technical presentation and the few but interesting and informative extras make for a solid Blu-ray package. JACK AND THE CUCKOO-CLOCK HEART is out now and comes highly recommended.