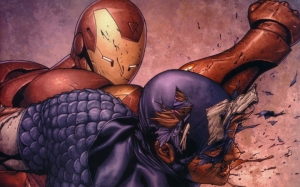 With Robert Downey Jr. signing on to do CAPTAIN AMERICA 3, Marvel Studios is planning to bring the Civil War from comics to the screen. Anthony & Joe Russo will return to direct CAPTAIN AMERICA 3, so you know that they'll do a great job.
The basics of the story is that the government wants to invoke the Superhero Registration Act (SRA) that forces people with abilities to have to reveal themselves to the world. As most people know, Captain America is about preserving people's freedoms and not forcing people to do things. Most likely, Stark will be pro SRA, and they'll make some heroes go on the run.
I'm all for a movie or stretch of movies of this magnitude, but there are a few key pieces missing that could create quite the speed bump.
There are some important characters and franchises where Marvel Studios doesn't have the rights to be in the movie(s). A few must-haves are Spider-Man, Wolverine and Mr. Fantastic. They all are owned by either Sony Pictures or 20th Century Fox. That means they won't appear unless Marvel Studios can work something out with those studios by either buying the rights or talk them into making the universe bigger.
The other big issue is that the word mutant is not allowed to be used by the Marvel Studios. So like Wolverine, there is no X-Men, Xavier or his school where a majority of the mutants seek shelter during the war.
Don't get me wrong, if anyone could make it work, Marvel can — but it just worries me. One way to make it happen is to introduce the Inhumans and have Stark pull some B-list heroes into the fold. I'm all for Marvel proving me wrong and hopefully they will.