While covering the 2013 Fan Expo in Toronto, Canada last year, I had the opportunity to attend a panel focussing on female directors and actors who worked on horror films. After the panel, I sat down with actress Amanda Adrienne to discuss her new horror flick, SAVAGED. The clip that was shown intrigued me beyond belief and since then, I've been dying to know more about the film.
Luckily, in celebration of Halloween Week here at Hi-Def Ninja, I was not only able to see an advanced screener for SAVAGED (exclusive film review coming this Friday), but I also had the chance to chat with the film's writer/director Michael S. Ojeda in what I believe to be a highly-educational interview for independent filmmakers everywhere.
————————-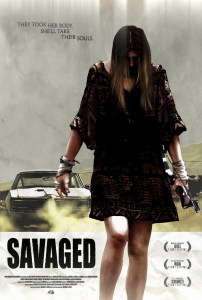 HI-DEF NINJA: Michael, thank you for taking the time to chat independent filmmaking and your awesome new horror flick, SAVAGED.
MICHAEL S. OJEDA: Yes, of course! It really gets me excited when someone – who loves film – really enjoys and gets my creation. It makes all the up-hill battles well worth it.
HDN: When I first talked to Amanda last year, she said that you originally got together to shoot a trailer for SAVAGED that you could take to investors in an attempt to receive funding for the feature. Was that a stressful situation for you — to know that unless the right person came onboard, your film may not happen?
MSO: Making a film takes a huge leap of faith. You can't go into it thinking, "But what if it never happens?" That fear is the number one killer of dreams. As soon as a filmmaker doubts it will happen, the fear of investing so much time and money becomes overwhelming. It will stop most filmmakers in their tracks. It prevents most from even ever getting the script done. No, when I have an idea for a film I want to make, I know for a fact it will get made. I just keep an open mind as to whether it will be a micro, medium or big budget.
HDN: Was your full screenplay for SAVAGED complete before you shot that initial trailer or did you write the film afterward?
MSO: I wrote the script for SAVAGED about three years prior to shooting the scenes. So, in total, it took about four years to get the film made.
HDN: Amanda also mentioned that she had auditioned for the role of Zoe by responding to an ad on Craigslist. Was this how you found a majority of your actors?
MSO: No. Amanda and maybe two day-player actors were found on Craigslist.  Honestly, I didn't think I'd find our leading actress that way. We were only shooting scenes at the time to help raise the money, so I thought it was worth a try.
HDN: For me, there were some absolute highlights during my viewing. Amanda's performance was one of them, but actors Rodney Rowland and Tom Ardavany blew me away, too. Generally, a relatively low-budget film will have some "bad nuts" amongst the core group, but I think you put together one hell of a cast. Did you just get lucky?
MSO: No, we didn't get lucky. As a filmmaker facilitating multiple roles — Director, DP (Director of Photography), sometimes camera op — on a low budget where you don't have much time to shoot a scene, the last thing I need to worry about on the day is teaching actors how to act. I try to find seasoned and naturally talented actors who truly embody the characters. We rehearse for maybe four to five days. On the day of shooting, I point them in a direction and they just go.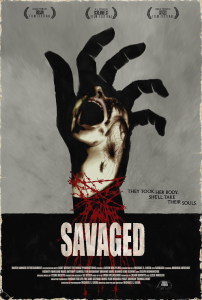 HDN: In the film, you wrote Zoe as a deaf-mute. What made you decide to give your lead character a disability?
MSO: Several reasons: 1) I wanted the audience to sympathize for Zoe quickly, 2) I like films about underdogs, and 3) technically Zoe is a zombie, so having her speak would be weird and comical.
HDN: You wrote and directed SAVAGED. Did you feel that you'd only trust the film to be made if it was you in the director's chair? Would you ever direct another's screenplay (or vice versa)?
MSO: I write films I want to make. Stories I want to tell, my way. I have no interest in selling scripts. The only reason I would offer my script to another director was if it was one I truly love and would want to work with. Only a handful of them: Ridley Scott, Tony Scott – rest in peace, Michael Mann, Luc Besson.
HDN: On top of writing and directing, you also served as the cinematographer and editor to which you did an incredible job. SAVAGED, without a doubt, has the look of a big budget, Hollywood-produced film. How did you juggle such a workload while still being able to make such a great looking film?
MSO: I have been a Director of Photography on many low-budget indies, so I kind of perfected my skill set in that area. I've also edited a number of features for other directors. The bottom line, I maintain quality control by having a firm grasp on all the departments. Knowing where to spend money and where not to. How much crew or lights I will need for any given scene. For instance, there's a scene where Zoe wanders through the desert and finds a dead coyote.  I shot that scene with my sister, one assistant and Amanda. It cost us lunch for three, a dead coyote prop, and some maggots. I own the camera, so that was free.
HDN: I've had similar experiences in the past with an indie horror film that I worked on. Then again, I was only the screenwriter/producer on that project. It's truly damn impressive the amount of roles you took on to complete SAVAGED.
MSO: As far as multi-tasking goes, I learned a long time ago after watching so many "directors" try to make films, including my own, that we were too dependent on other people to get our films made. So, I made it a point to become a "filmmaker" and not just a director, and strove to excel at the main basics required to make a movie so I would never be dependent on those who will dictate the cost for the vital ingredients.
For instance, you hire a great DP who will tell you from his experience, you need a 12K to do this, or you need a cherry picker to get a light there, or you need a Steadicam this day – where if you are just a director, you will say, "Really? Okay. I trust you." Then you turn to your investors and producers and say I need these things because the DP said so. It goes with every department. The bottom line, know exactly what you need – no more, no less – and when you need it. No point in having two cameras sitting around on a day where you only have the manpower for one.  Or a 12K sitting in a truck on the day you are shooting in a motel room.
As far as post (production), nothing is worse than seeing the many filmmakers who have run out of money for editing and can't get their films completed. Learn Final Cut. And if you're really ambitious, learn After Effects. I did over 280 visual effects myself in SAVAGED – mostly 2D. Basic compositing goes a long way. I even did some 3D, which I wouldn't expect most people to learn. It took me nine months. The entire post process: 1 year and 2 months. Filmmakers, "empower yourselves" – write, shoot, and edit some short films first, then tackle a feature. Personally, if you can't do those three basic, you shouldn't be making movies.
HDN: The music was another highlight for me. Your song choices for the opening and ending credits were spot-on, but the score from César Benito was flawless. How did you become acquainted with him?
MSO: I had a lot of issues with composers on another project. I went through three, was never happy, and ultimately settled on an inadequate score. Finding a composer was truly a fear of mine, because writing music is one critical thing I cannot do. And when you are on a low budget, you can't just make a deal with Harry Gregson-Williams, Tyler Bates or Hans Zimmer. So, luckily my producer Jason Gurvitz introduced me to César Benito, a well-respected composer in Spain. He was amazing and quite frankly, a God send. César is as good as the best of them and will be famous one day.
HDN: I'm sure you hear this often, but when I watched the film, I couldn't help but see — homages, if you will — to films such as THE CROW and I SPIT ON YOUR GRAVE. Did these films influence you in any way? If not, were there any other films that influenced you while creating SAVAGED?
MSO: I will say this. When I conceived of SAVAGED, it was a year before they decided to remake I SPIT ON YOUR GRAVE. In general, I like revenge films, female driven films, Spirit Possession films, and combining those elements seemed like a fresh spin on old ideas.
HDN: I love strong female protagonists in films. It's one of the main reasons why I look up to writer/directors such as Joss Whedon and James Cameron. Is it safe to assume that you also love films with female ass-kickers? Who's your favorite heroine of all time?
MSO: That is a tough question. I would like to say my favorite heroine is a character named 'JUN' from a screenplay I wrote set in Feudal Japan. It's an amazing story I hope to one day bring to life. As for already produced heroines, I like many, but am drawn more to specific actresses rather than their characters – some actresses just sell bad-ass better than others.  I like Rhona Mitra from DOOMSDAY and RISE OF THE LYCANS. Kate Beckinsale. I think Eva Green was amazing in James Bond and 300: RISE OF AN EMPIRE. Angelina Jolie did amazing in the TOMB RAIDER series.
HDN: I recently saw a Japanese trailer for SAVAGED and I couldn't help but imagine how cool that must've been for you. It's also been a top-selling Blu-ray in Germany. Has this been pretty surreal for you?
MSO: I love the Japanese culture, the principals of their history, the warrior's code, and honor. Like I said before, I wrote a screenplay set in Feudal Japan. Yes, I think it's very cool. And SAVAGED being shown in Germany is also very cool, too. That's what we as filmmakers strive for; to touch the world on a global scale.
HDN: Any approximate date to when we can expect SAVAGED in North America?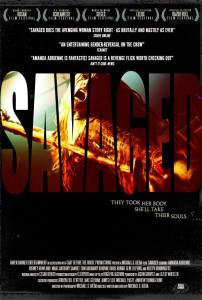 MSO: SAVAGED will be released in the U.S. February of 2015. It's a bit of a wait, but the distributor seems to think it's the opportune time. Also, for your information… they are changing the name.  Not sure why, but the distributors have their reasons. In 2015, SAVAGED will be released as AVENGED. So, please spread the word… everyone!
HDN: Just to give you a heads-up, Blu-ray collectors really like SteelBooks. Maybe you could pass on that information to your distributor? (wink)
MSO: For sure, I will strive to satisfy what the fans of SAVAGED want to see.
HDN: Do you have any more films in the pipeline or has post-SAVAGED events been keeping you busy enough?
MSO: Yes, I have two features I am developing. One is a sci-fi/action epic. The other an action/drama set on the Caribbean Island of Trinidad, about a former Russian mob assassin, named 'Dominique' who befriends an 11-year-old homeless girl and helps her rescue her sister from dangerous human traffickers. Don't want to get into many details at the moment. It's cool, action-packed and emotionally engaging.
HDN: Will you be appearing at any entertainment conventions or festivals coming up?
MSO: I think SAVAGED is done with its festival run.
HDN: Being that it's Halloween Week at Hi-Def Ninja, allow me to wrap this up by asking you which five horror films are your go-to movies during the Halloween season?
MSO: (I'm old school.) THE EXORCIST, 28 DAYS LATER, BRAM STOKER'S DRACULA, ALIEN, (John Carpenter's) THE THING.
————————-
Now that I've had the chance to interview Michael, I must say that he's truly an inspirational individual. While he may only have SAVAGED under his belt as far as features go, I honestly believe that with his techniques, views and talent, he's definitely going to only go up from here.
As I stated at the top of this interview, I will be posting an exclusive review for SAVAGED this Friday on Halloween Day, so keep your eyes open for that. In the meantime, if you'd like to follow news for SAVAGED, you can do so on Facebook and Twitter. If you can't wait until February to watch it (as AVENGED) and you own a Region B Blu-ray player, SAVAGED is currently available to order from Amazon Germany.
httpvh://www.youtube.com/watch?v=BrLXUvKtUG0