This Halloween, StudioCanal are challenging horror fans and their knowledge of horror movies with a specially commissioned new mash-up trailer featuring clips from up to 27 titles from their Horror Vault. (You'll have to play the game to find the truth!)
This is the ultimate challenge for all you horror junkies to test your knowledge! To take part in their challenge, head on over to their Facebook page and take part in the spooky fun!
To celebrate this, StudioCanal are giving away a coffin full of prizes and we've done some graverobbing to bring you some!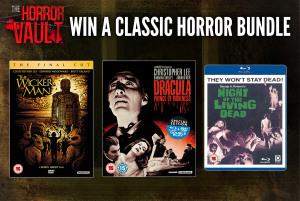 Up for grabs is a trio of classic horror titles including THE WICKER MAN – The Final Cut (DVD only), DRACULA: PRINCE OF DARKNESS (BD/DVD) and the original and classic NIGHT OF THE LIVING DEAD (BD).
To grab this blood curdling package, all you need to do is answer in the comments box below, "What titles will you be screaming to this Halloween?"
The competition will end on 1st November at 18:00 GMT and the winner will be notified by email directly. Participants in the competition must have a valid UK postal address.
Best of luck, boils and ghouls, and remember to check out the Facebook page!