Fourteen-year-old Emily DiPrimio has been watching horror movies since she was 4-years-old. While other teenagers were fantasizing about the next One Direction concert or lining up for the latest Marvel superhero movie, Emily was dreaming about one day making her own '80s throwback slasher movie. With a love for the macabre and a penchant for movie-making, the young horror fan set out to get her own original film made. A year and a fully-backed Kickstarter campaign later, CARVER is nearing completion.
CARVER was a collaboration with Emily's father Ron, who co-wrote the script with her. On the Kickstarter page for the film, Emily reveals that CARVER was somewhat of a happy accident; Emily happened upon an unfinished story by her dad while she was recovering from ankle surgery in January of 2013. Before she knew it, 12 weeks had passed and a finished script materialized. CARVER's official synopsis is as follows:
CARVER is about a group of teenagers who are haunted by a despicable act they committed on Halloween when they were younger. Their actions caused the deaths of three innocent people. Now, on the anniversary of those deaths, an ominous calling card in the form of a carved pumpkin has been placed at each of their homes. Someone is out for revenge. The question is…who?
It's an inspiring success story – for someone so young to get a chance to make their own original film, given the blessing by an enthusiastic number of Kickstarter backers and horror movie fans. Emily not only has the talent and passion for movies that make her one promising filmmaker to watch, but she has a genuine and deep appreciation for the process that was very apparent in a recent interview with Hi-Def Ninja. Emily was generous enough to chat with us about the making of CARVER, her experience as a young female director, why she swears that CARVER won't feature CGI gore and, because it's Halloween week, reveals her top 5 favorite horror movies.
——————–
HI-DEF NINJA: In the description for CARVER, it's described as a throwback to 80s slasher movies. What is it about this specific subgenre that captured your interest?
EMILY DIPRIMIO: Slasher movies are fun. It is the subgenre that elicits the most emotion while watching. Audiences are always bemoaning the characters' poor choices that inevitably lead to their demise. Also, it's the one subgenre that allows you to actively cheer on a character whether it be the "final girl" or the masked killer.
HDN: You were able to make CARVER thanks to a very successful Kickstarter campaign. What compelled you to choose Kickstarter, and would you recommend crowd-funding campaigns like these for aspiring filmmakers?
ED: I chose Kickstarter to try and fund CARVER because I like their all-or-nothing policy. Other crowd-funding sites allow you to keep whatever you raise even if you don't reach your goal. Kickstarter requires you to reach your goal before you collect a dime. We came up with a minimal budget and set that as our goal. We were very fortunate to reach our goal, but if we used a different platform and came up short then we would still be on the hook to make a film without all the resources we needed. Crowd-funding is a great resource for artists who may not have the means to bring their vision to life. It is important however to remember when you agree to take a stranger's money, you are entering into an agreement that you are going to deliver on your promises. It was important to me to keep all of my promises and to keep all my backers updated through every stage of production.
HDN: This is your first feature film. What have you found has been the most challenging process so far in making a movie, and what has been your favorite part of the process?
ED: The biggest challenge I faced while filming CARVER was making our days while still getting quality footage. We had 20 days to film CARVER. It was a daunting task to try and get every shot the way I wanted and still stay on schedule. Luckily I had an amazing crew led by our DP Troy Bakewell. Troy worked his butt off and I know I never would have finished on time if it wasn't for the hustle and hard work of Troy and my crew. My favorite part of the process was watching the words I wrote come to life. I have never felt anything more amazing than a scene playing out exactly how I pictured it in my head while I was writing the screenplay.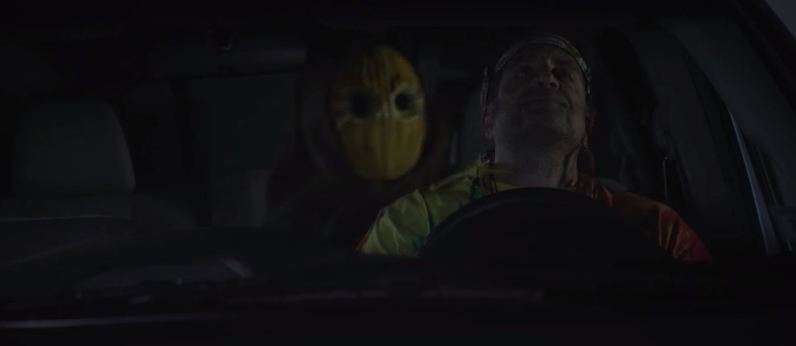 HDN: So CARVER is currently in post-production. I read on your blog that you're collaborating with a composer on the music. Music is certainly a huge element of horror. I can think of many iconic horror movie theme songs, from HALLOWEEN to PSYCHO. What feel were you going for with the music for CARVER?
ED: You just named my two favorite horror films, HALLOWEEN and PSYCHO. Those two films taught me how vital a soundtrack is to a movie. With CARVER, I wanted a subtle soundtrack that inspired a sense of dread in the audience. I asked for compositions with a lot of strings. I am a big fan of the violin and cello.
HDN: One of the things you promise for fans of CARVER is that there will be no CGI blood. There seems to be a movement of horror movie aficionados going back to practical effects instead of relying so much on CGI, such as with the recent EVIL DEAD remake. Why do you think this is? Do you think today's audiences will still be receptive to this kind of special effects?
ED: I think CGI gore is taking the easy way out. I don't want to diminish the talents of CG artists. I think CGI gore at times can look okay, but for me, it lacks the visceral effect that horror movies usually go for. When you are using practical gore effects, it also helps the actor truly be in the moment. If the actors can see the blood spurting from a wound it is much easier to react to a physical expulsion of blood as opposed to a director telling an actor to react as if blood is being sprayed because it is going to be added later in post. I believe today's audience appreciates it when a director and special effects make-up artists take the time and effort to bring practical effects to life.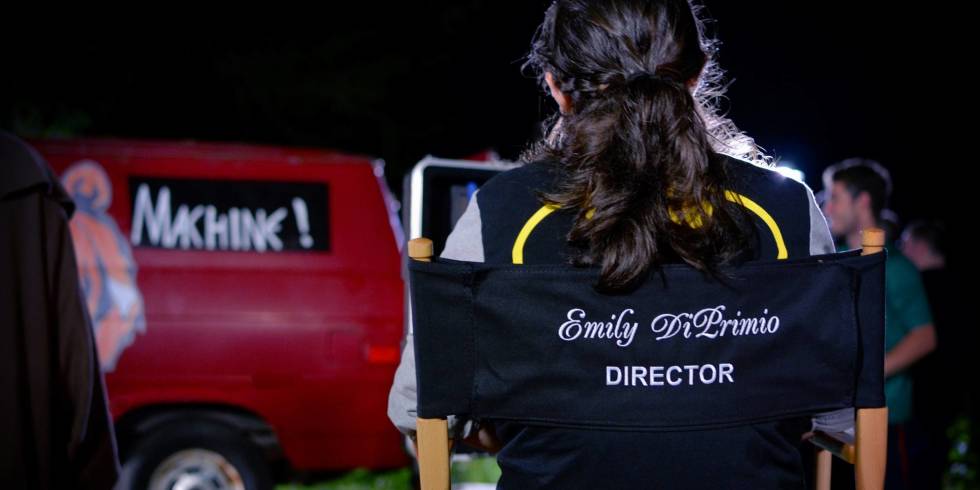 HDN: One of the reasons I was personally interested in CARVER is due to the fact that there are currently very few female directors, let alone female directors who are involved in the horror genre. As the newest (and youngest) of this minority, what has your experience as a female director been like, especially in making a horror film?
ED: There aren't nearly enough young, female voices being heard, not only in horror, but in filmmaking as a whole. The horror genre is crying out for new voices, new visions. A new perspective is needed to perpetuate the success of the horror genre. If things grow stale or tired, fans will eventually move on. I want to be one of the voices that helps horror not only maintain its level of popularity, but increase it. I have been very fortunate with the amount of attention CARVER has received thus far and it is incumbent on me to make the best possible film that I can so investors and production companies will be more inclined to take a chance on another female filmmaker down the road.
HDN: You co-wrote the script for CARVER with your father. Which filmmaking role do you find more challenging – writing or directing?
ED: Directing is far more challenging. When writing CARVER there were only two personalities that came into play. Luckily my dad and I are very much in synch and he also gave me free reign when it came to writing all the CARVER drafts. He would guide me when it came to structure and pacing, but he really wanted CARVER to have my voice, so he only gave his opinion when I asked. That doesn't mean he didn't critique. Constructive criticism is very important when writing a screenplay. When it came time to direct, it was a little overwhelming the first day on set. When working on my dad's films, it was always a very small, skeleton crew made up of my dad's friends. With CARVER, I worked with a lot of new faces; some I was meeting for the first time on that first day of filming. Learning how to deal with a variety of different personalities was the hardest part of directing.

HDN: CARVER is still in the works, but you've gone through pretty much the whole filmmaking experience. What aspects of being a young director have been the most challenging or illuminating? What advice do you have for young, aspiring filmmakers?
ED: The editing process has been a revelation. I wanted to make sure CARVER kept my voice from script to final edit, so I have been in on every editing session. I have final say over everything. I have even learned how to edit which is really cool. You have to be patient, because it can get tedious at times. I want everything to be perfect. I can't tell you how many different sound effects I have listened to so I can find the one that fits best. The best advice I can give is to always follow through. There will be times when you want to throw up your hands and give up. During those times it is important to not lose your focus on your end game, which should always be to finish. Don't take anything for granted and don't approach a project with any sense of entitlement. If you want it, work for it.
HDN: Halloween is coming up soon! What are your top five go-to horror movies?
ED: John Carpenter's HALLOWEEN. PSYCHO. SHAUN OF THE DEAD. PET SEMATARY. THE CONJURING.
HDN: What's next for you after CARVER? Do you prefer to stay in the horror genre or are you interested in pursuing other genres as well? If so, which ones pique your interest?
ED: I want to continue to make movies. I have several scripts ready to go as well as a couple of more I am writing with my dad. Most of them would be categorized as horror, but I am open to other genres. I love comedy. Comedy is the hardest to write. I have a couple of ideas that I think would be pretty funny, but I have a weird sense of humor, so they may only be funny to me.
——————–
That's a wrap on our interview with Emily DiPrimio, writer and director of CARVER! The film is currently in post-production and no release date has been announced yet. For more news and updates about the project, stay tuned to Hi-Def Ninja, and don't forget to follow the Official CARVER Web site. Watch the trailer for the film below, and join us in eagerly anticipating this fun debut from a seriously talented new filmmaker!
httpvh://www.youtube.com/watch?v=JayY6aYj-Ss