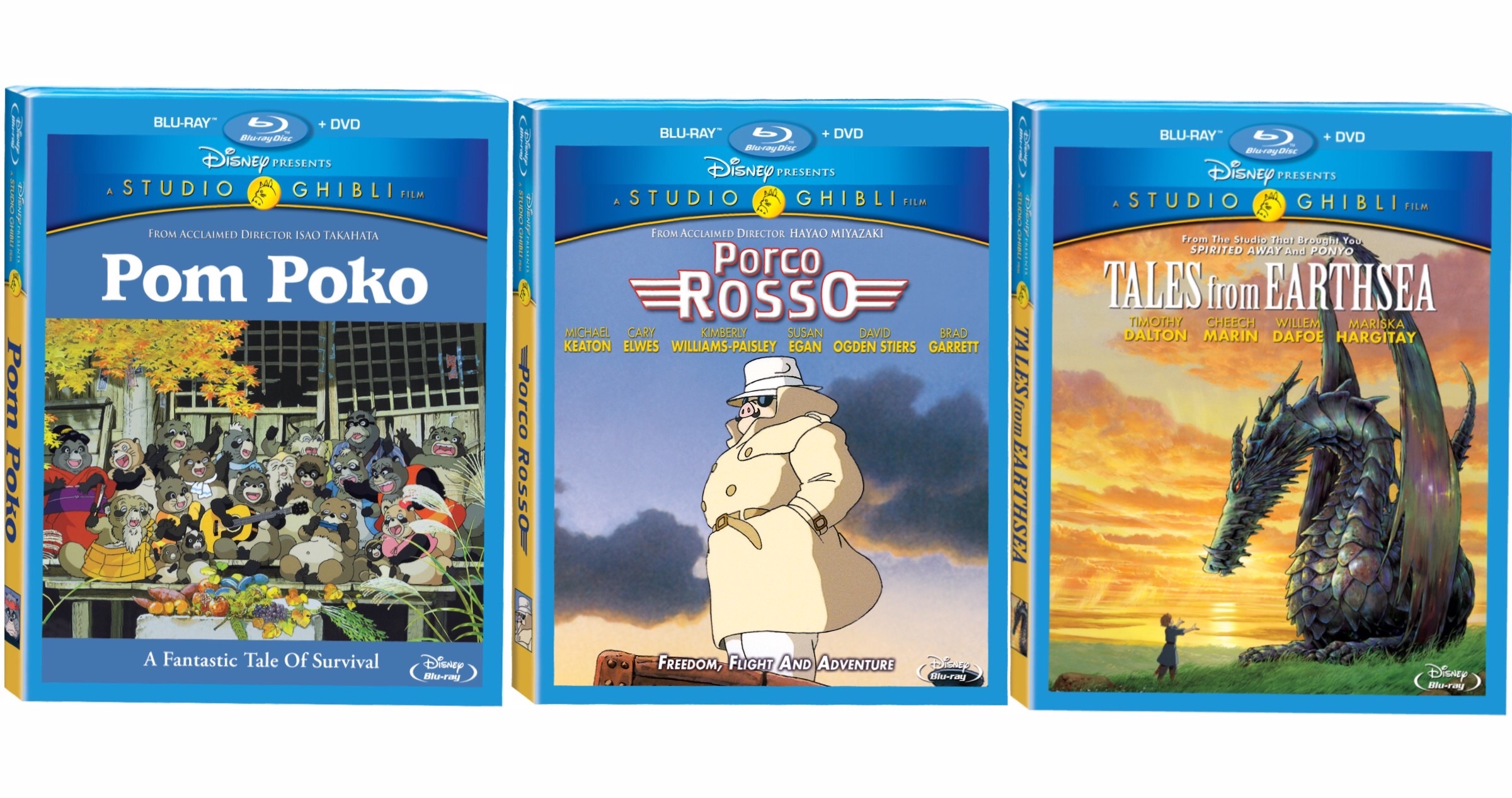 The amazing Studio Ghibli and Disney are releasing three new titles to Blu-ray: POM POKO, PORCO ROSSO, and TALES FROM EARTHSEA. This will be their debut to Blu-ray in the U.S. and they're great titles from the studio's library.
POM POKO
This is a film about a dispute between modern civilization and the natural world. These animals are forced from their homes with the development of houses and shopping centers. The raccoons learn a magic to make themselves look like humans and scare off the advanced people.
Order your copy of POM POCO from Amazon
PORCO ROSSO
This film is about the flying ace Porco Rosso! He's an excellent pilot from WWI who is transformed into a pig by evil magic. Porco must battle his nemesis to win the heart of his love, Gina.
Order your copy of PORCO ROSSO from Amazon
TALES FROM EARTHSEA
In the land called Earthsea, the crops have been not as plentiful since the reappearance of dragons. The prince of the land with a group he has assembled have to try and bring balance back to land before things get even worse.
Order your copy of TALES FROM EARTHSEA from Amazon
The movies are all in a combo pack including the Blu-ray and the DVD. Disney has remastered both the audio & video and they release on February 3rd, 2015.
US Cast:
POM POKO – Clancy Brown ("The Shawshank Redemption," "Starship Troopers") as Gonta, J.K. Simmons ("Spider-Man," "The Closer") as Seizaemon, Jonathan Taylor Thomas ("The Lion King," "Home Improvement") as Shokichi, John DiMaggio ("Futurama," "Adventure Time") as Ryûtarô and Olivia d'Abo ("The Wonder Years," "Conan the Destroyer") as Koharu.

PORCO ROSSO – Michael Keaton ("Batman," "Toy Story 3") as Porco Rosso, Cary Elwes ("The Princess Bride," "Saw") as Curtis, Kimberly Williams-Paisley ("According to Jim," "Father of the Bride") as Fio, Susan Egan ("Hercules," "13 Going on 30") as Gina, David Ogden Stiers ("Beauty and the Beast," "Pocahontas," and TV's "M*A*S*H") as Grandpa Piccolo and Brad Garrett (TV's "Everybody Loves Raymond," "Ratatouille," "Finding Nemo") as Mamma Aiuto Boss.

TALES FROM EARTHSEA – Mariska Hargitay ("Law and Order: Special Victims," "Leaving Las Vegas") as Tenar, Willem Dafoe ("Spider-Man," "Finding Nemo") as Cob, Timothy Dalton ("The Living Daylights," "License to Kill") as Ged, Cheech Marin ("The Lion King," "Nash Bridger") as Hare.

Directors:
POM POKO – Isao Takahata ("Grave of the Fireflies", "Heidi: A Girl of the Alps")
PORCO ROSSO – Hayao Miyazaki ("Spirited Away," "Princess Mononoke")
TALES FROM EARTHSEA – Goro Miyazaki ("From Up on Poppy Hill")

Original Story and Screenplay:
POM POKO – Isao Takahata ("Grave of the Fireflies," "Heidi: A Girl of the Alps")
Screenplay: PORCO ROSSO – Hayao Miyazaki (Concept)
TALES FROM EARTHSEA – Based on the "Earthsea" series by Ursula K. Le Guin (Novel), Inspired by "Shuna's Journey" by Hayao Miyazaki (Concept), Screenplay by Goro Miyazaki and Keiko Niwa ("The Secret World of Arrietty," "From Up on Poppy Hill").

Producers:
POM POKO – Ned Lott ("My Neighbor Totoro," Howl's Moving Castle"), Toshio Suzuki ("Spirited Away", "Princess Mononoke")

PORCO ROSSO – Rick Dempsey ("Howl's Moving Castle", The Real Ghost Busters") and Toshio Suzuki ("Spirited Away", "Princess Mononoke")

TALES FROM EARTHSEA – Steve Alpert ("Spirited Away," Princess Mononoke"), Javier Ponton ("Malachance," "Souvenir Views") and Toshio Suzuki ("Spirited Away", "Princess Mononoke")

Bonus Features:
POM POKO – Original Japanese Storyboards, Original Japanese Trailers
PORCO ROSSO – Original Japanese Storyboards, Original Japanese Trailer, Interview with Toshio Suzuki, Behind the Microphone
TALES FROM EARTHSEA – Original Japanese Storyboards, Original Japanese Trailers & TV Spots, the Birth of the Film Soundtrack, Origins of Earthsea