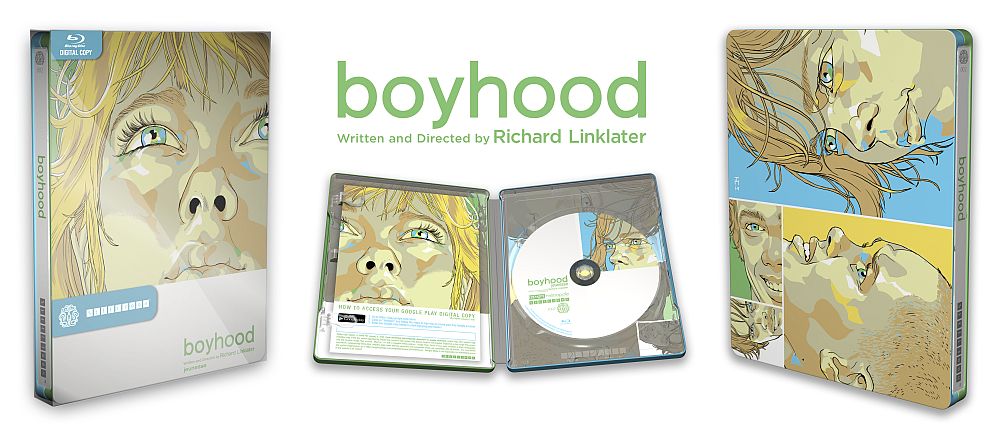 Hi-Def Ninja is pleased to announce the next Mondo SteelBook. BOYHOOD will be a Future Shop exclusive and while it's the second to be announced, it's noted that it's #002. With the first announced DRIVE being #000, what will be #001? 😉
The BOYHOOD SteelBook has spared no expense as famed artist Tomer Hanuka's illustrated work appears on every facet of the SteelBook (Front, Back, Discs, Insert). The SteelBook case features gloss and satin varnish with attentitive white layers that really make the case pop! The regular edition comes with a translucent sleeve.
But that's not all! The Variant Edition has a sleeve that is printed with a different color effect of Tomer's artwork and is hand-numbered as Mondo X SteelBook #002 and signifies X out of 2,000 copies. To top that off, it also includes a 16-page booklet with information about the movie.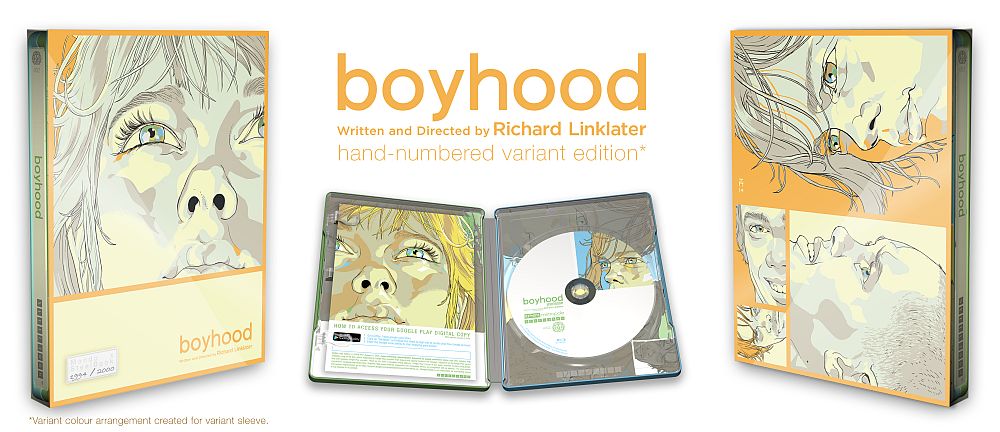 Mongrel Media's BOYHOOD will hit stores January 6th and will be available online from Future Shop Canada.
The movie's specs are featured below:
Mondo x SteelBook #002

The 12 Year Project – The Making of Boyhood
Q&A with Richard Linklater, Ethan Hawke, Patricia Arquette, Ellar Coltrane and Lorelei Linklater
Ethan Hawke Discusses 'Boyhood'

Blu-Ray & Digital download copy

Audio: English & French 5.1 DTS-HD Master Audio
Subtitles: English SDH and French STM
Feature RT: 165 min
Visit the official forum thread for all the chatter on this release.
Regular
http://www.futureshop.ca/en-CA/product/id/M2215361.aspx
SteelBook with translucent sleeve.
Variant
http://www.futureshop.ca/en-CA/product/id/M2215360.aspx
SteelBook with variant artwork printed on a hand-numbered, credit-free sleeve.
httpvh://www.youtube.com/watch?v=DEtwhWUGBM8