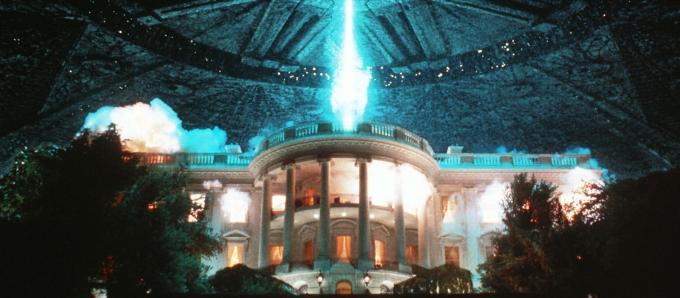 According to Deadline, 20th Century Fox has given the green light to the long-in-development INDEPENDENCE DAY sequel. They've slated the film with a May 2015 production start and now they're working out a directing deal with the first film's original director, Roland Emmerich. On top of that, Fox has also give the sequel an official release date: June 24, 2016 — though it wouldn't be surprising if it gets bumped back a week to take advantage of the Independence Day long weekend in the United States.
Once Emmerich has signed on, casting will begin on the film, though it's already been said that Will Smith will not be returning to the role that arguably kicked off his super-stardom. Nothing's been made official, but it's expected that both Jeff Goldblum and Bill Pullman will return.
INDEPENDENCE DAY 2 — tentatively titled ID FOREVER — will also feature Dean Devlin returning as producer. Back in the '90s and early 2000s, Devlin and Emmerich were an unstoppable team at the box office. They split apart after 2002's dud EIGHT LEGGED FREAKS where Devlin served as producer and Emmerich was the executive producer.
Though it was originally announced as a two-part film, Fox has only given the green light to one film, so it's uncertain whether this means we'll see two INDEPENDENCE DAY sequels or just one. The most recent draft of the screenplay was written by Nicolas Wright and James A. Woods. Before them, Carter Blanchard had rewritten the first draft by both Emmerich, Devlin and James Vanderbilt. Harald Kloser will be joining Emmerich and Devlin as a producer on the film.
July 4, 2016 will mark the 20th anniversary of the original INDEPENDENCE DAY. We'll report back when casting announcements begin.
httpvh://www.youtube.com/watch?v=mGeIsCLOI-U