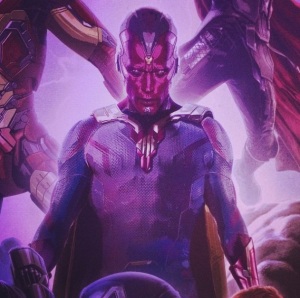 Since the announcement of AVENGERS: AGE OF ULTRON, Marvel Studios has dropped small hints about the character The Vision being in the film. They even released a little bit of concept art at SDCC last summer, but a few days ago, they released more concept art that shows a close-up and he looks incredible. The team making the film has taken a very literal approach at this interesting character by making him look almost exactly as he does in the comics. They stayed faithful to the source material by keeping his red, green, and yellow coloring along with his cape and signature emblem that's centered on his forehead.
The Vision is being played by Paul Bettany (A BEAUTIFUL MIND), who is also the voice of J.A.R.V.I.S. from the IRON MAN films. What do you think about the art of The Vision? Leave a Comment below!
Catch Marvel's AVENGERS: AGE OF ULTRON in theatres May 1, 2015.
httpvh://www.youtube.com/watch?v=PqkR0SwFN_4