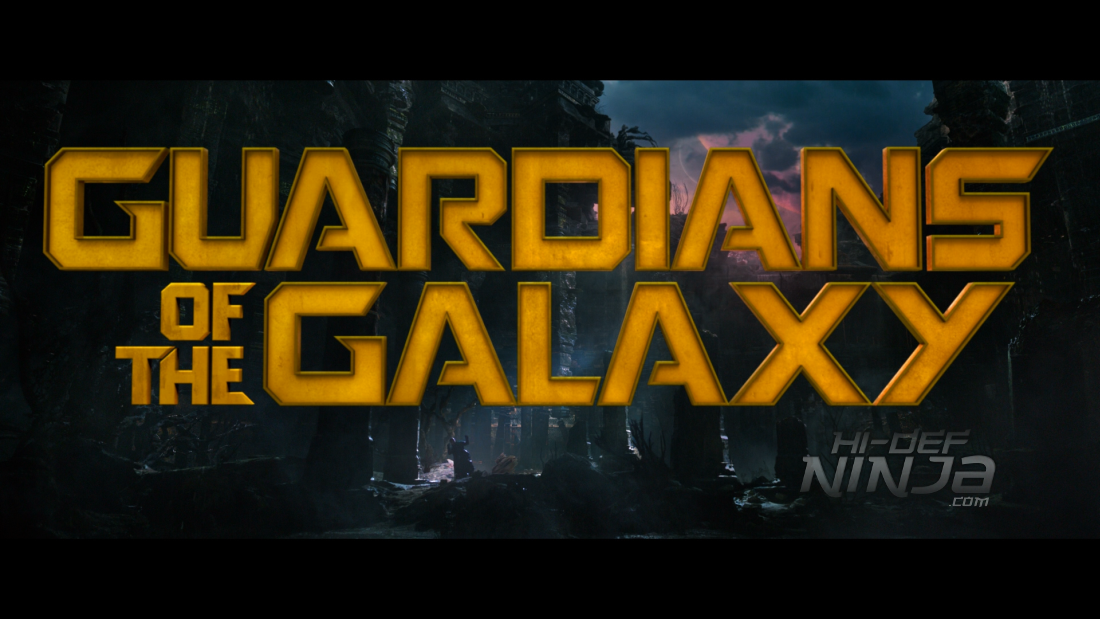 Dance-off, bro. Me and you.
On the abandoned planet called Morag, there is a man/terran looking for an orb to sell to a broker on the planet Xandu. This terran is the space outlaw named Peter Quill (Chris Pratt), or his lesser known alias, Star-Lord. As soon as he steals the relic, he runs in to a group led by Korath (Djimon Hounsou) who are sent to retrieve the orb by Ronan the Accuser. Ronan is an extremist of the Kree Empire and he is hell-bent on getting this orb. After Korath returns empty handed, Ronan sends Gamora to retrieve the orb. She is a powerful warrior and the adopted daughter of Thanos.
On the Nova Capital world Xandar, Quill isn't able to sell the orb. When he runs into Gamora, she attempts to steal it back. They go back and forth fighting and chasing each other through the city. At the same time, two bounty hunters who go by the names Rocket and Groot find that Quill is worth 40k alive. When the dust settles, the four are arrested by the Nova Corps and taken to Kyln. It's a ruthless, corrupt prison that houses aliens of all races. This is also where they meet Drax the Destroyer. He is a ripped, tattoo-covered man whose story is well known by most of the inmates. But this group isn't staying very long.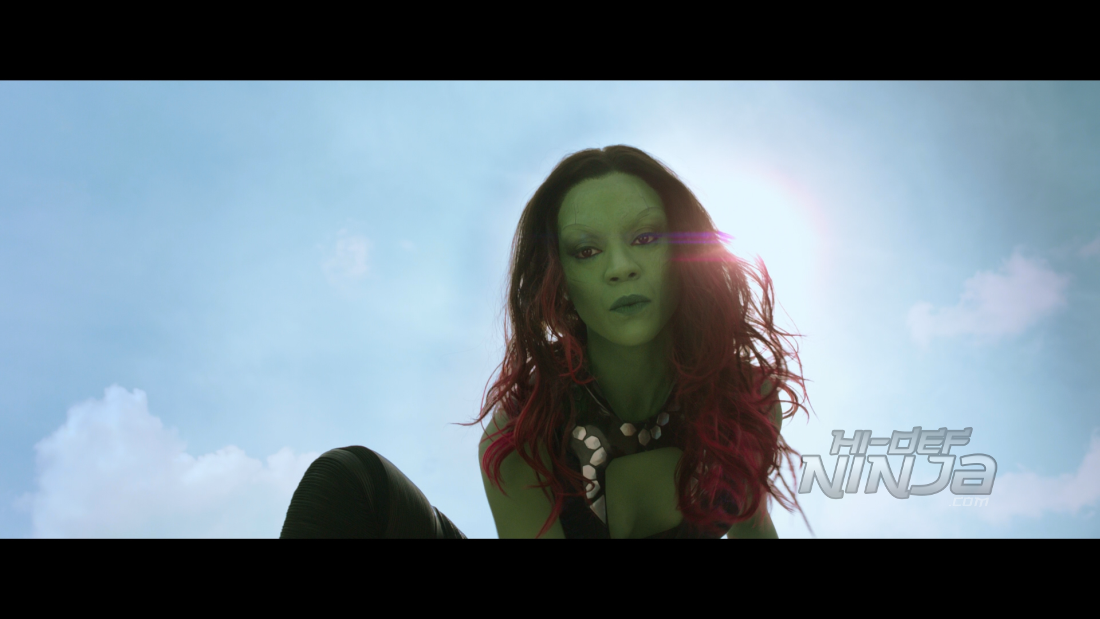 GUARDIANS OF THE GALAXY is written and directed by James Gunn who is a filmmaker that simply makes good films, no matter the genre. Gunn has directed the horror/sci-fi movie SLITHER and the dark superhero movie SUPER. This is a film that's a little different from the other films, but he brings this level of enthusiasm and talent that Marvel Studios is recruiting to make their films. Since they've begun this wonderful journey of bringing the superheroes and characters to life on the screen, Marvel Studios were really taking a big risk with this movie. I've been a collector of the comics for a very, very long time and I can tell you that I was worried about the movie being a success for the most obvious reason: these are characters that aren't mainstream. Not only that, but they're the most unlikely group to be Marvel Studio's biggest success. I remember the announcement that this movie was being made, most of the people that I get to talk to about movies and comics were saying, "This will never work…come on, a talking raccoon and a walking tree?!" Gunn and his crew made a lot of people eat those words. He is one out of a handful of directors that are visionaries in the business. He had a specific idea to an awesome soundtrack and brought it all together.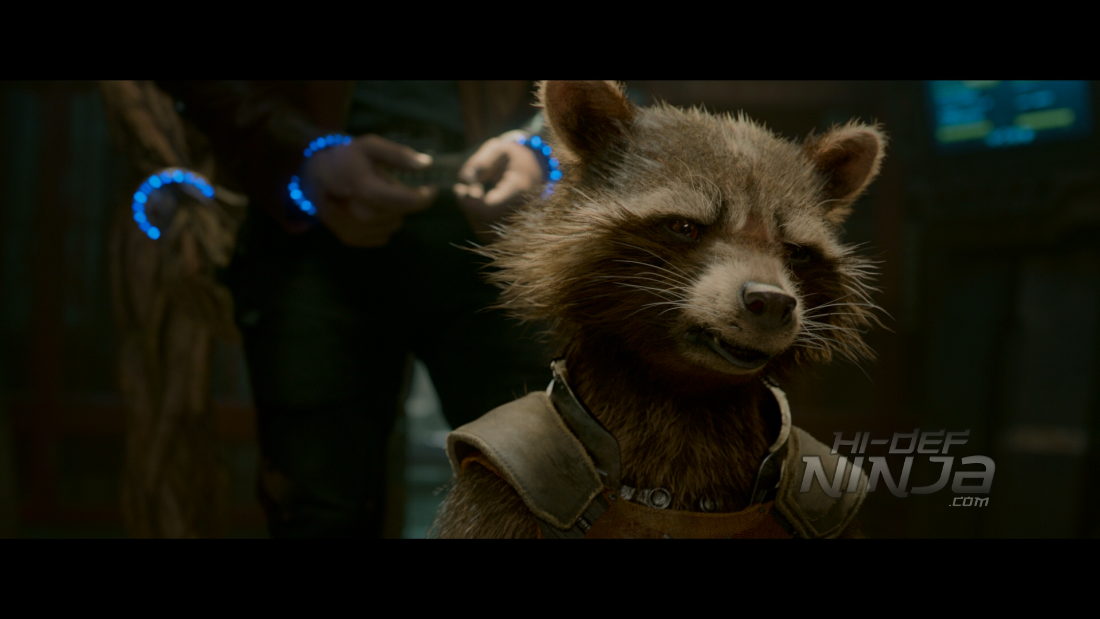 GUARDIANS is arguably the best comic book movie ever made. It has a great plot, amazing effects, lovable characters, and an addictive soundtrack. The movie has shattered movie records and has a hype surrounding it that hasn't been seen since the 1977 release of STAR WARS. Like I said, James Gunn didn't accomplish this success without the hard work of his outstanding crew. Chris Pratt plays Peter Quill or "Star-Lord" and he has the right amount of charisma to play the "leader" of this ragtag group of criminals. His delivery of both comedy and his emotions couldn't be better. Who would've thought that one of the funny guys from PARKS AND RECREATION would play one of the best heroes in Marvel's cinematic universe? Zoe Saldana plays the tough as nails Gamora, daughter of Thanos. I can't think of a better actress to play her because Gamora has a few characteristics that are non-negotiable. She is deadly with a blade, agile, beautiful, and intimidating. These are all things that Saldana has done on film in the past. And let's not forget the chemistry between her and Peter Quill that is not quite an on-screen romance, but I'm sure it will be in the sequel. Bradley Cooper voices the sarcastic Rocket Raccoon. However, his "body" is brought to life by James Gunn's brother, Sean. So, for the most part, whenever you see Rocket on screen or the other characters interacting with him, it was Sean in a skin tight green body suit. Bradley did bring life to the character by creating Rocket's personality with a New York-sounding voice and a little attitude. Drax the Destroyer is played by the enormous Dave Bautista. Some people have said that Bautista doesn't bring much to the table other than getting the character's body right. I have to strongly disagree. Not only does he have the body type, but the character has a lot of depth. He is full of rage, vengeance, and a takes everything literally. Groot is voice by Vin Diesel and does a wonderful job. Originally, I was worried that he was going to "phone in" his lines because Groot says about three words throughout the entire movie: "I am Groot." As it turns out, Diesel stepped up in making sure that those three words are used to convey a variety of emotions.
Let's not forget that without the villains, GUARDIANS OF THE GALAXY would be missing so much. Lee Pace is a great actor and plays Ronan the Accuser. He's played a lot of characters that have a lot of strong emotions on screen such as his work in HALT & CATCH FIRE. This role was only a tad different from his normal work because he is a radical alien working with a madman and he wants more power. He has overpowering presence that isn't only from his meticulously done costume and make-up, but also how he carries himself on screen. Karen Gillan is best known from her work on the BBC show DR. WHO, but her role on there was a bit different from being Thanos' other daughter Nebula. She is very different from Gamora in a few ways because she is a cyborg that is more machine so she can heal any destroyed limb with ease. They're both angry at Thanos for stealing them away from their families. This leaves us with Thanos who is played by Josh Brolin. Like what I said about Gamora, Brolin brought the build and the overall look to the character to keep the physical attribute extremely close to the source material. I think that Brolin is the best choice to play the mad titan. I wish he had a little more screen time, but I know this is not the last we will be seeing of him. When bringing all of these characters together, this marvelous film is the finished product.
Cast
Chris Pratt as Peter Quill AKA Star-Lord
Zoe Saldana as Gamora
Dave Bautista as Drax the Destroyer
Vin Diesel as Groot
Bradley Cooper as Rocket Raccoon
Lee Pace as Ronan
Michael Rooker as Yondu Udonta
Karen Gillan as Nebula
Djimon Hounsou as Korath
John C. Reilly as Corpsman Dey
Glenn Close as Nova Prime
Benicio del Toro as The Collector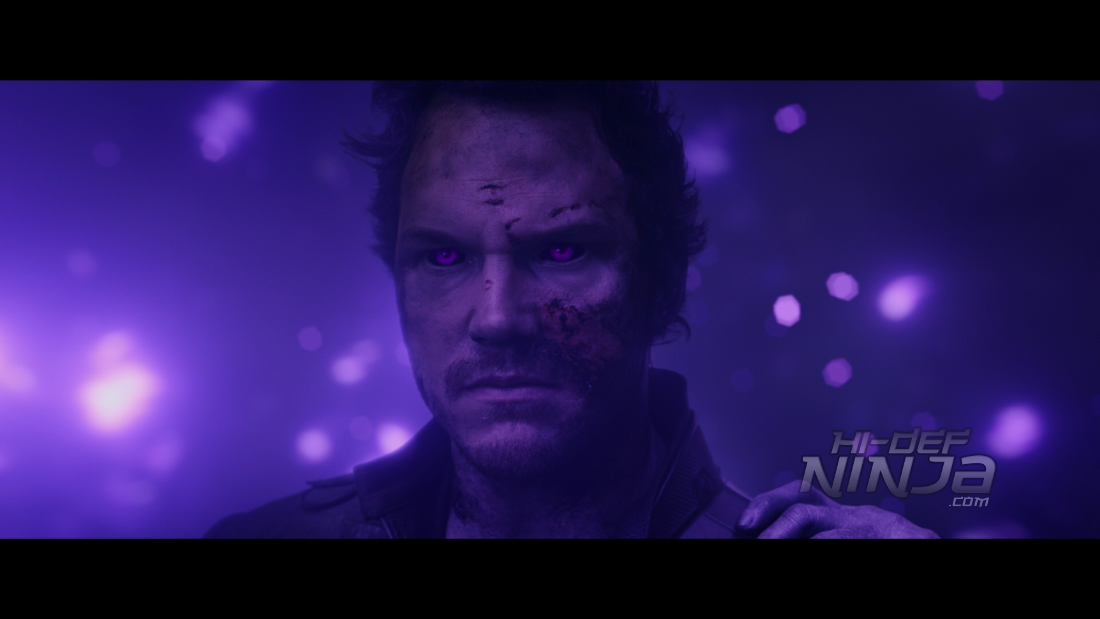 Ever since joining forces with Disney, Marvel's Blu-ray releases have raised the bar. GUARDIANS has a gorgeous 1080p AVC transfer that has no flaws that I could see. Sometimes releases have a certain color on screen that tends to stand out, but with this release, everything pops. The coloring is vivid with an extremely broad color palette.
Throughout the movie, James Gunn wanted to make sure that this was a lived-in world by using a lot of extras with practical make-up effects, making a lot of the alien's skin color jump off of the screen. By doing this, it made the many different alien races in the movie look different from species to species.
Even in some of the darkest scenes, there is always brilliant coloring and loaded with detailing. For example, when we first see Morag, the planet is grim and grey with little life, but there is a very beautiful horizon in the background. Fortunately with the video, there is never any color bleeding or crushing that I can see. Overall the transfer is superb and it looks so beautiful.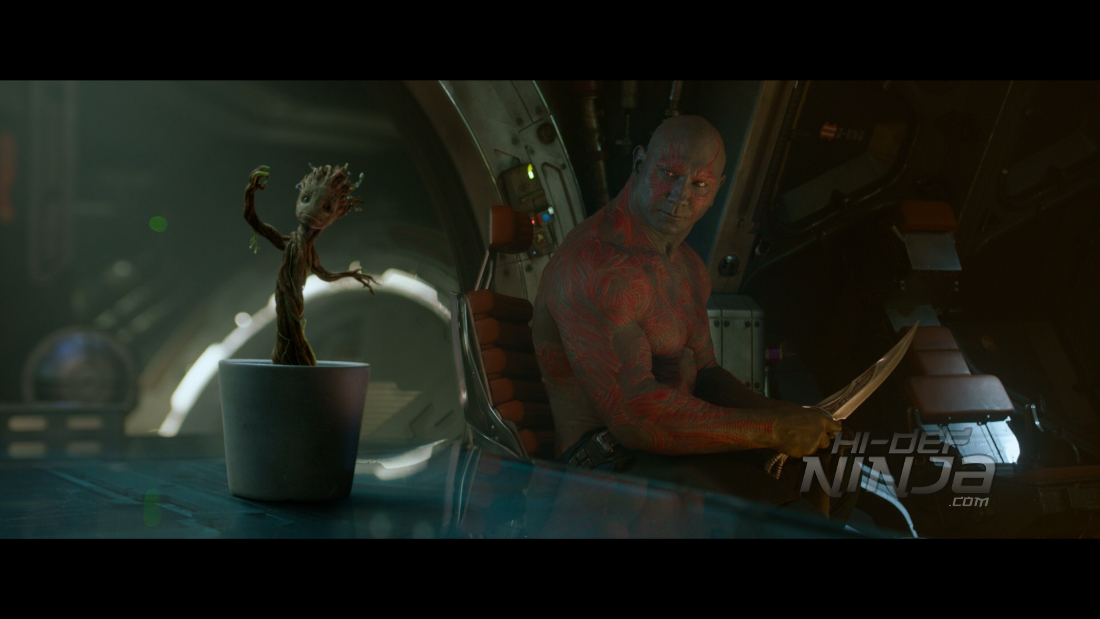 I always say that both the audio and video have to maintain a balance so the scales don't tip too far in either direction. The audio on the release is impressive in a DTS-HD MA 7.1 mix to compliment the clear video transfer. It's easy to see that the audio was carefully mixed to showcase both the immersive sound effects on this space adventure, but also to make the soundtrack like another character in the movie. The 7.1 mix lets the sound field push sweeping effects from every single direction. The speakers and subwoofer never get a break by keeping consistent ambient sounds at all times. For example, the bassy roar of Quill's ship The Milano sounds like a muscle car in a drag race. The engine is throaty when he accelerates. Also, the highs sound crisp and clean. There is never any silence but there's nothing wrong with that at all. I can say that this is a flawless release and it deserves the scores that it is getting.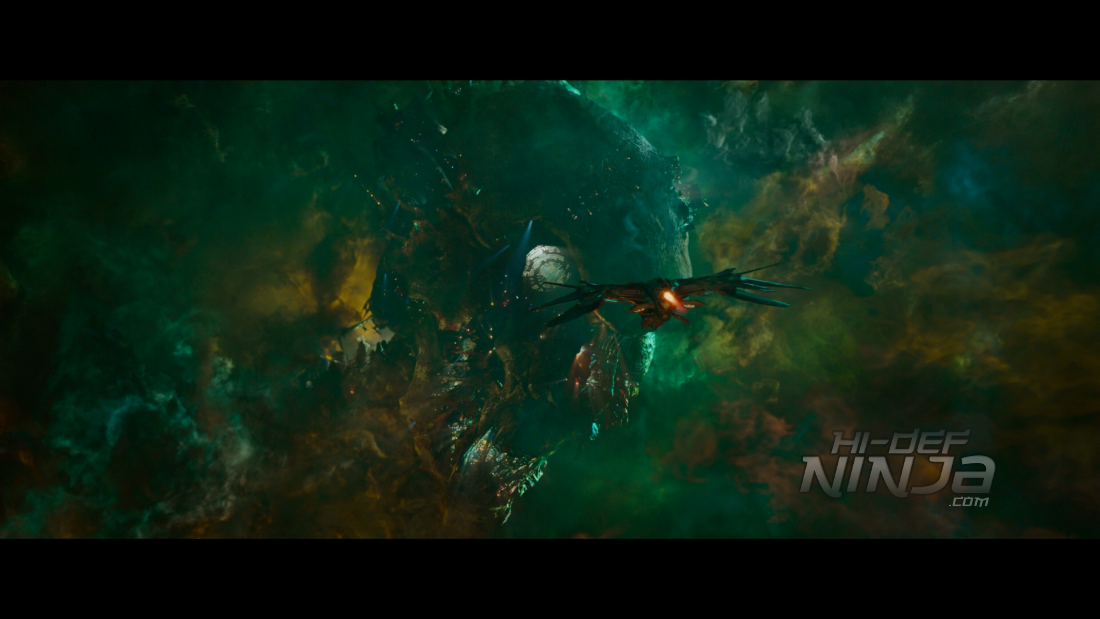 The extras on the disc are pretty awesome. You dive deeper into the creative process that James and everyone was in while making the movie. The only thing that I see missing is that there is no Marvel One-Shot! again. These are the short featurettes that connect the Marvel Cinematic Universe even further. Maybe we will see one down the line with a director's cut.
Bonus Features:
-Featurettes
Guide to the Galaxy with James Gunn: This is my favorite extra on the release. It is presented like an old 8-bit video game and the viewers follow Gunn as he goes through the different segments/featurettes. Gunn, the entire cast, and certain members of the crew add to this unique inside-look at creating the movie. James Gunn schools everyone that he knows comics well and he was the best choice director for this movie. He also mentions some of the easter eggs that put he in the movie for the comic fans to go nuts over.
The Intergalactic Visual Effects from GUARDIANS OF THE GALAXY: This featurette shows how they put the CGI together to make believable characters, settings, and scenes.
Exclusive Look at Marvel's AVENGERS: AGE OF ULTRON: Marvel Studios has included a new featurette for the upcoming Marvel's AVENGERS: AGE OF ULTRON.
-Deleted & Extended Scenes: These are a few short extended and deleted scenes that didn't make it into the film. There is also an audio commentary with James Gunn to listen to why he kept the scenes on the cutting room floor.
The Kyln will have to do
No, I'm not the stupid one
Sisterly Love
Dancing Guard
Fake Laugh
-Gag Reel: It's a gag reel and it is hilarious.
-Audio Commentary with Director James Gunn: James Gunn does a feature-length commentary and he talks about everything from the tech, worlds, species, makeup effects and more. It is definitely worth checking out.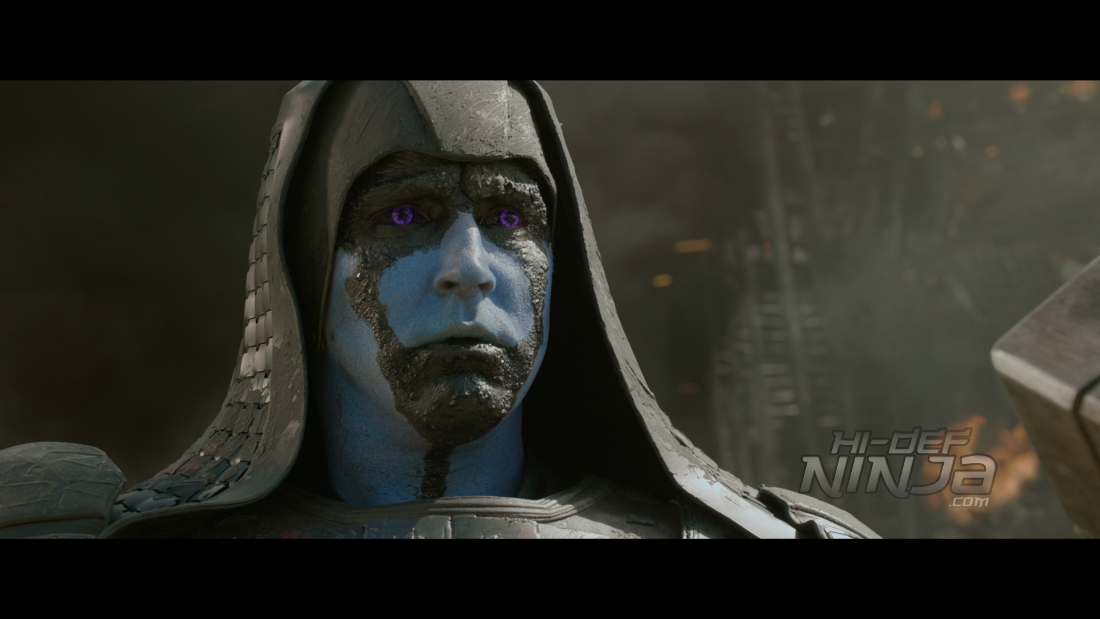 Disc Details
2d Version:
1 Blu-ray Disc
3D Combo Pack:
2 disc Blu-ray Set including 3D disc and a 2D disc
iTunes digital copy
Edition Ratings
PG-13
Region Coding
Region Free
Video Resolution
1080p MPEG-4 AVC
Aspect ratio: 2.40:1
Audio Mixes
English DTS-HD Master Audio 7.1
French Canada Dolby Digital 5.1
Spanish Dolby Digital 5.1
Subtitles
English SDH
French
Spanish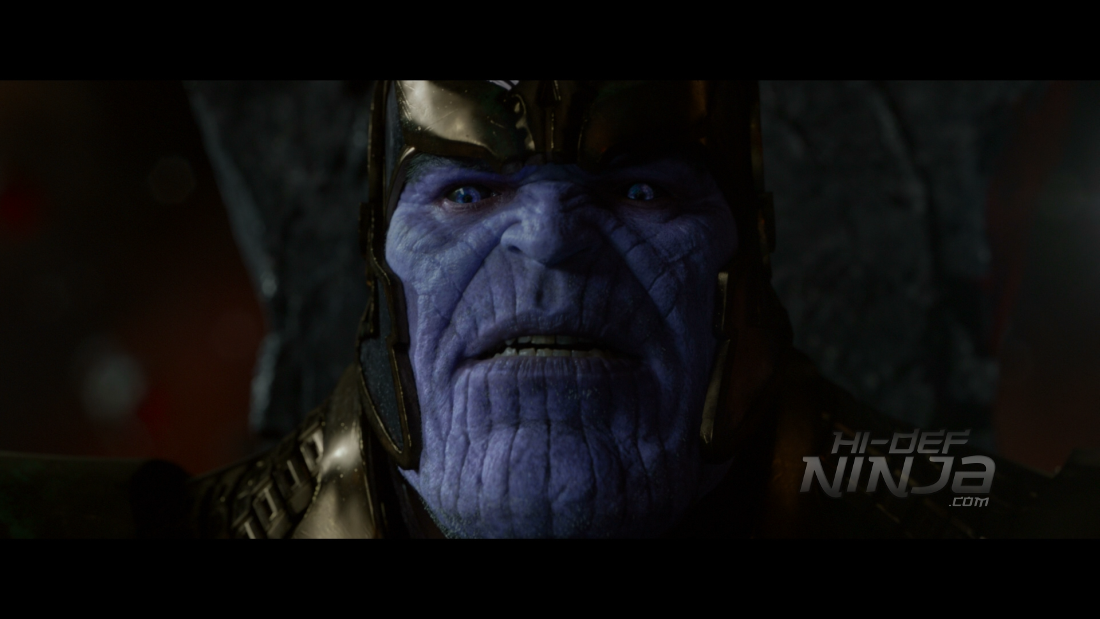 GUARDIANS OF THE GALAXY is a sci-fi adventure movie that appeals to practically anyone so that different people with different tastes could easily watch it with enjoyment. The release itself is perfect. It has a solid audio and video transfer with a hefty amount of special features that are full of good content. It sounds incredible in a home theater. The simple way to say it is: Marvel knocked this one out of the park. The movie is incredible and not one to miss. Go buy it immediately!
Order your 3D copy from Amazon
Order your 2D copy from Amazon