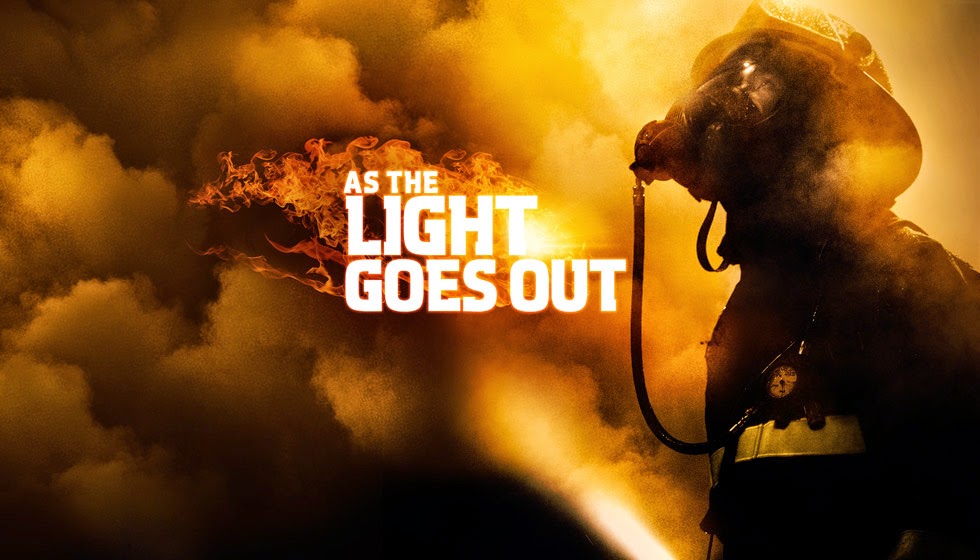 Lost in a maddening array of melodrama, the stylish Hong Kong action-disaster As the Light Goes Out arrives with only decent video and audio.
NOTE: Our evaluation disc arrived damaged in Chapter 4. Tests on multiple platforms failed to resolve the problem.
Asian cinema is an odd bird to be sure. Visually speaking, it's on par with much released in the States but it's the human drama that's seemingly harder for them to work out. As the Light Goes Out suffers from the same problems plaguing most of their products, stuck in a mire of unneeded plot lines, an over-abundance of slow-motion, and devices that appear far too conveniently, the film reminds us that this market is not only distant in miles but in quality. Its arrival onto Blu-ray doesn't fare much better, eeking out a frustrating picture while delivering better audio.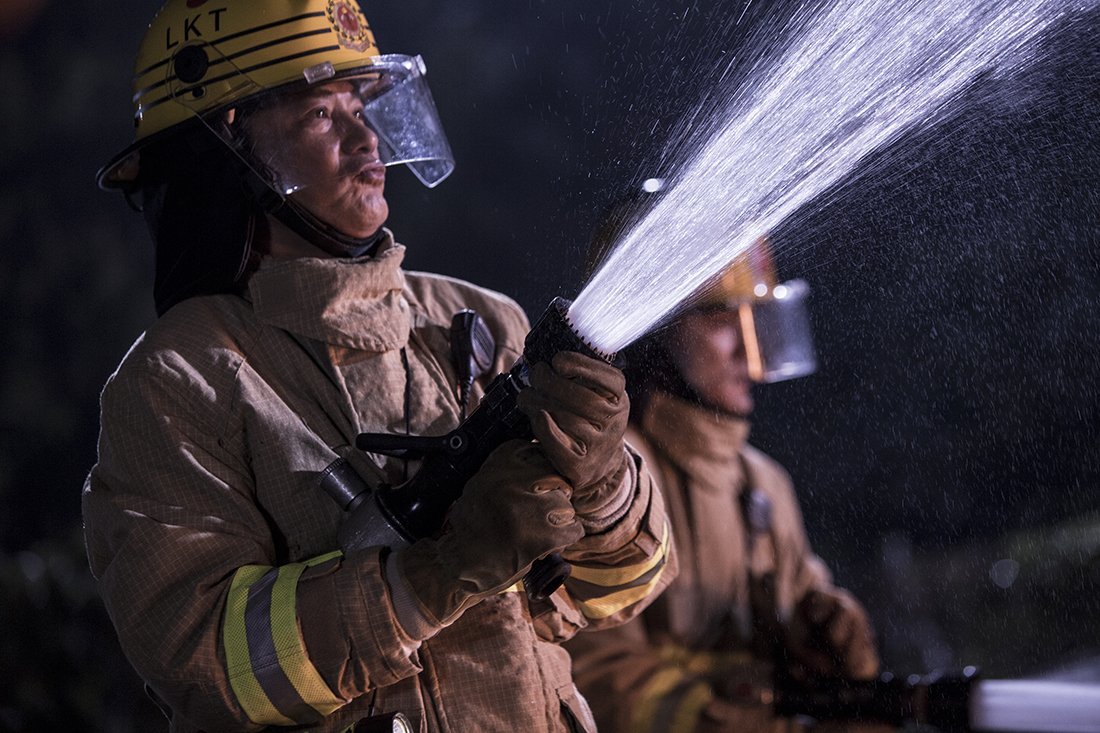 As Christmas Eve descends over Hong Kong, a team of firefighters struggle with duty and past failures as both a massive typhoon threatens the city and the largest blackout in their history looms. Sam (Nicholas Tse), an officer on his last day at post before being transferred to another fire station, is still dealing with the mistakes he faced one year ago, when he and his hot-headed colleague Chill (Shawn Yue) were sold out by their classmate Yip (Andy On) during an internal investigation about a failed rescue attempt. Since then, Yip has risen through the ranks to become station master, preparing to bury Sam in a far-away assignment. When a powerplant becomes the center of a deadly explosion and rescue attempt, Chill and Sam join the old-timer Tao (Simon Yam) and former mainland firefighter Ocean (Hu Jun) to battle the blaze and rescue the plant's victims. However, none of them can battle the fierce smoke that races through the plant, swallowing up hope before one of the fighters makes the ultimate sacrifice to rescue his comrades.
Light fancies itself as an Asian version of 1991's Backdraft, but mixes an odd amount of disaster into things without getting to the real point – the dangers of fighting fire itself. For all of fair criticism placed on it, at least Backdraft got that element absolutely correct. Light is more concerned about fancy trick shots and CGI-filled smoke scenes than telling a satisfying story of sacrifice. Instead, thinly-characterized girlfriends leave their guys without turning on the television to see the impending disaster, and we're forced to witness badly-conceived set up stories involving the firefighters. Director/Writer Derek Kwok does have an eye for the dramatic, painting suitable pictures of danger while doing his best to keep the logic behind what we're seeing in the 'believable' category. One scene – a cameo by Jackie Chan dressed as a firefighter in a cheesy recruitment video – is luckily just that, but it's the kind of second-rate drama that finds its way into almost every sequence.
Smoke is the enemy here, ever lurking and hinting at the death behind it. Kwok envelopes our heroes in it as they battle to stay alive. It's some of the best parts of Light, and I wish it had been explored a little more. But the rest of script suffers mightily from a mixture of overly-dramatic editing, prolonged speeches about duty, and several poor plot choices. So much of the build up here is too much on-the-nose, foretelling of tragedy we can see a mile away. The 'safe' power plant? It's bound to fail. A typhoon on Christmas Eve, just in time to put out the fire? How convenient. It's these and other plot holes that seem to plague Asian film in general – American audiences who are used to soap operas will see right through Kwok's script, rolling their eyes each time our firefighters ignore imminent danger to lecture each other before going brazenly into another scene. There's also weird choices too in music, favoring a harmonica during a death scene, and continuing with a Christmas song as the power plant burns.
The only brightspot is that one by one they are picked off by the blaze, lending a bit more credibility to fire's disastrous effects. Sure, Kwok's delivery gives us the gritty goods, wrapping our firefighters in mostly authentic reactions, but the over-abundance of slow-motion scenes takes us away from the real danger, especially in the climactic ending that seems to go on forever. Performances are good but not outstanding, but there's a real lack of chemistry here, possibly due to the subtitled presentation. I doubt that, as films like Crouching Tiger Hidden Dragon excelled even with this limitation.
In the end, As the Light Goes Out suffers for too long before succumbing to its own vanity. Well-shot but ultimately missing the real story – that of the trickiness of fighting fires – it reminds us that Asian film is still a mile away from good American films of the same type. But, that doesn't mean I'll be breaking out Backdraft anytime soon.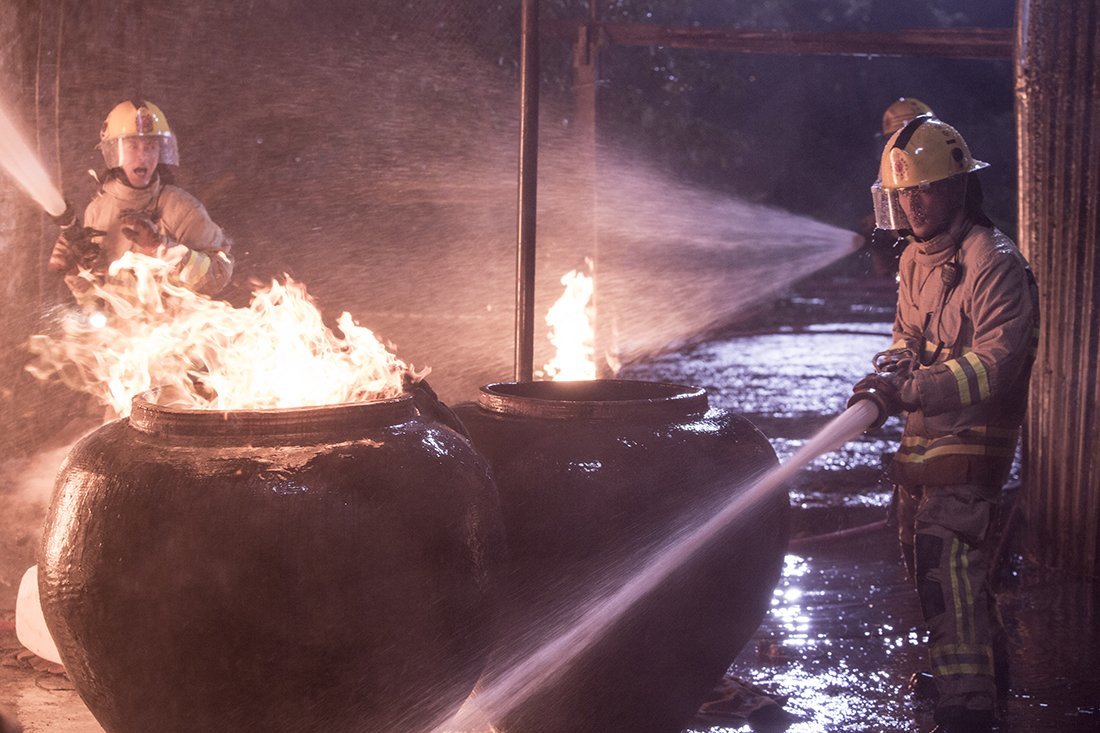 Much like its story, Well Go USA's MPEG-4/AVC transfer of As the Light Goes Out is similarly frustrating. One moment, human details like blood, sweat, and skin wrinkles are as sharp as an American transfer this year. Color is also top-notch in many places, giving the film a true cinematic flair throughout. Fine details like hair, peeling paint, and ripped stitches in uniforms compliment the smoke and manufactured fires by Production Designer Eric Lam. But as visually stunning as these are, we're also forced to endure banding in fade-outs and even juddering during some action sequences. As mentioned, I was unable to play through Chapter 4 in its entirety, a fact which did not seem due to any apparent physical faults in the disc itself. Once I forwarded past the affected scene (a conflict between Sam and Yip after the initial fire at the plant), no other problems were witnessed.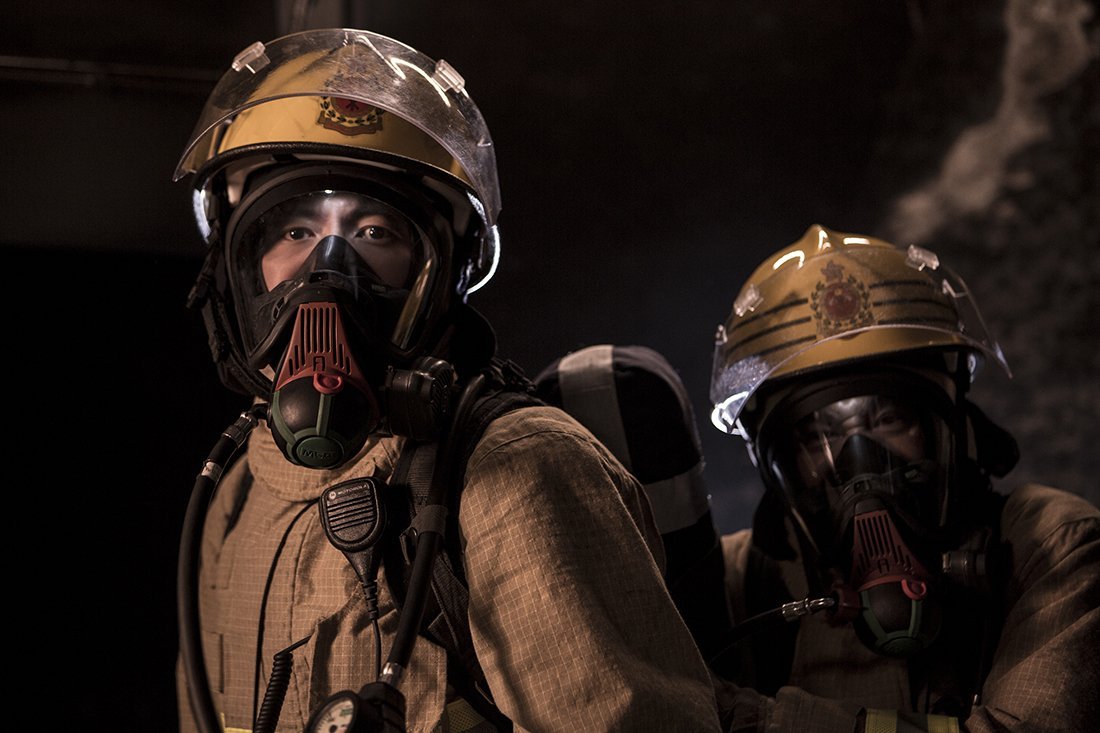 If there is one good about As the Light Goes Out, it's the rather exceptional audio transfer.  The DTS-Master Audio 5.1 is about as loud and dynamic as one can get, wrapping the listener in a blaring cacophony of sound.  It's not you standard surround environment however: dialogue, usually present only in the center channel, appears in the forwards as well, mixing with sound effects and music.  It's the rears that push this release to near-perfect heights, delivering only selected sound effects and the complete score by Teddy Robin Kwan and Tommy Wai.  It's said in comedy that if you run half the jokes you'll get twice the laughs, and this logic seems to be applied to the surround environment.  The same can be said for the thunderous LFE channel, which tears its way through action scenes like an uncontrolled blaze and accentuating the sometimes eerie score.  Both aspects make the explosions more impactful and the tension more palpable, demonstrating that distributor Go Well USA has its audio transfer game together.  If only the rest of the release was as complete.

Minus the trailer, there are no supplements provided.
Our evaluation copy arrived as a Blu-ray. There is no interior artwork and no slipcover is apparently provided. At the time of this posting, we were unaware of any special editions.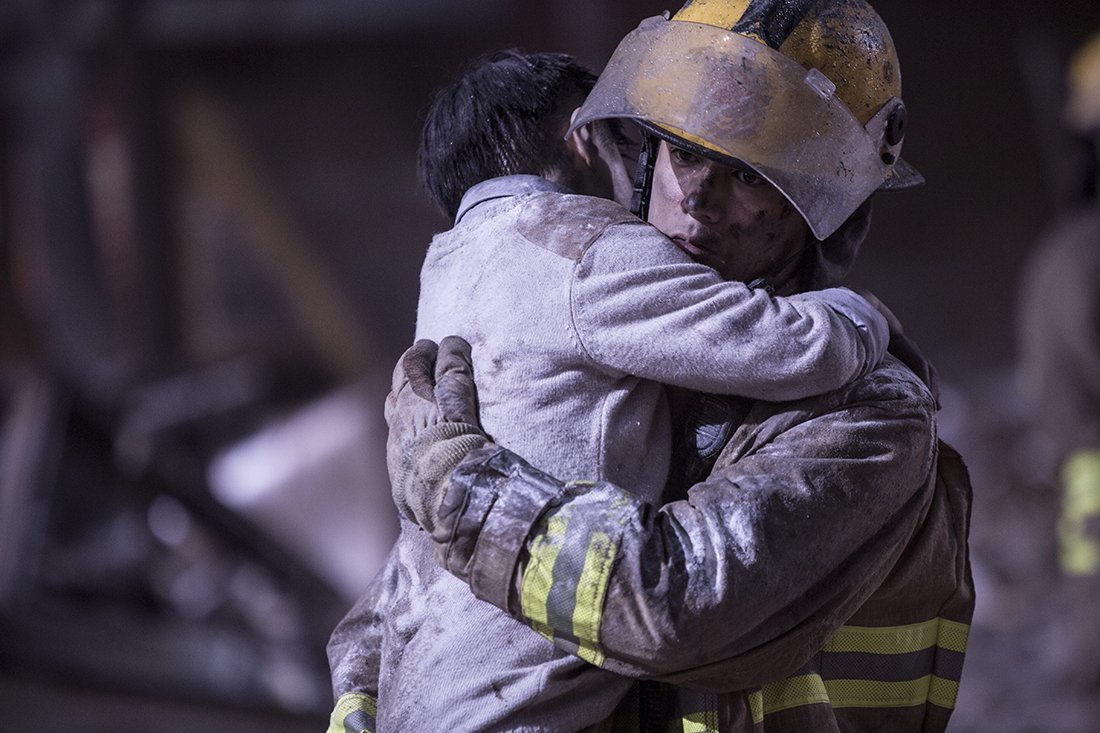 Mired in an uneven home release, As the Light Goes Out isn't as terrible as my score might suggest, but it's missing too much for me to recommend it as anything other than a Netflix streaming opportunity. The home release doesn't make a very good case either, with decent overall video but terrific audio which will give your home theater a worthy opponent. The lack of supplements is also problematic, demonstrating that Well Go USA doesn't quite have all the pieces together to attract mainstream American audiences. Perhaps it's a growing pain that will be corrected in future releases, but they'll also need to work on a better story to make any serious dent in our very demanding market.
As the Light Goes Out is unrated and has a runtime of 118 minutes.