Dawn of the Planet of the Apes delivers stunning video and audio, but is it better than the reboot?
WARNING: Major spoilers ahead.
In 2011, Rise of the Planet of the Apes rebooted one of the most beloved and perhaps the oldest franchise in Hollywood, powerfully reinvigorated it with doses of humanity and focusing on the mistakes humanity would eventually pay for their tampering with science. That movie excelled because it made character development front and center, instead of concocting a CGI world of apes already run amuk. And while the follow up looks amazing and delivers a reference-quality audio experience, Dawn of the Planet of the Apes fails in telling its human story.
Set 10 years after the outbreak caused by humans in Rise, humans are now on the edge of extinction, huddled together in San Francisco with only a few remaining resources of its once powerful technology. On the other side of the fence, apes are getting along quite nicely thank you, as Caesar (Andy Serkis) and his village mates are living a near-idyllic life deep inside the Muir Woods. Unfortunately, that peace is soon threatened as humans stumble upon their tribe looking to restore power to a water generator in the ape's sphere of influence. After meeting the leader Malcolm (Jason Clarke), Caesar is forced to re-examine his emotions about the humans he thought were long-since dead. His lieutenant Koba (Toby Kebbell) only remembers the humans' cruelty as a prisoner in their labs. To him, humans represent a deadly threat to ape life, encapsualted in in the human military commander Dreyfus (Gary Oldman), who feels the same way about the apes. As factions within the ape village grow, Caesar and Malcolm become painfully aware that a peaceful co-existence is no longer in the cards.
Dawn certainly feels more like a set up to an eventual Part 3 than a standalone drama of humans struggling in their final hours. It's perhaps Dawn's greatest strength and a weakness that affects the entire production. Let's face it, we know how this will end, and that certainty keeps bubbling to the surface, in convenient sequences meant to distrupt the growing trust between both camps. While apes like Caesar are deeply toned, most of the human characters feature paper-thin motives, leaving females like Keri Russell to disappear during the film's last 25 minutes, her medical background offering the only reason for her appearance in the first place. Once the shooting starts in a tense by CGI-heavy third act, she makes her departure. Oldman – for all the many gifts he brings to the screen – is so thinly penciled here that the one deeply emotional moment Director Matt Reeves allows him feels out of place as compared to the rest of his cold calculating military commander persona. Minus this very good scene, Oldman is merely a plot device to further the inevitable: apes will soon enslave humans.
Usually, problems with character development start with the writers, and there's a bevy of them including Rick Jaffa and Amanda Silver. Too many writers equals too many competing points of view, and Dawn suffers from a Frankenstein-ish cut and paste job from three writers. While it's clear that they and Reeves desire to tell this portion of the story from the ape's perspective, the mix doesn't feel quite right. Humans in this scenario are treated with little regard, made to look desperate through effective costuming, but not given much to do but run when the time comes. Clarke is the only one given any care; for all of his emotional and caring nature, he has virtually no background and thus seems like someone who merely leads because he's all that's left. Clarke has been an effective lead, but his performance here is nowhere near that of James Franco in Rise.
Also, there's a sense that Malcolm and his people are apparently the last vestige of humans on the entire continent, as if his is the fulcrum. Is there truly no other humans out there – New York, London, Russia – and are there really that many apes in control? Are there other stories from far-away territories left to be told?
What does work is the incredible CGI behind the apes: everything about them – from their fur to individual expressions – is so well done that I dare you tell me where the capture suits end and the real apes come out. Technically, it's a masterful effort and Serkis as Caesar is again top-notch, his evolving mind wracked with doubt about humans as he struggles to keep Koba from turning his Utopian society into a war zone. When that eventually happens – and who couldn't see it coming a mile away – his peaceful demeanor gives way to a sort of tired resignation about the war to come. Serkis is a master at his craft, his expressions setting the pace for Gollum and now Caesar; yet, I don't think it's as Oscar-worthy as his performance in Rise. While that debate will no doubt rage on, Composer Michael Giacchino's nostalgic score is also worthy of quick mention, reflecting a return to Jerry Goldsmith's original Planet of the Apes style. It could be one of the best of 2014.
Even with the home release here, I feel there is still another cut of Dawn of the Planet of The Apes out there, its 145-minute production showing gaps in its lack of female leads – human or simian – and the fate of Franco's Rise character unapologetically tossed aside. Reeves' message about falling off the deep end into war is poignant, but too many factors cloud this well-meaning production.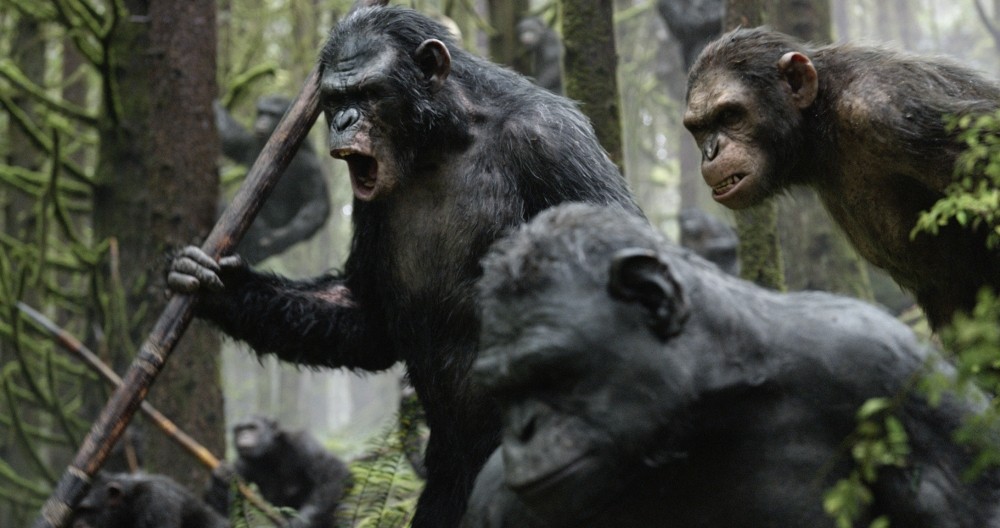 20th Century Fox's home release of the 3D Blu-ray arrives with both MPEG-AVC 2D and MPEG-4/MVC 3D encoded transfers on separate discs. Yet, I much preferred the 2D presentation, merely due to the fact that I thought it wasn't necessary to view the film in 3D. Sure, details on our simian stars is nothing short of spectacular, with fur and eyes standing out with breath-taking realism. But much of the environment – both human and natural do not pop as you think they should. Instead we're left with a fairly flat 3D presentation, even when the action gets going near film's end. Because so much of this film relies on groups of apes gathering together, it's also surprising to see a lack of depth when these scenes are displayed. This is the only complaint I can raise about either format, as detail is superb throughout. The 2D is one of the best transfers I've seen all year, making up in some ways for the dreary color palette with an impressive mix of rundown cityscapes, beautiful green forest trees, and dirtied human faces. Paint chips on walls look authentic, while individual strands of human (and simian) hair can be easily seen. The team behind Matt Reeves and Andy Serkis performed an amazing feat bringing this dystopian world to life, and 2D transfer celebrates this in every way, slightly less so for the 3D.
Dawn of the Planet of the Apes sports a beautiful but powerful DTS-HD Master Audio 7.1 track that also stands out among the best of 2014. From the center channel delivering a clear mix of dialogue to the forward speakers bringing us a balanced, multi-layered array of music, sound effects, and dialogue, it's a track that knows few competitors. The difference here is the nuance of sounds, not just an in-your-face experience. It's hard to find such effort made in the home market, but it's certainly appreciated. But, a truly outstanding experience centers around the surround and LFE speakers, and Dawn performs brilliantly here. From the moment Composer Michael Giacchino's enjoyable 70's-style score arrives, you know you're dealing with an excellent LFE. It does nothing short of rumbling, popping, and exploding though the film, reminding you of its presence. The surrounds do much of the same, bringing the various outdoor environments alive by surrounding us in a variety of forest noises, city crowds, and other elements. These aren't just tossed in once in awhile, but are there steadily throughout. People have been talking about the climactic fire near the end of Act 2, and I have to say that I noticed its power on my 5.1 system. In every way, the audio transfer stands as nothing short of reference quality.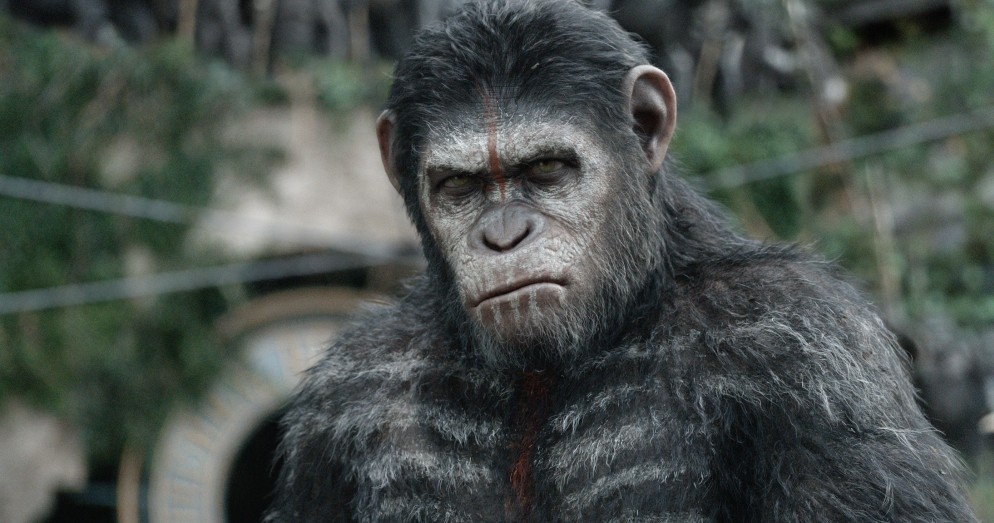 Dawn of the Planet of the Apes arrives with some of the best supplements of the year, which present a diversity of material that both casual and diehard fans will appreciate. All of pertinent features are offered in HD:
Audio Commentary by Director Matt Reeves: Reeves takes us through every aspect of production and seems to really enjoy sharing them with us. He produces a fine mix of on-set stories and technical aspects of bringing this world to life. Some commentaries are filled with useful information but might be presented in a rather droll manner. Not here – it's a pretty entertaining effort.
Deleted Scenes with Optional Commentary by Matt Reeves (4:34) – There's no blockbuster reveals here, but enjoy Reeves' insights prior to viewing each.
Journey to Dawn (8:47) – Actors such as Andy Serkis join in to discuss how the Apes' environments were brought to life.
Andy Serkis: Rediscovering Caesar (9:02) – Perhaps the heart behind both Dawn and Rise, Serkis discusses using motion capture technology to create Caesar and the other apes.
Humans and Apes: The Cast of Dawn (17:47) – This is a standard EPK, giving us a general overview of the characters and plot.
The World of Dawn (14:31) – This one discusses the work behind the production of the sets and using the natural environments to create real and CGI characters.
The Ape Community (10:26) – This is an insightful featurette on the various characters within the ape society, and focuses on their interactions.
Move Like an Ape: An Artist's Medium (15:25) – Another really excellent featurette, this one looks at how motion capture is doing nothing less than re-writing the creative process.
Weta and Dawn (20:27) – This one focuses on the terrific effects company and how their efforts brought the apes and this distopian world to the big screen.
The Fight for a New Dawn (16:00) – We learn about some of the film's fights were choreographed and the rehearsal process behind them.
Theatrical Trailers (6:17)
Another impressive selection is a gallery which can be accessed at any time This includes Characters (2:40), Props (00:50), Concept Art (2:10), and Costumes (1:05). These didn't need to be included, but it's nice to see our creative team included them.
Our evaluation copy arrived in an attractive slipcase. There is interior artwork but no DVD included with the 3d set. As of this posting, 20th Century Fox offered two additional editions: a Metalpak through Best Buy and a figure deal through Target.
Dawn of the Planet of the Apes isn't nearly as satisfying as the reboot, both in terms of characters and the situations they are put through. Perhaps there's a bit too much familiarity with this franchise, but my opinion of this sequel has dulled. What's not dull is the impressive home release, which easily sets itself apart from the minutia of lesser releases. If you want a reference-quality product that also includes some terrific supplements, I'd stick with the 2d version over the 3d and consider purchasing the Best Buy Metalpak. But, you read this site, you probably already have.
Dawn of the Planet of The Apes is rated PG-13 for intense sequences of sci-fi violence and action and brief strong language and has a runtime of 130 minutes.