These are the upcoming titles for January from The Criterion Collection. The films include THE SWORD OF DOOM, THE BITTER TEARS OF PETRA VON KANT, MY WINNIPEG, THE PALM BEACH STORY, and LA CIÉNAGA.
_________________________________________________________________________________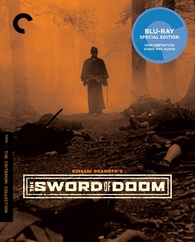 THE SWORD OF DOOM
Releases on January 6th, 2015
Kihachi Okamoto
Japan
1966
121 minutes
Black and White
2.35:1
Japanese
Spine #280
Tatsuya Nakadai and Toshiro Mifune star in the story of a wandering samurai who exists in a maelstrom of violence. A gifted swordsman plying his craft during the turbulent final days of shogunate rule in Japan, Ryunosuke (Nakadai) kills without remorse or mercy. It is a way of life that ultimately leads to madness. Kihachi Okamoto's swordplay classic is the thrilling tale of a man who chooses to devote his life to evil.
-New high-definition digital restoration, with uncompressed monaural soundtrack on the Blu-ray edition
-Audio commentary featuring film historian Stephen Prince
-Trailer
PLUS: An essay by critic Geoffrey O'Brien
-New cover by Aesthetic Apparatus
_________________________________________________________________________________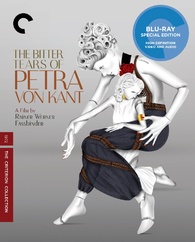 THE BITTER TEARS OF PETRA VON KANT
Releases on January 13th, 2015
Rainer Werner Fassbinder
West Germany
1972
125 minutes
Color
1.37:1
German
Spine #740
In the early 1970s, Rainer Werner Fassbinder discovered the American melodramas of Douglas Sirk and was inspired by them to begin working in a new, more intensely emotional register. One of the first and best-loved films of this period in his career is The Bitter Tears of Petra von Kant, which balances a realistic depiction of tormented romance with staging that remains true to the director's roots in experimental theater. This unforgettable, unforgiving dissection of the imbalanced relationship between a haughty fashion designer (Margit Carstensen) and a beautiful but icy ingenue (Hanna Schygulla)—based, in a sly gender reversal, on the writer-director's own desperate obsession with a young actor—is a true Fassbinder affair, featuring exquisitely claustrophobic cinematography by Michael Ballhaus and full-throttle performances by an all-female cast.
-New 4K digital restoration, supervised by director of photography Michael Ballhaus, with uncompressed monaural soundtrack on the Blu-ray
-New interviews with Ballhaus and actors Margit Carstensen, Eva Mattes, Katrin Schaake, and Hanna Schygulla
-New interview with film scholar Jane Shattuc
-Role Play: Women on Fassbinder, a 1992 German television documentary by Thomas Honickel featuring interviews with Carstensen, -Schygulla, and actors Irm Hermann and Rosel Zech
-New English subtitle translation
PLUS: An essay by critic Peter Matthews
-New cover by Gary Fernández
_________________________________________________________________________________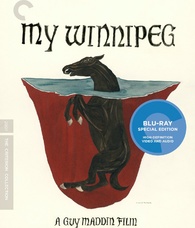 MY WINNIPEG
Releases on January 20th, 2015
Guy Maddin
Canada
2007
80 minutes
Black and White
1.33:1
English
Spine #741
The geographical dead center of North America and the beloved birthplace of Guy Maddin, Winnipeg is the frosty and mysterious star of Maddin's "docu-fantasia." A work of memory and imagination, the film burrows into what the director calls "the heart of the heart" of the continent, conjuring a city as delightful as it is fearsome, populated by sleepwalkers and hockey aficionados. Take part in Winnipeg's epic annual scavenger hunt! Pay your respects to the racehorses forever frozen in the river! Help judge the yearly Golden Boy pageant! What is real and what is fantasy is left up to the viewer to sort out in Maddin's hypnotic, expertly conceived paean to that wonderful and terrifying place known as My Hometown.
DIRECTOR-APPROVED SPECIAL EDITION:
-New high-definition digital film transfer, supervised by director Guy Maddin and director of photography Jody Shapiro, with 2.0 surround DTS-HD Master Audio soundtrack on the Blu-ray
-New conversation between Maddin and art critic Robert Enright
-"My Winnipeg" Live in Toronto, a 2008 featurette
-Four cine-essays by Maddin from 2014 on various Winnipegiana
-Five Maddin shorts, the first three with new introductions by the director: Spanky: To the Pier and Back (2008), Sinclair (2010), Only Dream Things (2012), The Hall Runner (2014), and Louis Riel for Dinner (2014)
-Trailer
PLUS: An essay by critic Wayne Koestenbaum
-New cover by Marcel Dzama
_________________________________________________________________________________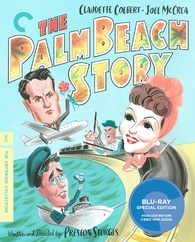 THE PALM BEACH STORY
Releases on January 20th, 2015
Preston Sturges
United States
1942
88 minutes
Black and White
1.37:1
English
Spine #742
This wild tale of wacky wedlock from Preston Sturges takes off like a rocket and never lets up. Joel McCrea and Claudette Colbert play Tom and Gerry, a married New York couple on the skids, financially and romantically. With Tom hot on her trail, Gerry takes off for Florida on a mission to solve the pair's money troubles, which she accomplishes in a highly unorthodox manner. A mix of the witty and the utterly absurd, The Palm Beach Story is a high watermark of Sturges's brand of physical comedy and verbal repartee, featuring sparkling performances from its leads as well as hilarious supporting turns from Rudy Vallee and Mary Astor as a brother and a sister ensnared in Tom and Gerry's high jinks.
-New 4K digital restoration, with uncompressed monaural soundtrack on the Blu-ray
-New interview with writer and film historian James Harvey about director Preston Sturges
-New interview with actor and comedian Bill Hader about Sturges
-Safeguarding Military Information, a 1941 World War II propaganda short written by Sturges
-Screen Guild Theater radio adaptation of the film from March 1943
PLUS: An essay by critic Stephanie Zacharek
-New cover by Maurice Vellekoop
_________________________________________________________________________________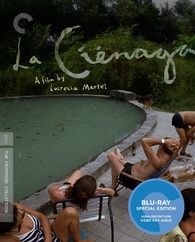 LA CIÉNAGA
Releases on January 27th, 2015
Lucrecia Martel
Argentina
2001
101 minutes
Color
1.85:1
Spanish
Spine #743
The release of Lucrecia Martel's La Ciénaga heralded the arrival of an astonishingly vital and original voice in Argentine cinema. With a radical and disturbing take on narrative, beautiful cinematography, and a highly sophisticated use of on- and offscreen sound, Martel turns her tale of a dissolute bourgeois extended family, whiling away the hours of one sweaty, sticky summer, into a cinematic marvel. This visceral take on class, nature, sexuality, and the ways that political turmoil and social stagnation can manifest in human relationships is a drama of extraordinary tactility, and one of the great contemporary film debuts.
DIRECTOR-APPROVED EDITION:
-New 4K digital film transfer, approved by director Lucrecia Martel, with 2.0 surround DTS-HD Master Audio soundtrack on the Blu-ray
-New interview with Martel
-New interview with filmmaker Andrés Di Tella about Martel and the film
-Trailer
-New English subtitle translation
PLUS: An essay by film scholar David Oubiña
-New cover by Fred Davis