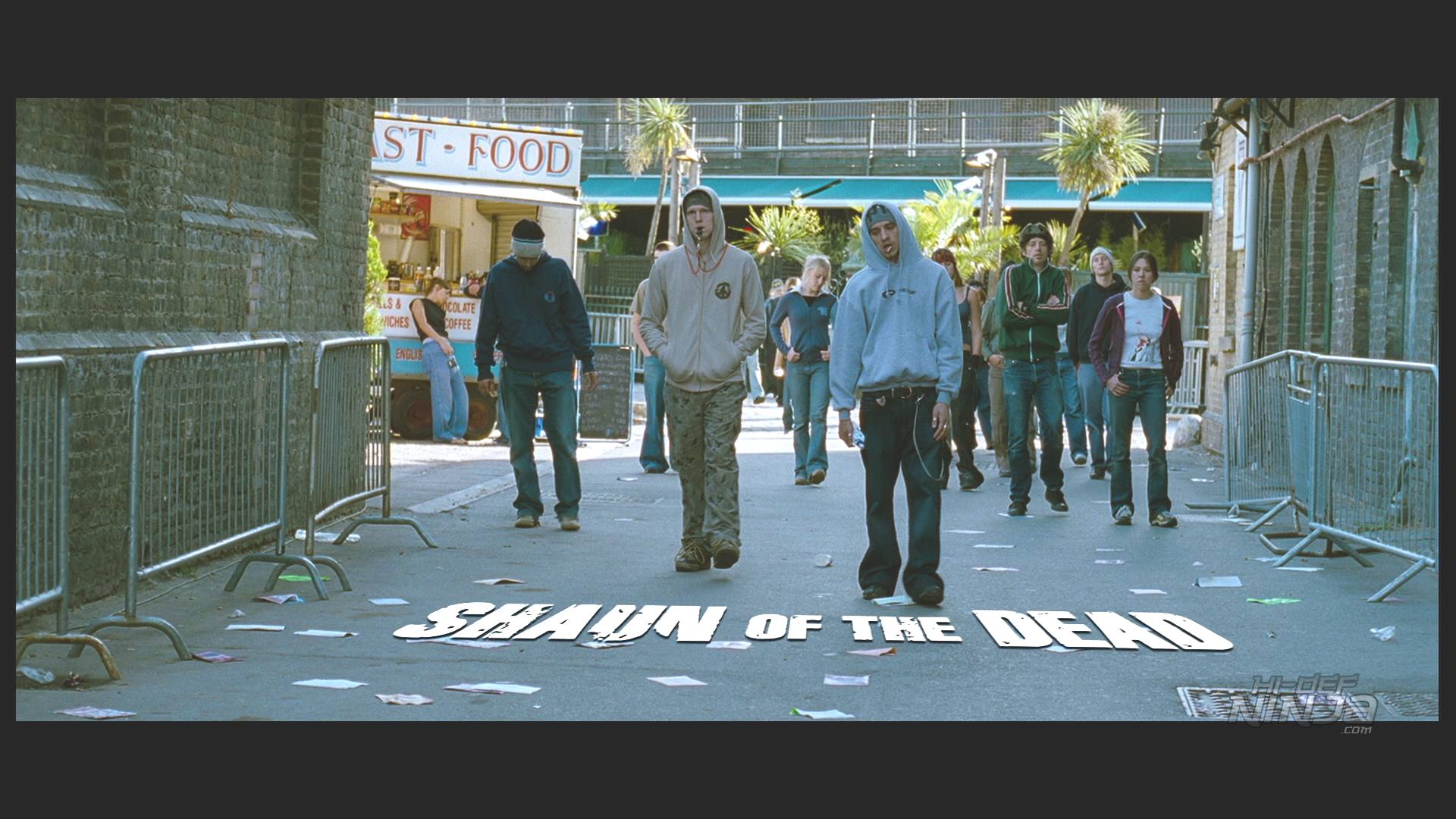 Our tour of Universal's 'Iconic Art' steelbooks continues with the parody zombie comedy SHAUN OF THE DEAD.
With so much new zombie content on television these days, it might be easy to forget the very goodSHAUN OF THE DEAD because everything else today is so serious  Yet, this story of an invasion of flesh eaters is easily the best of Director Edgar Wright's trilogy of films with Actor Simon Pegg.  Its arrival in Universal's 'Iconic Art' series of SteelBooks shows off the film, but demonstrates why the steelbooks are ultimately not worth your investment unless you do not already have these in your collection.
Perhaps the strongest of Wright's zombie series with Simon Pegg, SHAUN OF THE DEAD begins in an English pub as Shaun (Pegg) gets the lecture from his girlfriend (Kate Ashfield) about why his fat and unkempt roommate Ed (Nick Frost) is getting between their relationship.  Even though she eventually dumps him after failing to secure a dinner reservation, Shaun realizes that literally everything is changing around him.  People are beginning to aimlessly wander around the streets more than normal, and after a night of drinking and dub-stepping, he realizes the neighborhood is literally in shambles.  Soon, it's clear that only one reason can explain the chaos: zombies are beginning to terrorize the city, eating humans and corrupting more of them into a destructive army.  As Shaun's friends, roommate Pete (Peter Serafinowicz), stepfather Philip (Bill Nighy) and mom Barbara (Penelope Wilton), Shaun must protect them all from the effects of the invasion, while they hold up at Shaun and Ed's 'stronghold': the local pub where so much of their time (and money) is spent.
Director Edgar Wright has a fun directorial style that's so appealing because it utilizes extreme close-ups, creative interior shots, and well-shot extended scenes.  He also uses his wide selection of talent well enough, allowing Pegg and Frost time to ad-lib on occasion while keeping high quality control on the script which he and Pegg wrote.  There's a silliness to things from the beginning, and it's clear that both had a pretty clear idea of what they wanted even before shooting, as the Supplements clearly demonstrate.  Much of Wright's whacky vision can't apply to more serious fare, but for his trilogy, things work very well.  Check out what I mean in Chapter 7 as Shaun tries desperately to get a reservation.  There's not a lot of character development here, with Shaun and company just trying to survive, but Wright and Pegg's commentary of everyone basically acting like a zombie at some portion of the film – whether they've been bitten or not – is laughingly played out in the early sequences, which allow for the film to move towards some more serious elements in Act 3.  It's interesting that by the end Shaun is basically the same person he was before – the video game dude, the lazy bum – minus the addition of a 'pet' in the backyard shed, which is funny and keeps the story from becoming predictable.
In many ways, SHAUN OF THE DEAD could be shown alongside the more serious 28 DAYS LATER and other zombie flicks, if such an odd selection of comedy/drama-themed zombie viewing was desired.  My point is that the quality control here is high, and compared to other episodes in this series, it's perhaps the most inventive and well-played.  Add this to your collection and you might even find yourself coming back to it every year.
Universal's SHAUN OF THE DEAD arrives onto home video with a respectable MPEG-4/AVC transfer that looks pretty sharp.  Check out Chapter 11 for proof as Shaun walks back to the store after the zombies have begun to attack.  Bushes in the background show off individual leaves, while the web cracks on the smashed car window are easily seen.  Paint colors stand out, with individual bricks on the flats exposing age and water marks. Some have complained of overexposure in the print at the beginning and end of the film, but I can't see it.  In those scenes, one can easily see the lines in Pegg's forehead, as well as individual strands of Kate Ashfield's blonde hair.  When the action begins, sweat and blood look real, while fleshtones remain lifelike throughout.  This also goes for the somewhat limited amount of gore, even though many practical effects are used.  It's a nice transfer, with zero evidence of banding, aliasing, or edge enhancement.
SHAUN OF THE DEAD groans and moans onto Blu-ray with good DTS-HD MA 5.1 transfer. First, the soundtrack music – which plays such an important role in the film – echo throughout the front and rear channels, but never seem to overtake the dialogue which is separated and boosted in the center.  Left and right fronts deliver a mix of sound effects and music, keeping dialogue to the center.  But it's the surrounds which are always brimming with ambience, from dogs barking to a car alarm and television alerts as the action begins to ramp up.  Even portions of the surrounds are in stereo, such as when Shaun 'enters' a video game or in Chapter 3 as Shaun goes to the convenience store.  Finally, the LFE thumps quite well during most scenes, and booms during the action sequences with impressive results.  In the end, the track excels, proving that even small films get the royal treatment over at Universal.
SHAUN OF THE DEAD has to have the most extras I've seen from a release in quite awhile.  Even for Universal, who generally loves to heap on the supplements, the 2009 release really makes a case for its purchase. Sadly none of the featurettes are in HD, but that doesn't really matter when you read what's in here:
Feature Commentary by Actor/Writer Simon Pegg and Writer/Director Edgar Wright
Feature Commentary by Pegg\, Nick Frost, Dylan Moran, Kate Ashfield, and Lucy Davis
Feature Commentary by Actors Bill Nighy and Penelope Wilton
Feature Commentary with the Zombies: This has to be one of the most creative choices for a supplement I've seen, as zombies join the conversation.  They don't mumble or utter moans, but they do give us several observations about shooting the film.  The mere fact that Wright and Pegg added these in just goes to show how much they apparently love making films together.  All four are very entertaining, provided that you're into the film that much.
Extended Bits (SD, 13:28): This is a collection of 15 scenes with extended footage with optional filmmaker commentary by Wright and Pegg.
Outtakes (SD, 10:47): Several funny but ultimately unenlightened scenes
The Man Who Would Be Shaun (SD, 0:35): This is a brief but humorous version of a scene with Frost and Pegg Funky Pete (480p, 2:04) is an alternate take form the film with a prodigious use of the word "funk."
Plot Holes (SD, 3:27): One of the most inventive items of the disc, Pegg and other explain what happened to their characters during several pivotal scenes in the film.  These are highlighted with hand drawings of their escapades.
Raw Meet (SD, 51:48): is a collection of eight featurettes.  These include Simon Pegg's Video Diary (6:44), Lucy Davis' Video Diary (5:05), Joe Cornish's Video Diary (10:16), the fascinating Casting Tapes (4:12), the hilarious Edgar & Simon's Flip Chart (13:36), along with SFX Comparison (2:25), Make-up Tests (2:20), and EPK Featurette (7:10).
TV Tidbits (SD, 10:15) is a terrific selection of the television programming after Z-Day.  Footage includes T4 With Coldplay (4:21), Fun Dead (1:05), Trisha — Your Nine Lives Are Up (1:26), Trisha — I Married a Monster (1:31), and Remembering Z Day (2:32).
Zombie Gallery collects Photo Gallery, 2000 AD Strip, and Poster Designs which you access with your left-right buttons on the remote.
Trailers (SD, 9:44): These include US Trailer (2:29), UK Teaser Trailer (1:39), UK Trailer (1:50), two UK TV spots (0:22 & 0:23), and Fright Fest Trailer (1:30).
Storyboard Gallery is a nice little feature that when turned on will display an icon on the screen during playback of the film, during which playback is stopped and viewers are treated to a collection of storyboards.  Pressing ENTER again returns you to the film.
U-Control, BD-Live, and D-Box Enabled
Again, this 'Iconic Art' release is merely a repackaging of the 2009 home release, which now includes the SteelBook.  And again, the package fails to totally satisfy, as there is no interior artwork.  That is why my rating has been dropped to a 4.5 – had this review covered the generic release, I would have rated it a perfect 5.  See my review on THE BLUES BROTHERS to learn why these releases in general have been a misfire.
Don't let my high score here lead you to think that I support Universals 'Iconic Moments' SteelBook release.  That portion of SHAUN OF THE DEAD does fail due to the lack of interior artwork.  Everything else here – from the audio and video transfer to the story itself – are very good and are worth your time if you don't already own this in your collection.  As these are inevitable to go on sale, I might amend this, especially if the price can dip below $10.  For now, consider this release a 'maybe' until market forces kick in.
Discuss this review with fellow HDN fans on Facebook. On Twitter, follow us at @HidefNinja, and follow author Matt Cummings at @mfc90125.