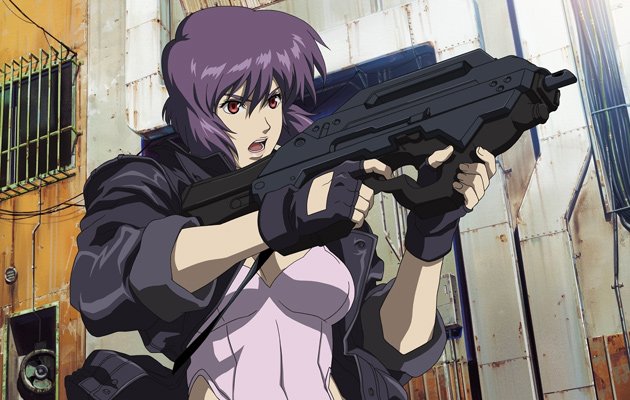 Hollywood has been trying to adapt Masamune Shirow's manga (and, consequently, the anime) GHOST IN THE SHELL for quite some time now. The story, set in a fictional futuristic city in Japan, centers on the manhunt of a cyberterrorist known as The Puppet Master. A special police task force led by half human, half cyborg Motoko Kusanagi uncovers an intricate conspiratorial plot that exposes government corruption at the highest levels. Director Steven Spielberg has made no secret of his enthusiasm for the source material and it comes as no surprise that his production company, Dreamworks Pictures, has secured the rights to the film. SNOW WHITE AND THE HUNTSMAN director Rupert Sanders had been attached to direct the live-action Hollywood adaptation which is also produced by former Marvel film head honcho Avi Arad, but no one had yet been announced to play the main role of cyborg cop Motoko Kusanagi. Today it was announced that Black Widow and LUCY herself, Scarlett Johansson, has signed on to play the gun-toting action heroine.
Johansson certainly has the chops and the filmography to pull off the role. Having played an otherworldly alien in UNDER THE SKIN, a superhuman in LUCY, and a spy with a dark past in the Marvel Cinematic Universe, an ass-kicking cyborg with an existential crisis sounds right up her alley. Many (including Yours Truly) were somewhat disappointed that a Japanese actress was not cast in the iconic role, considering a certain Rinko Kikuchi would have been perfect after having proven herself adept in action roles with her stint on Guillermo del Toro's PACIFIC RIM and last year's fantasy actioner 47 RONIN. While it is certainly a missed opportunity both in terms of representation and the chance to highlight a rising actress like Kikuchi, given Johasson's name recognition and her recent success in the action genre, it is understandable that she was ultimately offered the role.
What do you guys think of this news? Are you looking forward to seeing Scarlett Johansson in GHOST IN THE SHELL? Sound off below!