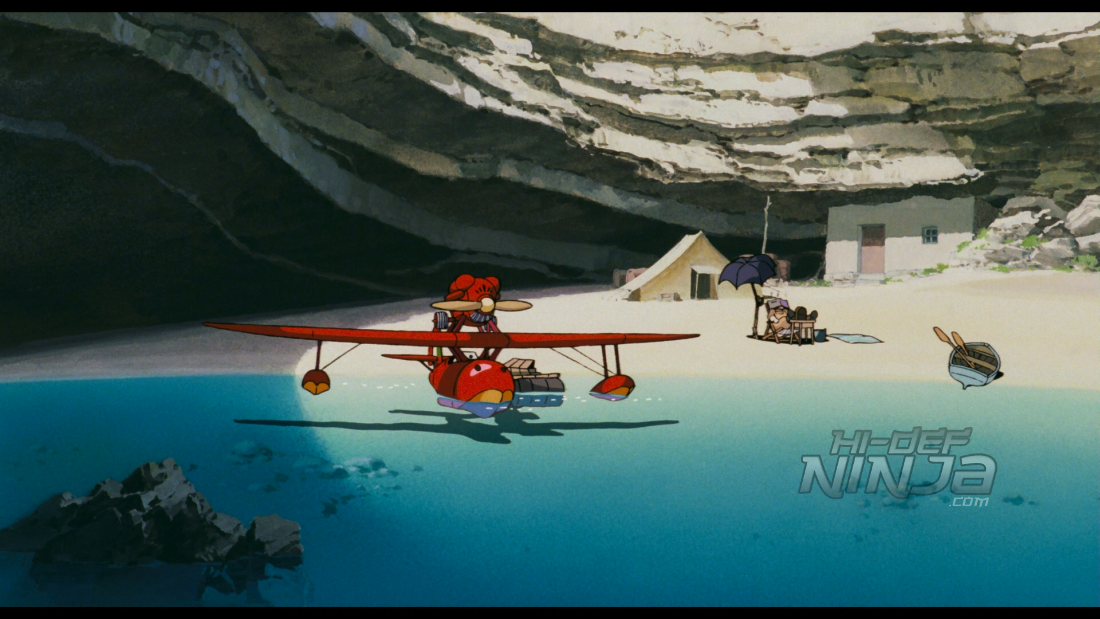 Without a war to fight in, the amazing WWI pilot Porco Rosso is now a bounty hunter for hire. He has the body of a man and the face of a pig. He lives on an island alone and he frequents his old friend Gina's hotel. There is clearly something going on between them, but first Porco needs to deal with some other issues. When he's not at Gina's or resting on his island, he is usually taking care of the gangs of pirates that plague the Adriatic Sea. His biggest problem isn't the pirates, though, but a pompous American pilot named Curtis. Curtis loves Gina and thinks that the best way to confess his feelings is to shoot Porco down. He finds Porco on his way to Milan to overhaul his plane and shoots him down. Or so he thinks.
PORCO ROSSO is a very fun movie and it's classic Ghibli. It has a lot of small comical moments that easily appeal to kids and grown-ups equally. The voices have been perfectly cast with Michael Keaton, Susan Egan, Cary Elwes, and Brad Garrett. The movie was originally released in 1992, so this was Keaton coming off of Tim Burton's BATMAN to voice Porco. His voice sounds like it did in the 2014 BIRDMAN with its low and very raspy sound. Cary Elwes plays the excellent, arrogant pilot Curtis. There's a lot of intensity and emotion is in his voice. He usually uses his American voice with a hint of southern-ness or his natural British accent. As I said, the story flip-flops from very kiddish to having a little more adult content. Porco is a not only a literal pig, but also metaphorically. He's a bit of a womanizer and isn't afraid to show it. Only a few people in the movie even acknowledge that he looks like a real pig.
Cast
Michael Keaton as Porco Rosso
Cary Elwes as Donald Curtis
Susan Egan as Madame Gina
Brad Garrett as Mamma Aiuto Gang Boss
David Ogden Stiers as Mr. Piccolo
Kimberly Williams-Paisley as Fio Piccolo
Bill Fagerbakke, Kevin Michael Richardson, and Frank Welker as the Mamma Aiuto Gang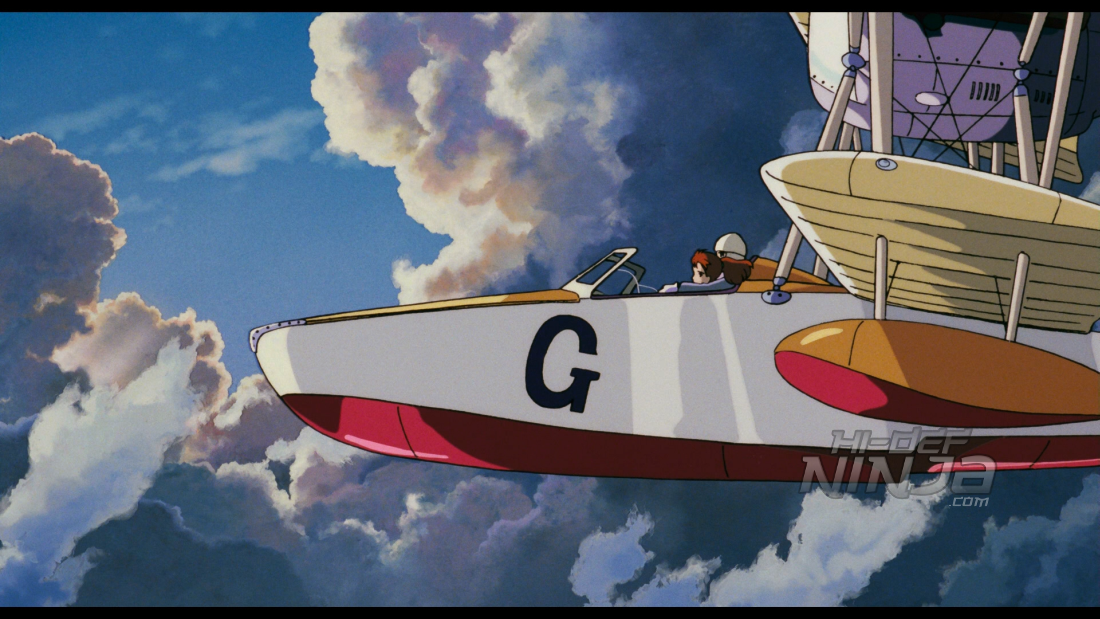 The slick transfer of the film is a 1080p AVC. You can tell that it's a bit older than some of the other Studio Ghibli movies on Blu-ray. There are small specks of dirt and tiny scratches that pop up, but that's from the source material. Even though it's been partnered with Disney, I assume that the remaster process is one that Ghibli does with their other movies. Otherwise, the coloring is impressive. The most brilliant color on the film is Porco's bright red plane. The remaster really brought out the blue in the ocean. There's an array of hues that is rarely seen in hand-drawn animation. Simply amazing.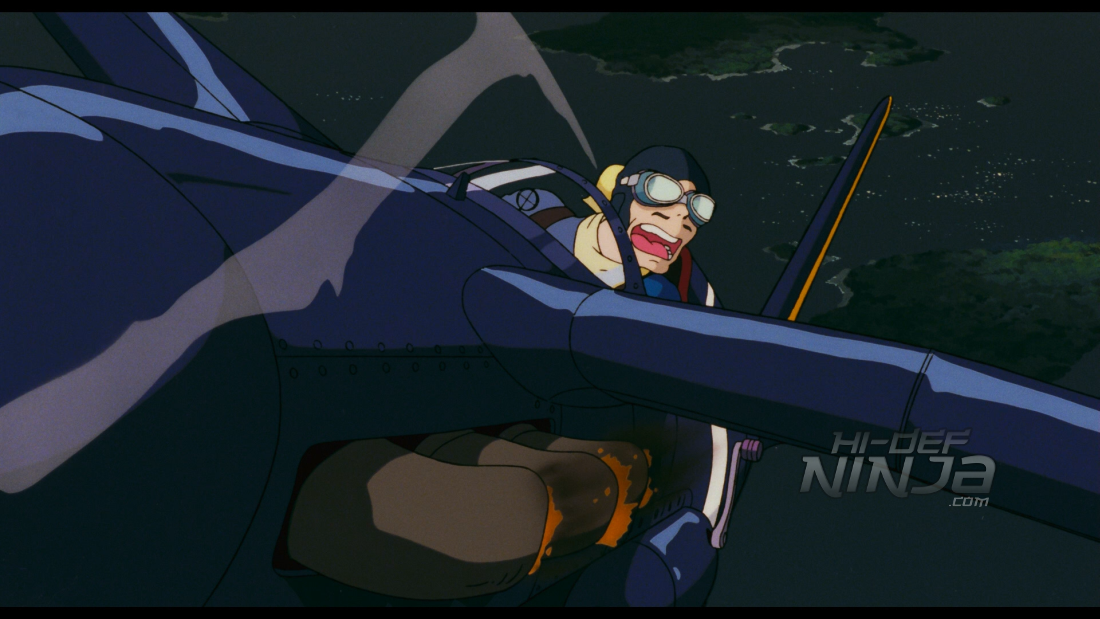 PORCO ROSSO's audio mix is a DTS-HD MA 2.0 track. It's solid, but not as strong as it could be. With the remaster, I figured that the studio would create an all-new 5.1 mix for the release. They did clean up the track digitally and separate the 2.0 mix to create the barrage of effects thrown at you. There are times that the music might drop out or there's a random sound effect. It can be a little distracting, but I wouldn't go as far as calling it a weak mix. It could just use some updating is all. Also, with a 2.0 mix, the subwoofer doesn't get used. There is a little bass in the front speakers, but I heard more treble than anything.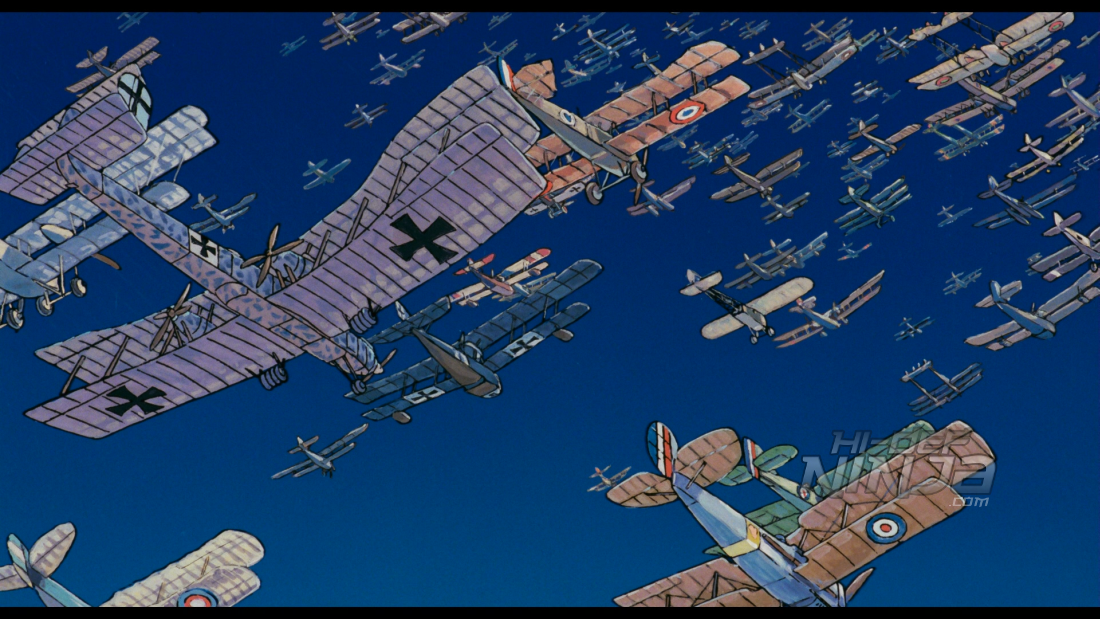 The bonus features on the disc are like the others in this group of releases. Half are in Japanese and the other half are in English.
Bonus Features:
– Behind the microphone: This is a featurette with the voice cast talking about the process of dubbing a movie.
– Original Japanese storyboards
– Original Japanese trailers
– Interview with Toshio Suzuki: This is an interview in Japanese with Toshio Suzuki.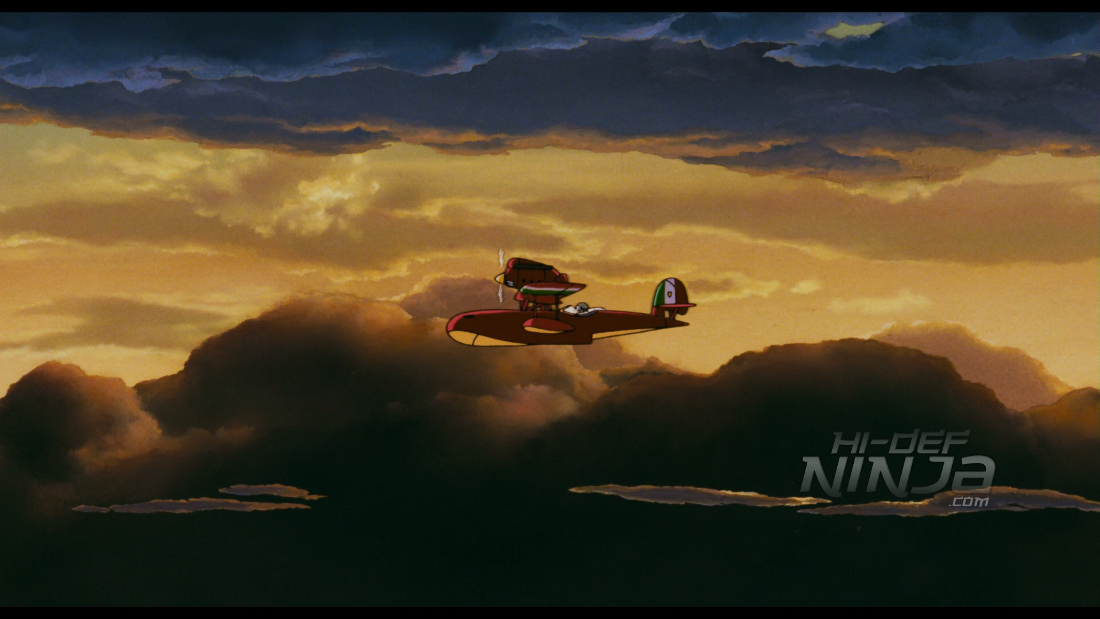 Disc Details
Two disc w/1 Blu-ray and 1 DVD
Running Time
94 mins
Edition Ratings
Rated G
Region Coding
Region Free
Video Resolution
1080p AVC MPEG-4
Aspect ratio: 1.85:1
Audio Mixes
English DTS-HD Master Audio 2.0
Japanese DTS-HD Master Audio 2.0
French Dolby Digital
Subtitles
English
English SDH
French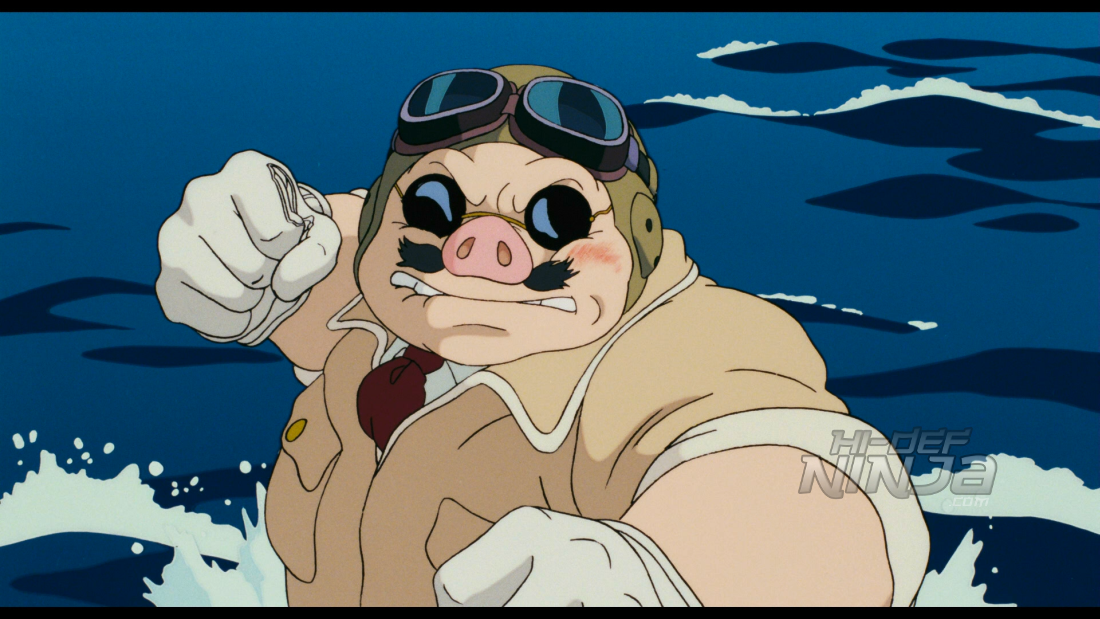 This movie is an instant classic from Studio Ghibli. I watched it around 15+ years ago and it still holds up today. Yes, it has a man with the head of a pig, but that's not a whole lot different from the movies that Disney has released in the past. The audio could use a little work, but the video looks incredible. Overall, I would say that their remaster was a success. Pick up this film and add it to your collection.