DC Comics is catching a lot of backlash over an upcoming variant cover for BATGIRL #41. The artwork is done by Rafael Albuquerque and DC is pulling the cover because of the controversy.
The variant cover features the Joker holding an imaginary gun to Batgirl's head with her looking scared. Some people are saying that the image makes Batgirl looks like she is being "victimized" by the Clown Prince, but for those that read comics, "victimized" is a strong word.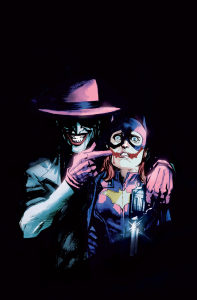 Over the years, Barbara Gordon has been through the ringer and a lot of it has to do with the Joker. He shot her, taking away her ability to walk, and created the character known as Oracle. When the New 52 reboot happened, they made her a bit stronger and the team currently working on the comic have said that the cover didn't get run past them and they're on board with DC's decision to pull the cover.
What do you think? Should DC censor the cover or let it run? Let us know in the comments below.