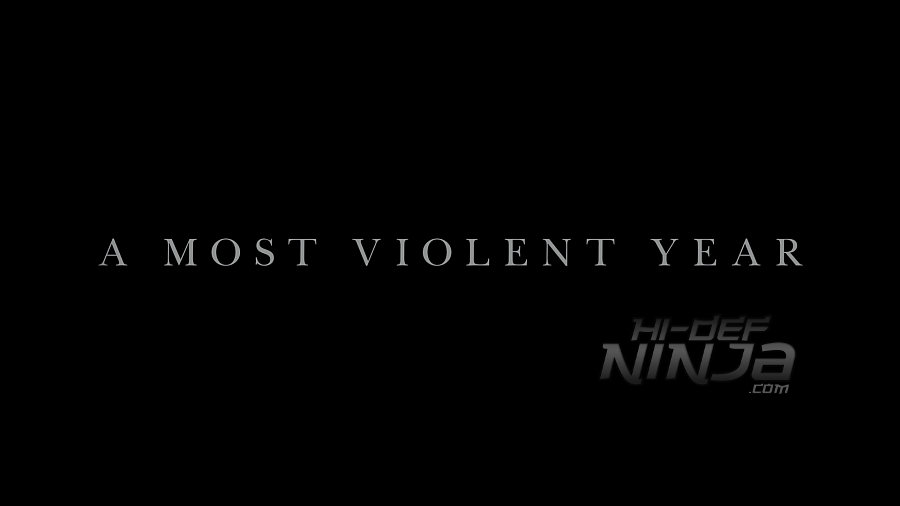 There is something I find fascinating about a man struggling not to be a criminal.  This was something played to near-perfection by Al Pacino in THE GODFATHER films, but it is a character type that we have seen a lot in the crime and gangster films before and since those first two 'masterpieces'.  In regards to this superb crime drama from writer/director J.C. Chandor, I think my fascination has something to do with the idea of understanding lead actor Oscar Isaac's sense of morals, but seeing how much 'easier' it would be for him if he more willingly stepped onto the dark side.  Regardless of what the case may be, A MOST VIOLENT YEAR is the kind of slow-burn, tactics-heavy, crime drama that I was easily taken in by, thanks to a level of confidence behind the camera and strong performances matched with cinematic beauty in front of it.
Given its title based on the film's setting of 1981 New York being known as one of the most violent years in the city's history, Oscar Isaac stars as Abel Morales, a business man who has been building himself a larger and larger presence among the other, more corrupt, business men around him.  He has a wife, Anna Morales (Jessica Chastain), with her own ties to the gangster life, but Abel has tried to approach everything honestly, and now stands to expand his business significantly, if everything were to go his way.  Unfortunately, that is not the case, as Abel's business has been getting constantly robbed and an Assistant District Attorney (David Oyelowo) is currently looking for anything dirty on him.  These events put Abel in dire need of a helping hand, but a lack of knowing who is ripping him off will make it very difficult, with possibly violent results occurring because of it.
In a year of big, showy performances, Oscar Isaac easily stands high among them as well, despite being a much more meditative and controlled presence in this film.  Abel is put into one frustrating scenario after another, following what should have been a huge success for him.  Instead of responding with rage and constant loss of composure, the man approaches scenarios from a level-headed place, really only blowing up when he is challenged by his wife of all people.  In all of this, it excites me to see what Isaac will do in the future, as I have been enjoying him up to this point (he was excellent in last year's INSIDE LLEWYN DAVIS), and now we have a film that allows him to really sell a certain persona, without having to go over-the-top in doing so.
Speaking of over-the-top, though, Jessica Chastain plays a character with the sort of fiery persona that gives the film some spark, while still fitting into the carefully constructed atmosphere that makes A MOST VIOLENT YEAR so compelling for those hip to the rhythms of what Chandor has done with this story.  Trying to be a sinister voice of reason, Chastain's Anna is not afraid to go to the lengths that her husband refuses to, even as Abel is basically the lone person attempting to keep this boiling pot from spilling over.  The two work incredibly well together, making clear the professional and personal dynamic that exists between the couple.  That in mind, Chastain clearly makes the most with her sharp dialogue that perfectly counterbalances Abel's nature.
There is more to praise as well, as far as the performances go, with the aforementioned Oyelowo, along with Albert Brooks and Alessandro Nivola all aiding the film quite successfully.  That said, I would like to go on into praise for the filmmaking on display.  Some may be lost in the film's sustained amount of low-boil tension, but I was quite transfixed by not only getting more and more settled into knowing that this build would be leading to something crucial, dialogue-driven or otherwise, but through the way Chandor and cinematographer Bradford Young develop this gritty and atmospheric world.  Even with the hairdos and the costume designs, there is plenty of tension to mine from a film like this and another fine score from Chandor's frequent collaborator, Alex Ebert, does a lot to help with that too.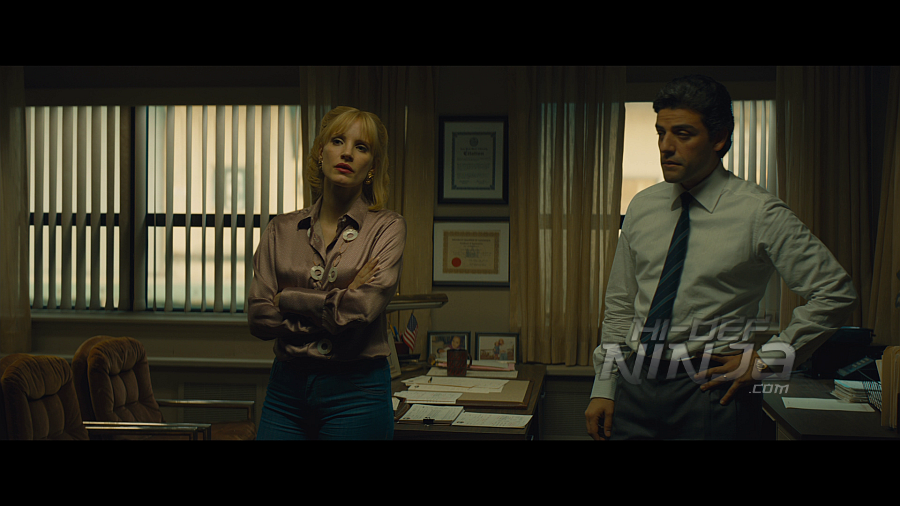 Following his debut film MARGIN CALL and last year's solo journey with 'Our Man' in ALL IS LOST, J.C. Chandor is clearly showing a level of range.  With that in mind, his films have relied on letting the audience see and hear the bare minimum, with little in the way of extraneous parts and exposition.  People in his films are not necessarily the equivalent of those featured in docu-dramas, but there is a to-the-point nature of his films and dialogue that I am into.  Explicit details are not really given about Abel's business or Anna's family, we just come to learn about as much as we need, with the film letting us be smart enough to fill in the blanks.  There are deeper themes at play and that is what interests me.
A MOST VIOLENT YEAR is a successful look at a man who is forced to compromise himself in an effort to keep from compromising his morals.  That is tough for a character to face, but Oscar Isaac pulls it off and those around him manage to help in keeping this film compelling.  J.C. Chandor continues to have my attention in the realm of newer, young filmmakers, crafting original stories in the face of growing popularity.  I am excited by that and it helps that I keep really enjoying his films.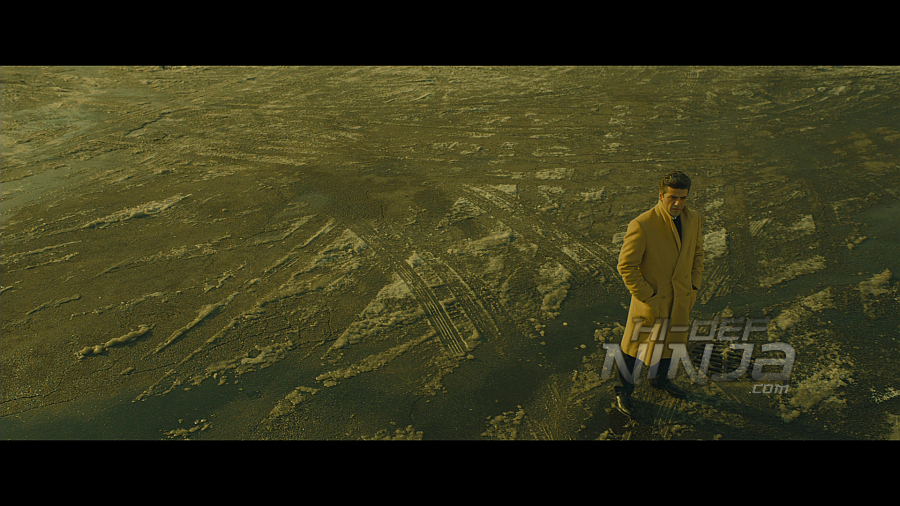 The AVC-encoded 1080p transfer does a fine job of presenting this digitally shot film. A MOST VIOLENT YEAR is not too lively as far as its colors and "visual" noise is concerned, despite being a masterfully shot film, but it is because the film is so deliberately reserved. We have a lot of subdued, color graded shots both indoors and outdoors scenes, but even as the film leads into murky territory, you can still find plenty of detail in the way things are presented. That said, the grading does lead to minor issues involving depth presentation and the effectiveness of the black levels. Still, the film looks quite good throughout, with nice work done on facial textures to add another positive on top.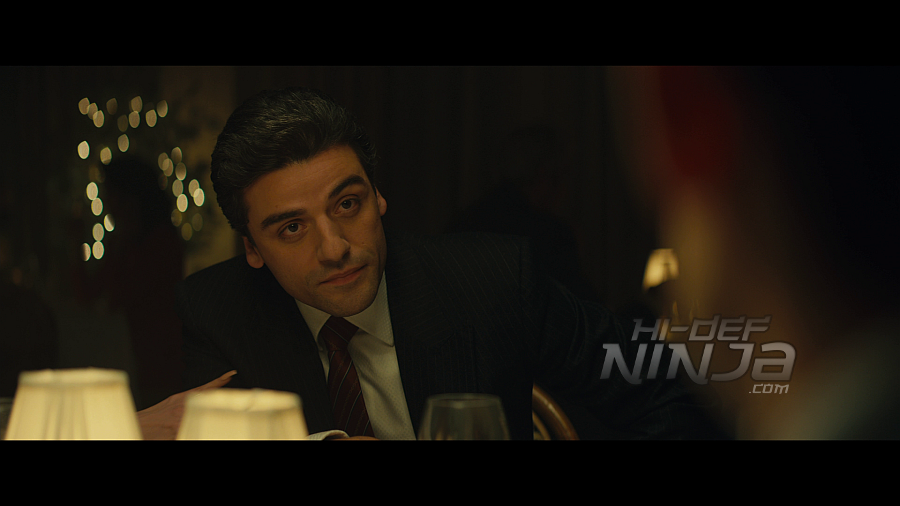 The lossless DTS-HD MA 5.1 mix is a nice representation of the film and what it presents. While there is a good score by Alex Ebert here, it is often played low (mixed with some choice old school soundtrack picks), but effective enough to show the effectiveness of the audio channel presentation. This is a very minimal film, despite the reliance on dialogue, but key scenes involving cars, chases, and some gunplay do sound appropriately loud. The ambient noise is a good thing to keep track of and this Blu-ray does a lot to make sure that atmospheric quality is presented well enough.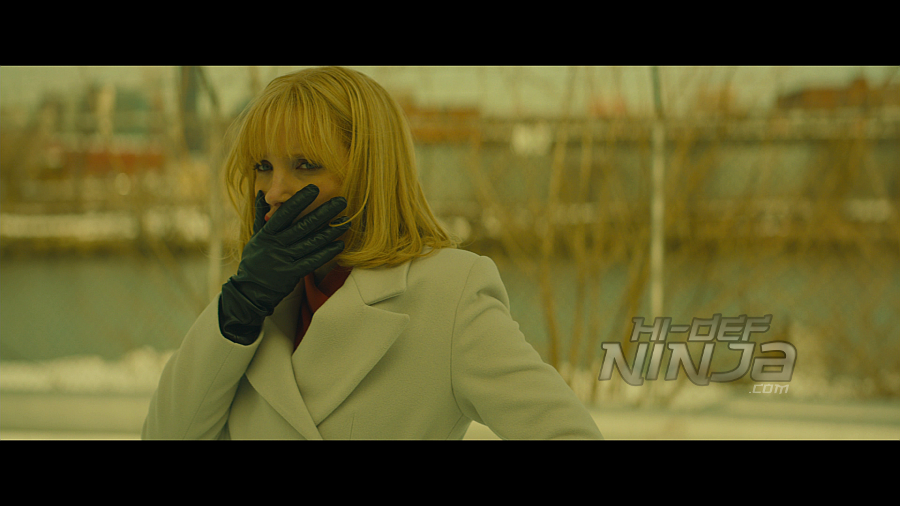 For a film like this, I only expect so much a lot of the time. Fortunately, Lionsgate and A24 have done right by this Blu-ray and packed it with a lot of extra goodies.
Features Include:
Deleted Scenes
Audio Commentary with Writer/Director J.C. Chandor and Producers Neal Dodson and Anna Gerb – Lots of good notes about developing the film, the challenges, and actor-related stories.
Behind the Violence – A 44-minute, 2-part look at how this story came to be, as far as historical context is concerned, as well as what it was like to recreate the period.
A Conversation with Jessica Chastain and Oscar Isaac
We Can Cure Violence – A PSA
The Contagious Nature of Violence: The Origins of A Most Violent Year
Inner City Crew
Trailers
UltraViolet Copy of the Film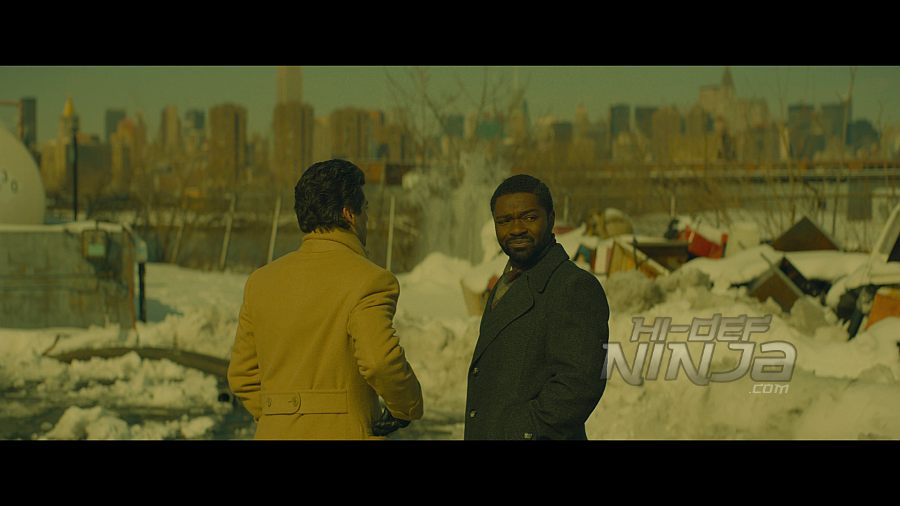 One of my favorite films from last year, I was excited to revisit A MOST VIOLENT YEAR and the Blu-ray does a fine job of bringing the acclaimed crime drama home. Along with getting to see a very stylish and well-acted film, you get a disc fit with a strong audio mix and solid video presentation. The Blu is also fitted with plenty of bonus goodies for those that want to learn plenty about this film. Be sure to check out A MOST VIOLENT YEAR if you're looking for a deliberate but effective crime story.