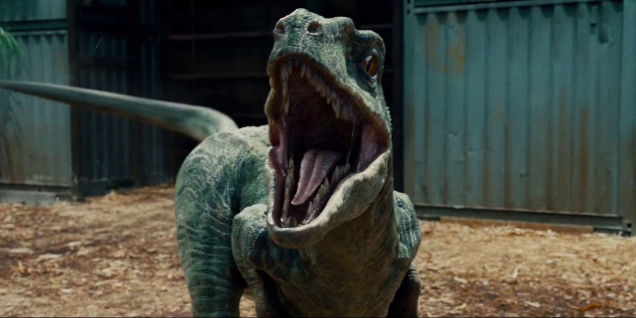 Taking last week's box office estimates of a $125-million opening weekend and stomping all over them, JURASSIC WORLD devoured the box office this weekend, breaking all kinds of records in the process.
Not only did it's opening day tally of $82.8M defeat MAN OF STEEL's previous record for June (MoS held the record with $56.05M), but JURASSIC WORLD has truly defied odds: it has become the first film in history to pass the $500-million at the international box office during its opening weekend ($511.8M, to be exact). The previous record holder was HARRY POTTER AND THE DEATHLY HALLOWS, PART 2 with a distant $314M. Yes, with an estimated $204.6M at the domestic box office (second in history and just short of THE AVENGERS' $207.4M), it's safe to say that the long-dormant JURASSIC PARK franchise is indeed back.
On top of reviving its franchise, JURASSIC WORLD has also been good to Universal Studios, Legendary Pictures and star Chris Pratt. For Pratt, this opening weekend on top of his success last year with GUARDIANS OF THE GALAXY and THE LEGO MOVIE has proven that he's now officially an A-list star. For Universal, JURASSIC WORLD is now the biggest domestic opening that they've ever had. Top that with the crazy-success of FURIOUS 7 and PITCH PERFECT 2 (and most likely next month's MINIONS, too), Universal is an absolute juggernaut this year, giving Disney a run for their money. Lastly, co-financier Legendary Pictures has to be smiling. JURASSIC WORLD is their largest opening, too, toping even THE DARK KNIGHT. With this film under their belt, I'm sure their future of monster flicks (including KONG: SKULL ISLAND, PACIFIC RIM 2 and GODZILLA 2) is looking bright.
JURASSIC WORLD, directed by Colin Trevorrow and produced by Steven Spielberg and Thomas Tull, stars Pratt, Bryce Dallas Howard, Jake Johnson, Vincent D'Onofrio, Irrfan Khan and Judy Greer. It'll be at your local cinema destroying the box office for the next couple weeks or so.