GIVE-AWAY NOW CLOSED! Congratulations to winner Annar Schjølberg!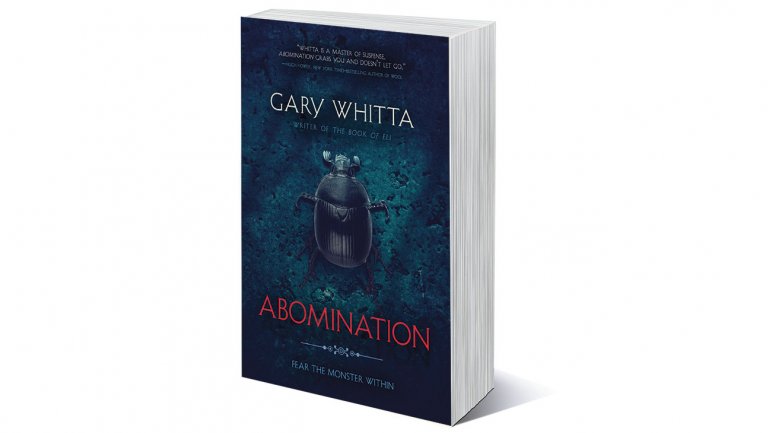 Gary Whitta is a name that many pop culture fans have begun to recognize over the past couple years. After his award-winning screenplay for THE BOOK OF ELI, he's also worked as a writer and story consultant on Telltale Games' THE WALKING DEAD series as well as contributing to the upcoming STAR WARS ANTHOLOGY: ROGUE ONE spin-off film from Disney and Lucasfilm.
Now Whitta has just completed work on his first novel, titled Abomination… and Hi-Def Ninja is giving you the chance to win a copy for free!
Whitta's synopsis for Abomination is as follows:
Set in England during the reign of Alfred the Great, Abomination has got magic, monsters, a heroic knight with a tragic secret, and a headstrong young woman on a vengeful quest.

_

As King Alfred struggles to defend his beleaguered realm from hordes of Viking invaders, the Archbishop of Canterbury stumbles upon an ancient secret — a dark and mysterious magic that could turn the tide of the war in England's favor. But when exposure to the magic corrupts the Archbishop, Alfred commands his greatest knight, Sir Wulfric, to hunt the mad priest down — with terrible consequences to follow…

_

With Abomination, I wanted to combine the trappings of a good old-fashioned monster yarn with more substantive human themes. At its core, the story is, I hope, a meditation on the powers of forgiveness, mercy, humility, kindness, and love. It is the tale of two very different, but equally tragic, heroes, each on their own path to damnation, but who ultimately find salvation within each other. I hope you enjoy their journey together.
Funded through crowd-driven publisher Inkshares with cover art by Jason Gurley, Abomination sounds like it'll become a story that fans of fantasy, monsters and medieval warfare are sure to enjoy.
As of now, HDN holds an advance copy and we want to send it off to one lucky person! This novel won't be hitting Amazon or bookstores for another couple weeks, so this is a cool opportunity to own one of the original hardcover crowd-funded copies!
To enter for a chance to win, just reply below and let us know which scene was your favorite from THE BOOK OF ELI… or what you hope for from STAR WARS ANTHOLOGY: ROGUE ONE… or both! The winner will be chosen one week from today! Good luck!
httpvh://www.youtube.com/watch?v=fRG4TMTuMgg