Grey Matter Art is well known for their unique takes on some nostalgic films in cinema history and now they are adding tow more to the line-up: REEFER MADNESS by Timothy Pittides and DR. JEKYLL & MR. HYDE by Chris Garofalo. Both will be exclusive at Monster-Mania convention in Cherry Hill, NJ from July 31st-August 2nd. The remainder of the posters will be released on Monday, August 3rd on their Website at about 1:00 PM EST.
REEFER MADNESS
Artist: Timothy Pittides
Size: 18×24
Regular Edition: 60/$35.00
Paper: French Packing Chip Kraft-Tone
Printed By: VG Kids

DR. JEKYLL & MR. HYDE
Artist: Chris Garofalo
Size: 24×18
Regular Edition (Green): 40/$30.00
Variant Edition (Purple): 15/$35.00
Paper: Regular Mr. French Tile Green/Variant Mr. French Whitewash
Printed By: Fug Screen Studios?
Grey Matter is also doing a contest from some awesome prizes. You can win a piece of original artwork from Timothy Pittides from REEFER MADNESS as well as 2 1920's era original novels of DR. JEKYLL & MR. HYDE. Both prize packs will include a fresh t-shirt and sticker pack. All you have to do is stop by their booth at Monster-Mania and enter!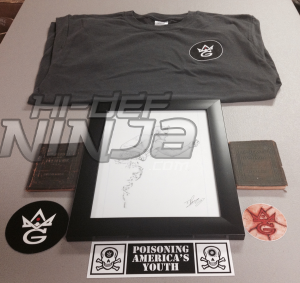 Follow Grey Matter on Twitter to get a jump on the drop. Also, follow them on Facebook and Instagram, and sign up for their Website newsletter for all future news and information.