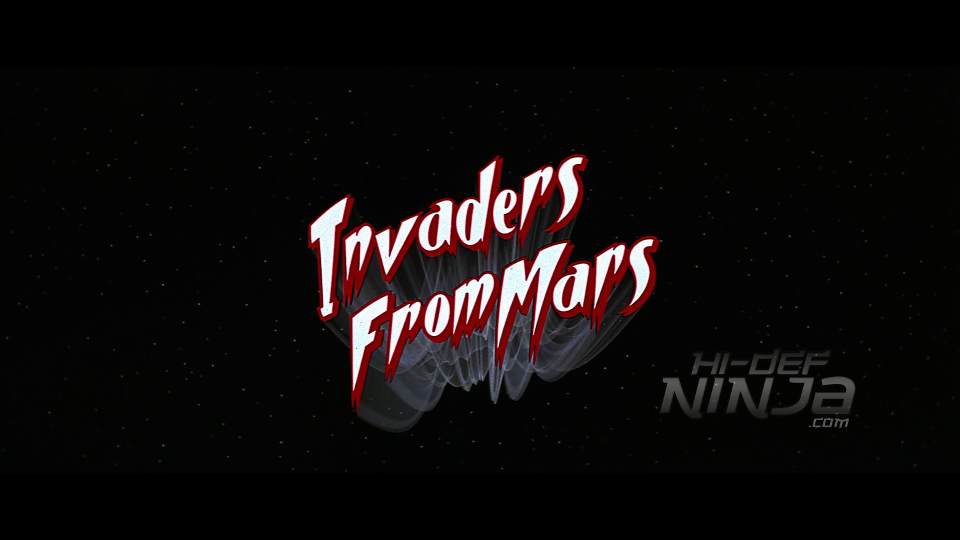 This space-age creature feature is crawling with horrifying hordes of Martians hell-bent on stealing your soul – as well as your planet! Little David Gardner's starry-eyed dreams turn into an out-of-this-world nightmare when invaders from the red planet land in his backyard and unleash their hostilities on unsuspecting earthlings! Paralyzed with fear as the aliens take over the minds of his mom, dad and even his schoolmates, David must somehow find a way to stop them -– before they turn the whole human race into brain-dead zombies!
A remake of the original 1953 film (but with some 80's Gung Ho added for good measure) Invaders from Mars was the final picture in Tobe Hooper's three picture deal with Cannon films which included Texas Chainsaw Massacre 2 and Lifeforce. Whilst not quite over the top as Lifeforce, Hooper still manages to keep the fear of dread and isolation intact which was the key theme of the original (a film that use to scare the willy's out of me as a kid). The film is an enjoyable family friendly romp which does have a 'Spielbergy' theme to it (intentional apparently after they worked on Poltergeist together) and the nods to the original film are also noticeable and shows respect to it. There are some moments that does induce laughter for the wrong reasons though. The way the parents act after they have been 'inducted' can be quite comical, some of the lines of dialogue, best being "Don't worry, Son! We Marines have no qualms about killing Martians!!". Hunter Carson's flailing of his arms whilst running and screaming and the late great Karen Black (real life mother of Hunter Carson as well!) face she pulls when she screams all raise a chuckle but it's all good fun. The production design of the film is impressive but can be a bit over the top (the Martian soldiers for example who resemble giant four legged meatballs) Slight negative point's aside, Invaders from Mars is an entertaining piece of nostalgic 80's cinema which manages to push the right buttons.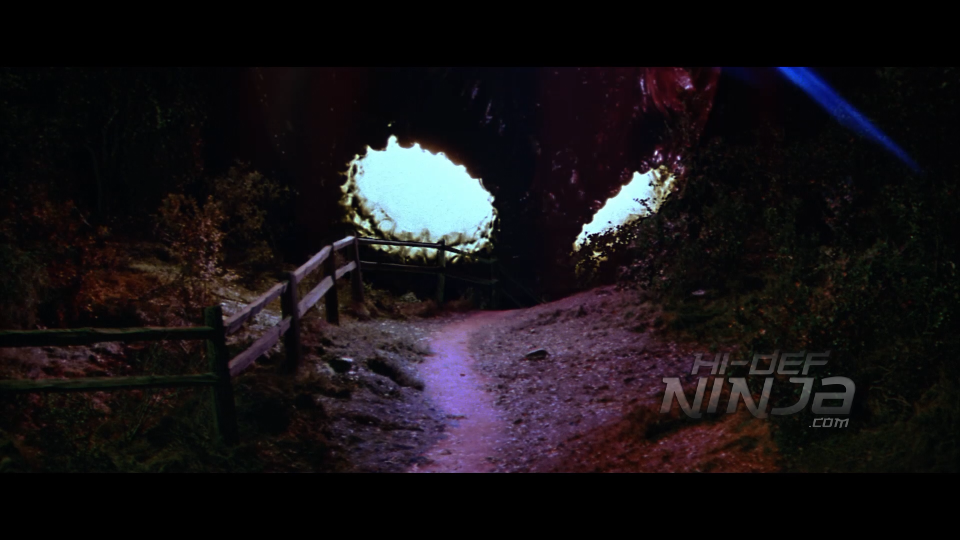 Invaders from Mars lands on Blu-ray with a 1080/24p MPEG4-AVC codec that preserves the film's original 2.35:1 Aspect Ratio. Shot anamorphically on 35mm print, this transfer manages to retain that filmic look throughout. The film has a layer of grain that manages to refine some smaller but finer detail but can vary in degree occasionally with some scenes looking great but other looking excessively graining (almost like it was from a different print source). It can be a bit distracting depending on what's happening in the scene itself. There were some observations of print damage but nothing too distracting. Colours are bold and vivid throughout and really pop off the screen during the finale when our characters, assisted by the US army invade the underground ship. The finer detail in the print seemed spot on (I never saw the eyes on the Martians on the DVD version and presumed they didn't have any). There was no evidence of post-tinkering with annoyances like edge enhancement of digital noise reduction either. Overall, it was a pretty impressive transfer for a catalogue title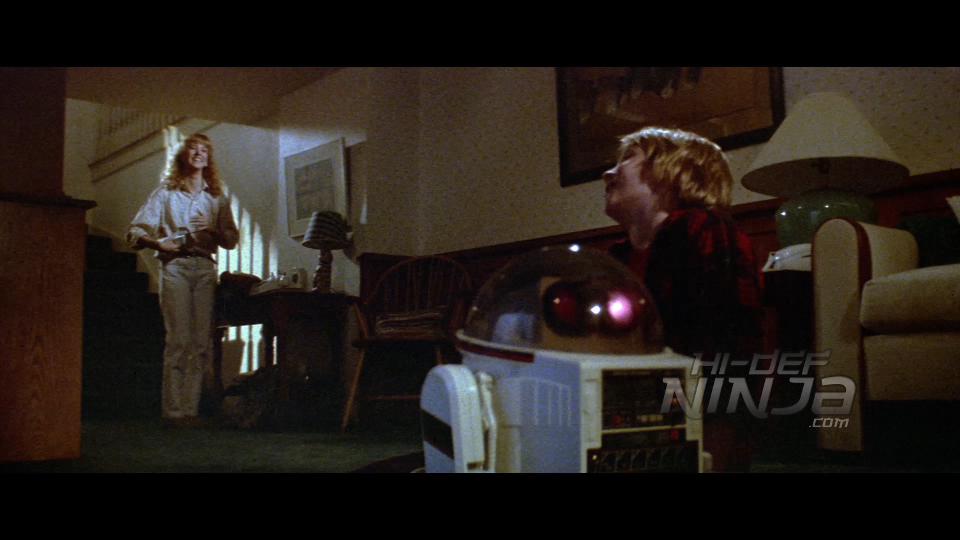 Invaders from Mars comes down to earth with a LPCM 2.0 audio track that preserves the film's original Dolby Stereo mix. Overall it was a good audio mix. A majority of the film is free from hiss or crackles but there are a few instances where the dialogue can sound a bit restrained and limited during the first act. Dynamics are good with the action scenes having a bit of punch but again it's limited due to the source material. Saying that, when opened up with Dolby Pro-logic IIx, the matrixed surrounds do have some nice activity and directional effects and certainly opens up Christopher Young's superb score. LFE wasn't used to great effect and nothing stood out whilst viewing the film.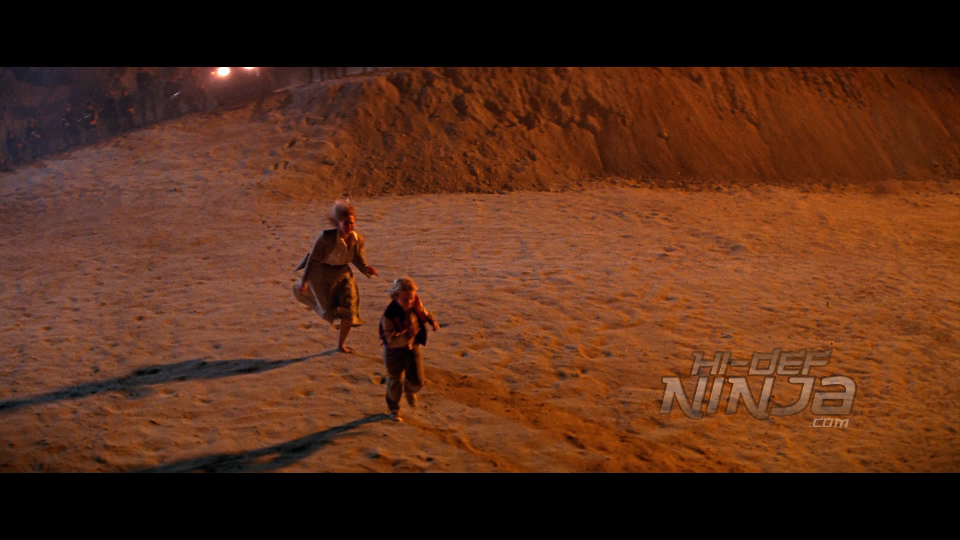 A Career in Cannon (22:02) – An interview with David Del Valle (Journalist and former Cannon associate) who discusses Cannon films during the period when the film was made and how Tobe Hooper worked within Cannon
Creative concepts (24:08) – An interview with William Stout who was the concept designer on Invaders from Mars
Invaders from Mars Concept Art (16:47) – A look at the original concept art and designs from Invaders from Mars along with some storyboarded scenes
Mission to Mars : The Effects of Tobe's Invaders (28:37) – Alec Gillis (Art Dept Coordinator and creature effects crew) discusses his work on the film
Red Planet Recollections (11:32) – Leslie Dilly (Production Designer) on his work on the film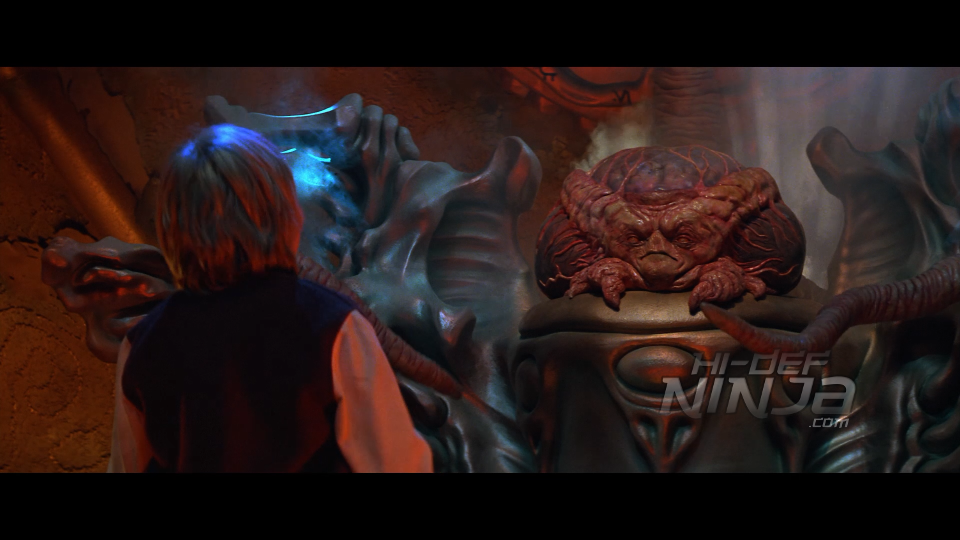 For a UK release, and from a relatively new studio called Final Cut, it's a very impressive package. Faithful picture quality and an original audio mix coupled with nearly an hours' worth of bonus features which are exclusive to the UK, it's a recommend purchase for anyone want to add it to their collection. For fans of the film though, to get hold of all the behind the scene stuff, it's one of three purchases to be made since the releases from Germany (a fancy Digibook which also includes the original film!) and the USA all have exclusive features which are not available on this release. It would have been nice to have a definitive version which collects everything relating to the film but this release is a great start though!
———————
JOIN IN ON THE DISCUSSION AT HI-DEF NINJA'S 24/7 HORROR FORUM! #HDNHORROR