In Association with…

Hello, Boils and Ghouls! Our Halloween festivities are far from over! This week for Halloween Fest, we are very happy to let you fiendish lot fight to death over a pair of killer T-shirts courtesy of Fright Rags! They are designed after APRIL'S FOOLS DAY and TERROR TRAIN!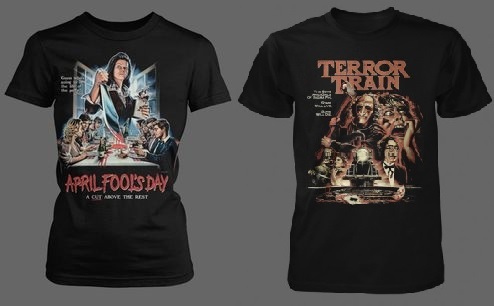 So we know what you're thinking: "How do I win these frightfully good T-shirts* and look totally boss on All Hallows Eve?"
In the comment box below, we want to know your best Halloween experience (PG-13 rated, of course!). The most interesting / funniest one will win both pairs of T-shirts!
The competition will finish on Wednesday 21st October at 23:59 PM GMT
The prizes for this competition were kindly donated by the staff at Fright Rags. You can purchase exclusive merchandise that range from absolutely killer T-shirts and baseball tee's to hats and posters that are made by horror fans, for horror fans! Any real horror fan should bookmark this site for Halloween! Check them out at Fright Rags! and make sure you mention that Hi-Def Ninja sent you!
* T-shirts supplied are XL size … 46-48 Chest (inches)
———————
JOIN IN ON THE DISCUSSION AT HI-DEF NINJA'S 24/7 HORROR FORUM! #HDNHORROR