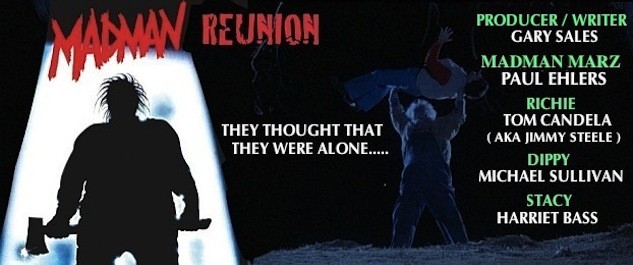 Grey Matter Art is releasing their next limited edition poster from the 80s classic horror film MADMAN. Under a license from Screen Entertainment Enterprises Inc, the poster captures the insanity from the movie perfectly. It is designed by the incredibly talented Nathan Thomas Milliner.
"Madman"
Artist: Nathan Thomas Milliner
Size: 16×24 6 Color Screenprint (with Red Metallics)
Run: 60/$35.00 Hand-Numbered
Printed By: VG Kids
Grey Matter Art is also working with CavityColors to make a limited edition t-shirt. Check it out:
Also, we would like to announce our partnership with Cavitycolors, for our second limited edition t-shirt offering. The "Madman" shirt will be limited to only 150, and will never be reprinted. You can purchase one over at Cavitycolors.com in their shop page. GMA would also like to give Aaron Crawford a special thank you for all his help in putting together this project. For all the information on Chiller Theatre and the "Madman" reunion, head over to chillertheatre.com.
This poster will be released on Thursday, October 22nd on their Website.
Follow Grey Matter on Twitter to get a jump on the drop. Also, follow them on Facebook and Instagram, and sign up for their Website newsletter for all future news and information.
Here is what artist Nathan Thomas Milliner had to say about MADMAN:
"This piece was originally created for one of Madman's biggest fans, Mr. Larry New.  Larry was gracious enough to share it with other Madman fans with this limited screen print.  Doing the poster also brought me into becoming friends with Madman Marz himself, Mr. Paul Ehlers who is a fantastic friend and talented artist himself.  This was a fun piece dedicated to a very fun slasher film.  They don't make them like this anymore."
———————
JOIN IN ON THE DISCUSSION AT HI-DEF NINJA'S 24/7 HORROR FORUM! #HDNHORROR