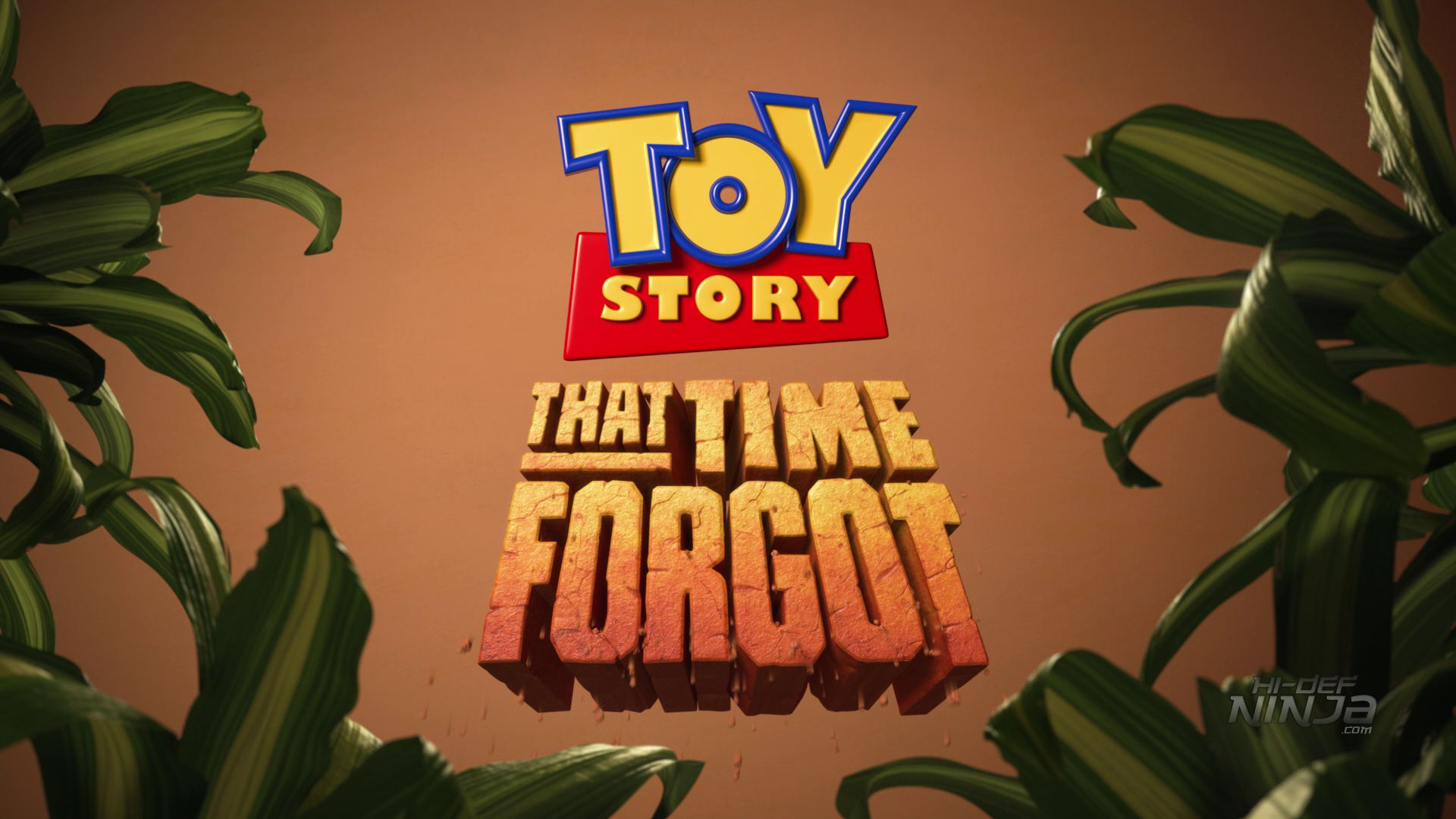 The short looks and sounds great, arrives with a ton of special features, but its disposable nature makes a purchase problematic.
While TOY STORY stands for many moviegoers as one of the more beloved in the animated genre, I take a more pragmatic stance. It's good but hardly memorable, tender enough but always missing something. The series starring Woody (voiced by Tom Hanks), Jessie (Joan Cusack), Buzz Lightyear (Tim Allen), Trixie (Kristen Schaal), and Rex (Wallace Shawn) reminds us of a simpler time, when our plastic figures would come to life and entertain us even through terrible times. Only a trace amount of that magic appears in TOY STORY THAT TIME FORGOT, a 22-minute short that appeared on ABC and has now arrived for home consumption. And while it looks and sounds fabulous, I can only recommend it to the most hardcore fans or to families that already own the collection.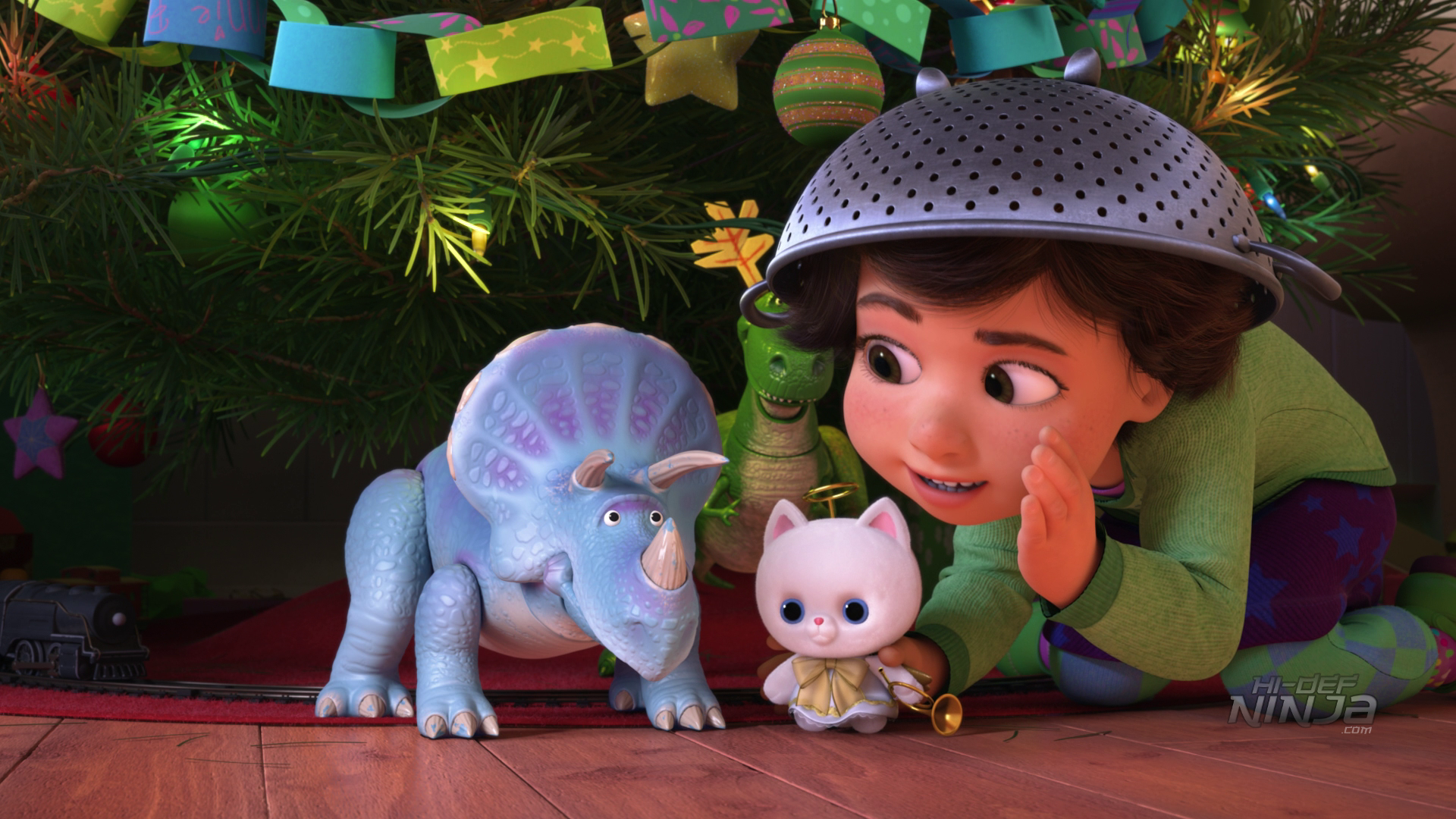 It's the post-Christmas epilogue, and all the gift-giving has been completed. But the youngster Bonnie (voiced by Emily Hahn) is still enjoying her old favorites like Buzz, Woody, Trixie, and Jessie. When she's invited to her friend Mason's house, the toys learn that a new line has invaded his house: the Battlesaurs action figure line and play sets. But Mason couldn't care less, as he sports an awesome new video game system complete with a moving chair and VR goggles. As Bonnie gets in on the action, the toys decide to check out Mason's new acquisitions, when they meet an entire army of Battlesaurs dinosaurs, led by Reptillus Maximus (Kevin McKidd). Instead of battling Woody his friends, Maximus is immediately taken with Trixie, whose experience at being things other than a dinosaur in Bonnie's world makes her the perfect bridge between the two teams. Everything seems to be going well, until Trixie realizes that her friends are being kidnapped by the militant Battlesaurs in preparation for their gladiatorial games. Faced with the prospect of losing her friends, Trixie must convince Maximus of his real origins, while the evil Cleric (Steve Purcell) secretly plots against his finest warrior.
TOY STORY THAT TIME FORGOT is a bit preachy, happy to throw down the customary TS message about the love of toys, rather than just make a great, enjoyable piece of entertainment. There really isn't enough time to develop this world, and it feels like Director Steve Purcell might have had the makings of a TS4 on his hands. The scale of this production seems to back up my claim: the animation is stellar and certainly something that feels more like a Hollywood feature than television special. The world of Battlesaurs is fun and interesting, with Maximus turning in his best cheese for our enjoyment. While not epic in scale, the ending is a beautiful, near-cinematic reminder of why this series is so beloved: the simple connection and enjoyment we get from our toys. Taken in that context, TOY STORY THAT TIME FORGOT satisfies, providing an adventuresome (yet ultimately forgetful) canvas for our characters to play in while perhaps previewing characters for the next TS movie.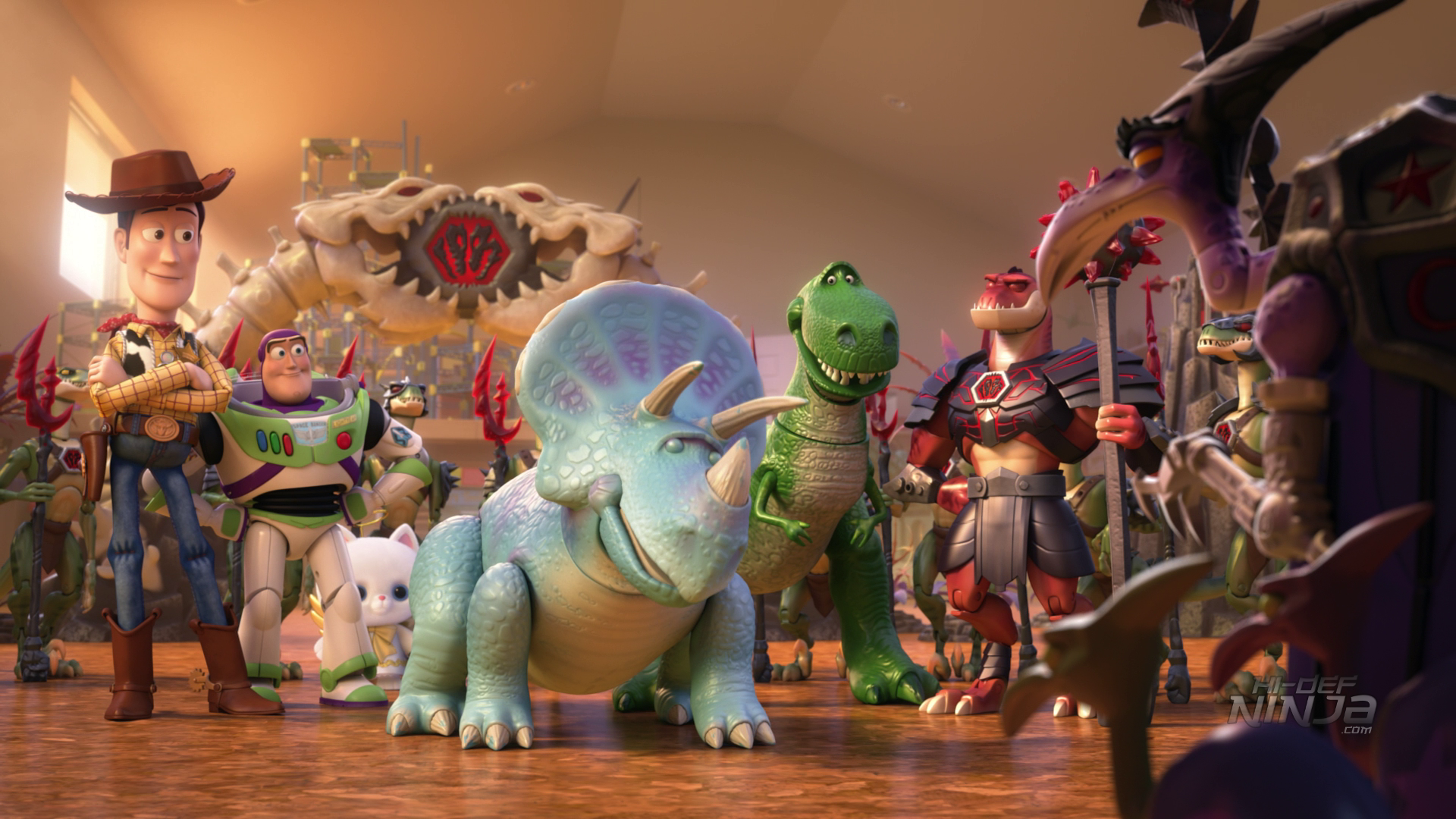 Although it's just a made-for-TV short, it appears that little expense was spared in creating this feature. The MPEG4/AVC transfer is a beautiful thing, yielding depth usually reserved for full-length feature animation. The image is razor sharp and jumps off the screen, sporting bright colors and rich details throughout. One of the things that makes the Toy Story universe look so good is that our characters are rather plastic-ey, which plays perfectly into the short's transfer. The green of Rex's hide, Trixie's baby blue (and peeling) paint, and Woody's rich red western costume might look very realistic on some hi-def platforms.  In fact, every character sports incredible amounts of detail. The older figures (with their paint chips and scratches) come off better than Rex's clan, although their new-leathery skin and weapons look like my collection of Marvel Legends figures. TS has never handled the outside world with a lot of care, and here the exterior designs of the houses look good but not realistic, which is ok because their depth is still defined. At Battleopolis, we get fading details, shadows, and inky blacks as Trixie dons a great suit of armor to save her friends. I only witnessed minor banding around the 'sun' of Battlesaurs, but everything else looks nearly perfect.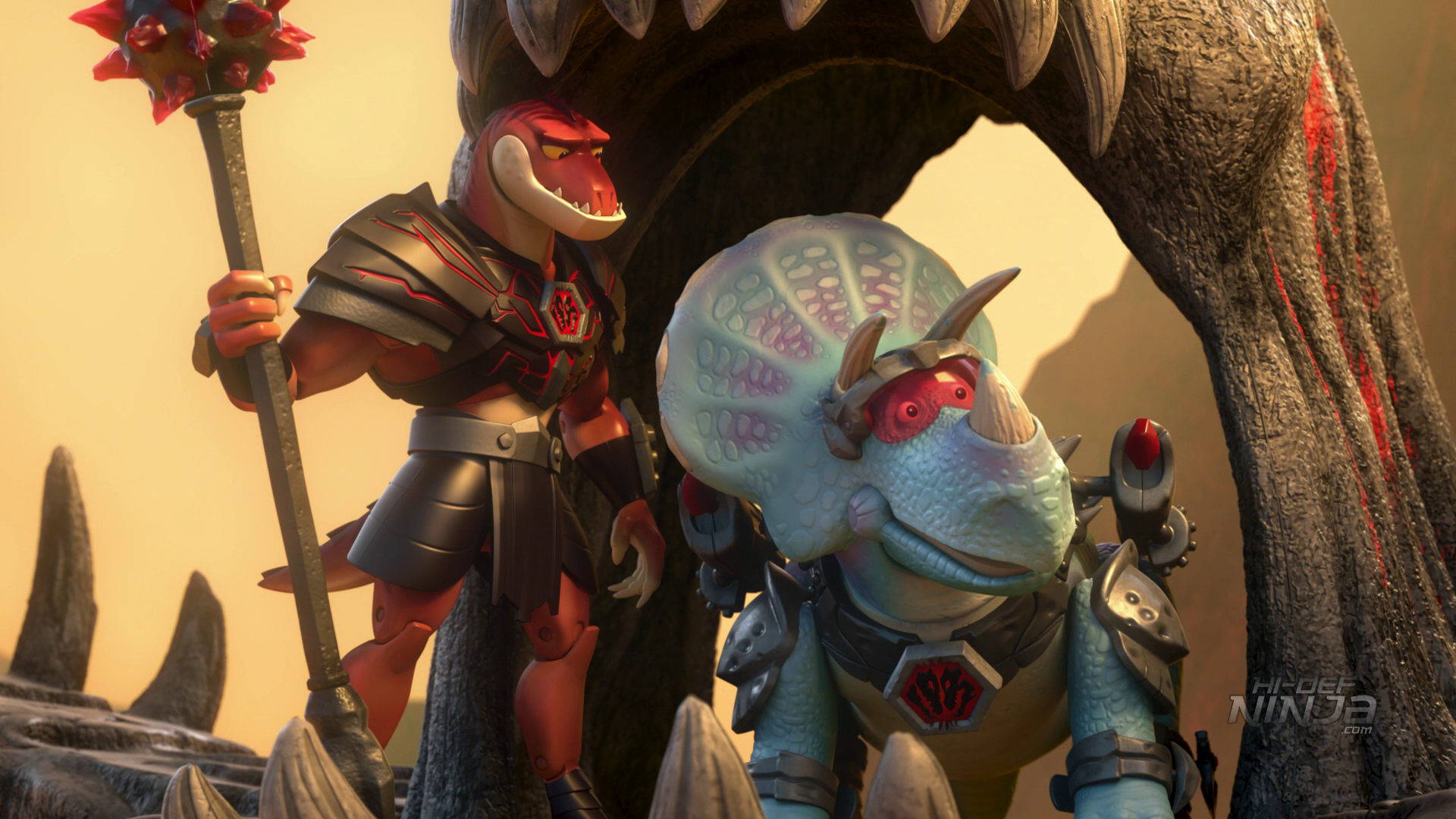 TOY STORY THAT TIME FORGOT arrives with an over-muscled DTS-HD Master Audio 7.1 track, which might be lost on many a child with some adults wondering why it got the star treatment. In my down-mixed 5.1 environment, the lossless track is even louder, as is the case with every Disney/Marvel movie with the same feature. But it's still an experience that I think would work just fine without cranking up the home theater. On that platform, the center channel delivers quality, dedicated dialogue and definitely keeps up with the nearly overwhelming presence of her boisterous four brothers. Left and right speakers show off good phasing in the action sequences, as action moves from left to right with seamless results. The surrounds don't get a ton of workout, but one can hear crowd noise during the Battleopolis Thunderdome-ish sequences, which was a nice touch. The LFE also packs a wallop, delivering every thud and rumble when directed to do so. This track is best when our heroes are being pursued, but it works well enough in smaller environments (including my soundbar which I also tested) to give it high marks.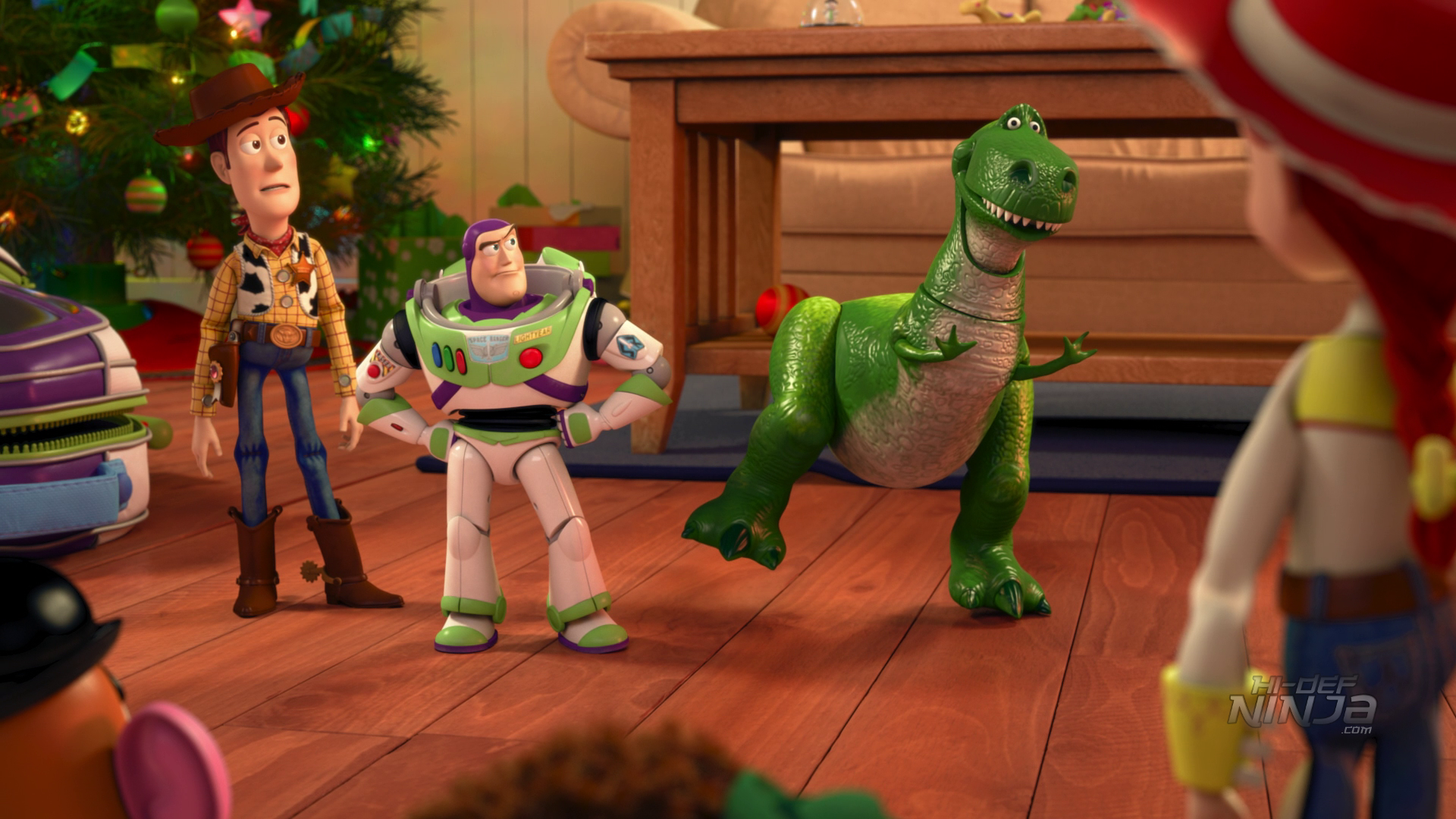 Although we're only talking about a 22 minute short, TOY STORY THAT TIME FORGOT contains several appealing special features.  All of these are presented in HD:
Reptillus! (10:51): A detailed look at the characters behind the world of Battlesaurs.  From this, we learn how important a character's backstory is to telling an effective tale.  We're granted with insights into character design, how digital animation brought them to life, and how voice acting helps to tie it all together.
Toy Story Goes to Comic-Con (3:39): This featurette focuses on the cast's past and current experiences at Comic-Con, as they previewed elements of the short for the first time.
Karaoke: My Unexpected Friend (3:59): This section is really more for young children, as you can either sing with the character or by yourself.  It's completely cheesy but a good time nevertheless.
Battlesaurs — Animated Opening (0:50): One of my favorite parts of the supplements, a fully realized opening for the Battlesaurs TV program.  It's an instant classic.
Deleted Scenes: Scenes include Battlesaurs Christmas (3:06), Prisoners of Bone (1:22), SOS (1:07), Trixie's Proposal (1:55), and Light of Play (1:51).  Director Steve Purcell introduces each scene.
Audio Commentary: Director Purcell and Head of Story Derek Thompson offer a very informative breakdown including defining the Battlesaurs clan,  constructing the story's many themes, designing the animated world, etc.  It's fully satisfying.
Sneak Peeks: We get previews for THE GOOD DINOSAUR and INSIDE OUT.
Our evaluation copy arrived as a Blu-ray with a Disney Digital Copy code.  As of this posting, we were not aware of any special editions.  The slipcase is attractive, with the title and characters embossed on the cover.  TOY STORY THAT TIME FORGOT's fit and finish are excellent.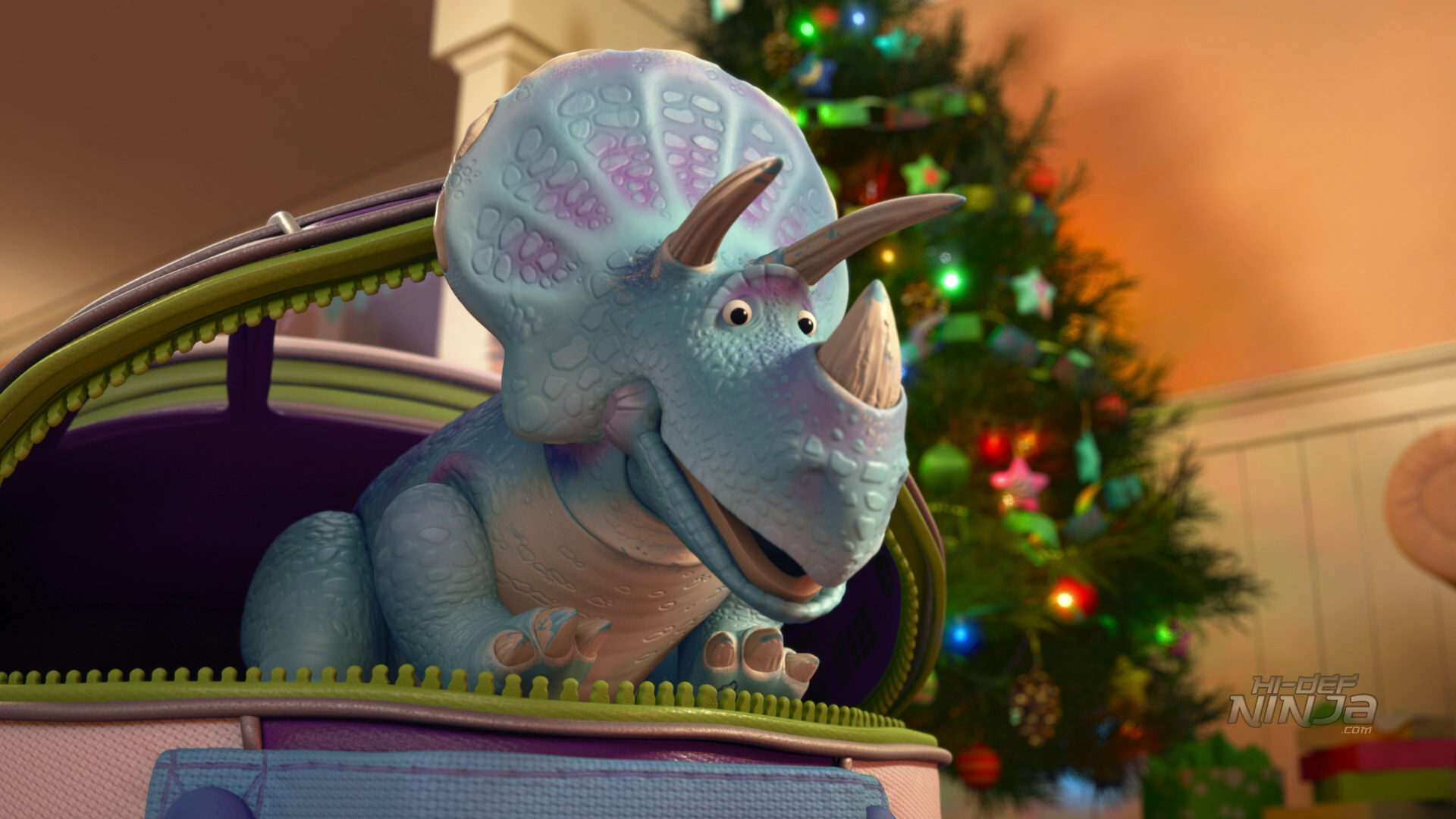 TOY STORY THAT TIME FORGOT is fun adventure that's really more for hardcore fans.  The audio and video are top notch, even for a disposable holiday short like this.  At its current price, I would wait for the $10 price point, unless the thrill of owning the slipcase is enough of a motivation.  There's just not enough story to recommend it, although the supplements more than triple the actual runtime of the movie.
Discuss this review with fellow HDN fans on Facebook. On Twitter, follow us at @HidefNinja, and follow author Matt Cummings at @mfc90125.