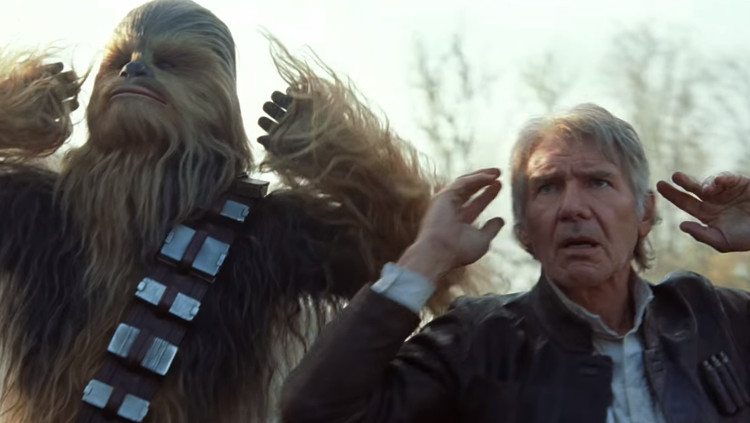 UPDATE – Monday, December 21; 12pm:
Yesterday's box office estimates were short-handed as STAR WARS: EPISODE VII – THE FORCE AWAKENS has officially made $528-million globally, dethroning short-lived champion JURASSIC WORLD as biggest global opening in history.
UPDATE – Sunday, December 20; 8am:
The verdict is in! STAR WARS: EPISODE VII – THE FORCE AWAKENS has earned the highest opening in domestic history with $238-million (ignoring inflation, of course)! That bests this past summer's JURASSIC WORLD's opening by nearly $20-million (JURASSIC WORLD opened to $208.8-million).
Globally, THE FORCE AWAKENED brought in an additional $279-million for a total of $517-million for its opening weekend. That gives it a second place Global Best Opening as JURASSIC WORLD brought in $524.9-million globally this summer. Still, for a December release, this total is absolutely mind-boggling!
PREVIOUS STORY:
STAR WARS: EPISODE VII – THE FORCE AWAKENS has arrived and with it comes the destruction of past box office records. The most insane one of them all, though, is the fact that as of this morning, the film has ranked in $120.5-million domestically. That means that in one day — Friday's box office includes the Thursday evening previews ($57-million was made Thursday alone) — THE FORCE AWAKENS has made over $120-million and passed the previous opening day record of $91-million set by HARRY POTTER AND THE DEATHLY HALLOWS PT. 2 back in 2011.
Along with the opening day record, THE FORCE AWAKENS has also become the biggest December opening of all-time, passing previous holder THE HOBBIT: AN UNEXPECTED JOURNEY's $84.6-million (and that tally was for the entire weekend).
Disney is currently forecasting a $220-million opening weekend for the Lucasfilm giant, so it's looking like THE FORCE AWAKENS is guaranteed to win the record for Biggest Opening Weekend of all-time, breaking the record of $208.8-million set by JURASSIC WORLD back in June (we'll update this article after the weekend numbers come in).
I must admit… I was skeptical. I knew THE FORCE AWAKENS would be huge, but this is just nuts! I had reasons for my skepticism, though. December openings have never been nearly as massive as summer openings (the current biggest film of all-time, AVATAR, opened in a December to only $77-million domestically) and the last time STAR WARS hit theaters, it left a bad taste in everyone's mouths (oh, that good ol' prequel trilogy). Safe to say, I've definitely been eating my words over the last 24 hours. Hell, it was only 12-years ago when SPIDER-MAN made $114-million for its opening weekend, leaving everyone in shock and awe. Now here we are in 2015 and THE FORCE AWAKENS makes $6-million more in just one day. Wow.
STAR WARS: EPISODE VII – THE FORCE AWAKENS is directed by J.J. Abrams and stars Mark Hamill, Harrison Ford, Carrie Fisher, Peter Mayhew, Anthony Daniels, Kenny Baker, John Boyega, Daisy Ridley, Adam Driver, Oscar Isaac, Andy Serkis, Domhnall Gleeson, Lupita Nyong'o, Gwendoline Christie, and Max von Sydow. It's now playing everywhere worldwide except in Greece and India where it opens on December 24th, and China where it opens January 9th, 2016.
Check out Michael Madison's spoiler-free review here to see what a life-long STAR WARS fan thought of the newest episode.