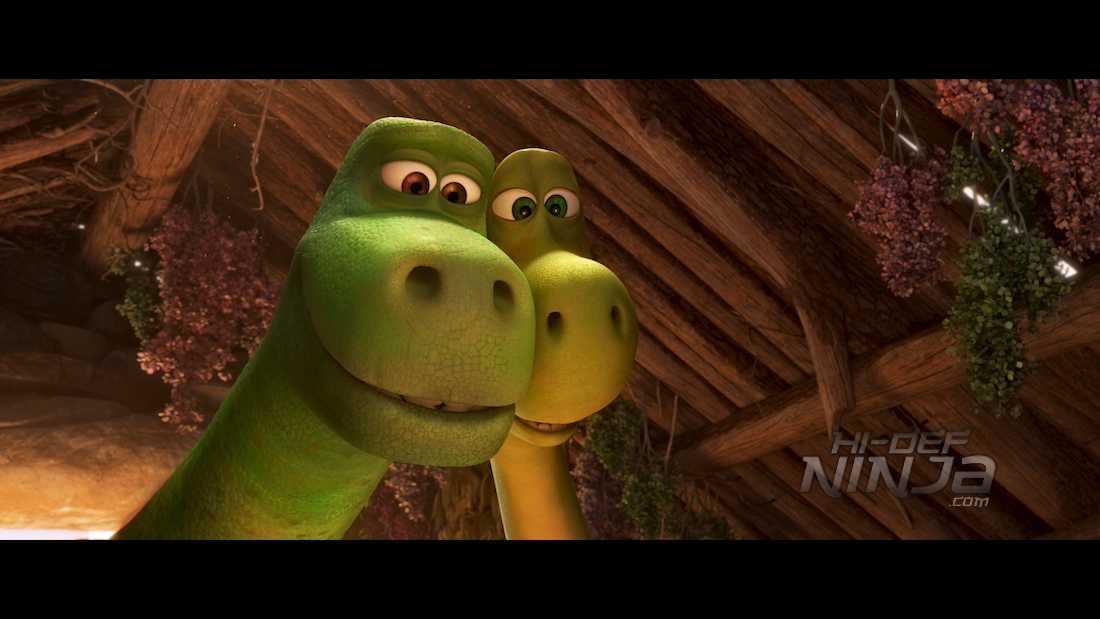 What if the dinosaurs didn't become extinct due to an asteroid and they begin to thrive past being animals?
An Apatosaurus family, Henry and Ida, have been working on their farm and they have been waiting for their little ones to hatch. The day has finally come and there is one large egg and two smaller eggs. Buck and Libby come out of the smaller two and the proud, new parents are expecting a massive baby from the large egg but…out comes little Arlo. Timid and unsure, he is scared of the world outside of his egg. As he has been getting older, Arlo has been terrified of everything from the little bugs to the chickens on the farm. Henry wants his son to face his fears and be a stronger part of the family. When they find that something has been stealing food for the silo on the farm, Henry puts Arlo in charge of catching and killing the thief. When he finally catches something, he finds that its a little human but he's a feisty one for sure.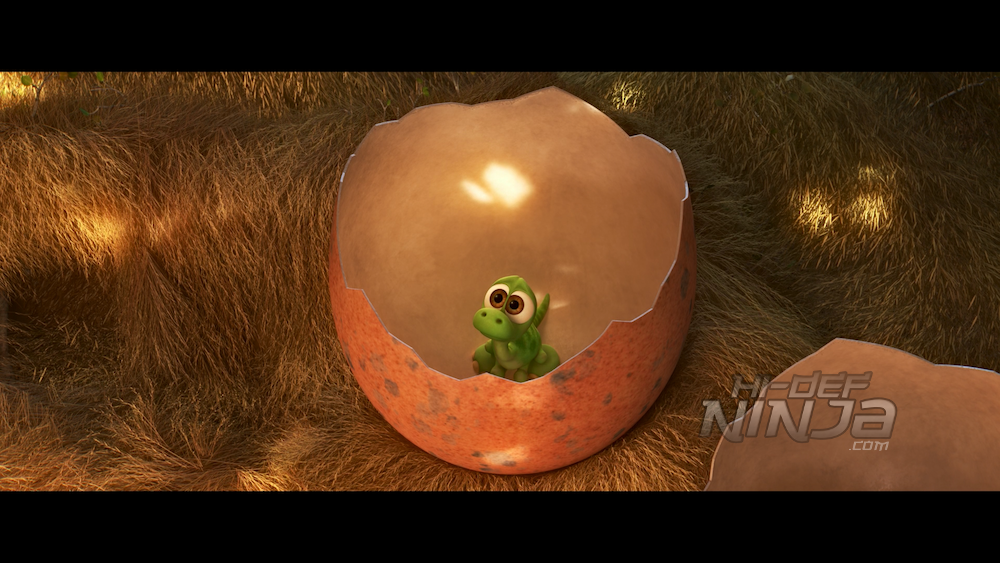 THE GOOD DINOSAUR is a Disney/Pixar film and it's directed by Peter Sohn. This is Sohn's first feature-length film and I would definitely call it a success but it had a long time in production limbo. The idea for what was originally called "Pixar's new dinosaur film" was conceived back in 2009 and 6 years later it was released. The story was tweaked, the people involved changed and the release date kept getting pushed further back. When Sohn became the leader of the project, he made the story more like a western. The whole team even spent time on a real working farm, rode horses, and drove cattle for inspiration. That's why the Apatosaurus family are farmers, the T-rex family herd prehistoric cattle, and even the pterodactyl's are like outlaws.
The movie itself is enjoyable and there are some moments that pay homage to some classics like THE LION KING and FINDING NEMO. Raymond Ochoa is perfect as Arlo. He has a lot of range in his voice work to be the timid dino. Jack Bright as Spot also does well with his voice work but his character is more dependent on the animators to convey his emotions. I will say that the choices for actors were cast well across the board. I especially enjoyed Sam Elliott as Butch because he is in westerns.
Cast
-Raymond Ochoa as Arlo
-Jack Bright as Spot
-Sam Elliott as Butch
-Anna Paquin as Ramsey
-A.J. Buckley as Nash
-Jeffrey Wright as Poppa Henry
-Frances McDormand as Momma Ida
-Marcus Scribner as Buck
-Maleah Padilla as Libby
-Steve Zahn as Thunderclap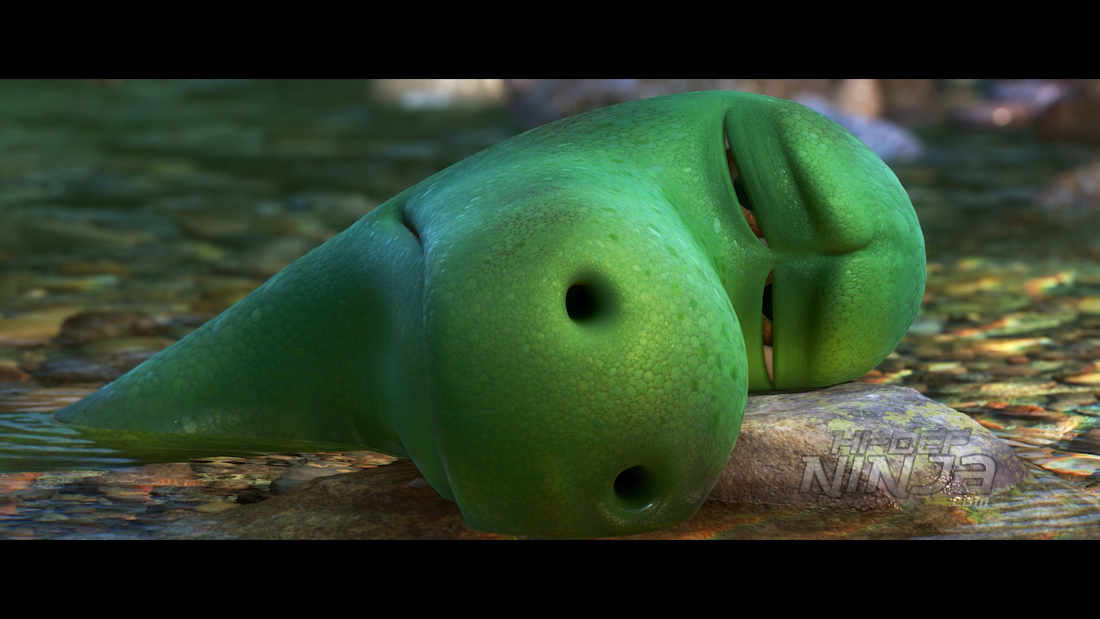 The video is a 1080p AVC transfer.
The video on this release is gorgeous. You can easily see all of the details and intricacies in every single shot. Some are, of course, subtle and those are the most appreciated. The way that animation has evolved in the last several years is amazing. For example, the skin textures resemble elephant skin with stress lines in the right places. When the rain is on the characters, you don't get that artificial "oh that's CGI" light go off in your brain and that can take away from the viewing experience. The color palette is brilliant from the beautiful skies down to the lush green in Arlo's skin-tone. This is a top-notch transfer and a win for Disney/Pixar.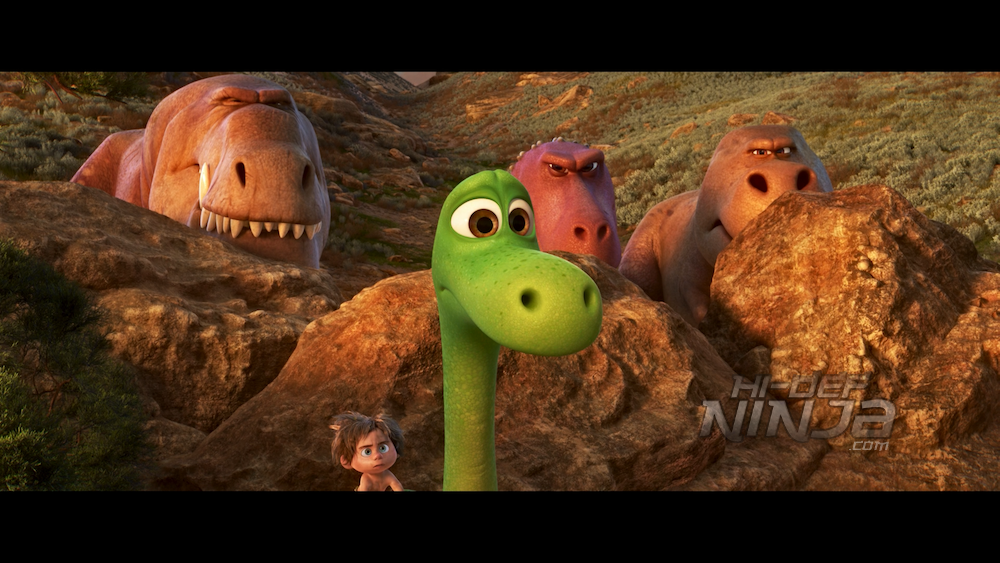 The main audio track is an English DTS-HD Master Audio 7.1 mix.
The 7.1 mix that Disney included with this release is excellent. It is immersive in a way that you look for on Blu-ray and experience the movie the way it is meant to be experienced. The sound moves around in every direction and it feels completely natural. The effects and voices are reproduced well and one doesn't overpower another. The highs are crisp & clear and the LFEs are deep. Like most Blu-ray owners, I'm all for using every channel and Disney has continued to listen.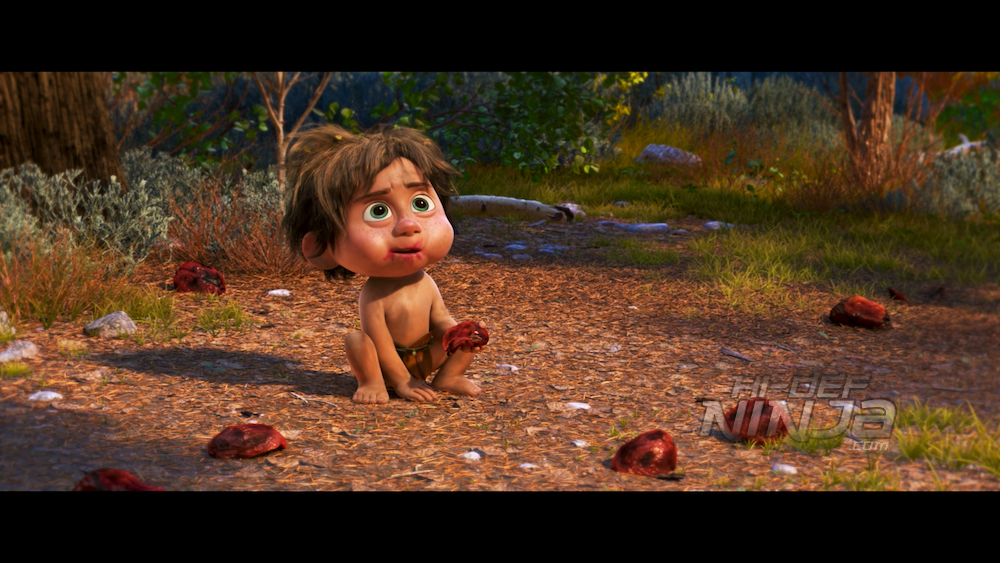 -Sanjay's Super Team Animated Short: This is based on the beliefs of Sanjay Bakshi the visual effects person on the crew. The story touches on religion and superheroes. Like most Disney/Pixar shorts, I highly enjoyed it.
-True Lies about Dinosaurs: This featurette went through the levities that the creators used to bring this world to life.
-Recylcosaurus: The team at Pixar had a contest to build dinosaurs out of stuff on their "free" table. The free table js made up of things that the employees at Pixar feel they may not want anymore but they're too nice to just throw out.
-The Filmmakers' Journey: This featurette speaks with the filmmakers and how they were a fresh team on the film.
-Every Part of The Dinosaur: This clip explains how creative the filmmakers had to be to bring these characters to life. The hardest part for an animator is to have absolutely no reference material to copy.
-Following The T-rex trail: This featurette takes the entire team on the trails in Oregon. It gives some insight into how the film's story was adjusted.
-Deleted Scenes
The Attack
Building the Silo
Waiting for Poppa
-Audio Commentary with Director Peter Sohn, Story Supervisor Kelsey Mann, Animation Supervisor Mike Venturini, Director of Photography & Lighting Sharon Calahan, and Supervising Technical Director Sanjay Bakshi
-Dino Bites: Just some of the characters having a lot of fun.
-Trailers: These trailers are presented in HD and are from various regions in the world.
Moment: North American Trailer 2
Courage: Russian Trailer
Different: German Trailer2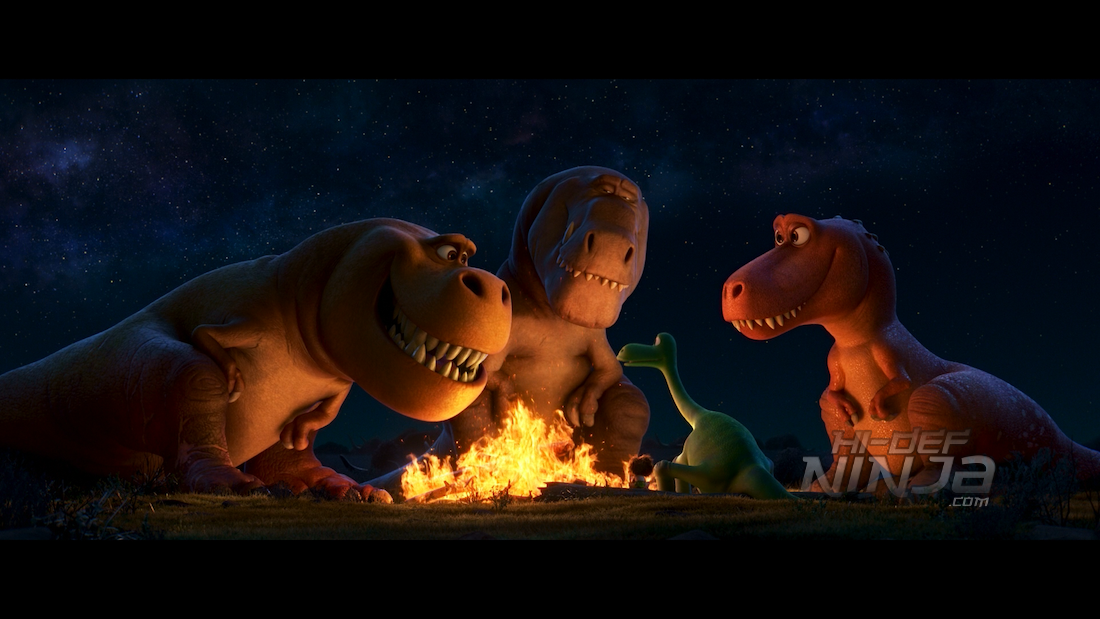 Disc Details
2-disc set w/1 Blu-ray and 1 DVD
Disney Anywhere Digital Copy
Running Time
94 mins
Edition Ratings
Rated PG
Region Coding
Region Free
Video Resolution
1080p AVC MPEG-4
Aspect ratio: 2.39:1
Audio Mixes
English DTS-HD Master Audio 7.1
English DTS-HD HR 5.1
French Dolby Digital 5.1
Spanish Dolby Digital 5.1
Subtitles
English
English SDH
French
Spanish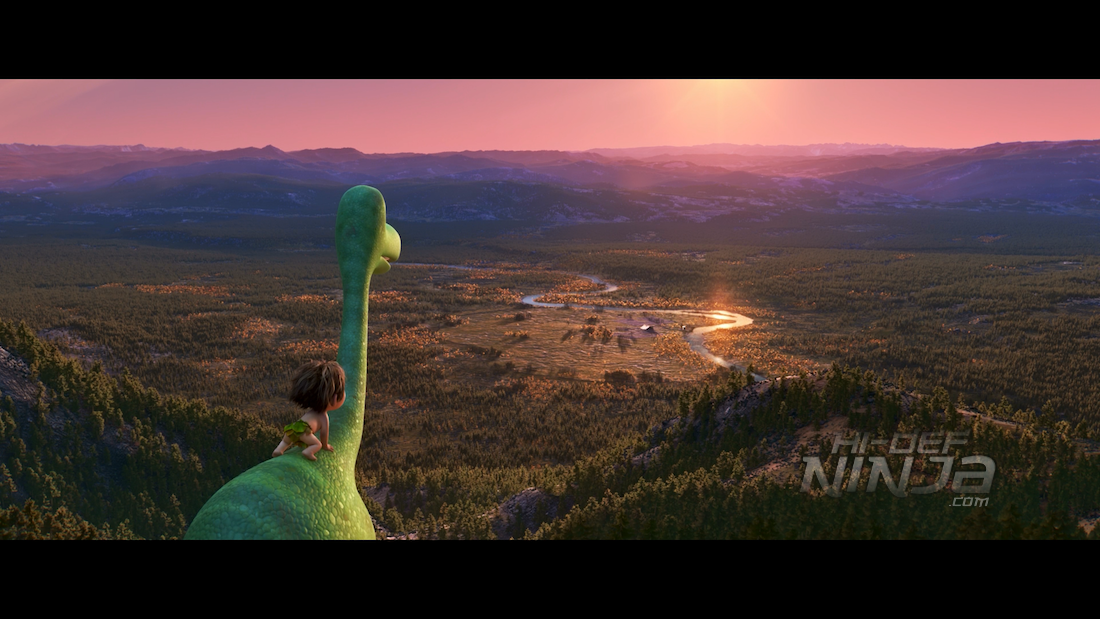 Overall, Disney has released a superb product with this film. The audio and video are excellent as well as having a strong set of bonus features. On top of that, it is a solid film and really fun. Of course, there are a few moments that tug at the heartstrings but it wouldn't be a Disney film without that. I would highly recommend this to a fan of animation, Disney, Pixar, and families.
Order your 3D copy from Amazon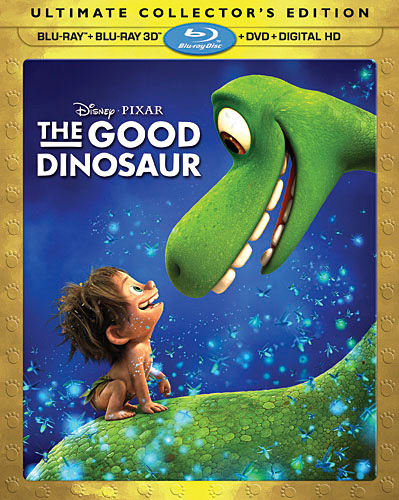 Order your 2D copy from Amazon