It's been a very, very long wait, but THE IRON GIANT will finally be landing on to Blu-ray this September! Directed by Brad Bird (THE INCREDIBLES, TOMORROWLAND) and featuring a breakout performance by Vin Diesel as the Iron Giant, the film has become a cult-favorite ever since its original theatrical release back in 1999.
To celebrate its Blu-ray release, Warner Bros. has taken the upcoming Signature Edition disc and combined it with all kinds of goodies to give the film's loyal fans a very special Ultimate Collector's Edition to call their own.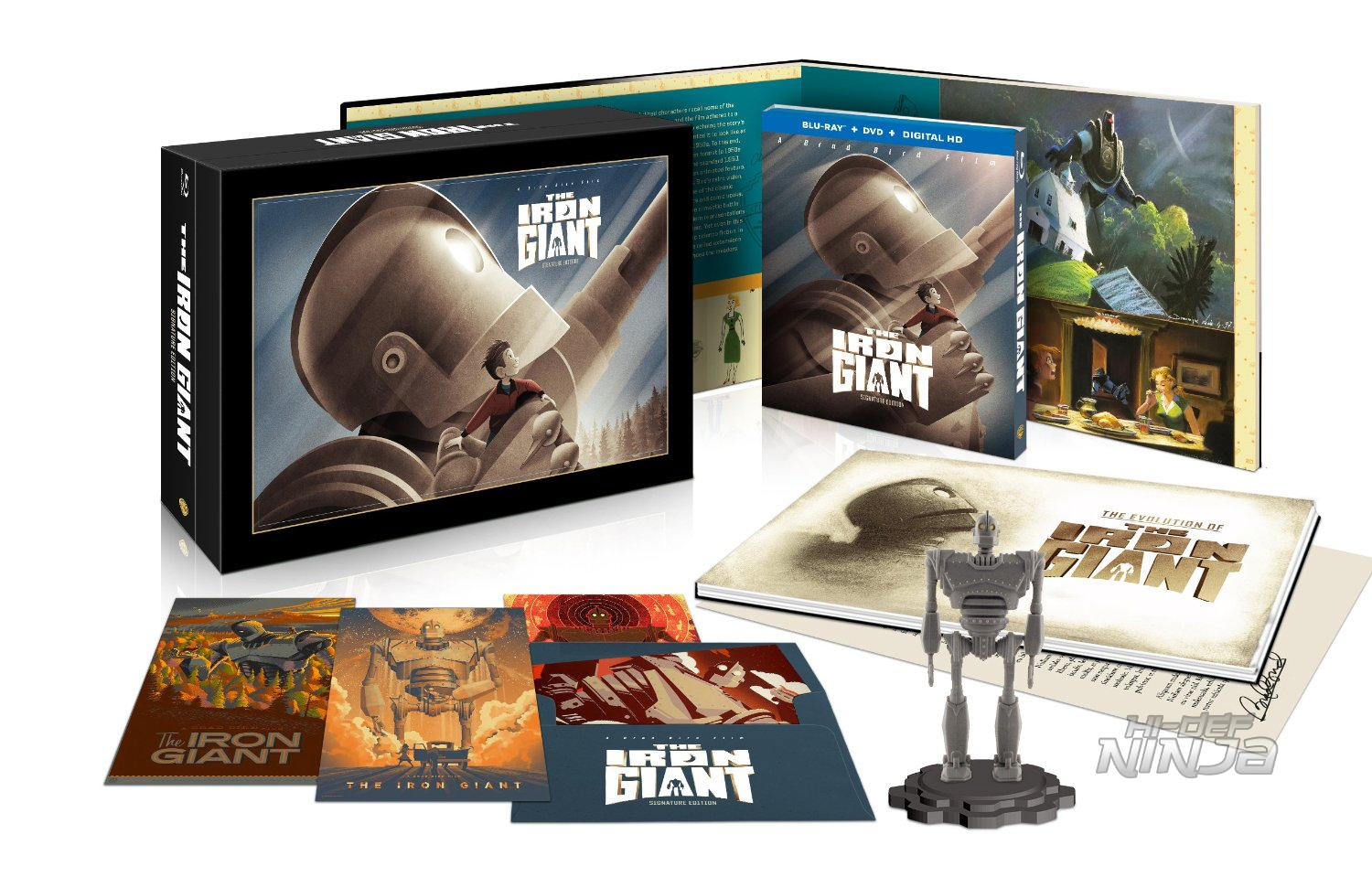 Included within the snazzy-looking box set is the Blu-ray/DVD/Digital HD combo pack, a letter from Brad Bird to the fans, five art cards designed by Mondo, a 32-page book, and a collectible figurine of the Iron Giant himself. The brand-new disc will feature the film as a remastered, enhanced Director's Cut that includes two all-new scenes. The Special Features are as follows:
– The Giant's Dream: An all new documentary about the dramatic story behind the making one of the world's greatest animated films, THE IRON GIANT.
– Includes both version of the film: THE IRON GIANT: Signature Edition (2015)
THE IRON GIANT: Original Theatrical Edition (1999)
– Feature-Length Commentaries by Director Brad Bird, Head of Animation Tony Fucile, Story
Department Head Jeff Lynch and Giant Animation Supervisor Steven Markowski
– The Making of THE IRON GIANT – Hosted by Vin Diesel and featuring interviews with the cast and crew
– Deleted Scenes, Original Opening Sequences and Featurettes that give you an inside look into the score, character design, storyboards and animation
– Motion Gallery, New Signature Edition Trailer, and more!
To order the Signature Ultimate Collector's Edition of THE IRON GIANT, head to Amazon here! In the meantime, while you're waiting for your pre-order to arrive, head to the HDN forum and share your thoughts on this amazing release!