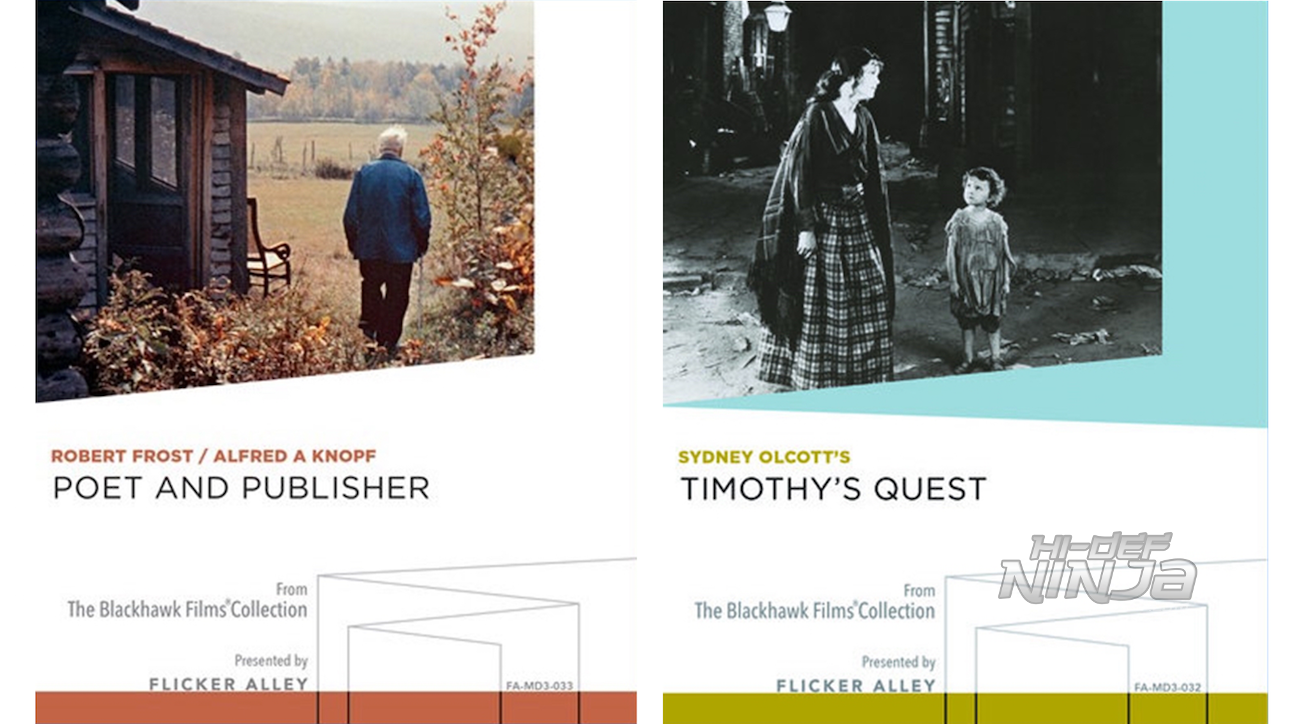 Flicker Alley is releasing some new movies on Blu-ray as a part of their Movies On Demand (MOD) program. The MOD program is where the company is taking previously out-of-print films and creating professionally made discs, specifically for the customers.
Order POET AND PUBLISHER from Flicker Alley
POET AND PUBLISHER
ROBERT FROST
This lovely color film was shot over the course of a year, mostly in the region of Robert Frost's solitary mountain cabin in Vermont. Probably the most celebrated American poet of the 20th century, Frost in his mid-80s is seen in three seasons walking the landscape while he is heard reading from about 25 of his poems, inspired by what is shown. He reads all or part of "October," "The Sound of Trees," "Unharvested," "Birches," "The Road Not Taken," "Gathering Leaves," "Flower-Gathering," "Good-Bye and Keep Cold," "The Onset," "Two Tramps in Mud Time," "Mending Wall" and "The Pasture," among others. In one sequence Mr. Frost is seen in a college seminar answering questions from students. The nature photography of New England is outstanding, as is the quality of this print, mastered in high definition from the original negative.
A PUBLISHER IS KNOWN BY THE COMPANY HE KEEPS
"We published them because we liked them. They spoke to us."

Alfred A. Knopf and his wife Blanche founded the publishing house bearing his name in 1915. He claimed that he never published an unworthy book, and the Knopf catalog includes 17 winners of the Nobel Prize for Literature and 47 Pulitzer Prize winners. Knopf (1892-1984) maintained a close personal friendship with many of his authors, and in 1926 he bought a Bell & Howell 16mm camera and began to film them. These home movies form the heart of A Publisher is Known by the Company He Keeps, along with scenes of Knopf in 1960 at his home in Purchase, New York. With a warm and personal narration spoken by Mr. Knopf, we see footage and hear his comments about Knopf authors including Thomas Mann, Willa Cather, H. L. Mencken, Max Beerbohm, Sigrid Undset, Walter de la Mare, Rebecca West, Kahlil Gibraan, Eleanor Wylie, Emma Goldman and other literary notables of Knopf's generation.
This edition is digitally mastered from the original negative.
______________________________________________________________________________________________
TIMOTHY'S QUEST
Order TIMOTHY'S QUEST from Flicker Alley
TIMOTHY'S QUEST (1922) is a rare, cinematic gem based on a novel by Kate Douglas Wiggin ("Rebecca of Sunnybrook Farm"), who was then known as "America's best loved author of stories about children."* The only production of the Dirigo Film Company, established in order to make films in the state of Maine adapted from works by Maine authors, Wiggin loaned her own home as one of the principal filming locations. Director Sidney Olcott – a true pioneer who was General Manager of Biograph and directed one of the earliest American feature films, From the Manger to the Cross (1912) – makes generous use of beautiful, local landscapes that look lovely and timeless in this tinted print.

The story centers around two orphans from the slums, Timothy (Joseph Depew) and "Lady Gay" (Baby Helen Rowland), who decide to strike out for the country rather than be sent to an asylum. They end up at White Farms, home of the bitter, old Miss Avilda Cummins (Marie Day). She takes a harsh attitude toward the children but agrees to house them for the night, warning her housekeeper, Samantha Ann Ripley (Margaret Seddon), that the kids are to be kicked out the next day. Eventually, though, the old spinster softens and, influenced in part by the tragic memories of her own 'wayward' sister, adopts and provides a home for both Lady Gay and Timothy.

In a touching and coincidental act of 'stranger-than-fiction' kindness, Olcott (who went on to direct many important productions starring the likes of Mary Pickford, Rudolph Valentino, George Arliss, Richard Barthelmess and Marion Davies) actually adopted and raised the handsome, young Joseph Depew, whose parents were killed in a boarding house fire when he was about 7-years-old. Depew, in turn, grew up to direct episodes of the long-running television series The Beverly Hillbillies, while Olcott opted to retire rather than adapt to talkies.