Another day, another review. This time, thanks go to the lovely people at LOOTCRATE who have hooked Hi-Def Ninja up with a 3-month subscription of the original LOOTCRATE.
Each month, LOOTCRATE curates a box of nerdy goodness for their subscribers with unique items and featuring a monthly unique theme. For April, the theme is fantasy and it features products from HARRY POTTER, LABYRINTH, VIKINGS, UNCHARTED 4, and more. Being a fantasy geek, this crate was right up my alley, so I've been looking forward to reviewing all that's in the box.
So without further ado, what's in the box?!
A nifty little poster from the Uncharted franchise.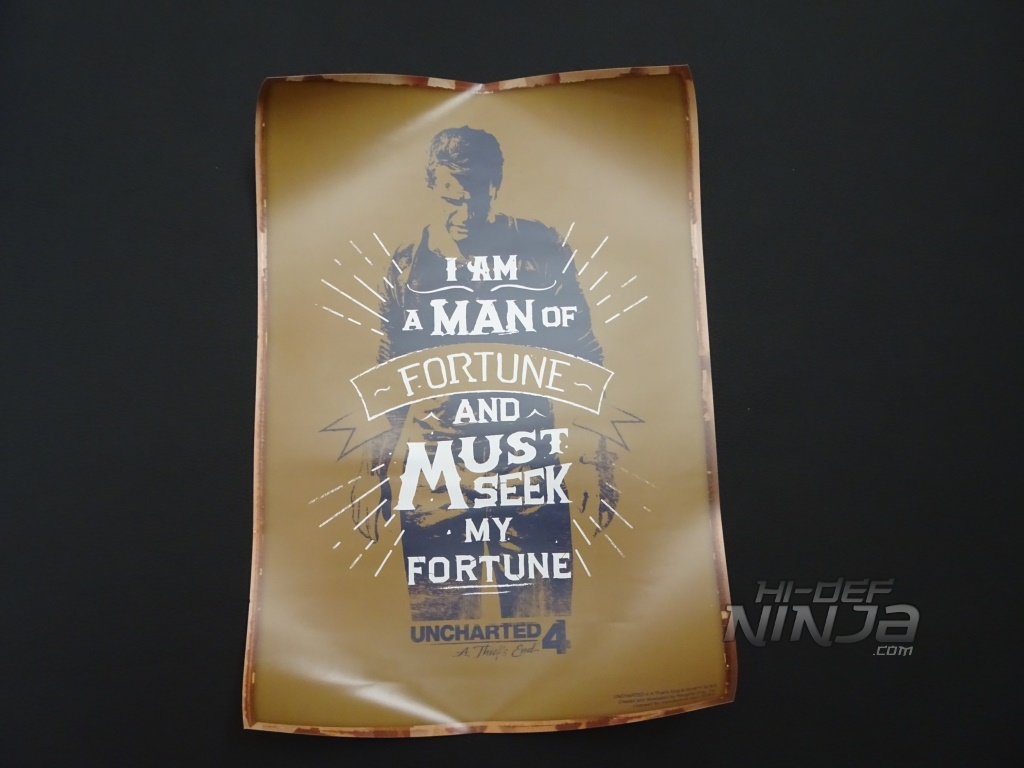 HARRY POTTER Socks
If you are a Potterhead, you'll find these swanky socks (featuring the seven horcruxes created by He-Who-Must-Not-Be-Named in his attempt to become immortal) right up your alley. I know plenty of people who will enjoy adding these to their regular rotation.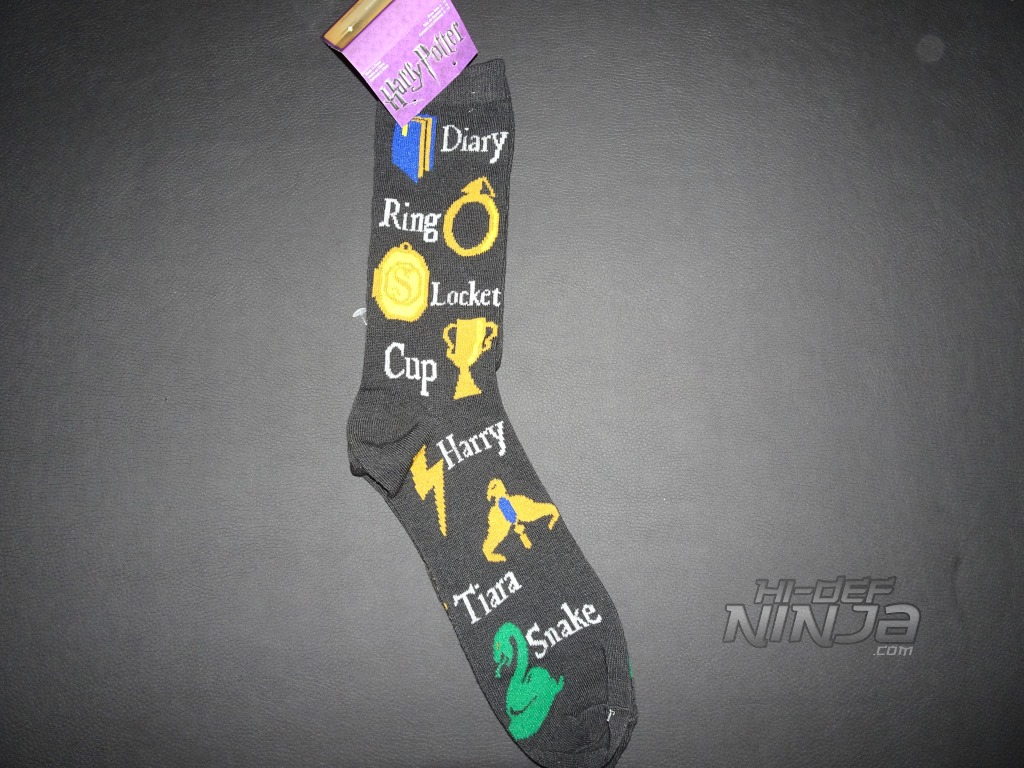 20-Sided Die Ice Mold
For you D&D players, nothing is better than vanquishing your enemies while enjoying a nice cooled beverage with an ice cube shaped as a 20-sided die. Stay thirsty, my friends, and may all your rolls be 20s.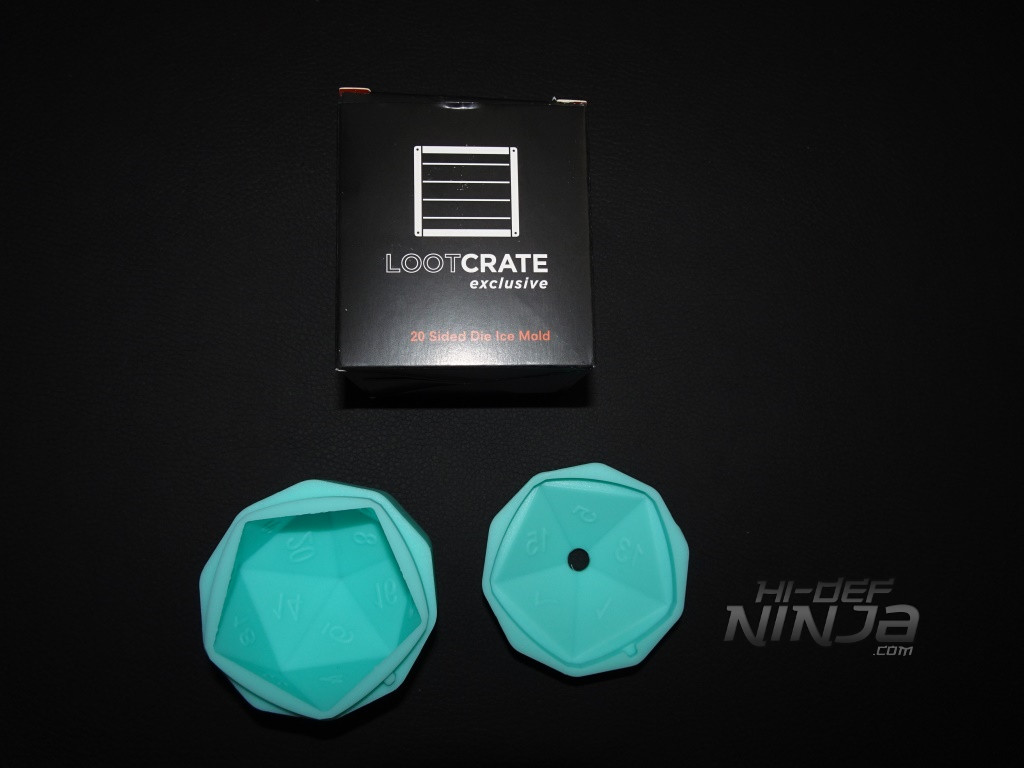 VIKINGS Drinking Horn
If you are a fan of the History Channel's VIKINGS show, you'll want to express your mirth while watching the show with your favorite brew — and now you can with a drinking horn that also includes a strap so you can hang it around your neck without any spillage.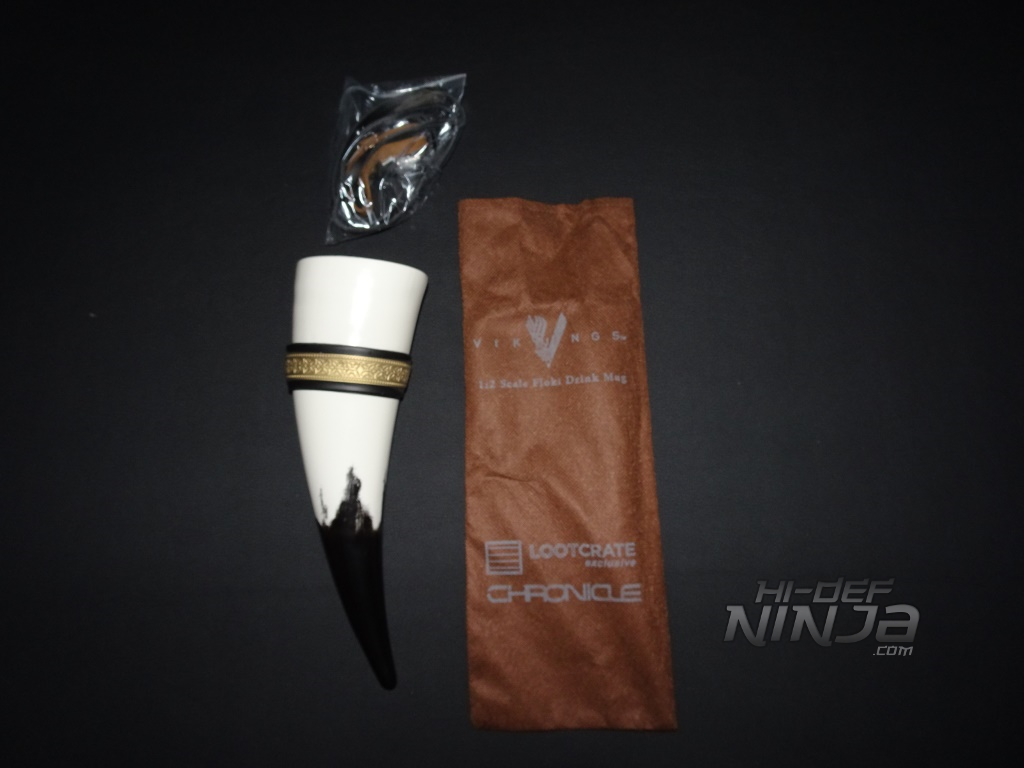 A side note: this is very similar to the VIKINGS horns that were handed out at San Diego Comic Con, however, almost half the size. Each has their advantages. The Loot horn is colored more accurately while the SDCC one has a nicer feel.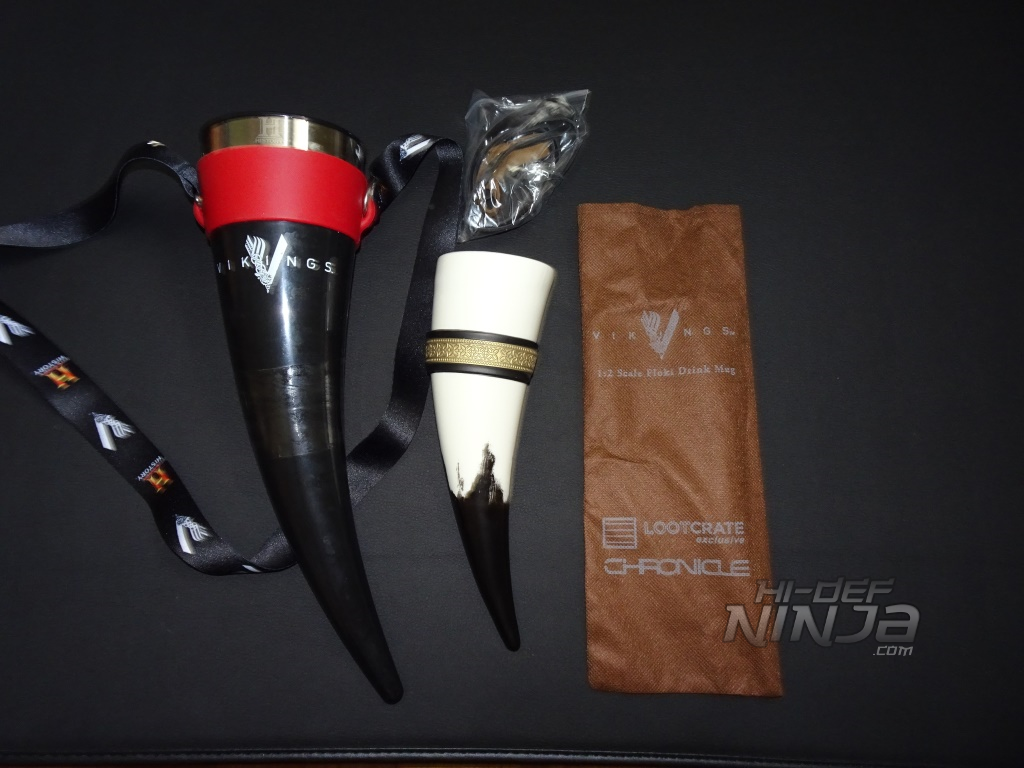 LABYRINTH Shirt
For the April shirt, you'll get a really nice tee based on the movie LABYRINTH that uses the design of the movie poster featuring Jareth, Sarah, Hoggle, Ludo, and more.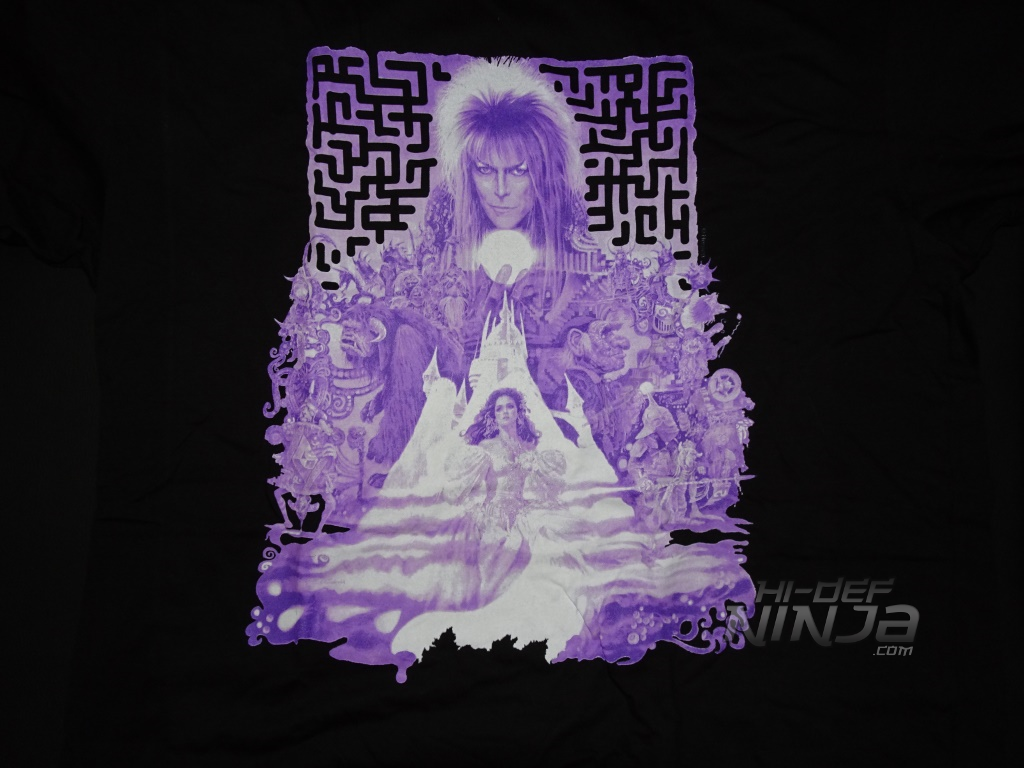 Loot Quest April Pin
Each month's box includes a pin related to the theme of the month. Continuing in the theme of the month, you get a 20-sided die pin to add to your collection.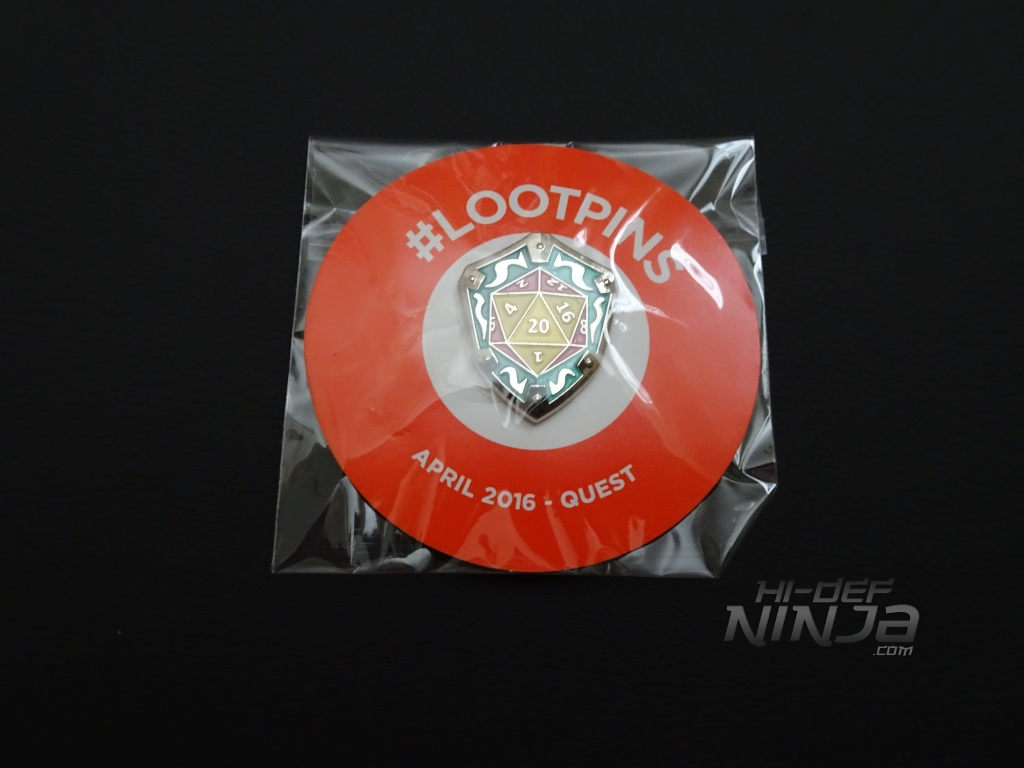 Final thoughts on the April Loot:
Overall, this month's loot was a bit of a mishmash in the fantasy genre. LABYRINTH fans are not always going to match up with D&D fans. That said, you certainly get more than you pay for in the box. The 20-sided die mold alone is worth the box let alone everything else.
Mike's favorite item:
20-sided die ice mold because I really enjoy having a nice beverage as I defeat my enemies. Defeating enemies is hard work and nothing defeats hard work like a nice cool beverage.
Finally, if you like what you see and want to start getting your own loot including LOOTPETS, LOOTANIME, LOOTGAMING, LOOTCRATE, or LOOTCRATE DX (as well as upgrades from accessories to socks and wearables), head over to the LOOTCRATE site and sign up. You can sign up for as long or as short as you like — and be sure to look out for Limited Edition Crates.