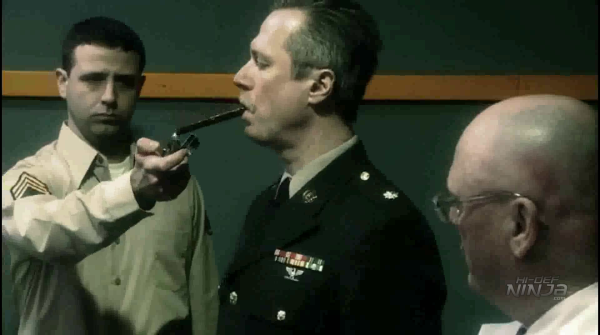 In a secret military base, a group of scientists are working on a new biological weapon. A mildew that can attack enemy food stockpiles and any other type of vegetation. However after a mistake with the mildew, a VIP becomes infected and it starts to spread throughout the base. Now the remaining scientists and soldiers must find a way to stop the mutation and stay alive.
Watching this movie immediately throws you back to the good old days of VHS, when small studios were throwing out cheap action movies by the bucketload. It's obvious from the outset that the budget for this movie wasn't huge, but you can tell that the passion from the film makers has made sure that they have used every cent of that budget to make their vision come to life. Majority of the (extreme) gore is done via practical effects, and it's something that is sadly lacking in the bigger budget movies of today. People melt into the ground, heads explode and brains bleed out onto the wall.
Necrostorm have been going for some years now and you pretty much know what you're going to get when you watch one of their movies. That is to say you should expect tons of gore, some bad acting and a mediocre script. But if that sounds like a bad thing, then it really isn't supposed to. Necrostorm know their audience and know how to deliver the goods. This is the sort of movie that would perfectly accompany a few friends, beer and a pizza.
I've always said that films are made to entertain, and if they do that then they've done their job. 'The Mildew From Planet Xonader' does just that. It entertains. Sure it's not going to win awards for its acting, but the cast deliver their roles with the right amount of passion and the gore is crazy, that you can't help but like it anyway.
It's worth mentioning that this movie is very gory…and I mean VERY. If you're familiar with Necrostorm's other movies (Adam Chaplin, Hotel Inferno and Taeter City) then you pretty much know what you're getting. However if you are the squeamish type then this movie definitely isn't for you.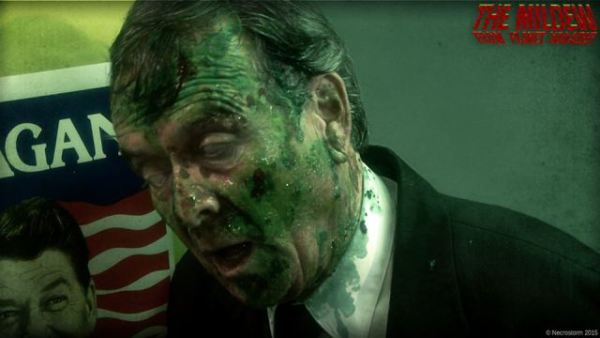 The Mildew From Planet Xonader is presented in a 16:9 aspect ratio. The film has a green hue which I'm pretty sure is on purpose. It doesn't look too bad for a low budget movie.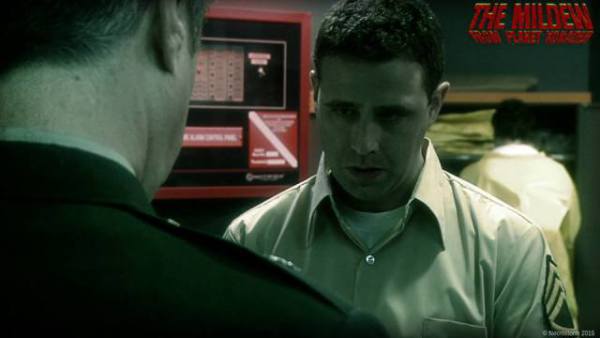 The audio is DTS 2.0, but there is no option to change it. There are English, Italian and German subtitles available also. The soundtrack is wonderfully 80's with plenty of John Carpneter style synth music.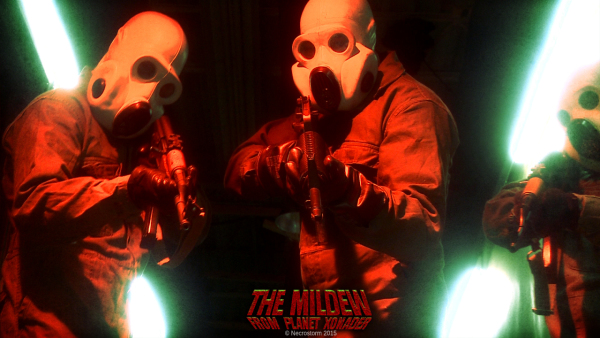 There are some great extras here. First up is the complete soundtrack which runs for around 28mins. Making of which details the production and talks to various members of the cast, that lasts 13mins. A minute long clip titled 'Fun At Work', and it looks like they did have fun. A 3min FX tutorial and a trailer.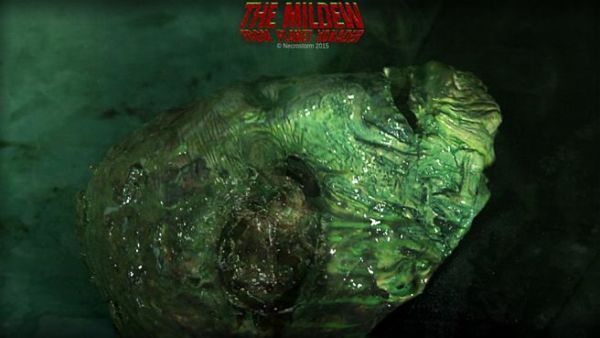 The movie is available to order direct now at: http://www.necrostorm.com/home.html
Overall it isn't a bad package at all. Necrostorm are obviously a company that appreciate movies, and seek to entertain. I think with this release, it's safe to say they've done just that.
Jonathan McEvoy